Sometimes you just want to knit. You want to take your eyes off your project, so you can watch a movie or talk with your friends, but keep your hands moving. That's when our Elementary Wrap comes in very handy.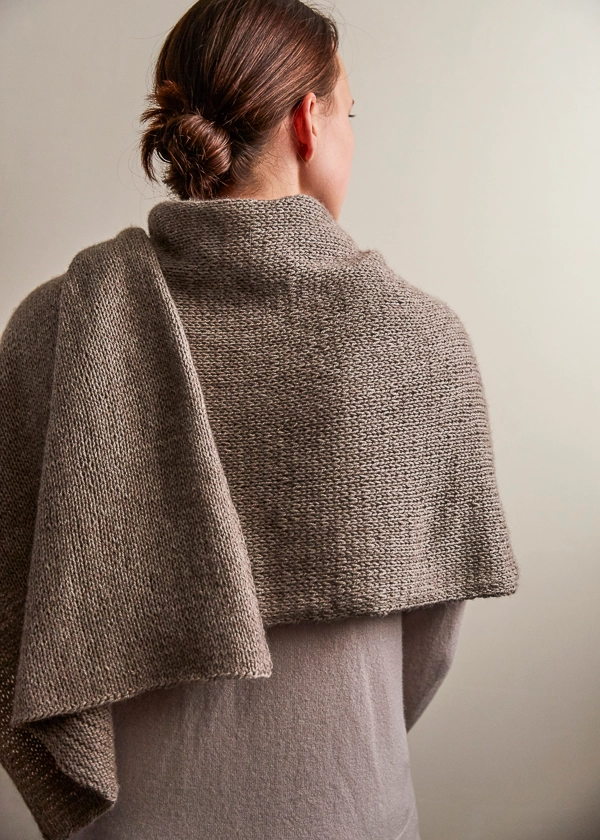 Knowing we'd be spending some quality time with whatever yarn we used, we chose our gorgeous Understory, a very satisfying blend of 50% alpaca, 25% baby yak, and 25% silk. In stockinette stitch, it knits up into a fabulously cozy swath of fabric, scaled for a dramatic drape and a simple elegance.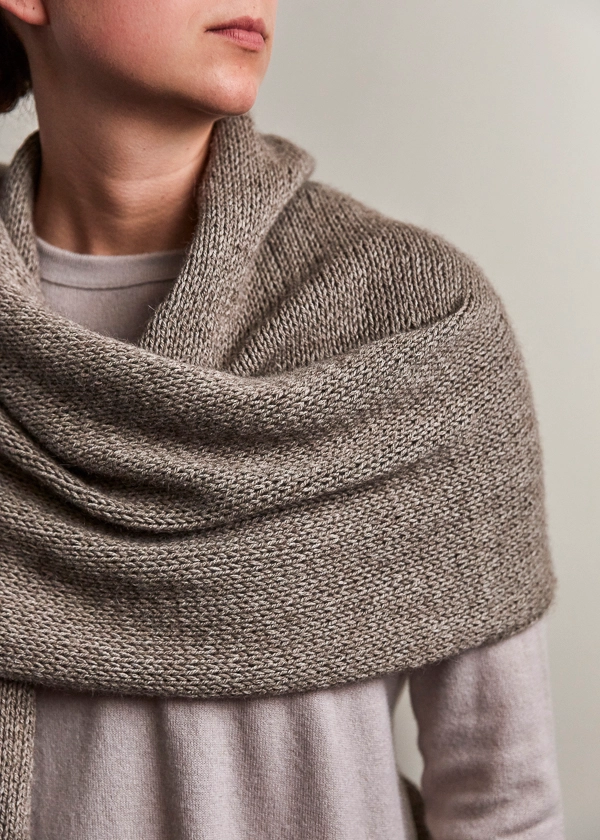 We love that Understory's depth of color creates subtle complexity throughout this perfectly not-complex Elementary Wrap. We used the color Willow Bark for a naturally beautiful look that we'll never tire of.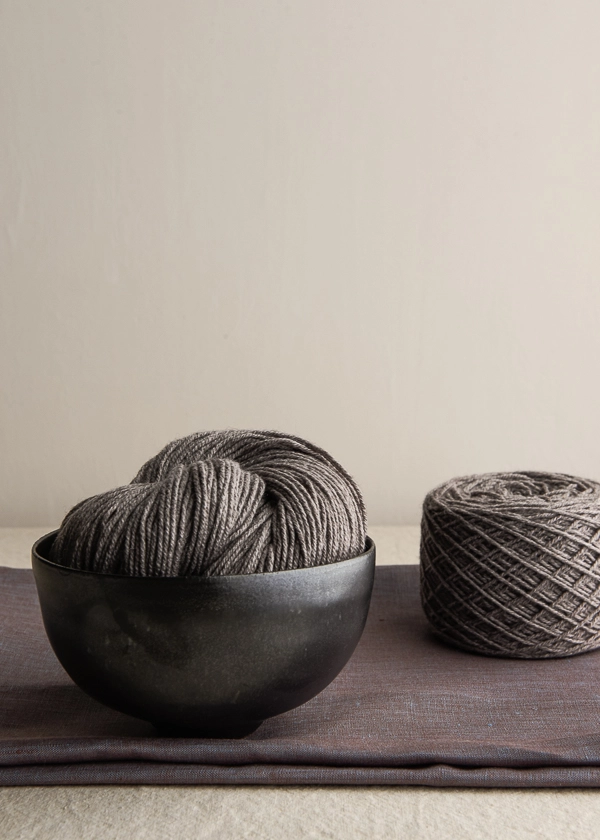 A three-stitch selvage detail may disqualify our Elementary Wrap from world's simplest knit, but it does add refinement and help keep your wrap flat. And don't worry, it doesn't disqualify this Wrap from being the ultimate no-look project!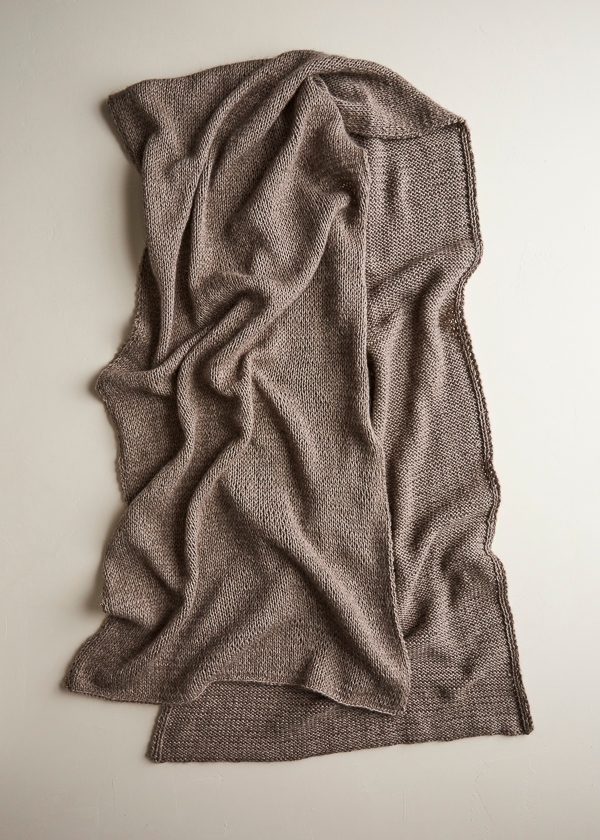 Update: New Gauge
May 2018
We've updated our Elementary Wrap for a finer gauge! Knit up in our Linen Quill, this Wrap has so much subtlety and depth in the color and fiber, and its weight and drape feel wonderful over your shoulders. We're totally crazy about this Crocus Bud color, which celebrates spring in the prettiest possible way, with cheer and levity and beauty! Pick up three skeins of your favorite color and find the pattern here!
Update: New Yarn
November 2018
To celebrate the launch of Tussock, our first mohair-silk blend, we revisited our Elementary Wrap by holding two strands of Tussock together. A knit that flies off your needles in a glowing, soft halo, we love using two different colors for a marled texture that adds depth to an otherwise super simple flat piece. Brilliant Bright Thistle glimmers through rich Ripe Boysenberry, for the full story and other color inspirations, click here!
Update: New Bundle
April 2019
For the latest version, we add a layer of visual complexity without complicating the pattern itself by combining a strand of our hand-dyed Posy with a strand of mohair-silk Tussock. We've put together the ingredients for your own fiber feast with seven Elementary Wrap In Posy + Tussock Bundles. Each one combines colors that bring surprising flavors to the finished piece and make simple stockinette a little something more! Find the updated pattern here!
Update: Mineral Silk
November 2019
Making its debut here is our new Mineral Silk, a laceweight silk with a touch of something like starlight, subtle enough for everyday knitting, but pretty enough to catch the eye. We paired Mineral Silk with its textural opposite, our hazy mohair-silk Tussock. Together they're the life of the party, with a beautiful drape, a soft halo of mohair, and a gentle sparkle. Read all about it here!
Update: Season Alpaca
January 2020
Currently on our mind? Season Alpaca in this insanely gorgeous Sapphire Blue. As if drawn from a deep sea abyss, this color has a mysterious and earthy richness, radiating its own inner beauty like a truly precious gem. Read all about it here!
Update: Brume
October 2020
Like morning mist nestled in a valley, our new Brume rolls in with a soft and mysterious beauty. In mohair-wool-and-silk Brume, the Elementary Wrap is incredibly soft; it's a little bit fluffy; it's wonderfully warm; it's airy and light; and most of all, it's absolutely beautiful! Featuring a few tiny edits to the original Elementary Wrap pattern, see Brume in all its glory here!
Update: Simply Camel
March 2021
A yarn like Simply Camel doesn't come along every day, so when it does, we like to give it some room to be its unadulterated self! One hundred percent undyed baby camel, Simply Camel is so absolutely soft and luscious, all that is required is stockinette stitch and lots of it… Enter the Elementary Wrap In Simply Camel!
Update: Santolina
July 31, 2021
In this iteration, our gorgeous Santolina takes the stage with its fathomless beauty. A blend of organically grown cotton, rayon from bamboo, and hemp, it is wonderfully soft and also just right for warm weather's chills: from overly enthusiastic air conditioning to windy evenings by the lake. Read all about it, here!
UPDATE: QUARTZ
MARCH 18, 2022
This classic pattern has a knack for showing off whatever yarn it's knit in, and this time, in our lovely Quartz, the results are truly stunning. We used Fresh Pickle, but in any hue, the Elementary Wrap in Quartz highlights this gorgeous merino-suri mix, smooth and soft, with the slightest halo… downright dreamy!
UPDATE: NOW IN MORNING
MARCH 27, 2022
This simplest of knits is absolutely lovely in Morning and feels as fresh as a bird's chirp through an open window! A machine washable mix of 75% organically grown cotton and 25% yak, Morning comes in a lovely rainbow of soft bright hues, so pick your favorite up-with-the-sun color and cast on!
Designed by Purl Soho designer, Laura Ferguson.
Share your progress and connect with the community by tagging your pics with #PurlSoho, #PurlSohoBusyHands, #PurlSohoElementaryWrap, and #PurlSohoUnderstory. We can't wait to see what you make!
Materials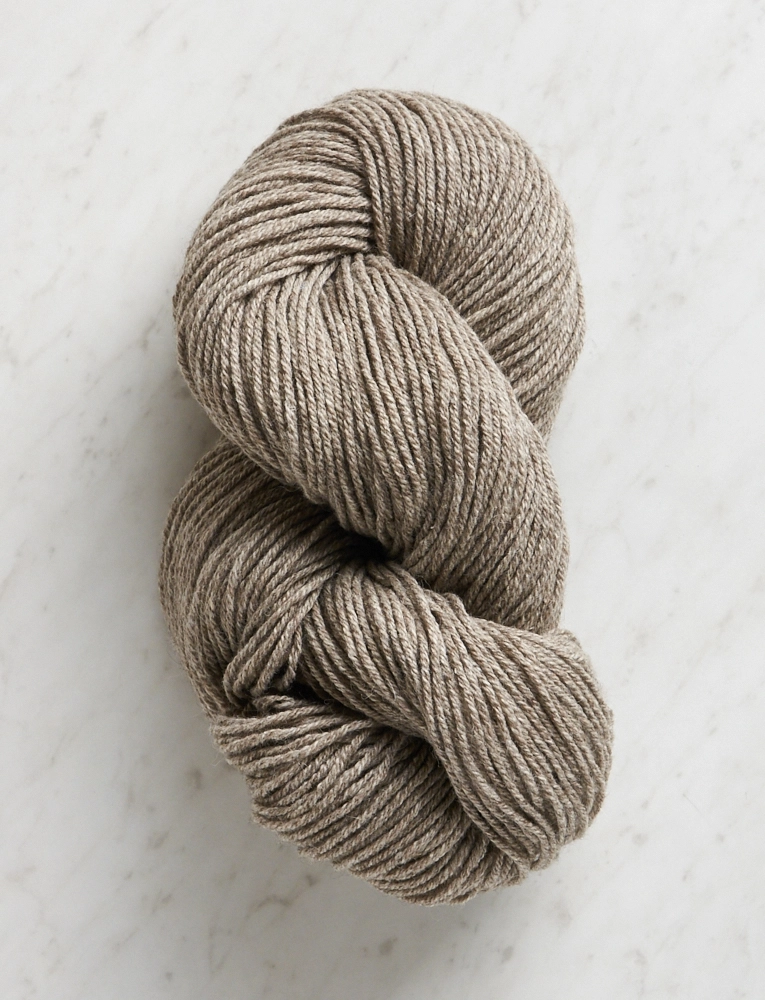 4 skeins of Purl Soho's Understory, 50% baby alpaca, 25% baby yak, and 25% silk. Each skein is 250 yards/ 100 grams; approximately 1,000 yards required. We used the color Willow Bark. (NOTE: We no longer offer Understory, but choose from one of our other light worsted/dk weight yarns.)
US 7 (4.5mm), 24- or 32-inch circular needles
Gauge
18 stitches and 26 rows = 4 inches in stockinette stitch
Size
Finished Dimensions: 20 inches wide x 73 inches long
Note
While stockinette stitch does tend to roll into a tube, the width of this piece, its selvage stitches, and the nature of Understory, all conspire to keeping this Wrap quite flat. If you find that after some wear, it starts to curl, just wet block it flat again!
Pattern
Using Long Tail Cast On, cast on 90 stitches.
Row 1 (wrong side): K1, p1, k1, purl to last three stitches, k1, p1, k1.
Row 2 (right side): K2, p1, knit to last three stitches, p1, k2.
Repeat Rows 1 and 2 until piece measures approximately 73 inches, ending with a wrong side row.
Bind-off Row (right side): Bind off in pattern.
Weave in the ends and wet block flat.