Our Elementary Wrap In Mineral Silk + Tussock falls at the intersection of everyday and extraordinary. A simple swath of fabric in a very special combination of yarns, it is for posh parties as much as it's for slogging to work with a secret pep in your step!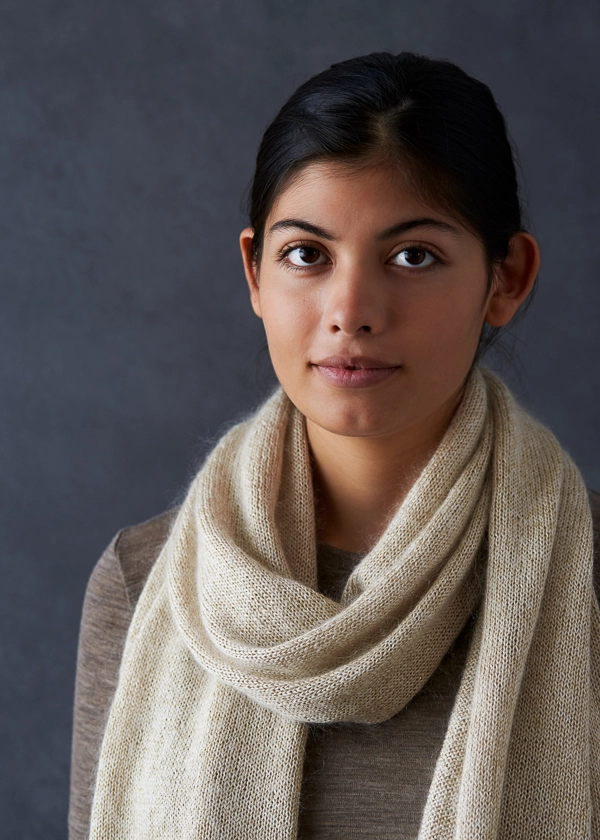 Making its debut here is our new Mineral Silk, a laceweight silk with a touch of something like starlight, subtle enough for everyday knitting, but pretty enough to catch the eye.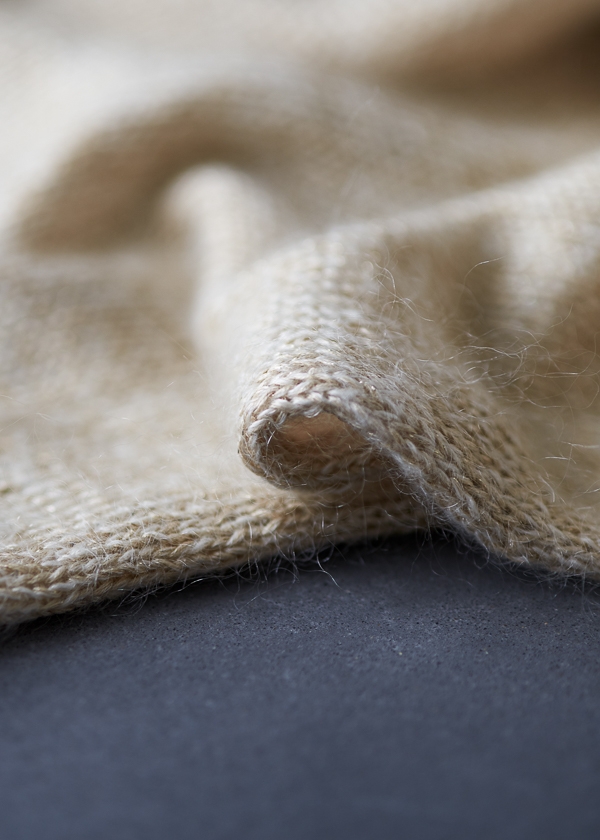 We paired Mineral Silk with its textural opposite, our hazy mohair-silk Tussock. Together they're the life of the party, with a beautiful drape, a soft halo of mohair, and a gentle sparkle.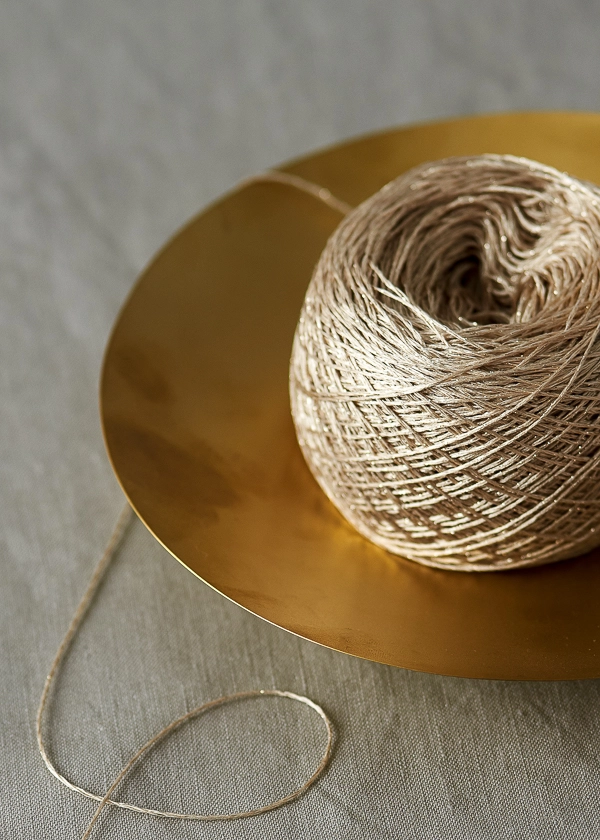 An Elementary Wrap is one of our favorite ways to give yarn freedom. A field of pure knitting, this simple knit allows the language of fiber to speak for itself, and we love to listen!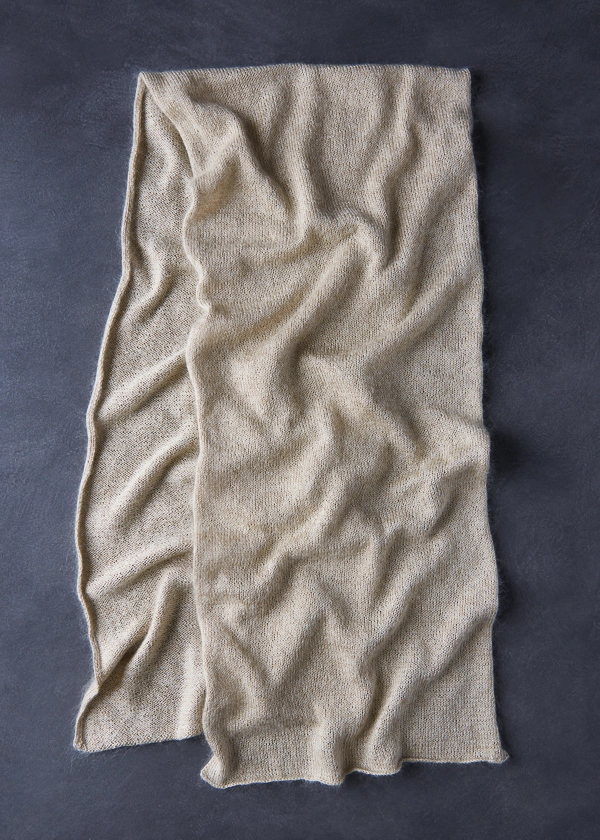 To get started, chose any combination of colors. Shown below in six palettes, one for each color of Mineral Silk, ranging from shimmery Peach Gold to volumes-deep Starry Night. Here we used Almond Ice with Heirloom White Tussock for an oaty blend full of surprises!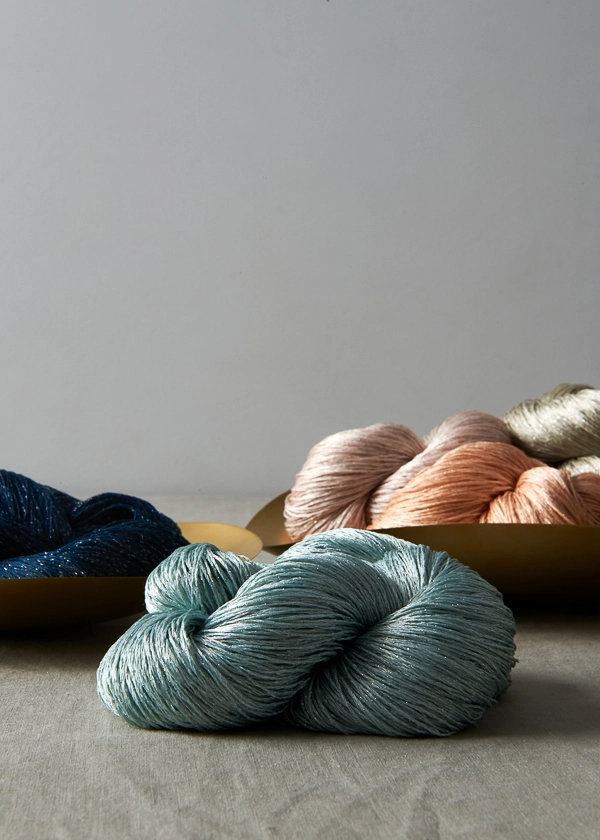 Originally designed by Purl Soho designer, Laura Ferguson.
Share your progress + connect with the community by tagging your pics with #PurlSoho, #PurlSohoBusyHands, #PurlSohoElementaryWrap, #PurlSohoTussock, and #PurlSohoMineralSilk. We can't wait to see what you make!
Materials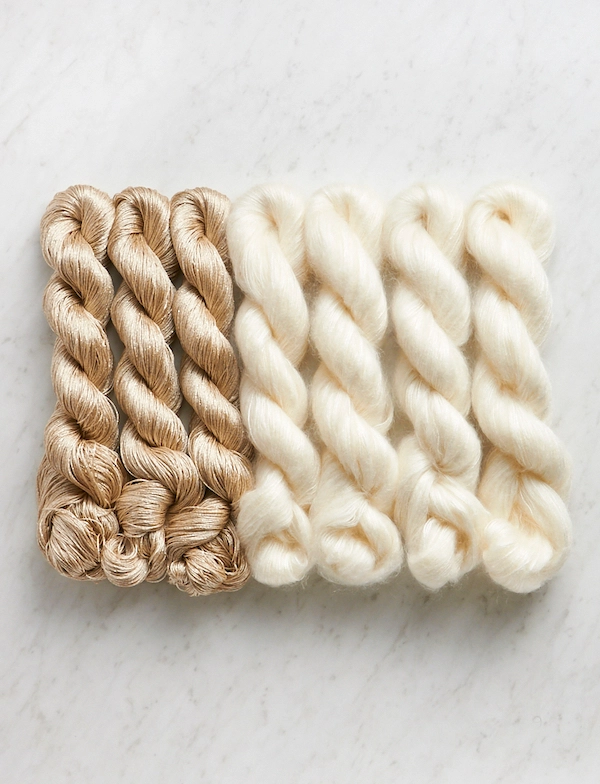 To knit your own Elementary Wrap in Mineral Silk + Tussock, you will need…
Yarn A: 3 skeins of Purl Soho's Mineral Silk, 75% silk and 25% synthetic sparkle. Each skein is 394 yards; approximately 1,182 yards required. (NOTE: Mineral Silk is no longer available.)
Yarn B: 4 skeins of Purl Soho's Tussock, 60% super fine kid mohair and 40% silk. Each skein is 328 yards; approximately 1,228 yards required.
Shown in six pretty palettes, they are…
Almond Ice + Heirloom White
Shown above and the palette we used to knit our sample…
Yarn A: Mineral Silk in Almond Ice; Yarn B: Tussock in Heirloom White
Mica Gray + Silver Needle
Yarn A: Mineral Silk in Mica Gray; Yarn B: Tussock in Silver Needle
Peach Gold + Tea Rose
Yarn A: Mineral Silk in Peach Gold; Yarn B: Tussock in Tea Rose
Crystal Pink + Apple Blossom
Yarn A: Mineral Silk in Crystal Pink; Yarn B: Tussock in Apple Blossom
Opal Blue + Bright Verdigris
Yarn A: Mineral Silk in Opal Blue; Yarn B: Tussock in Bright Verdigris
Starry Night + Blue Fjord
Yarn A: Mineral Silk in Starry Night; Yarn B: Tussock in Blue Fjord
You will also need…
US 2 (3 mm) circular or straight needles
Gauge
28 stitches and 38 rows = 4 inches in stockinette stitch, holding Yarns A and B together
Size
Finished Dimensions: 16 inches wide x 70 inches long
Pattern
Holding one strand of Yarn A and one strand of Yarn B together, cast on 112 stitches.
Row 1 (wrong side): K1, p1, k1, purl to last three stitches, k1, p1, k1.
Row 2 (right side): K2, p1, knit to last three stitches, p1, k2.
Repeat Rows 1 and 2 until piece measures approximately 70 inches, ending with a wrong-side row.
Bind-off Row (right side): Bind off in pattern.
Weave in the ends and wet block flat.