As even a casual follower of Purl Soho probably knows, we love a swath of stockinette fabric, and nothing does it better than our simple-as-pie Elementary Wrap pattern!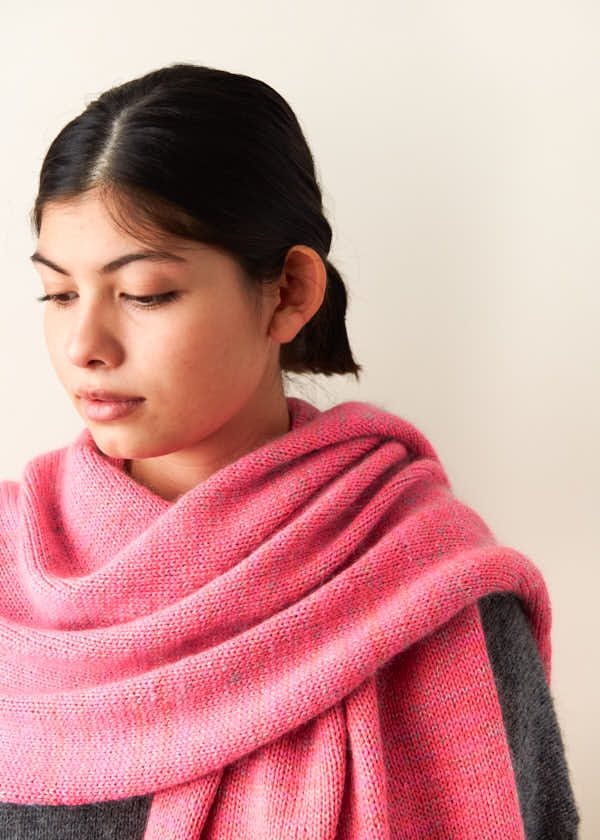 For this version, we add a layer of visual complexity without complicating the pattern itself by combining a strand of our hand-dyed Posy with a strand of mohair-silk Tussock. The effect is a mysterious stew of color and texture, a beautiful blend of all the things we love about fiber!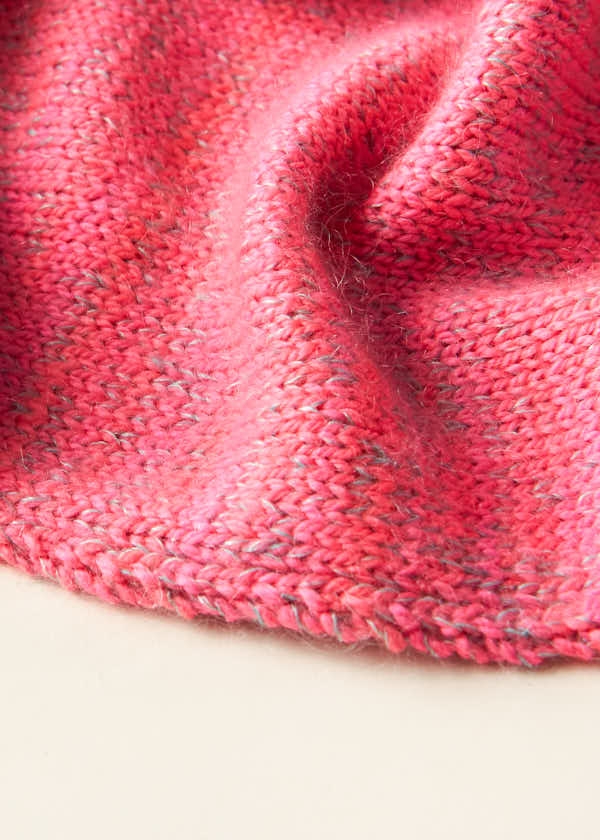 We've put together the ingredients for your own fiber feast with seven Elementary Wrap In Posy + Tussock Bundles. Each one combines colors that bring surprising flavors to the finished piece and make simple stockinette a little something more!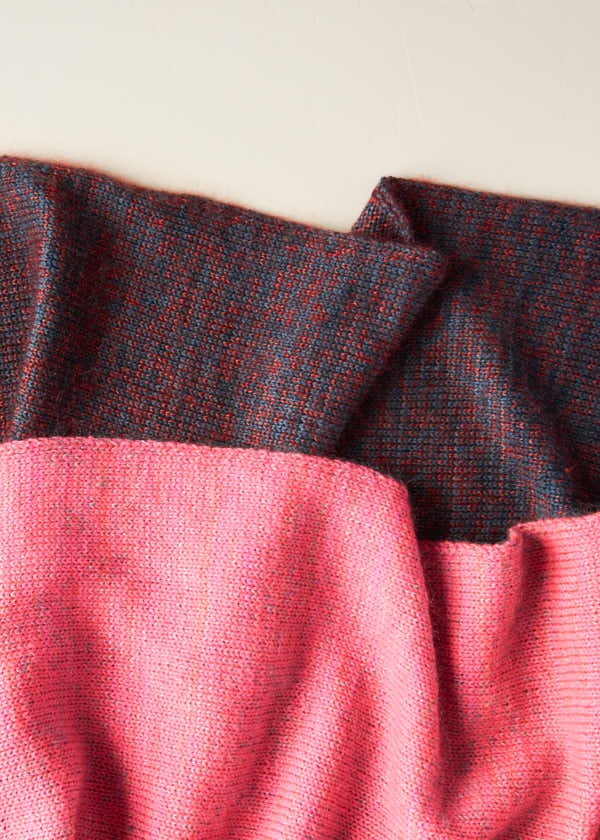 Designed for Purl Soho by Joelle Hoverson.
Materials
Our Elementary Wrap in Posy + Tussock Bundle has enough yarn to make the wider 18¼-inch Wrap version of this project. It includes… 
Yarn A: 4 skeins of Purl Soho's Posy, 75% superwash merino, 15% cashmere, and 10% nylon. Each skein is 318 yards; approximately 636 (1,272) yards required.
Yarn B: 4 skeins of Purl Soho's Tussock, 60% super fine kid mohair and 40% silk. Each skein is 328 yards; approximately 607 (1,214) yards required.
NOTE: For the 9-inch wide Scarf version, you will only need 2 skeins of Posy and 2 skeins of Tussock.
For both version, you will also need…
For our samples we used the following bundles, pictured above from left to right…
Yarn A: PINK PAPAYA + Yarn B: BRIGHT VERDIGRIS
Yarn A: TEAL TWILIGHT + Yarn B: ANJOU PEAR
They're also available in these pretty palettes…
Yarn A: WINTER HEATH  + Yarn B: PINK JOY
Yarn A: CHILI PEPPER + Yarn B: BRIGHT THISTLE 
Yarn A: SOUR GOOSEBERRY + Yarn B: SQUASH BLOSSOM
Yarn A: MOURNING DOVE + Yarn B: LIGHTNING YELLOW
Yarn A: DRIZZLE GRAY + Yarn B: HEIRLOOM WHITE
Yarn A: WEATHERVANE GRAY + YARN B: SILVER NEEDLE
Gauge
24 stitches and 30 rows = 4 inches in stockinette stitch
Sizes
Scarf (Wrap)
Finished Dimensions: 9 (18¼) inches wide x 70 inches long
NOTE: Our samples are the Wrap size. If you're making the 9-inch wide Scarf size, please be aware that its edges may curl more due to the nature of stockinette stitch at the narrower width. 
Pattern
NOTE: We followed our original Elementary Wrap pattern but with a few tiny changes. Here is exactly what to do for this Posy and Tussock version…
With one strand of Yarn A and one strand of Yarn B, cast on 54 (110) stitches. 
Row 1 (wrong side): K1, p1, k1, purl to last three stitches, k1, p1, k1.
Row 2 (right side): K2, p1, knit to last three stitches, p1, k2.
Repeat Rows 1 and 2 until piece measures approximately 70 inches, ending with a wrong-side row.
Bind-off Row (right side): Bind off in pattern.
Weave in the ends and wet block flat.