Shipping
FREE ECONOMY SHIPPING ON ALL DOMESTIC ORDERS, UNTIL FURTHER NOTICE!
Covid 19 Update June 2020: We are shipping your orders as quickly as we can, but please understand that we are working with a limited staff at a slower pace than usual. The same is true for shippers. Right now, USPS and UPS shipping can take up to 10 days longer than they're estimating. This is because of a drastic reduction in air travel, as well as a significant decrease in the USPS workforce, all while shipping needs have increased by at least 50%. Delays are particularly extensive in New York, New Jersey, Connecticut, new Zealand and Australia.
Also note that we can only track packages through the same tracking number given in your shipping confirmation and don't have any additional insights, except to advise patience. If it's been 10 days past the estimated delivery date, please reach out to customerservice@purlsoho.com and we'll be happy to help!
Shipping Rates

| Country | Economy | Standard | Express | Expedited |
| --- | --- | --- | --- | --- |
| United States | Free* | $9.00 | $34.00 | $51.00 |
| Canada | $8.00* | $22.95 | $40.85 | $82.00 |
| All Other International | $12.00* | $32.95 | $58.50 | $127.00 |
*Special rates until further notice.
Domestic Standard Shipping Times
Please refer to this map for estimated Standard ground shipping times within the United States. Note that these shipping times are faster than the free Economy rate but that all times are delayed due to Covid19 (see the update at the top of the page for more information).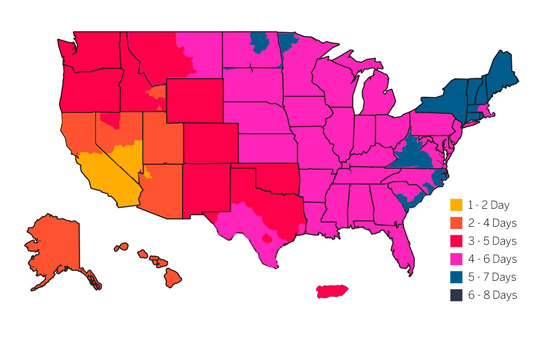 Estimated Shipping Times
These estimates are based on pre-Covid19 shipping times, so please keep that in mind. All shipping companies are experiencing delays at this time.
Domestic
FREE Economy: 3 business days-2 weeks
Standard: 1-8 business days (see map, above, for more specific delivery times)
Express: 2 business days
Expedited: 1 business day
Canada
Economy: 1-3 weeks
Standard: 1-2 weeks
Express: 5-7 business days (must be placed before 5:30 pm EST)
Expedited: 1-3 business days (must be placed before 5:30 pm EST)
International
Economy: 1-3 weeks
Standard: 1-2 weeks
Express: 5-7 business days (must be placed before 5:30 pm EST)
Expedited: 1-3 business days (must be placed before 5:30 pm EST)
Statement on International Shipping Rates + Customs
Economy + Standard: Global priority packages are not insurable, so unfortunately, Purl Soho cannot be responsible for lost packages. Shipping to most international destinations is as charged upon checkout unless the package goes over four pounds. If your order goes over four pounds, you may be charged the difference upon shipping. Please email us at customerservice@purlsoho.com if you have questions.
Expedited and Express: The rate we quote here is for a 5-pound package and includes insurance up to 300 US dollars, plus tracking. If your package exceeds this weight or does not fit into the flat rate envelope provided by USPS, you will be charged additional shipping. If your shipping cost is less than what you were charged at the time of your order, you will receive a credit to your card.
Gifts: We're sorry, Purl Soho cannot mark international packages as "gift." It's against the law. :)
Customs Fees: Purl Soho does not collect customs fees. Each country has different parameters for customs fees and you may be charged by your local customs office.