Shipping
FREE DOMESTIC STANDARD SHIPPING ON ALL ORDERS $110 AND OVER.
Otherwise, Purl Soho charges flat shipping rates, based on where we are shipping and how quickly you'd like to receive your package.
Shipping Rates
| Country | Standard | Express | Expedited |
| --- | --- | --- | --- |
| United States | $9.95 | $33.00 | $50.00 |
| Canada | $22.75 | $40.85 | $82.00 |
| All Other International | $32.25 | $58.50 | $127.00 |

Special Domestic Standard Shipping Rate
We also have a special domestic shipping rate of $4.00 when your order includes only patterns and/or gift cards. If we are able to offer you this rate, we will! This rate is a USPS flat rate for a specific envelope, it has tracking and insurance.
Shipping Times
Domestic
Standard: 3-7 business days (see map, below, for more specific delivery times)
Express: 2 business days
Expedited: 1 business day
Canada
Standard: 1-2 weeks
Express: 5-7 business days
Expedited: 2-4 business days
International
Standard: 1-3 weeks
Express: about 1 week
Expedited: 3 - 8 business days. Typically less than one week
We ship online orders from California, Monday - Friday. Orders are processed but not shipped on the weekends. Orders placed by 2:30 pm Pacific Time will typically ship the same day but are guaranteed to ship by the next business day.
Domestic Standard Shipping Times
Please refer to this map for estimated standard shipping times within the United States.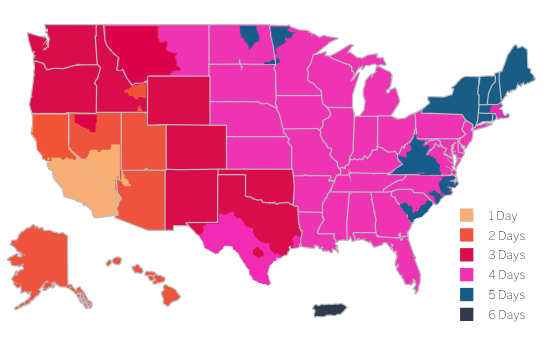 Statement on International Shipping Rates & Customs
Standard: Global priority packages are not insurable, so unfortunately, Purl Soho cannot be responsible for lost packages. We make every effort to fit packages in the required envelope for $32.25 shipping. If orders do not fit in the envelope, extra shipping charges may apply. You will be charged the difference upon shipping.
Expedited and Express: The rate we quote here is for a 5-pound package and includes insurance up to 300 US dollars, plus tracking. If your package exceeds this weight or does not fit into the flat rate envelope provided by USPS, you will be charged additional shipping. If your shipping cost is less than what you were charged at the time of your order, you will receive a credit to your card.
Gifts: We're sorry, Purl Soho cannot mark international packages as "gift." It's against the law. :)
Customs Fees: Purl Soho does not collect customs fees. Each country has different parameters for customs fees and you may be charged by your local customs office.