According to Mae West, "Too much of a good thing can be wonderful," and when it comes to our Big Good Wool, we have to agree. Knit up into our gorgeous, squishy, warm, and toasty Brindle Blanket, it shows just how wonderful big and good can be!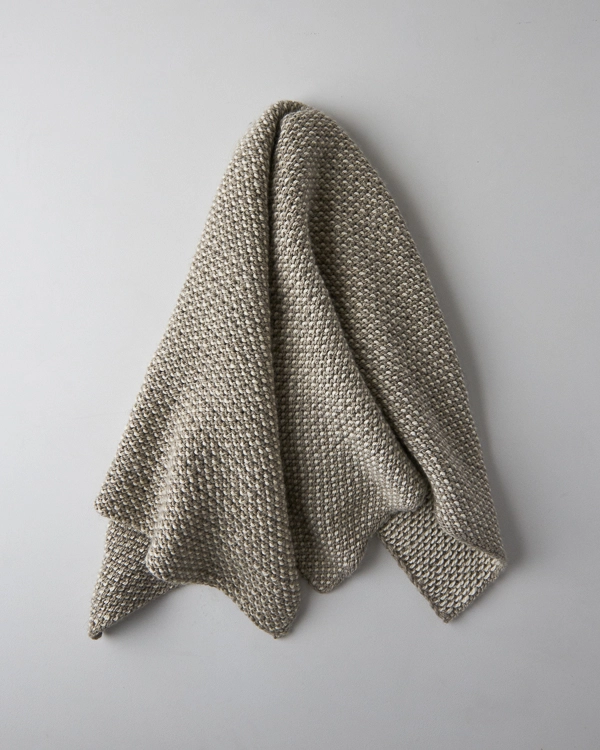 A simple slip stitch pattern brings together two natural Big Good Wool colors, just as the sheep grew them. Pretty stippling on one side and streaky stripes on the other, like the coat of a beautiful brindle greyhound, it may look (and sound!) complicated, but each row uses just one color at a time… No sweat!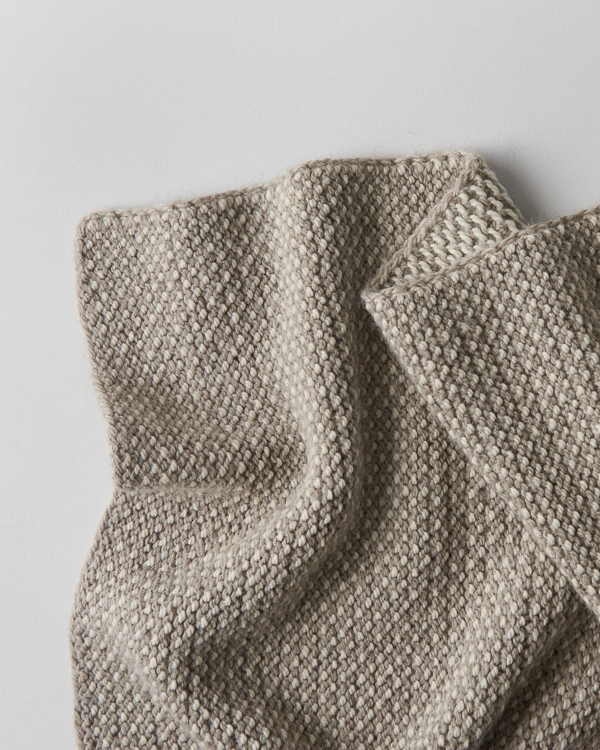 And because Big Good Wool knits up at about 3½ stitches to the inch, you'll make quick work of this cozy project. You cast on only 151 stitches and need just 7 skeins for the throw size (or a mere 121 stitches and 5 skeins for baby!).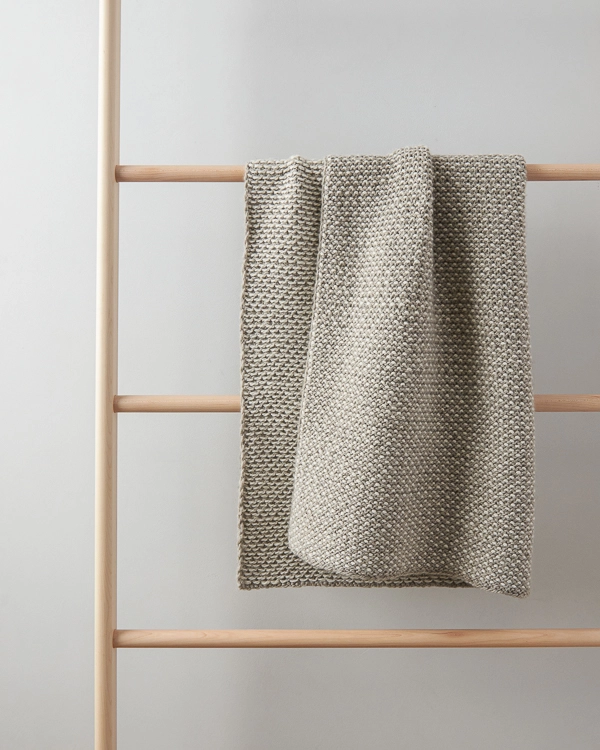 A subtle beauty, the Brindle Blanket may differ with Mae West there, but even she would maybe have agreed that a warm and toasty, weighty and snuggly Brindle Blanket is pretty wonderful!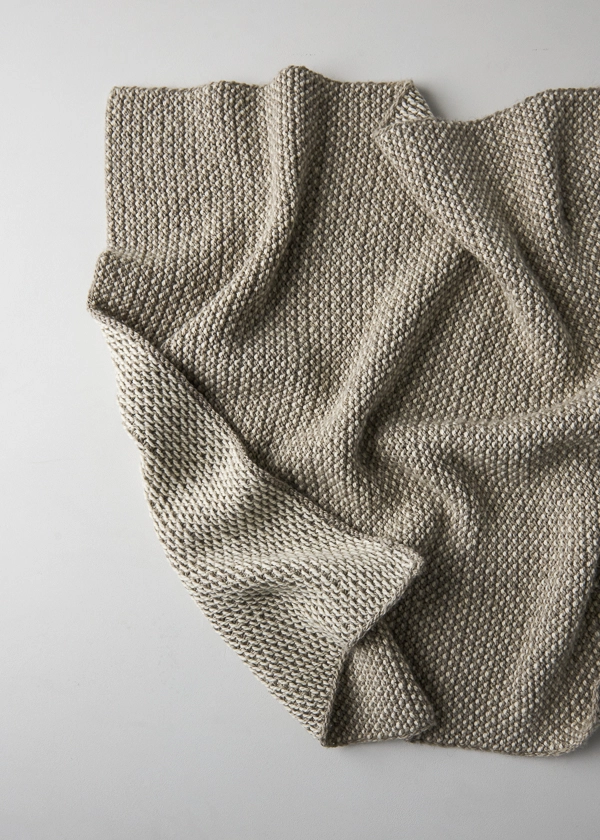 Designed for Purl Soho by Jake Canton.
Share your progress + connect with the community by tagging your pics with #PurlSoho, #PurlSohoBusyHands, and #PurlSohoBrindleBlanket. We can't wait to see what you make!
Materials
Color A: 3 (4) skeins of Purl Soho's Big Good Wool, 100% undyed Andean highland wool. Each skein is 274 yards; approximately 778 (1096) yards required. We used Driftwood Gray. (Please Note: Big Good Wool is no longer available. To view our full line of Purl Soho yarns, click here! Be sure to check your gauge when substituting yarns.)
Color B: 2 (3) skeins of Big Good Wool. Approximately 436 (675) yards required. We used Heirloom White.
US 10 (6 mm), 32- or 40- inch circular needles
Gauge
15 stitches and 36 rows = 4 inches in stitch pattern
Size
Crib (Throw)
Finished Dimensions: 32 inches wide x 42 inches long (40 inches wide x 52 inches long)
Notes
Slip Stitches
Slip all slip stitches purlwise unless indicated otherwise in the pattern.
Turn + Slide
When you work this pattern, you either "slide" or "turn" the work at the end of each row.
"Turn work" means to do what you would normally do when knitting rows with circular needles: Transfer the needle from your left hand into your right hand and the needle from your right hand into your left, flipping the work around so the opposite side is facing you.
"Slide work" means to keep the same side of the work facing you and to push all the stitches to the right end of the circular needles. Without turning the work, start the new row as you normally would.
You will know that you're doing this right if the yarn you need to complete the next row is right there waiting for you!
Pattern
With Color A, cast on 121 (151) stitches.
Row 1 (wrong side): With Color A, slip 1 (see Notes) with yarn in front (wyif), knit to end of row, turn work (see Notes).
Row 2 (right side): With Color B, slip 1 knitwise wyif, *k1, slip 1 with yarn in back (wyib), repeat from * to last 2 stitches, k1, slip 1 wyif, slide work (see Notes).
Row 3 (right side): With Color A, slip 1 wyif, purl to last stitch, k1, turn work.
Row 4 (wrong side): With Color B, slip 1 wyib, *slip 1 wyif, p1, repeat from * to last 2 stitches, slip 1 wyif, slip 1 wyib, slide work.
Repeat Rows 1-4 until piece measures 42 (52) inches.
Cut Color B.
Repeat Row 1.
Bind Off (right side): With Color A, loosely bind off knitwise.
Weave in the ends and block, if desired.