When I sit down to knit with Purl Soho's new hand spun Shepherdess Alpaca, I am transported by memories of my favorite get-out-of-town escapes: sheep and wool festivals. Vats of freshly sheared wool, herds of fine-coated alpacas, sheep, goats and llamas, fresh air… Shepherdess Alpaca brings it all back!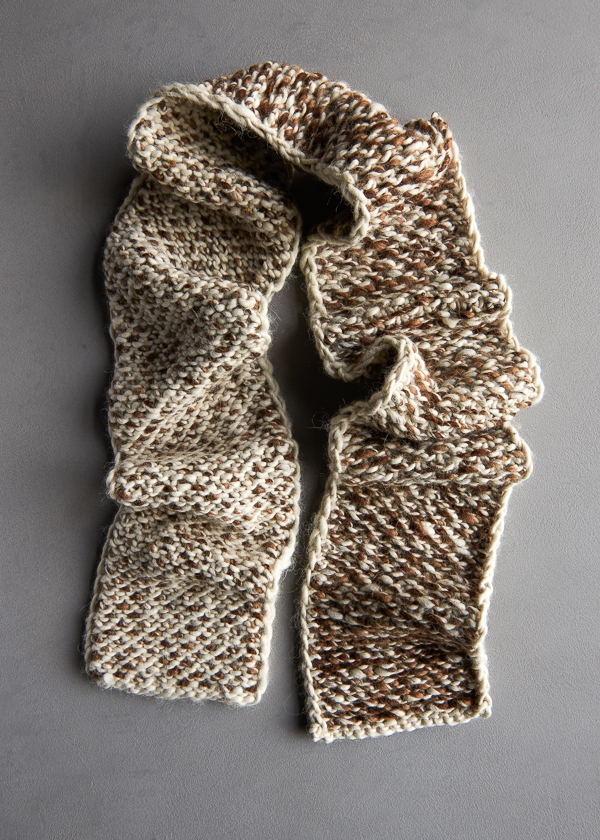 Our Brindle Scarf captures all the charm and beauty of the alpacas who grew it. We combined two undyed colors, Heirloom White and brindled Wood Thrush, in a simple slip stitch pattern to create a texture with enough depth and fascination to excite your wooliest dreams.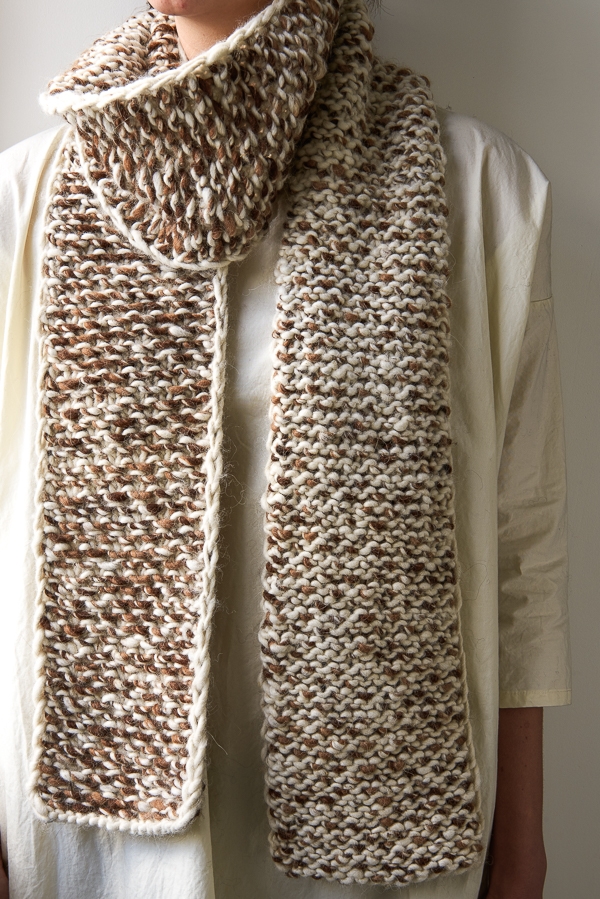 If you haven't tried knitting with an all natural, hand spun, undyed yarn, there is nothing quite like it. By leaving the fibers as nature intended, Shepherdess Alpaca is full of surprises and beauty. Prepare to be transported! -Jake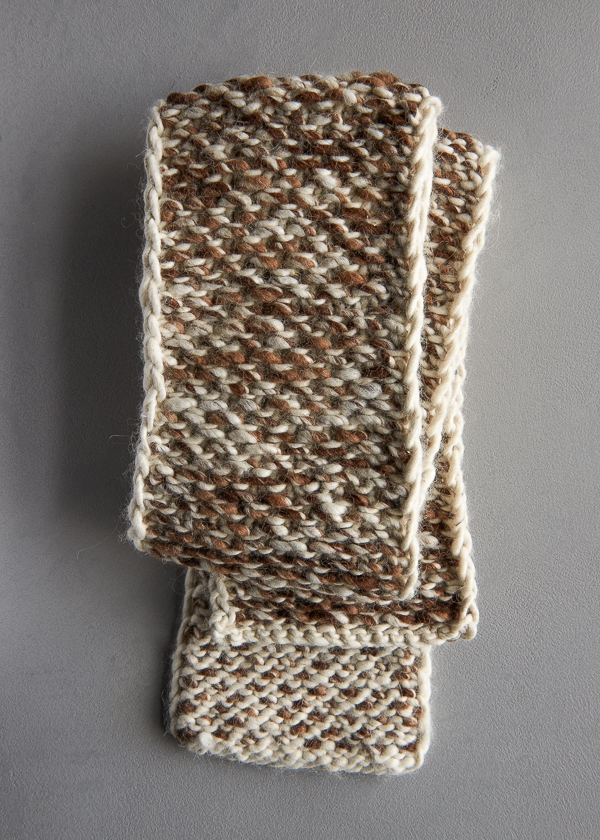 Update: New Yarns!
November 2021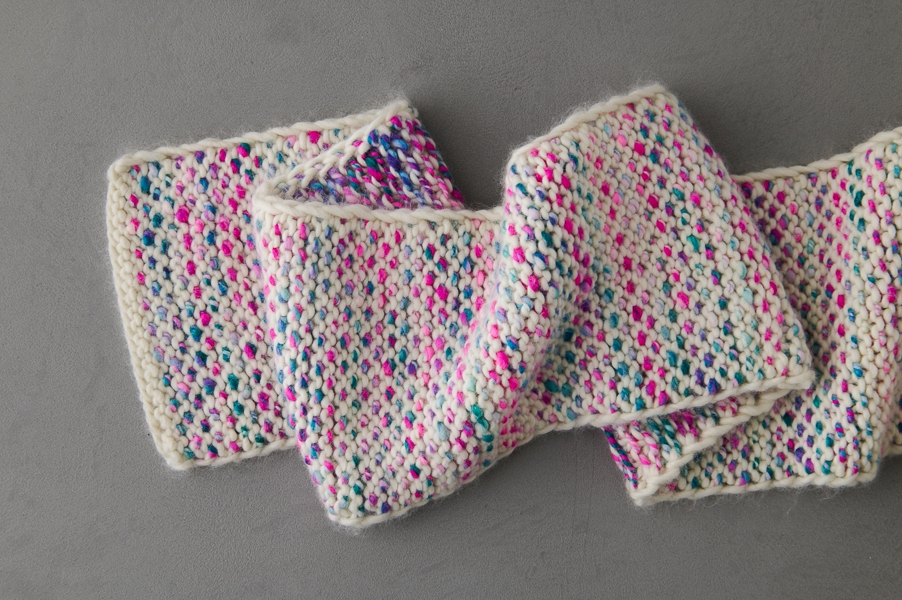 We revisited this cozy winter scarf in two of our favorite 100% merino yarns: chunky classic Super Soft Merino, and our hand-dyed superwash Lovebird, made in collaboration with our friends at Manos Del Uruguay. To view our colorful update, and 13 gorgeous bundles, click here!
UPDATE: NEW COLORS OF LOVEBIRD!
NOVEMBER 2022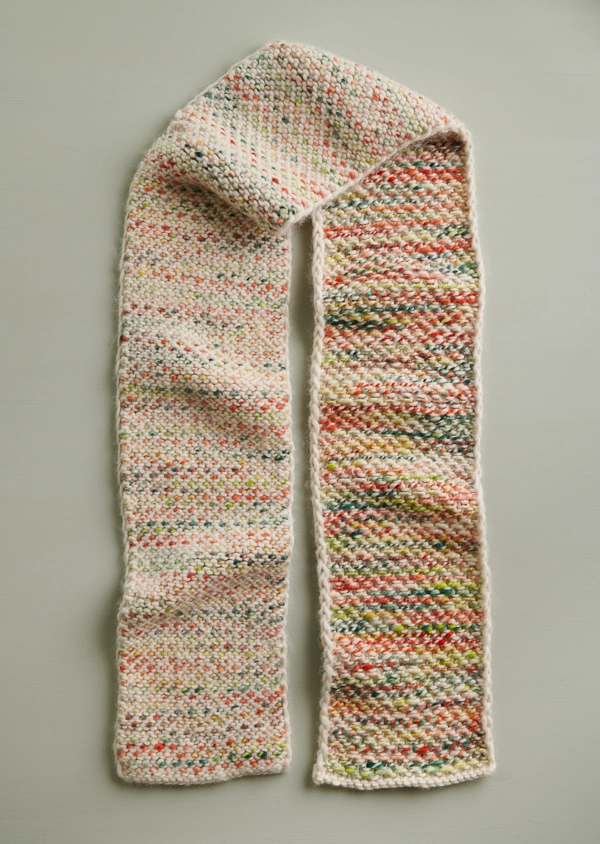 Still in our lovely Lovebird and dreamy Super Soft Merino, we've used our newest Lovebird colors to add more gorgeous Brindle Scarf Bundles to the collection. So, plump up your yarn and pump up the beauty, and cast on for this happy, chunky knit!
Designed by Purl Soho designer, Jake Canton. Click here to see even more of Jake's designs!
Share your progress and connect with the community by tagging your pics with #PurlSoho, #PurlSohoBusyHands, and #PurlSohoBrindleScarf. We can't wait to see what you make!
Materials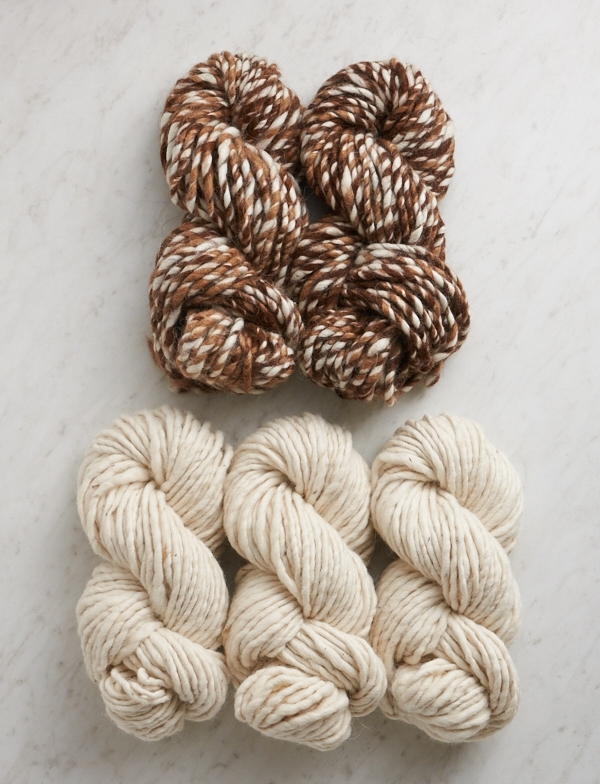 Main Color (MC): 3 skeins of Purl Soho's Shepherdess, 100% undyed, handspun alpaca. Approximately 369 yards required. We used Heirloom White. (NOTE: We no longer offer Shepherdess Alpaca, but choose from one of our other super bulky weight yarns.)
Contrast Color (CC): 2 skeins of Shepherdess. Approximately 246 yards required.We used Wood Thrush.
US 13 (9mm), 20-inch (or longer) circular needles
Here's what the Brindle Scarf looks like knit up in the other colors of Shepherdess Alpaca…
MC: Wood Thrush + CC: Heirloom White
MC: Heirloom White + CC: Bantam Hen
MC: Bantam Hen + CC: Heirloom White
MC: Heirloom White + CC: Starling
MC: Starling + CC: Heirloom White
Gauge
10 stitches = 4 inches in stitch pattern
Size
Finished dimensions: 7 x 72 inches
Notes
Turn and Slide
Each row in this pattern ends with the instructions to either "turn" or "slide" the work:
To "turn the work" means to do what you would normally do when knitting rows with a circular needle. That is to say, put the needle that is in your left hand into your right and the needle that is in your right hand into your left, then flip the work around so the opposite side is facing you.
To "slide the work" means to keep the same side of the work facing you and to push all the stitches to the right end of the circular needles. Without turning the work, start the new row as you normally would.
You will know that you're doing this right if the yarn you need to complete the next row is magically there waiting for you!
Slip
Slip all stitches purlwise unless otherwise indictated.
Pattern
With the MC, cast on 17 stitches. We used a basic Long Tail Cast On.
Row 1 (wrong side): With MC, slip 1 with yarn in front (wyif), knit to end of row, turn work.
Row 2 (right side): With CC, slip 1 knitwise wyif, *k1, slip 1 purlwise with yarn in back (wyib), repeat from * to last 2 stitches, k1, slip 1 wyif, slide work.
Row 3 (right side): With MC, slip 1 wyif, purl to last stitch, k1, turn work.
Row 4 (wrong side): With CC, slip 1 wyib, *slip 1 wyif, p1, repeat from * to last 2 stitches, slip 1 wyif, slip 1 wyib, slide work.
Repeat Rows 1-4 until piece measures 71 ½ inches or desired length.
Cut CC.
Repeat Row 1.
Bind Off (right side): With MC, loosely bind off in knit stitch.
Weave in the ends and block, if desired. (I recommend lightly steaming your scarf to relax the yarn into the stitch pattern. A full wet blocking, however, might get a little unruly!)