Our Mountain Capelet not only keeps you nice and warm throughout the colder months, but it makes a chic statement doing it!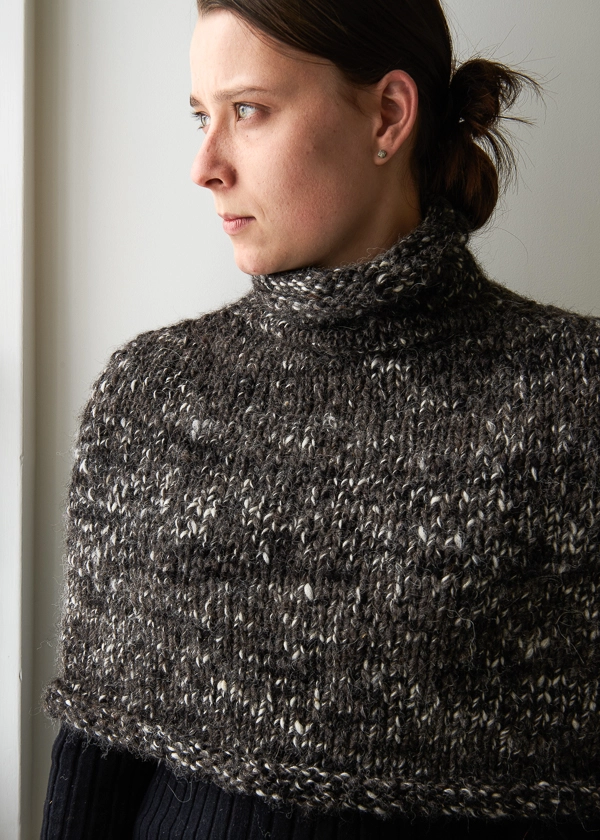 Originally in Gentle Giant, this version is in our brand new, super gorgeous Shepherdess Alpaca. We slightly adjusted the pattern to include more sizes and to have a more structured cowl neck, but it's just as easy and just as cozy as the original.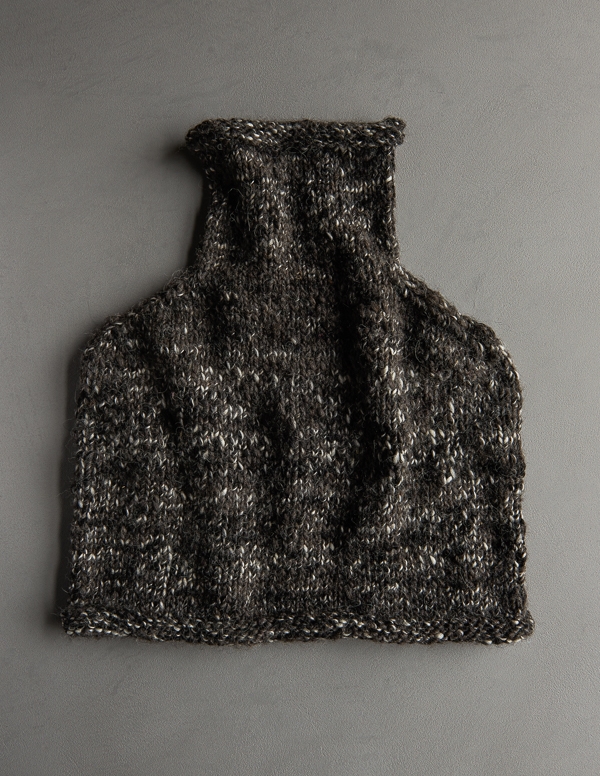 The Mountain Capelet's very straightforward construction makes it a great project for beginners and beyond. A quick and simple knit with beauty and flair, cast on! -Jake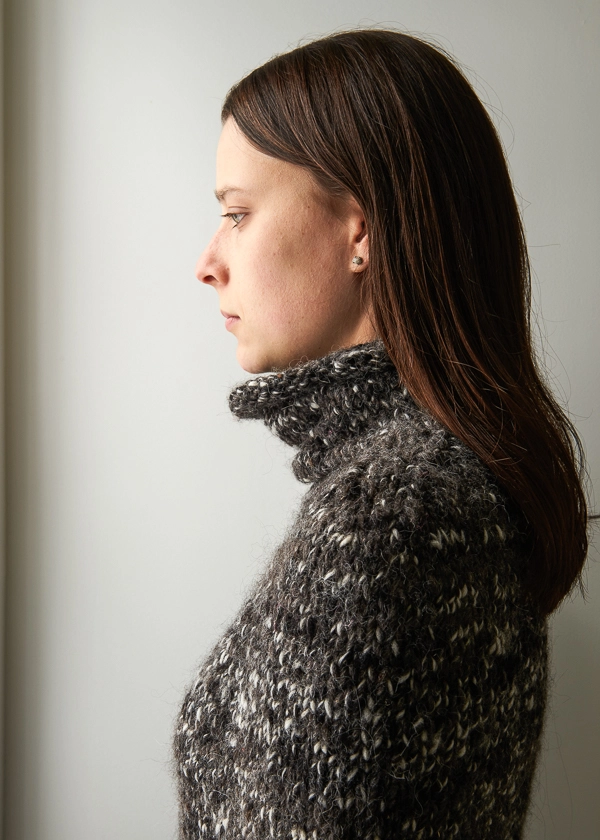 Designed by Purl Soho designer, Jake Canton, based on the original design by Whitney Van Nes.  Click here to see even more of Jake's designs!
Share your progress and connect with the community by tagging your pics with #PurlSoho, #PurlSohoBusyHands, and #PurlSohoMountainCapelet. We can't wait to see what you make!
Materials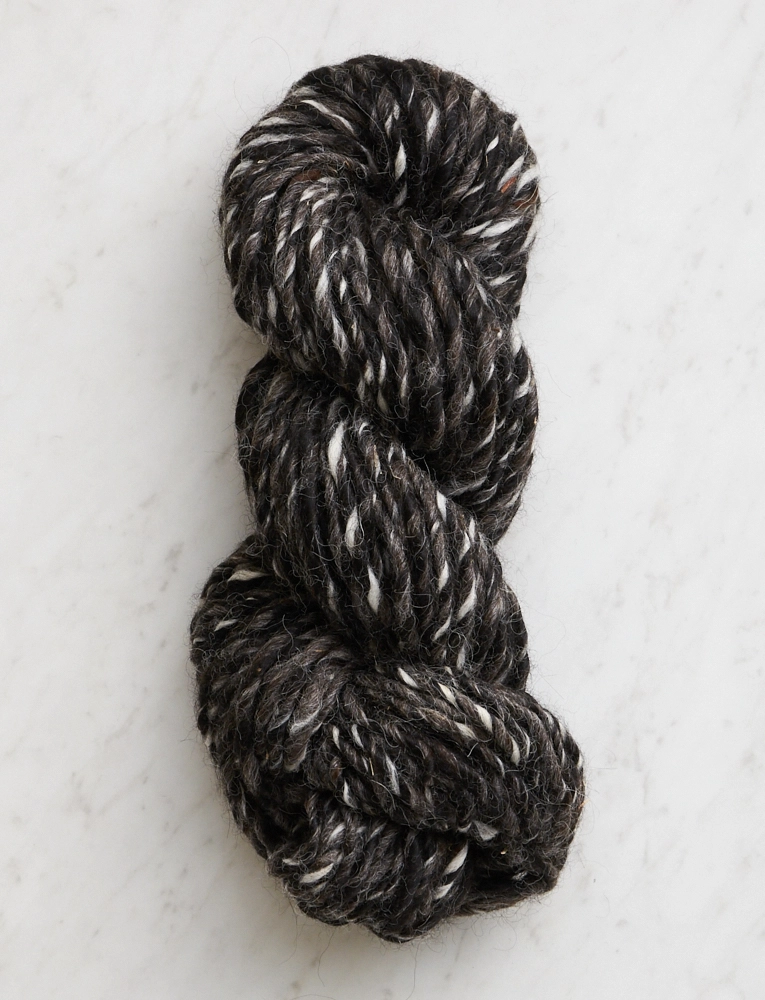 5 (6, 7, 8) skeins of Purl Soho's Shepherdess Alpaca, 100% undyed, handspun alpaca. Approximately 295 (335, 385, 440) yards required. We used the color Starling. (NOTE: We no longer offer Shepherdess Alpaca, but choose from one of our other super bulky weight yarns.)
US 13 (9mm), 24-inch circular needles
US 13, 32-inch circular needles
2 jumbo stitch markers, different colors
Gauge
Unblocked: 9 stitches and 12 rows = 4 inches in stockinette stitch
Blocked: 10 stitches and 16 rows = 4 inches in stockinette stitch
NOTE: Be sure to block your swatch to ensure accurate sizing.
Sizes
NOTE For help picking a size, please check out our Understanding Ease + Selecting Size Tutorial!
40 (44, 48, 52)
To fit approximate chest circumference of 32–36 (38–42, 44–48, 50–54) inches and shoulder girth of 38–42 (42–46, 46–50, 50–54) inches
Finished circumference around bottom edge: Approximately 40 (44 ¾, 49 ½, 54 ½) inches
Finished circumference around cowl: Approximately 19 ¼ (21 ½, 22 ½, 24 ¾) inches
Finished height from bottom edge to bottom of cowl: 15 ½ (16, 17, 17 ¾) inches
Finished height from bottom edge to top of cowl: 22 (22 ½, 24 ¼, 25) inches
SAMPLE: The sample pictured here is size 40, modeled on a 35-inch chest.
Note
The cowl is worked in the round from the bottom up.
Pattern
Cast 100 (110, 120, 130) stitches onto the longer circular needles. We used a basic Long Tail Cast On.
Place a marker and join to work in the round, being careful to not twist the stitches.
Purl 5 rounds.
Work in stockinette stitch (knit every round) for 44 (45, 47, 49) rounds.
Decrease Round 1: K1, k2tog, k44 (49, 54, 59), ssk, k1, place marker, k1, k2tog, knit to last 3 stitches, ssk, k1. [96 (106, 116, 126) stitches remain]
Decrease Round 2: *K1, k2tog, knit to 3 stitches before next marker, ssk, k1, slip marker, repeat from * once more. [4 stitches decreased]
Repeat Decrease Round 2 every round 11 (12, 14, 15) more times, switching to the shorter circular needles when necessary and removing the second stitch marker as you knit the final round. [48 (54, 56, 62) stitches remain]
Work even in stockinette stitch for 21 (21, 24, 24) more rounds after last Decrease Round.
Purl 5 rounds.
Bind off loosely purlwise.
Weave in the ends and block to finished measurements.
Note: When washing or wet-blocking an item made with this yarn, do not soak for more than 10 minutes and be sure to support it with your hands or with a tea towel or pillowcase when lifting it from the wash basin. Press out excess water by placing the item on a large bath towel, then gently rolling them together. Arrange the item to the finished measurements and allow to air dry completely.