One of the beauties of hand made yarn is the uniqueness of each and every skein. Hand spun, hand dyed, or undyed, the feeling that comes with discovering each skein's character is always good. Purl Soho's new Shepherdess Alpaca is full of that good feeling!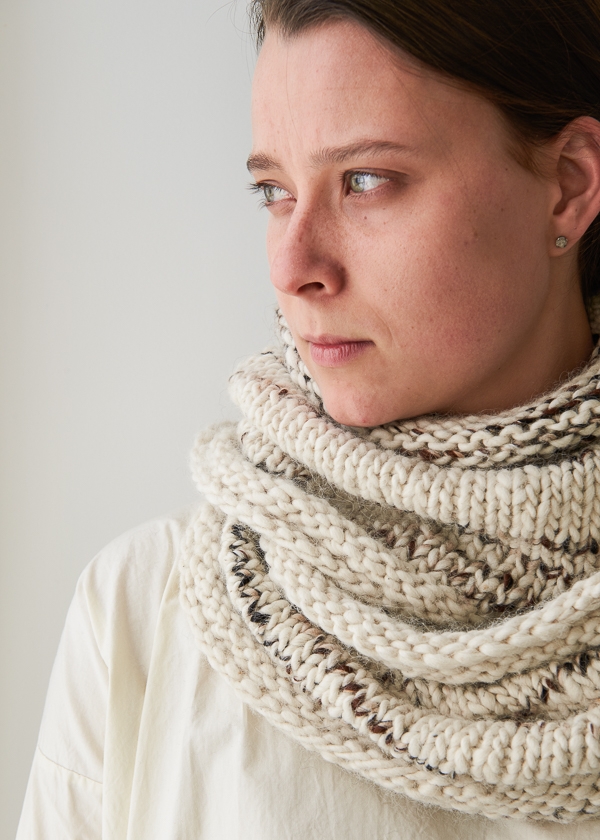 Our Syncopated Cowl is inspired by Shepherdess Alpaca's surprises. Instead of evenly placed stripes, or even thoughtfully random ones, I rolled a die to let luck lead the way. The number of main color rounds between contrast color stripes was literally left up to the roll of the dice!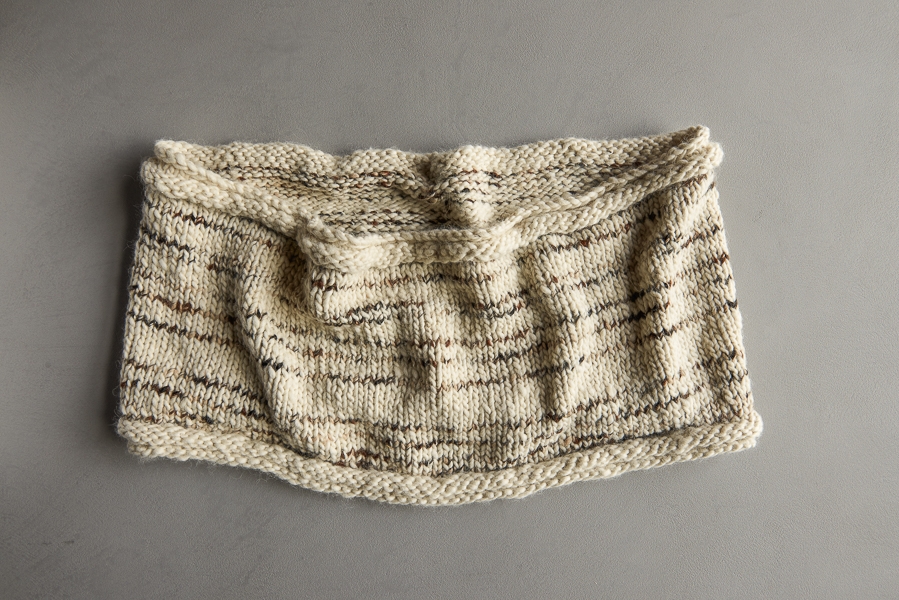 The syncopation of truly random striping is pushed even further by using the color Bantam Hen for the stripes and classic Heirloom White for the main color. When the contrast yarn sometimes blends with the background color, coming in and out of focus, the effect is like an unexpected beat. Fun, surprising, and beautiful, make some music of your own with our Syncopated Cowl! -Jake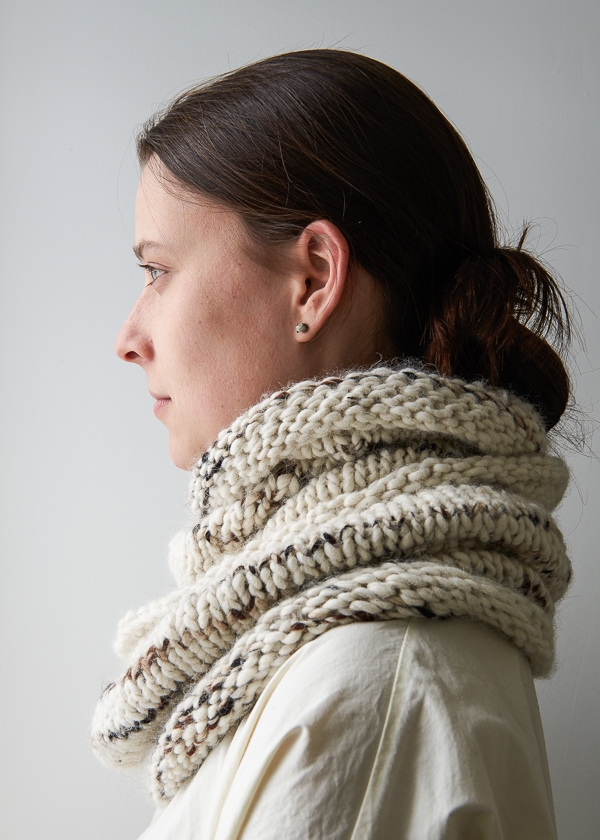 Originally designed by Purl Soho designer, Jake Canton. Click here to see even more of Jake's designs!
Share your progress and connect with the community by tagging your pics with #PurlSoho, #PurlSohoBusyHands, #PurlSohoSyncopatedCowl. We can't wait to see what you make!
Materials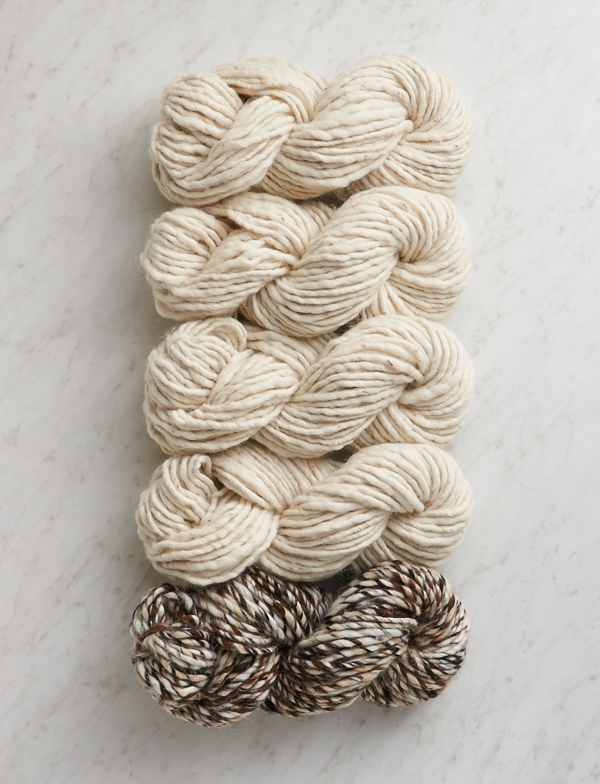 Main Color (MC): 4 skeins of Purl Soho's Shepherdess Alpaca, 100% undyed, handspun alpaca. Each skein is approximately 60 yards/ 100 grams; approximately 240 yards required. We used Heirloom White. (NOTE: We no longer offer Shepherdess Alpaca, but choose from one of our other super bulky weight yarns.)
Contrast Color (CC): 1 skein of Shepherdess Alpaca; approximately 55 yards required. We used Bantam Hen.
US 13 (9mm), 40- or 47-inch circular needles
Gauge
Unblocked: 9 stitches and 12 rows = 4 inches in stockinette stitch
Blocked: 10 stitches and 16 rows = 4 inches in stockinette stitch
Size
Finished dimensions: 11 ½ inches high and 55 inches in circumference
Notes
For our cowl we rolled a die to randomize our single round stripes, but if you'd prefer to follow our stripe sequence, here it is!
1 round in MC
1 round in CC
2 rounds in MC
1 round in CC
2 rounds in MC
1 round in CC
6 rounds in MC
1 round in CC
3 rounds in MC
1 round in CC
2 rounds in MC
1 round in CC
4 rounds in MC
1 round in CC
1 round in MC
1 round in CC
4 rounds in MC
1 round in CC
2 rounds in MC
1 round in CC
Pattern
Begin
With the MC, cast on 125 stitches. We used a basic Long Tail Cast On.
Place marker and join for working in the round, being careful to not twist the stitches.
Knit 3 rounds.
Purl 4 rounds.
Next Round: Work Cording Stitch…
*Use the tip of the right needle to pick up the purl bump four rounds directly below next stitch…
…Place it on the left needle, knit the next stitch and picked-up stitch together, repeat from * to end of round.
Continue
Joining CC…
**With CC, knit 1 round.
Next Round(s): Roll a die. With MC, knit the number of rounds shown on the die. At the start of each round, with MC in back, knit the first stitch of the round with the CC, then continue to knit the round with MC. (This creates a vertical column of CC stitches at the join, rather than the usual "jog" that happens when you work stripes in the round.)
NOTE: To make your cowl exactly like ours, instead of rolling a die, follow our stripe sequence in the Notes section, above.
Repeat from ** until piece measures 10 inches from cast-on edge or 1 1/2 inches less than desired height.
Cut CC.
Finish
With MC, knit 1 round.
Purl 4 rounds.
Work the Cording Stitch as described in the Work Cording Stitch section, above.
Knit 3 rounds.
Bind Off: Loosely bind off in knit stitch.
Weave in the ends and block, if desired. (A light steaming should do!)