When a stitch pattern collides with a colorful yarn, get ready for a knitting party! Our Brindle Scarf has a surprise in every stitch and a joy to its beauty.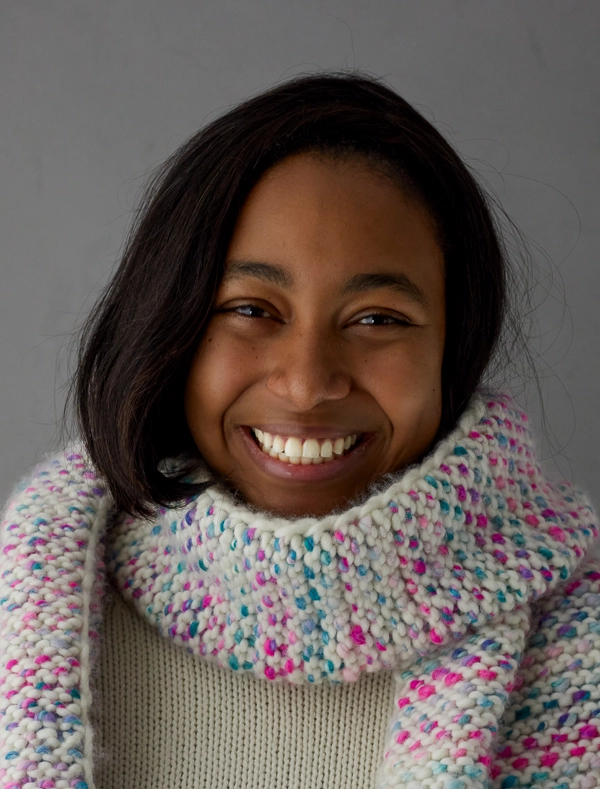 It uses a very simple slip stitch pattern and two of our cuddliest merinos: multi-colored, hand-dyed Lovebird and one-color Super Soft Merino. Put together, you get a woven field of pebble-y soft stitches where one yarn takes the spotlight on one side of the scarf, and the roles reverse on the other side.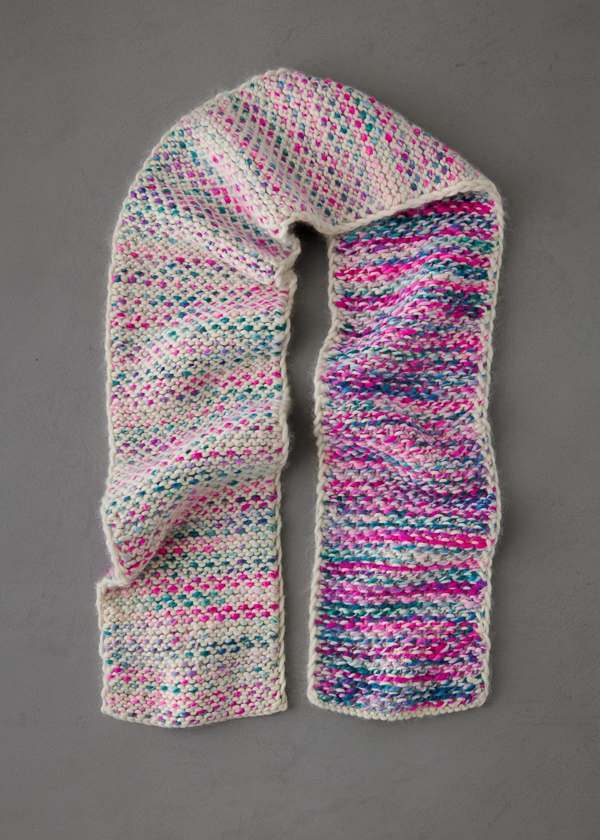 The fun (and beauty!) is in watching as the gorgeous colors of Lovebird unfurl row by row, creating flickers of light and moments of shadow. It's what we call edge-of-your-seat knitting!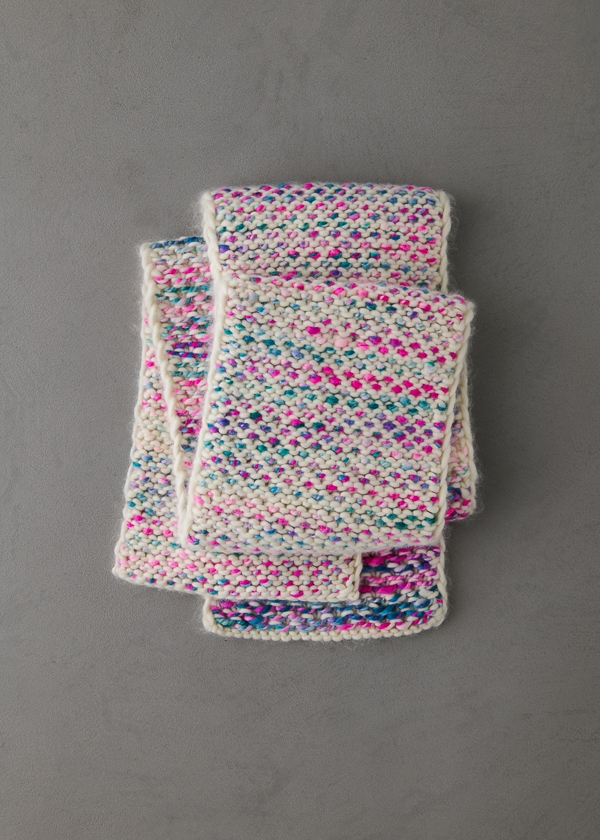 To get started, choose from over a dozen palettes of our Brindle Scarf Bundle. It includes all the Lovebird and Super Soft Merino you'll need for your next knitting shindig!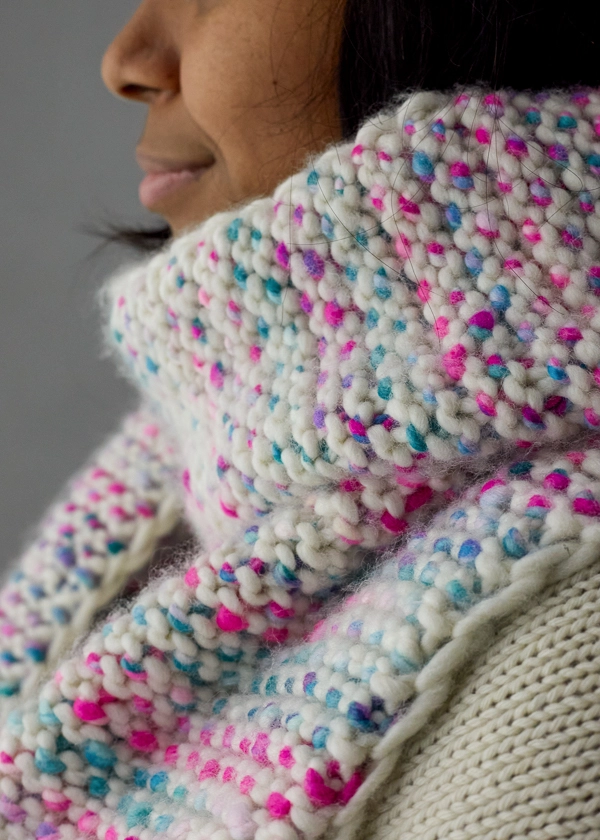 UPDATE: NEW COLORS OF LOVEBIRD!
NOVEMBER 2022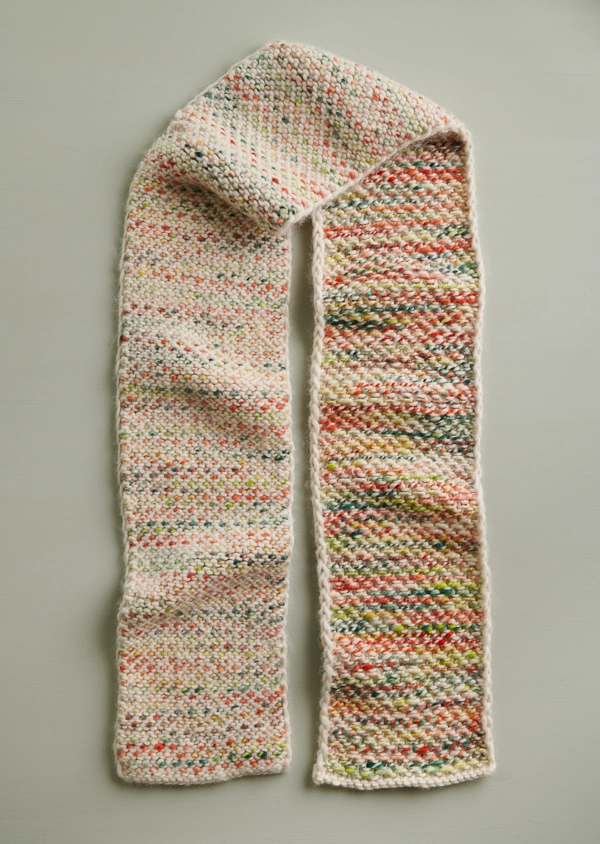 Still in our lovely Lovebird and dreamy Super Soft Merino, we've used our newest Lovebird colors to add more gorgeous Brindle Scarf Bundles to the collection. So, plump up your yarn and pump up the beauty, and cast on for this happy, chunky knit!
Designed by Purl Soho designer, Jake Canton. Click here to see even more of Jake's designs!
Materials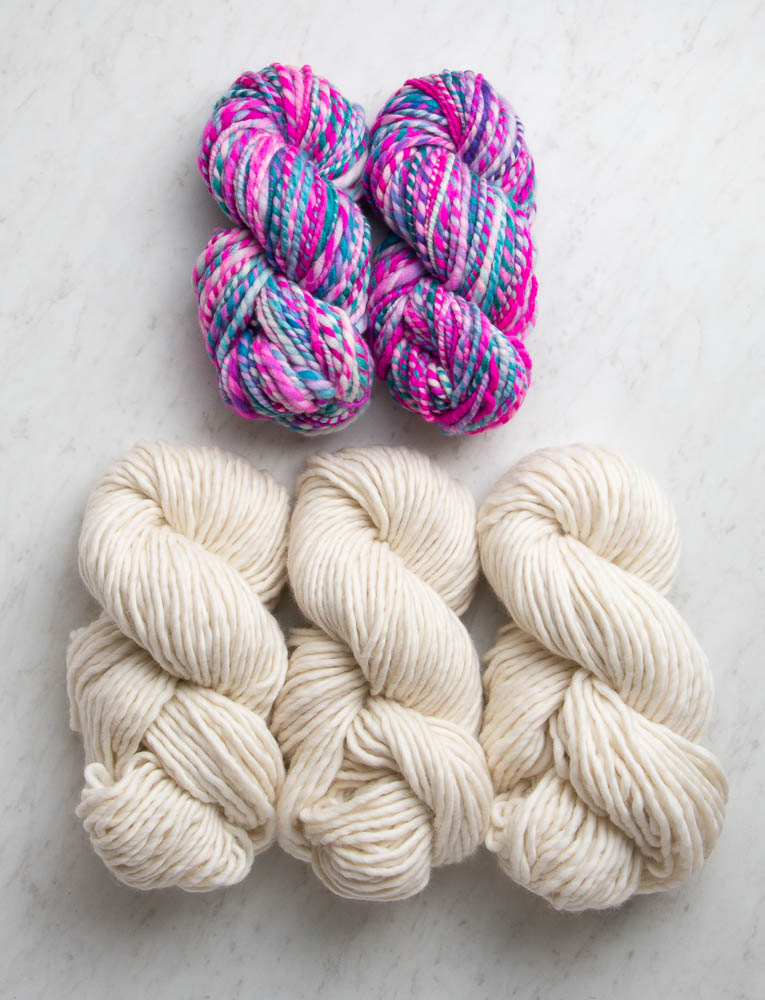 Our Brindle Scarf Bundle includes…
Yarn A: 3 skeins of Purl Soho's Super Soft Merino, 100% merino wool. Each skein is 87 yards/ 100 grams; approximately 240 yards required. We used Heirloom White.
Yarn B: 2 skeins of Purl Soho + Manos del Uruguay's Lovebird, 100% superwash merino wool. Each skein is approximately 75-85 yards/ 100-110 grams; approximately 108-123 yards required. We used the color Point Break.
NOTE: Because this yarn is hand spun in small batches, yardages may vary between skeins. You will probably get away with two skeins, but buying three skeins would assure you definitely have enough yarn. If you don't end up needing it, you can return unwound yarn for a refund within 30 days of purchase, or within 6 months, for store credit. Our Return Policy has all the details!
You'll also need…
US 13 (9 mm), 24-inch circular needles (Note that you will be working flat but that circular needles are required in order to "turn and slide" work.)
Here are some more color ideas, also available as Brindle Scarf Bundles (NOTE: some palettes are no longer available) …
Top Row: Ballet Pink + Candy Shop; Super Pink + Heirloom White; Bougainvillea Pink + Agate (Dye Lot 4)
Second Row: Peachy Pink + Firecracker; Turmeric Yellow + Pansy; Fresh Pickle + Geranium
Third Row: Clover Green + Inchworm; Reef Green + Hibiscus; Toasted Charcoal + Licorice
Bottom Row: Oyster Gray + Meadow; Gray Denim + Paper and Ink; Cobalt Blue + Rivulet
Gauge
12 stitches and 26 rows = 4 inches in stitch pattern
12 stitches and 18 rows = 4 inches in stockinette stitch
Size
Finished Dimensions: 8 inches wide x 70 inches long
Notes
Slip Stitches
Slip all stitches purlwise unless otherwise indictated.
Turn + Slide
Each row in this pattern ends with the instructions to either "turn" or "slide" the work:
To "turn the work" means to do what you would normally do when knitting rows with a circular needle. That is to say, put the needle that is in your left hand into your right and the needle that is in your right hand into your left, then flip the work around so the opposite side is facing you.
To "slide the work" means to keep the same side of the work facing you and to push all the stitches to the right end of the circular needles. Without turning the work, start the new row as you normally would.
You will know that you're doing this right if the yarn you need to complete the next row is magically there waiting for you!
Pattern
With Yarn A, cast on 25 stitches. We used a basic Long Tail Cast On.
Row 1 (wrong side): Slip 1 (see Notes) with yarn in front (wyif), then with Yarn A, knit to end of row, turn work (see Notes).
Row 2 (right side): Slip 1 knitwise wyif, then with Yarn B, *k1, slip 1 with yarn in back (wyib), repeat from * to last 2 stitches, k1, slip 1 wyif, slide work (see Notes).
Row 3 (right side): Slip 1 wyif, then with Yarn A, purl to last stitch, k1, turn work.
Row 4 (wrong side): Slip 1 wyib, then with Yarn B, *slip 1 wyif, p1, repeat from * to last 2 stitches, slip 1 wyif, slip 1 wyib, slide work.
Repeat Rows 1-4 until piece measures 70 inches from cast-on edge or to desired length.
Cut Yarn B.
Repeat Row 1.
Bind Off (right side): With Yarn A, loosely bind off in knit stitch.
Weave in the ends and gently block.