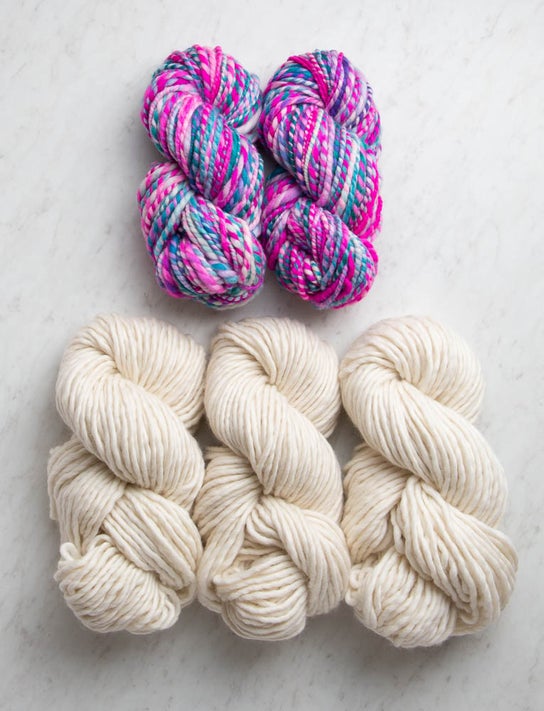 Our Brindle Scarf has a surprise in every stitch and a joy to its beauty! It uses a very simple slip stitch pattern and two of our cuddliest merinos: multi-colored, hand-dyed Lovebird and one-color Super Soft Merino. Put together, you get a woven field of pebble-y soft stitches where one yarn takes the spotlight on one side of the scarf, and the roles reverse on the other side. The fun is in watching as the colors unfurl row by row, creating flickers of light and moments of shadow. It's what we call edge-of-your-seat knitting! To get started, choose your favorite Brindle Scarf Bundle!
Product Details
Materials
Our Brindle Scarf Bundle includes…
Yarn A: 3 skeins of Purl Soho's Super Soft Merino, 100% merino wool. Each skein is 87 yards/ 100 grams; approximately 240 yards required. We used Heirloom White.
Yarn B: 2 skeins of Purl Soho and Manos Del Uruguay's Lovebird, 100% superwash merino wool. Each skein is 82 yards/ 100 grams; approximately 118 yards required. We used the color Caprese.
You'll also need…
US 13 (9 mm), 24-inch circular needles (Note that you will be working flat but that circular needles are required in order to "turn and slide" work.)
Our free online Brindle Scarf pattern
Gauge
12 stitches and 26 rows = 4 inches in stitch pattern
12 stitches and 18 rows = 4 inches in stockinette stitch
Size
Finished Dimensions: 8 inches wide x 70 inches long
You Might Also Like...
Addi Rocket US 13, 24-inch Circular Needles
Addi Rockets are the ultimate circular needles for speedy, snag-free knitting! Click here to see our full range, or click Add To Basket to purchase these US 13, 24-inch needles for knitting up your very own project!