Bears hibernate during the winter, bees cluster to protect their queen, but many of us humans are a bit more like the squirrels and beavers of the world: we nest, surrounding ourselves with the squishiest, coziest things we can find… Things, such as Tayler Harris's Nesting Hats!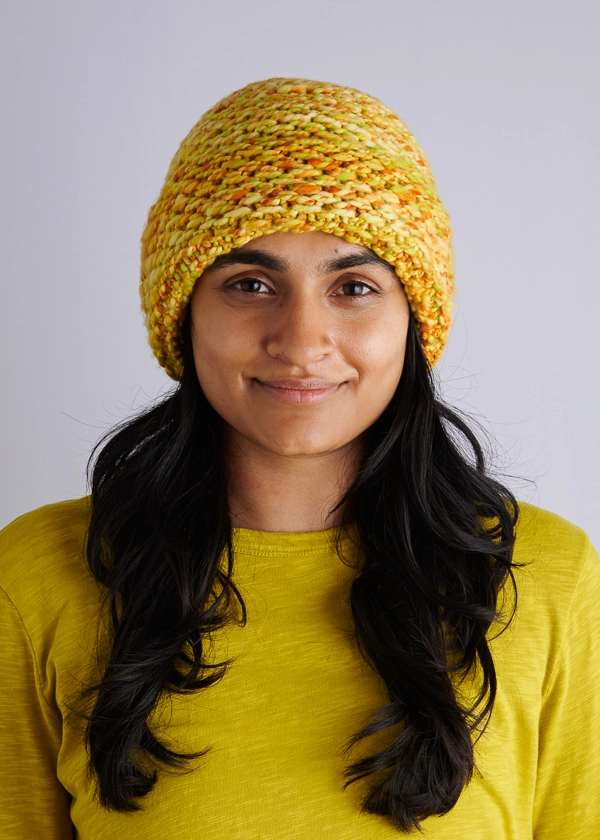 Tayler chose a fun and easy all-over slip stitch pattern with a delightful texture. She smartly inverted it at the brim so the cuff matches when you fold it up. Pom-pom or not, pick your own level of exuberance!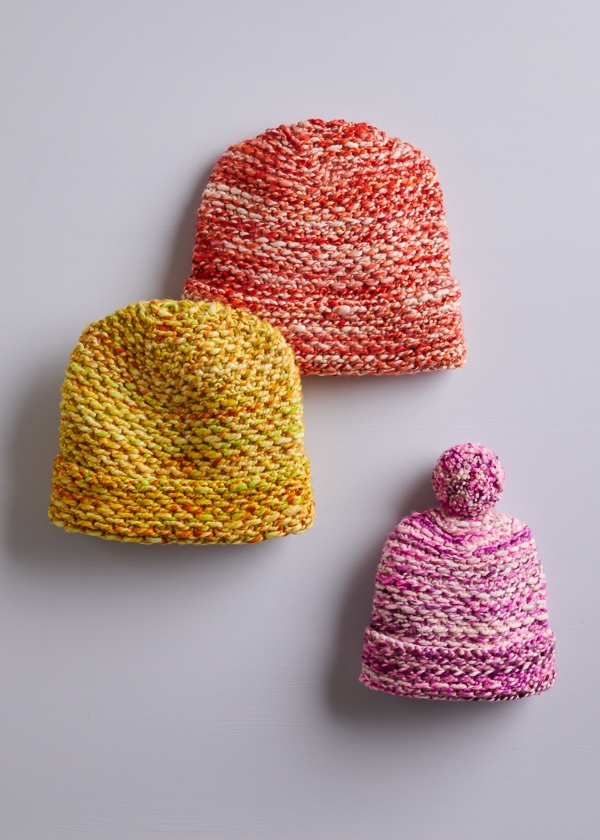 Anticipating the dark days of winter, Tayler knit up her Nesting Hats in Lovebird, a yarn full of beauty and joy.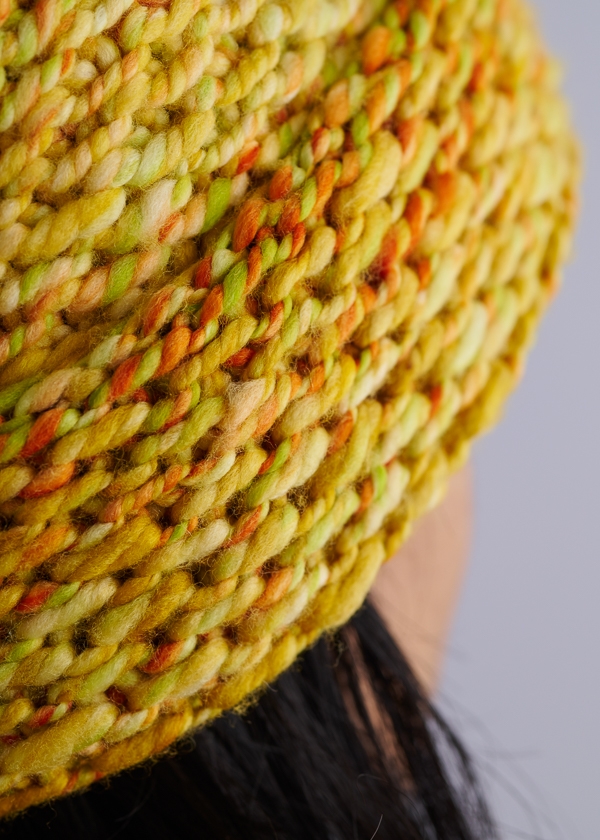 Created in collaboration with Manos Del Uruguay, Lovebird's 100% superwash merino is a kaleidoscope of soft and squishy hand-dyed color. Employed in this super tactile texture of stacked dashes, Lovebird's color party is in full swing!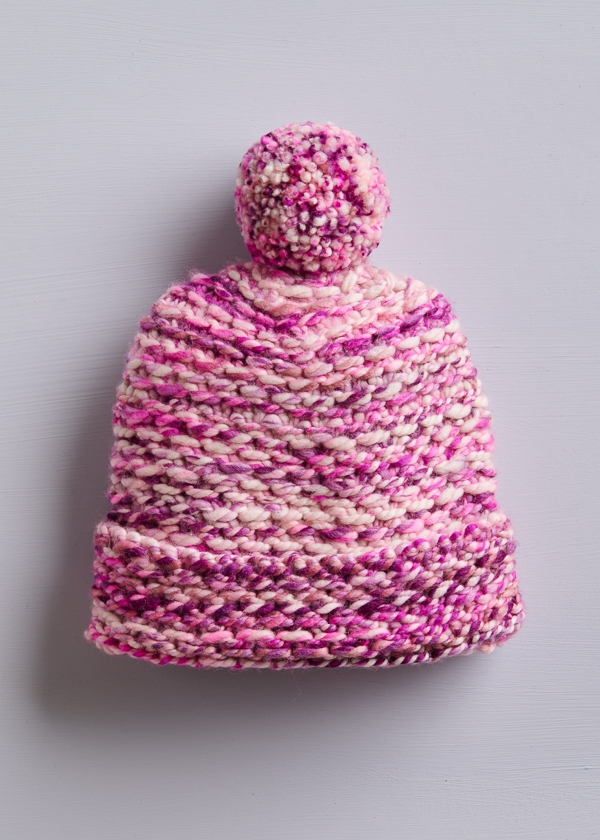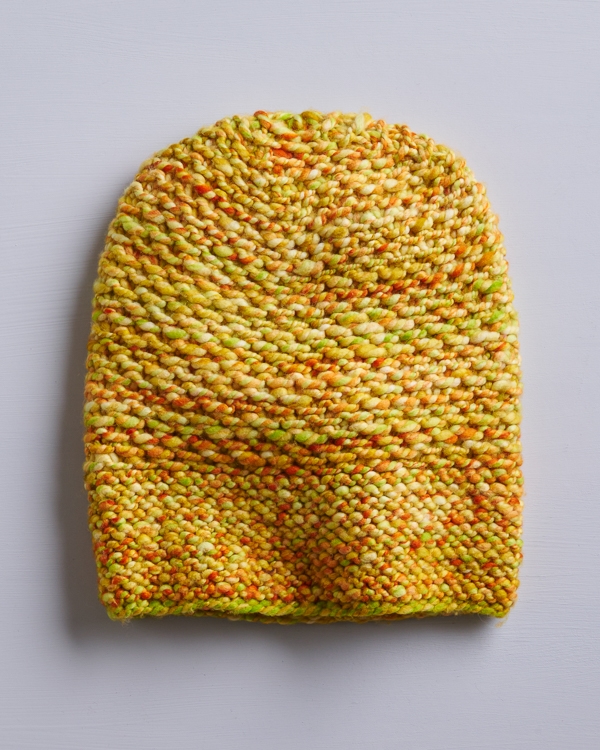 And now more friends have joined the party! We have four new colors of Lovebird, three of which are below… From left to right, meet Papaya, Strawberry Shortcake, and Thistle.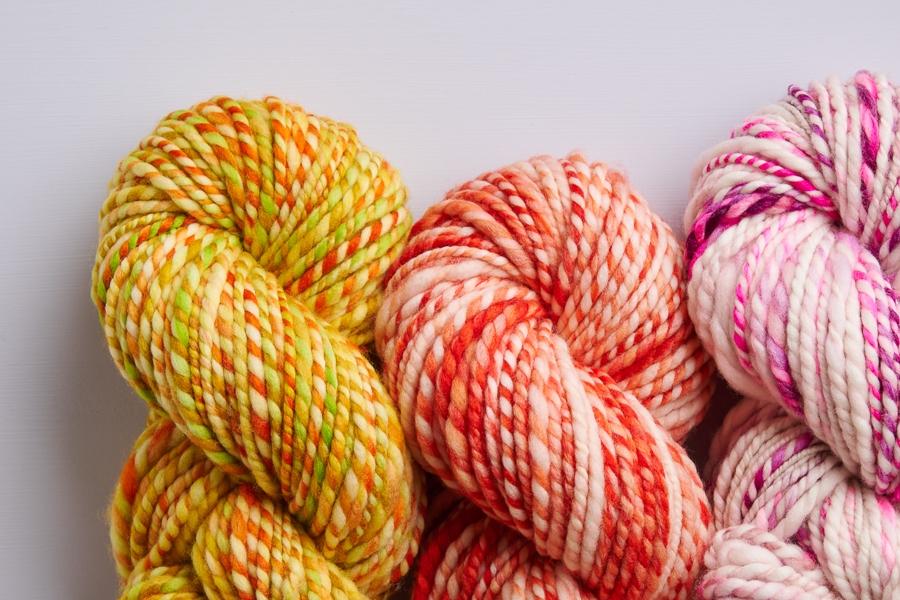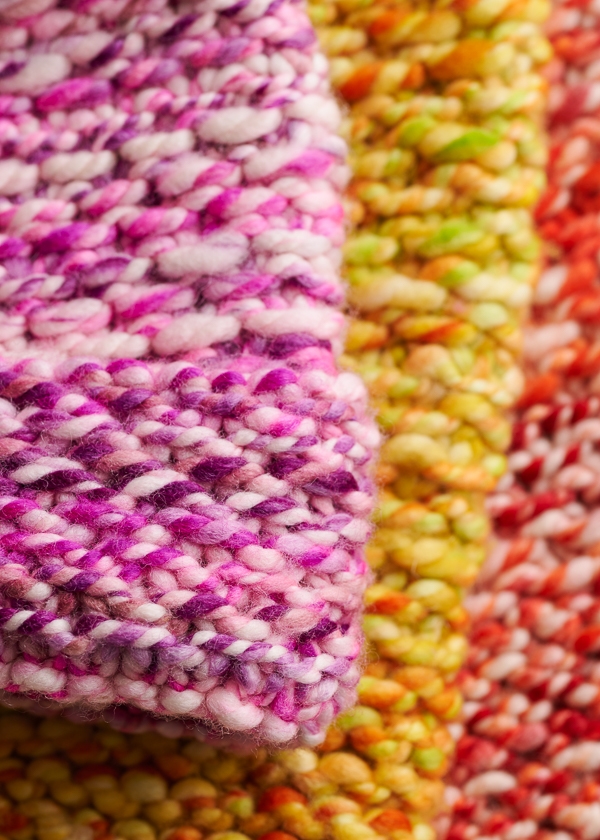 This super bulky yarn knits up at a speedy three stitches per inch, so nesting can begin now!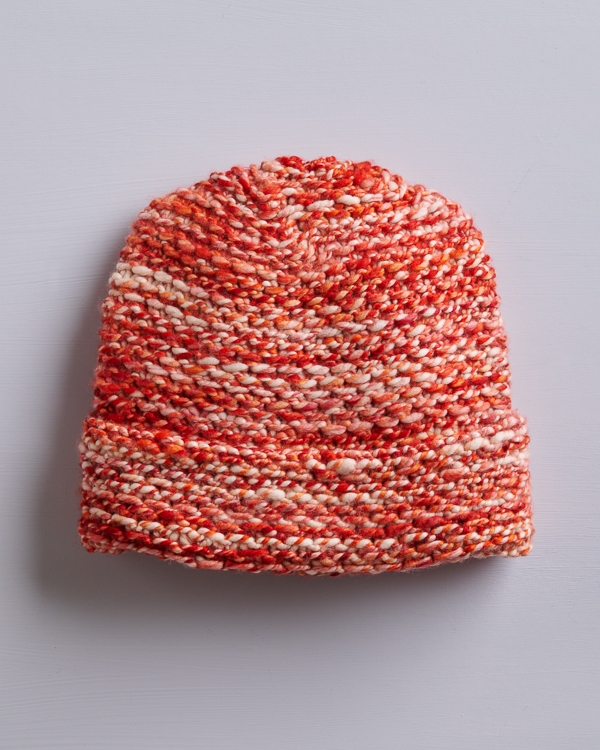 Designed for Purl Soho by Tayler Harris. Based in Utah, Tayler finds inspiration for her designs from the unique landscapes of her home state. From the beautiful mountains and canyons to the national parks and natural landscapes, she loves to incorporate the colors, textures, and shapes of her favorite places.
Share your progress and connect with the community by tagging your pics with #PurlSoho, #PurlSohoBusyHands, #PurlSohoNestingHat, and #PurlSohoLovebird. We can't wait to see what you make!
Materials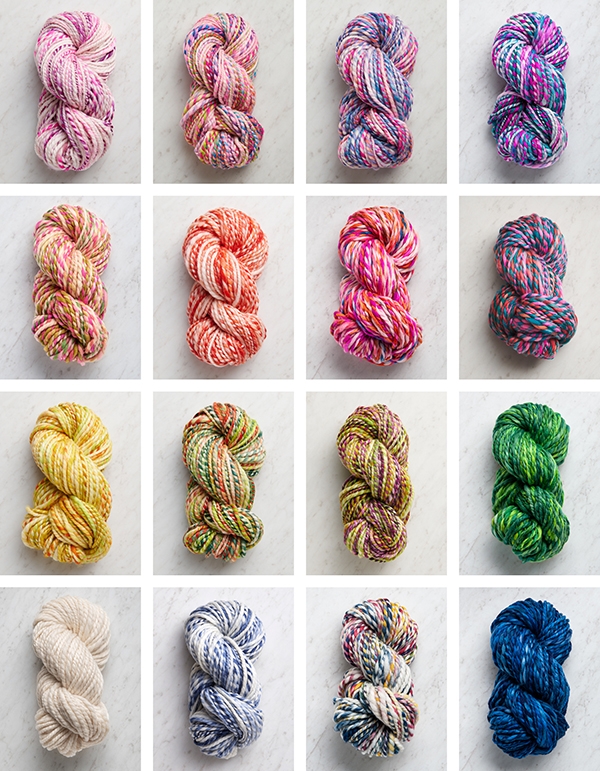 For Pom Pom (Optional)
0 (0, 1, 1) skein of Lovebird; approximately 35 (35, 50, 50) yards required. Baby/Toddler and Kid sizes should have just enough yarn remaining for a pom pom. We recommend keeping tails short and saving your gauge swatch to ensure you can eke out your pom pom!
Purl Soho's Pom Pom Maker Set, Small + Large size (for Baby/Toddler and Kid sizes) or Extra Large + Jumbo size (for Adult Small and Adult Large sizes)
We made our samples in the following sizes and colors…
Baby/Toddler: Thistle
Adult Small: Papaya
Adult Large: Strawberry Shortcake
GAUGE
12 stitches and 27 rounds = 4 inches in Honeycomb Slip Stitch Pattern (see Notes)
SIZES
Baby/Toddler (Kid, Adult Small, Adult Large)
Finished Circumference: 16 (17¼, 20, 22¾) inches
Finished Height, Uncuffed: 9¾ (11, 12, 13¼) inches
Finished Height, Cuffed: 7¼ (8, 9, 10) inches
NOTES
SPECIAL INSTRUCTIONS
SLIP STITCHES
Slip all slipped stitches purlwise unless directed otherwise.
S2KP (SLIP 2, KNIT 1, PSSO)
Slip 2 stitches together knitwise with yarn in back (wyib), knit 1, pass slipped stitches over knit stitch and off right needle. [2 stitches decreased]
For more help with this technique, visit our Tutorial!
STITCH PATTERNS
HONEYCOMB SLIP STITCH PATTERN
Worked over a multiple of 2 stitches, in the round.
Round 1: *P1, slip 1 with yarn in front (wyif), repeat from * to end of round.
Round 2: Knit to end of round.
Round 3: *Slip 1 wyif, p1, repeat from * to end of round.
Round 4: Knit to end of round.
Repeat Rounds 1–4 for pattern.
PATTERN
CUFF
Cast 48 (52, 60, 68) stitches onto circular needles. We used a basic Long Tail Cast On.
Place unique marker and join for working in the round, being careful not to twist the stitches.
Round 1: *K1, slip 1 with yarn in back (wyib), repeat from * to end of round.
Round 2: Purl to end of round.
Round 3: *Slip 1 wyib, k1, repeat from * to end of round.
Round 4: Purl to end of round.
Repeat Rounds 1–4 until piece measures approximately 2¾ (3, 3, 3¼) inches from cast-on edge, ending with Round 4.
Next Round: Knit to end of round.
BODY
Work Rounds 1–4 of Honeycomb Slip Stitch (see Notes) until piece measures approximately 8¼ (9½, 10¼, 11¼) inches from cast-on edge, ending with Round 2.
SHAPE CROWN
NOTE: Change to double pointed needles when necessary.
Set-Up Round: [Work in pattern as established for 12 (13, 15, 17) stitches, place marker] 3 times, work to end of round.
Decrease Round: S2kp (see Notes) [knit to next marker, slip marker, s2kp] 3 times, knit to end of round. [8 stitches decreased]
Working in pattern as established, repeat the Decrease Round every other round 4 (4, 5, 6) more times. [8 (12, 12, 12) stitches remain]
Cut yarn and thread tail onto a tapestry needle. Draw twice through remaining stitches, and pull tightly to secure. Bring tail to inside of hat to weave in.
Weave in all ends and gently wet block before attaching pom pom.
Fold Cuff so right side of stitch pattern faces out.
POM POM (OPTIONAL)
If you're using Purl Soho's Pom Pom Maker Set, use the Large (Large, Extra Large, Extra Large) Pom Pom Maker, the 2½ (2½, 4, 4)-inch Trim Guide, and some Lovebird yarn. Follow the instructions in our Pom Pom Tutorial for making a pom pom.
ATTACH POM POM
Thread each pom pom tail separately through the top of the crown to the inside of the hat. Tie the tails into a knot, then thread the tails up through the pom pom itself and trim them flush with the pom pom.