Elementary Wrap in Posy + Tussock Bundle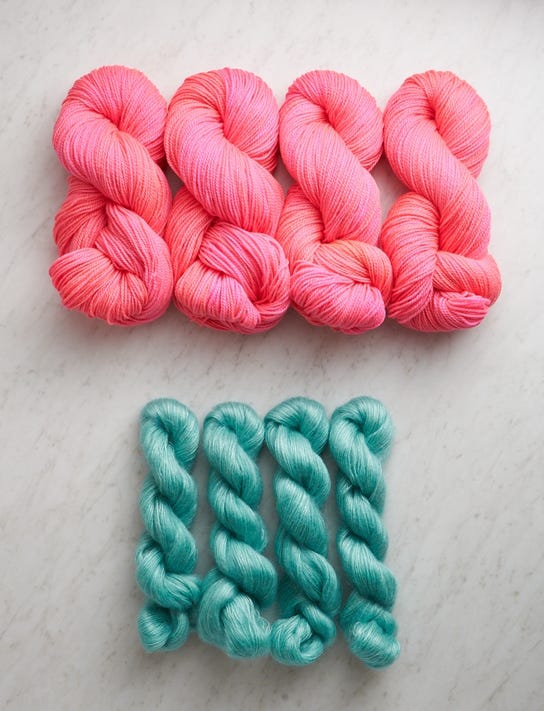 Elementary Wrap in Posy + Tussock Bundle
As even a casual follower of Purl Soho probably knows, we love a swath of stockinette fabric, and nothing does it better than our simple-as-pie Elementary Wrap pattern! For this version, we add a layer of visual complexity without complicating the pattern itself by combining a strand of our hand-dyed Posy with a strand of mohair-silk Tussock. The effect is a mysterious stew of color and texture, a beautiful blend of all the things we love about fiber! Our free Elementary Wrap In Posy + Tussock pattern includes instructions for an 18¼-inch wide Wrap and a 9-inch wide Scarf. This bundle includes enough yarn for the Wrap. For the Scarf, you'll need just two skeins of each yarn, available by buying each yarn separately. And for more information about materials, sizes, and gauge, just click Product Details, above.
PLEASE NOTE If you're using hand dyed yarn, like our Posy, it's always a good idea to hand wash each skein in cold water before winding it into a ball. Rinse until the water runs clear, then lay flat to dry. Very rich and saturated colors may require more steps. Visit our Re-Fixing Dye Tutorial to learn all about them!
Materials
Our Elementary Wrap in Posy + Tussock Bundle has enough yarn to make the wider 18¼-inch Wrap version of this project. It includes…
Yarn A: 4 skeins of Purl Soho's Posy, 75% superwash merino, 15% cashmere, and 10% nylon. Each skein is 318 yards; approximately 636 (1,272) yards required.
Yarn B: 4 skeins of Purl Soho's Tussock, 60% super fine kid mohair and 40% silk. Each skein is 328 yards; approximately 607 (1,214) yards required.
SAMPLES: We used the Pink Papaya + Bright Verdigris and Teal Twilight + Anjou Pear palettes for our samples.
NOTE: For the 9-inch wide Scarf version, you will only need 2 skeins of Posy and 2 skeins of Tussock.
For both versions, you will also need…
Gauge
24 stitches and 30 rows = 4 inches in stockinette stitch
Sizes
Scarf (Wrap)
Finished Dimensions: 9 (18¼) inches wide x 70 inches long
NOTE: Our samples are the Wrap size. If you're making the 9-inch wide Scarf size, please be aware that its edges may curl more due to the nature of stockinette stitch at the narrower width.