Free from complications and excessive ornament, our Triangle Garter Wrap is an object lesson in the beauty of rustic simplicity. Like a wooden floor worn smooth or a perfectly seasoned cast iron pan, it forgoes finery in favor of essential grace and hearty warmth.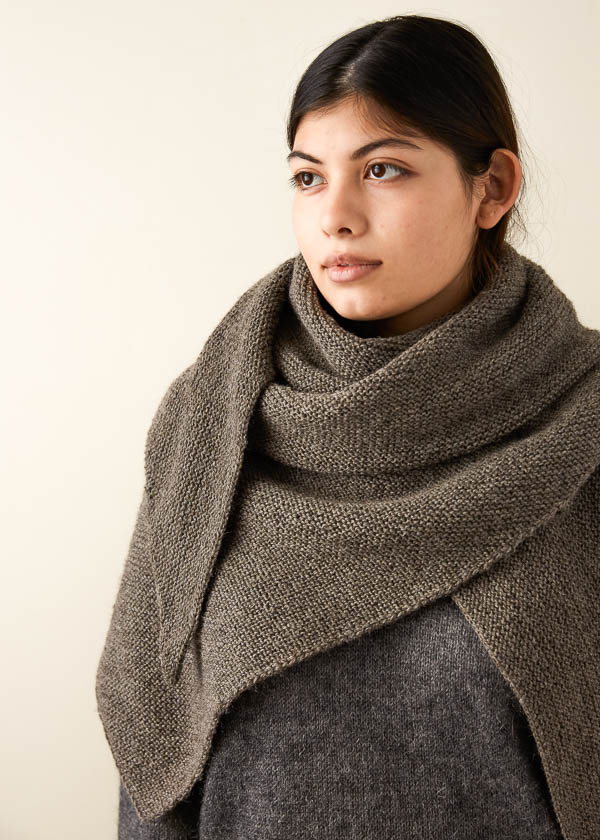 This wrap relies solely on garter stitch, which creates a lofty, cozy, and surprisingly intricate fabric despite being a total breeze to knit. You'll cast on at the wrap's bottom point, then increase at both selvages as the wrap radiates outward in ever-lengthening rows. The result is a big, generous wrap that enfolds the wearer in toasty comfort and low-key panache.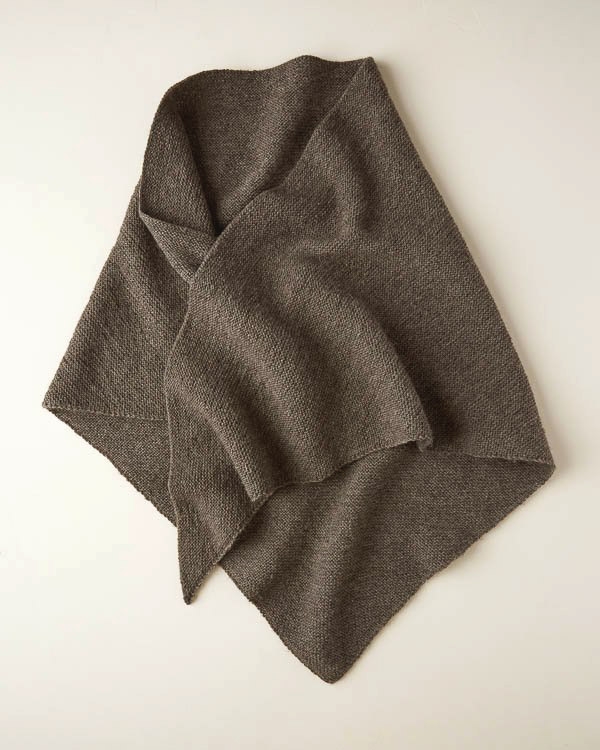 The Triangle Garter Wrap is the perfect occasion to immerse yourself in the beauty of our Good Wool. One hundred percent Andean highland wool, its undyed colors stay true to the natural warm tones of sheep and to the cushy, comfy goodness of pure wool!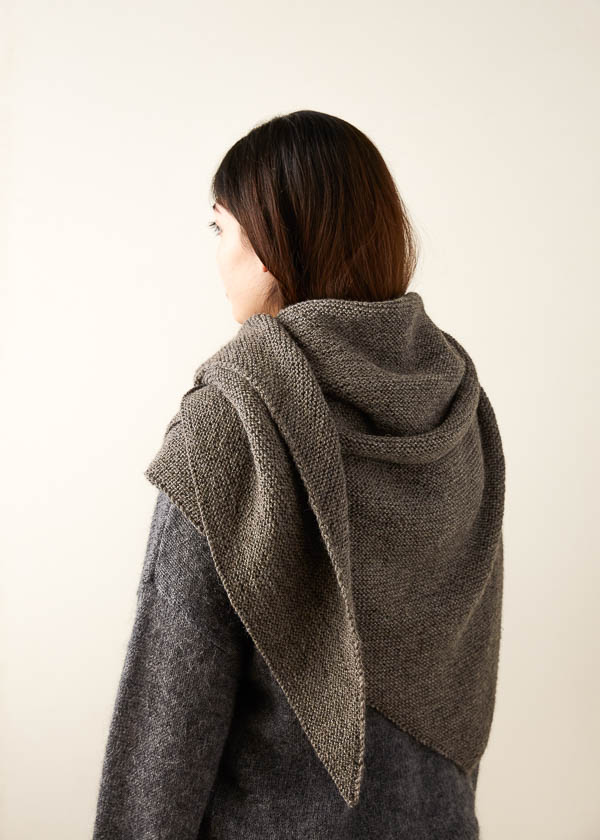 Update: Now In Stripes + New Colors
November 14, 2021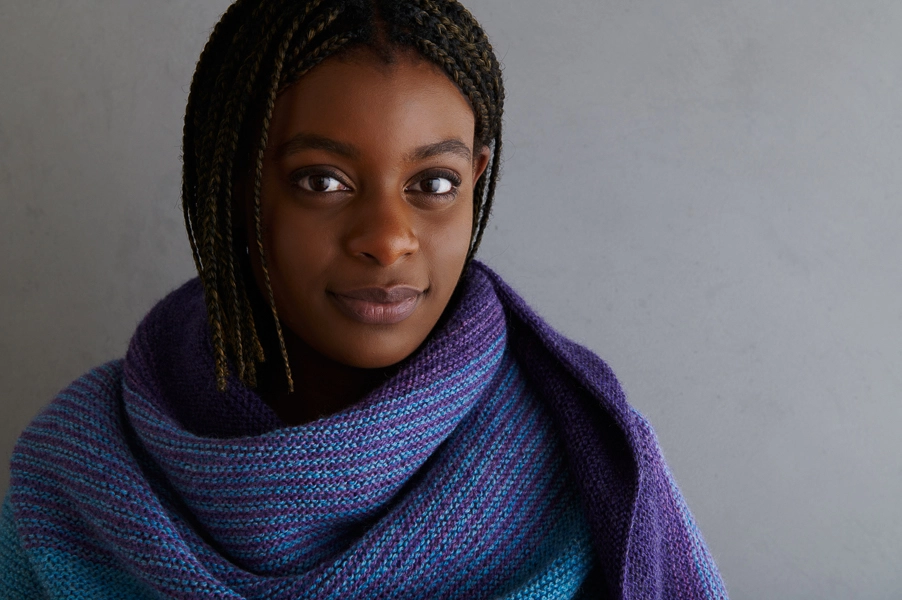 Why stop with just one color? The yarn that inspired this classic wrap, Good Wool, now comes in 25 luminous shades! Read about our new Striped Triangle Garter Wrap here and see which of our 9 stunning palettes makes your heart sing!
UPDATE: NOW IN NINE-NOTE BUNDLES!
NOVEMBER 2023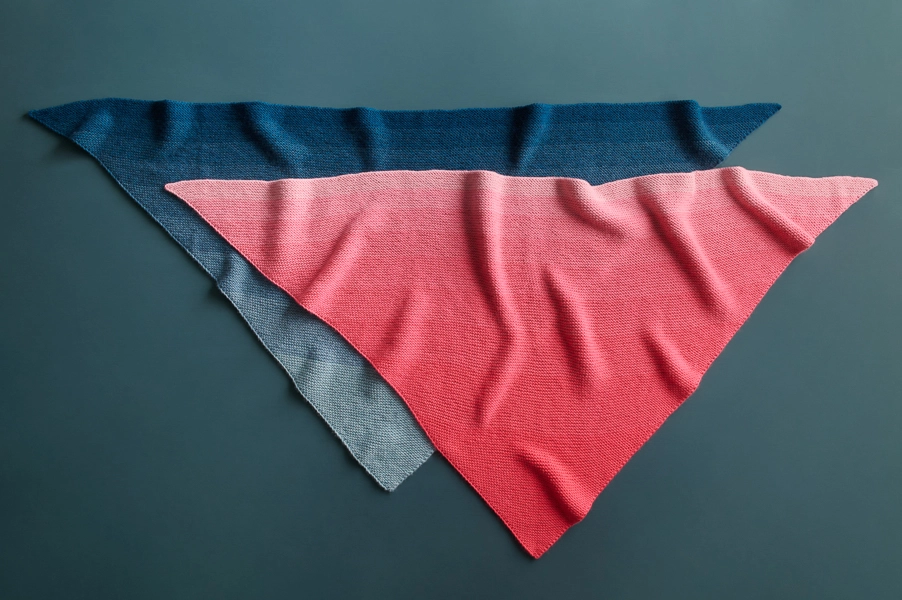 We're thrilled to add the sweet song of our Nine-Note Bundles to our family of Triangle Garter Wraps! Knitting these bundles into a triangle is a whole new rhythm for this gentle gradient, with each stripe getting shorter as it gets wider, a beautiful subtlety. With the softest fine merino wool in the world (very nearly as soft as cashmere), plus 20% baby alpaca, this yarn is plump and satisfying, buoyant and durable, and oh-so-very-soft! So, immerse yourself in the beauty of our Nine-Note Bundles and enjoy each magnificent stitch and every wondrous shift in color!
Designed by Purl Soho founder and co-owner, Joelle Hoverson.
Share your progress and connect with the community by tagging your pics with #PurlSoho, #PurlSohoBusyHands, #PurlSohoTriangleGarterWrap, and #PurlSohoGoodWool. We can't wait to see what you make!
Materials

4 skeins of Purl Soho's Good Wool, 100% undyed Andean highland wool. Each skein is 383 yards/ 100 grams; approximately 1532 yards required. We used the color Hickory Nut (shown top, above).
US 6 (4 mm), 24- and 40- or 47-inch circular needles (NOTE: You can use just the 40- or 47-inch needles, but they may be a bit unruly at the beginning of the project when you're working only a few stitches!)
Gauge
22 stitches and 44 rows = 4 inches in garter stitch
Size
Finished Length Of Wingspan: 75½ inches
Finished Length Of Each Short Side: 52 inches
Finished Length From Cast-On Point To Middle Of Bind-Off Edge: 37¾ inches
Pattern
Cast 2 stitches onto shorter circular needles.
Row 1: K1, knit into front and back (kfb). [3 stitches]
Row 2: Slip 1 purlwise with yarn in front (wyif), kfb, k1. [4 stitches]
Row 3: Slip 1 purlwise wyif, knit to last 2 stitches, kfb, k1. [1 stitch increased]
Repeat Row 3 until piece measures 52 inches along one side of triangle from cast-on point, or until you have used all but approximately 10 yards of yarn, if using Good Wool.
Bind off loosely, going up a needle size if needed to ensure a nice, elastic edge.
Weave in ends, block if desired, and get cozy!