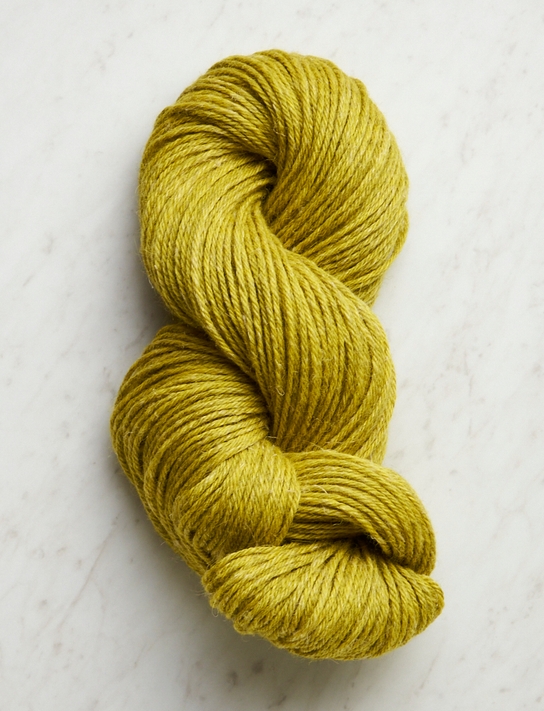 Our go-to Linen Quill Worsted is practical, knit-able, durable, but most of all, blow-you-away beautiful! Just like it sounds, Linen Quill Worsted is our fingering-weight Linen Quill plumped up to a gorgeous worsted weight. The same fine highland wool, alpaca, and linen blend, the wool adds springiness and durability, while alpaca adds lovely long-fiber softness, and the linen... Only 15% of the mix but critical to this yarn's unique character! Its tendency to sprout out of the fiber lends a slightly rustic texture, while the way linen takes dye differently than animal fibers gives the yarn a beautiful depth and fascination (zoom in on High Tide for a good view of this!). It's made in Peru, and the wool and alpaca both meet the rigorous Responsible Wool and Alpaca Standards, which certify a holistic respect for animal welfare, a progressive approach to land management, and a strong chain of custody for traceability. Linen Quill Worsted is a perfect five stitches to the inch. One hundred and sixty four yards per 100-gram skein and available in over twenty of everyone's favorite Linen Quill colors, we love it for hats and scarves, sweaters and blankets...For just about everything!
Product Details
Content

50% fine highland wool, 35% alpaca, and 15% linen

Weight

100 grams (3.5 ounces)

Length

164 yards (150 meters)

Gauge

4.75-5 stitches per inch, worsted weight

Suggested Knitting Needle

US 6 or 7 (4 or 4.5mm)

Suggested Crochet Hook

F or G (4 or 4.5mm)

Recommended Care

Hand wash, lay flat to dry

More Info

Made in Peru, Fair Trade Certified, meets Responsible Wool and Alpaca Standards
You Might Also Like...
Lucky Dog Sweater Pattern Download
Sole Salvo's Lucky Dog Sweater used 1 (2, 2, 3, 3, 4) skein(s) of Purl Soho's Linen Quill Worsted for a chest circumference of approximately 12-14 (14-16, 16-20, 20-24, 24-28, 28-32) inches, with 1-3 inches of ease. Pick your favorite color above and add the PDF to your order!