Striped Triangle Garter Wrap Bundle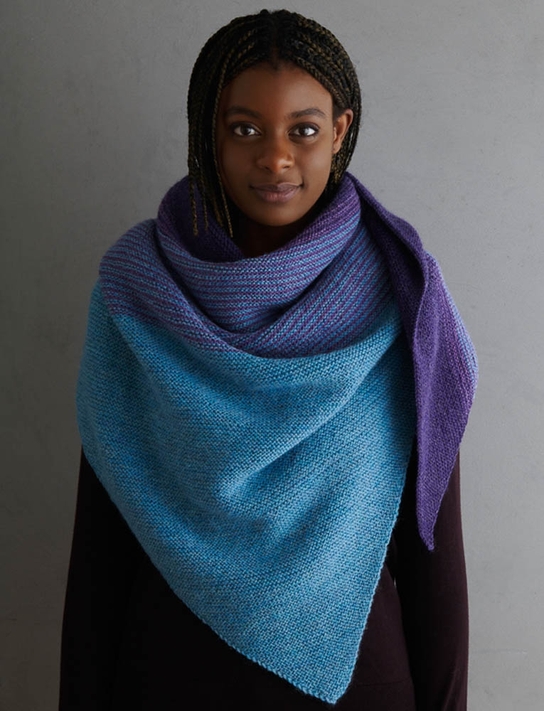 Striped Triangle Garter Wrap Bundle
Our Striped Triangle Garter Wrap proves the perfect canvas for Good Wool's gorgeous colors, from the verdant glow of Tree Frog to the foggy softness of Pink Dawn! A combo of three colors, plus single row striping, create a reverberant flow from point to face-framing edge, while the generously sized triangle is big enough for some drama and cozy enough to replace a coat in the fall or face a storm in the winter. One hundred percent Andean highland wool and 1000% beautiful, pick the bundle that makes you feel good!
Product Details
Materials
Our Striped Triangle Wrap Bundle includes...
4 skeins of Purl Soho's Good Wool, 100% Andean highland wool. Each skein is 383 yards/ 100 grams. 

Color A: 2 skeins; approximately 766 yards required

Color B: 1 skein; approximately 383 yards required

Color C: 1 skein; approximately 383 yards required
NOTE: You'll use nearly full skeins of all three colors. To avoid running short, please double check your gauge, reuse your swatch yarn if necessary, and be conservative with tails!
Choose from nine palettes (we used Moorland, Dogwood, and Huckleberry for our samples)…
Dogwood: Color A, Pink Dawn; Color B, Winter Grass; Color C, Tree Frog

Moorland: Color A, Wild Heath; Color B, Blue Moon; Color C, Apple Cider

Huckleberry: Color A, Seaside Blue; Color B, Purple Pansy; Color C, Violet Night

Coast: Color A, Teal Twilight; Color B, Periwinkle Gray; Color C, Freshwater Blue

Garden Snail: Color A, Periwinkle Gray; Color B, Wild Heath; Color C, Blue Moon

Canopy: Color A, Coastline Gray; Color B, Fern Green; Color C, Dark Spruce

Moss: Color A, Driftwood Gray; Color B, Tree Frog; Color C, Fern Green

Honey: Color A, Heirloom White; Color B, Hay Field; Color C, Pink Dawn

Farmhouse: Color A, Driftwood Gray; Color B, Heirloom White; Color C, Barn Door
You'll also need…
Gauge
22 stitches and 44 rows (22 ridges) = 4 inches in garter stitch
Size
Finished Length of Wingspan: 73¼ inches
Finished Length of Each Short Side: 52 inches
Finished Length from Cast-On Point to Middle of Bind-Off Edge: 36¾ inches
You Might Also Like...
Addi Rocket US 6, 24-inch Circular Needles
Addi Rockets are the ultimate circular needles for speedy, snag-free knitting! Click here to see our full range of sizes and lengths, or click Add To Basket to purchase these US 6, 24-inch needles for knitting up your very own project!