Cast on for our free Triangle Garter Wrap pattern and hear the sweet song of our Nine-Note Bundle!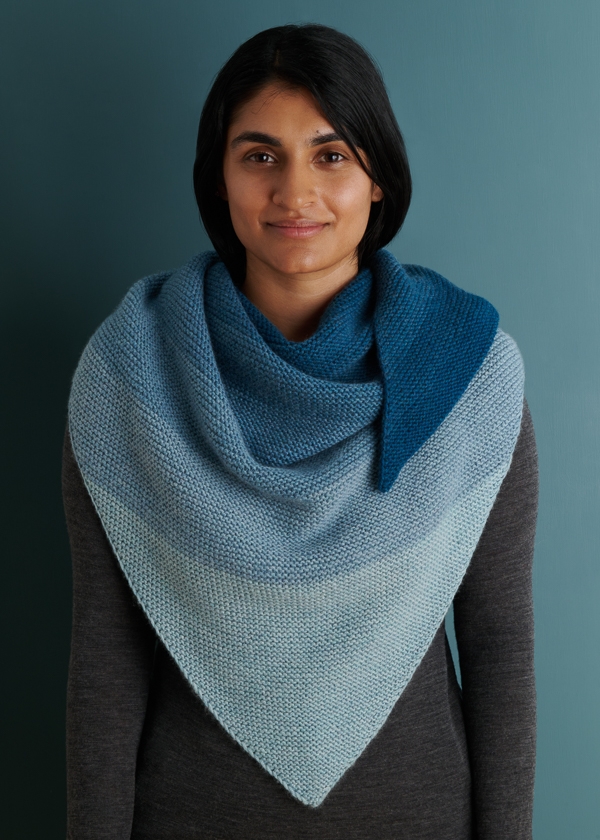 You start with just two stitches, then add an easy knit-front-and-back increase and a simple slip stitch to keep the edges neat, then watch as your little triangle crescendos into a gorgeous wrap!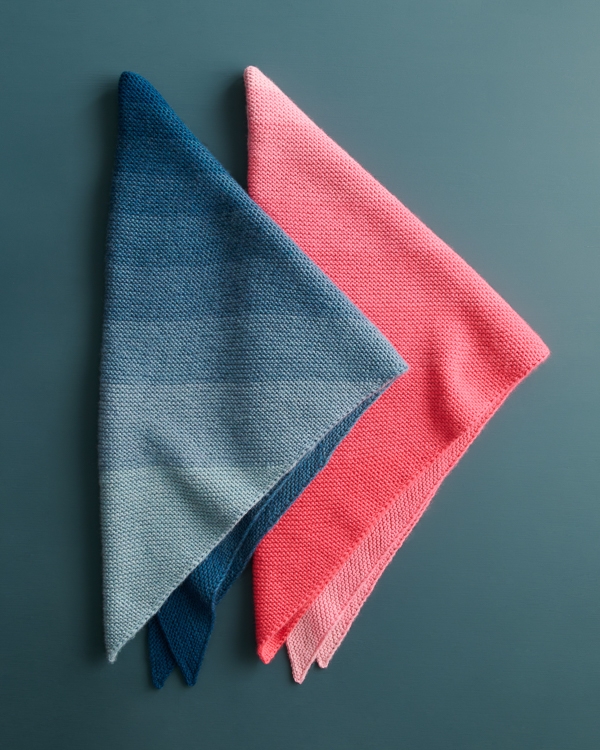 Knitting a Nine-Note Bundle into a triangle is a whole new rhythm for this gentle gradient, with each stripe getting shorter as it gets wider, a beautiful subtlety.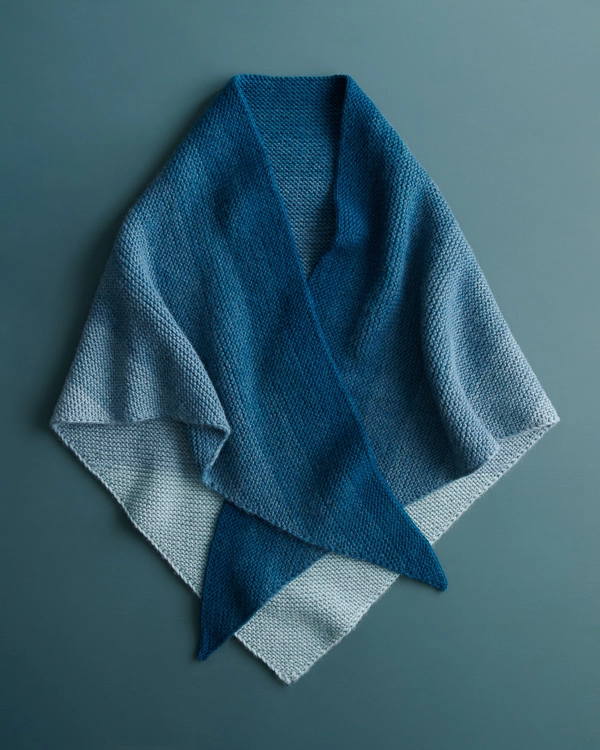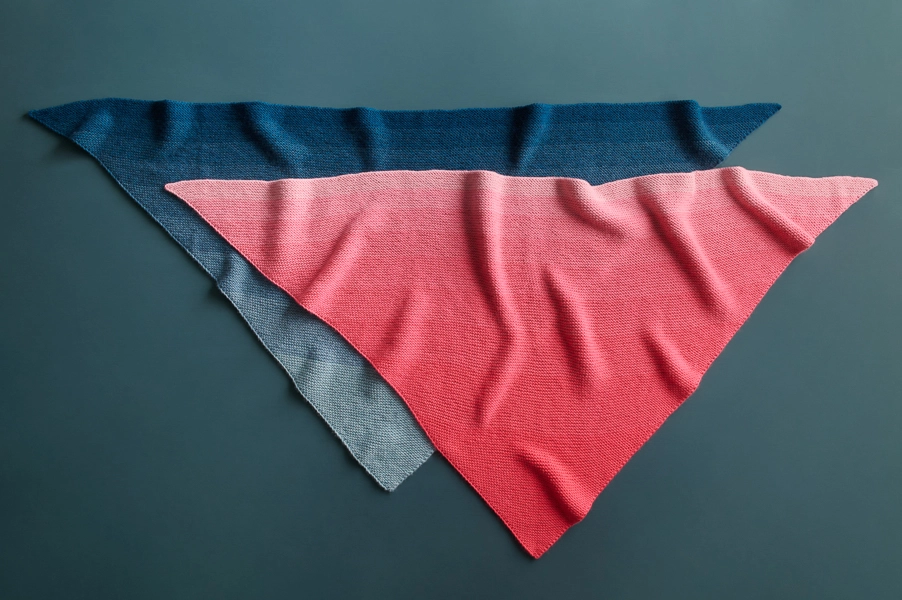 We cast on our Bluegrass wrap with the lightest shade, moving into the more saturated shades as the shawl expands, and did the opposite with the Begonia bundle. Light to dark or vice versa, the Nine-Note Bundle offers a wonderful opportunity to play with color!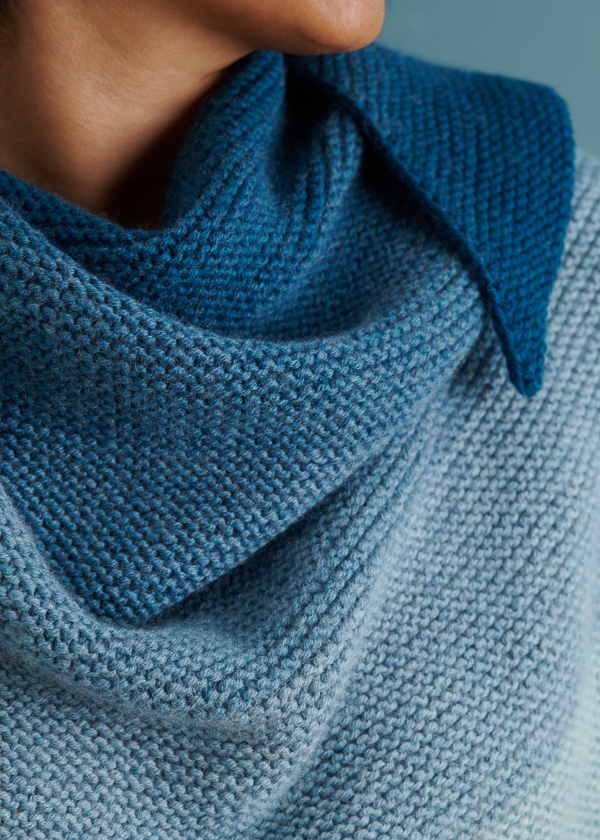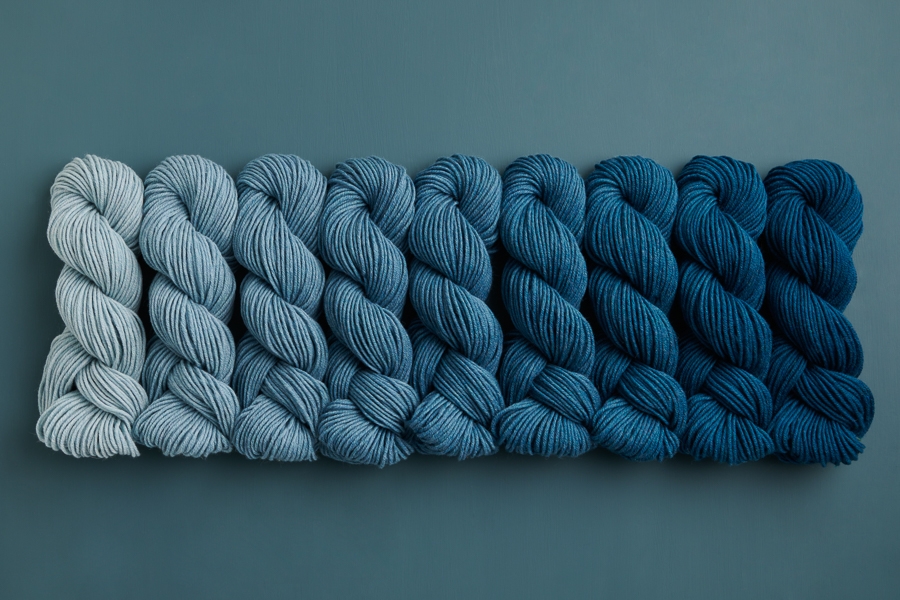 If you haven't knit with our Nine-Note Bundles, you should… It's a truly magnificent experience! Because of the yarn's many plied strands and high twist, it is plump and satisfying, buoyant and durable. And since the more twist a yarn has, the less supple it can feel, we started with the softest fine merino wool in the world (very nearly as soft as cashmere), then added 20% baby alpaca, a famously yielding and cozy touch.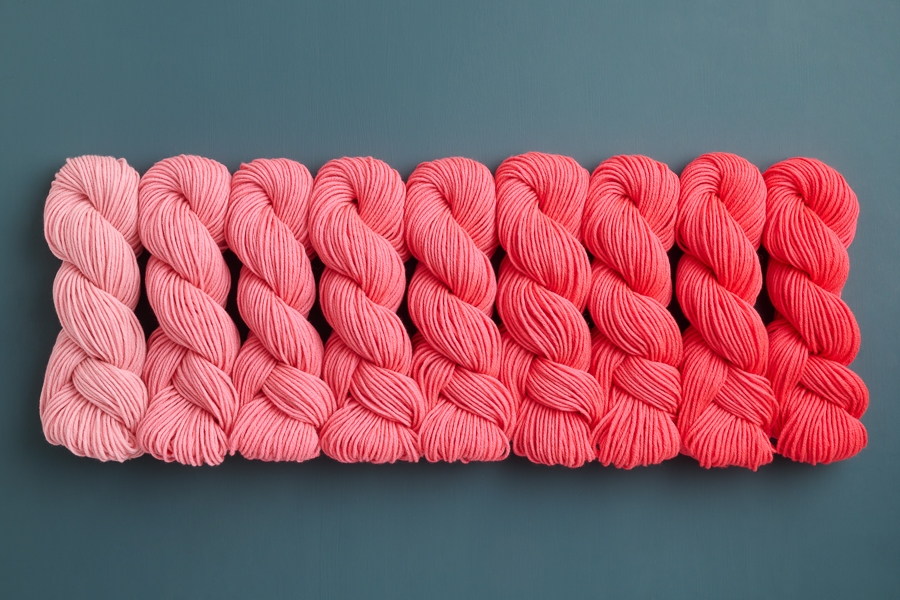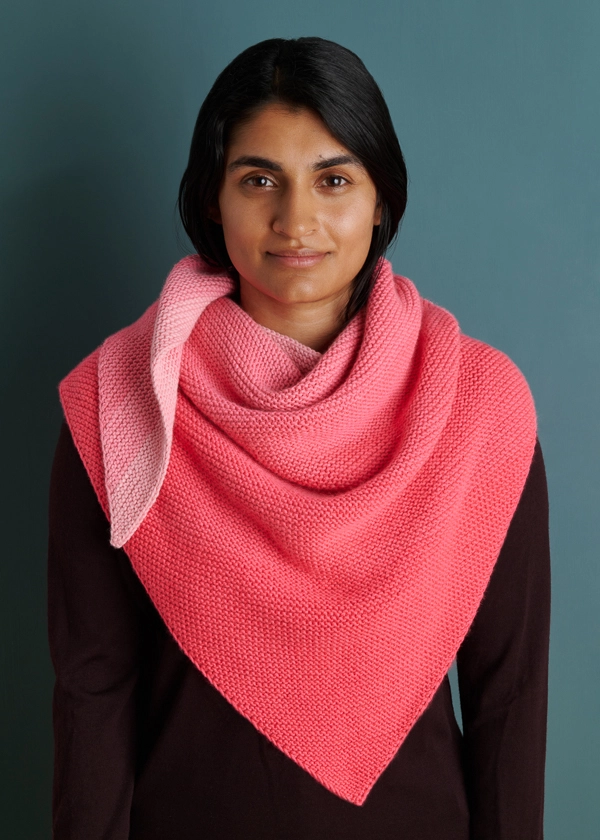 Combining these two fibers also adds depth to the color, with alpaca's natural luster, and richness to the feel, with the spring of merino and drape of alpaca. So, immerse yourself in the beauty of our Nine-Note Bundles and enjoy each magnificent stitch and every wondrous shift in color!
Designed for Purl Soho by Jennifer Hoverson Jahnke.
Share your progress and connect with the community by tagging your pics with #PurlSoho, #PurlSohoBusyHands, #PurlSohoTriangleGarterWrap, and #PurlSohoNineNoteBundle. We can't wait to see what you make!
Materials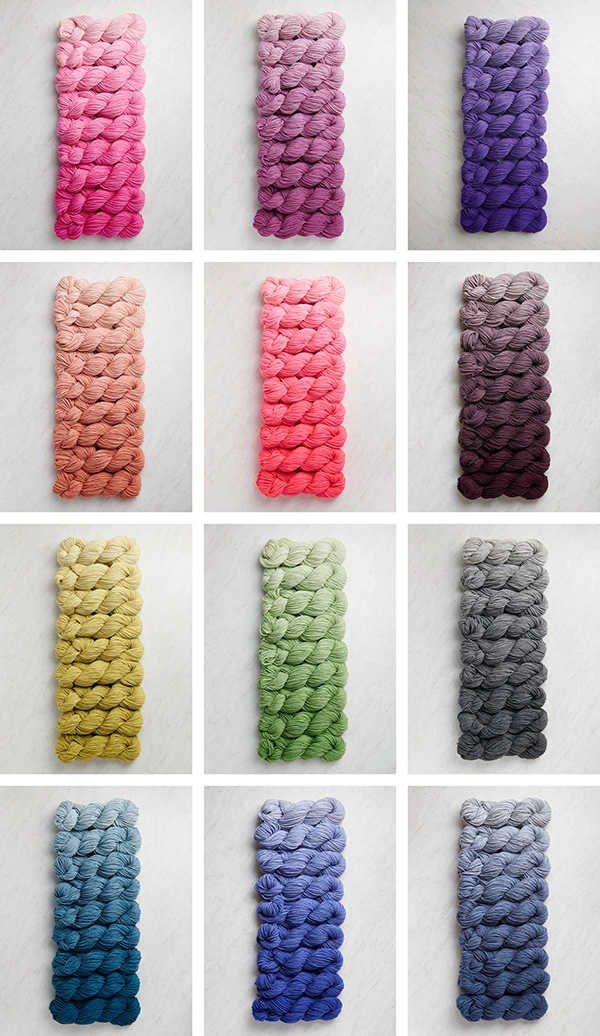 Our Nine-Note Bundle includes…
9 skeins of 80% extra fine merino wool and 20% baby alpaca yarn. Each skein is 100 yards/ 50 grams; approximately 900 yards required. We knit our samples in the colors Begonia and Bluegrass. (NOTE: This yarn is only available in the Nine-Note Bundle.)
A Purl Soho canvas tote bag
A postcard with a link to this free pattern
You will also need…
US 7 (4.5 mm), 24- and 40-inch circular needles (NOTE: You can use just the 40-inch needles, but they may be a bit unruly at the beginning of the project when you're working only a few stitches!)
GAUGE
19 stitches and 38 rows (19 ridges) = 4 inches in garter stitch
NOTE: We used almost the entire bundle to make this Wrap. To avoid running short, please re-use your swatch yarn, double check your gauge, and be conservative with tails!
SIZE
Finished Length of Wingspan: 59¾ inches
Finished Length of Each Short Side: 41½ inches
Finished Length from Cast-On Point to Middle of Bind-Off Edge: 29¾ inches
NOTES
COLOR SEQUENCE
You can start this project with either the darkest color, like our Begonia wrap, or the lightest color, like our Bluegrass wrap, depending on which look you prefer. Open your bundle on the side of the color you wish to start with and remove the skeins as you need them, starting with Color A, the cast-on color, and moving through Colors B-I in order. Note that it can be difficult to tell which color comes next if you mix up your skeins, so if you don't want to leave them in the package, consider labeling them Color A to Color I as you remove them.
SLIP STITCHES
Slip all stitches purlwise with yarn in front, unless otherwise specified.
PATTERN
With Color A (see Notes) and using a cast on of your choice, cast 2 stitches onto shorter circular needles. We used a basic Long Tail Cast On.
Row 1: K1, knit into front and back (kfb). [3 stitches]
Row 2: Slip 1 (see Notes), kfb, k1. [4 stitches]
Row 3: Slip 1, knit to last 2 stitches, kfb, k1. [1 stitch increased]
Repeat Row 3 until you have used all of Color A.
*With Color B, repeat Row 3 until you have used as much of Color B as you can, ending on the same side you ended Color A.
Repeat from * with Colors C-I, making sure to always switch colors on the same side. For Color I, end with a few yards left over for binding off.
With Color I, loosely bind off knitwise.
Weave in the ends and you're done!