Our Candy Stripe Cowl takes two colors of our new self-striping Novella yarn, adds simple garter-stitch stripes, and stripes upon stripes, it's like a candy store in here!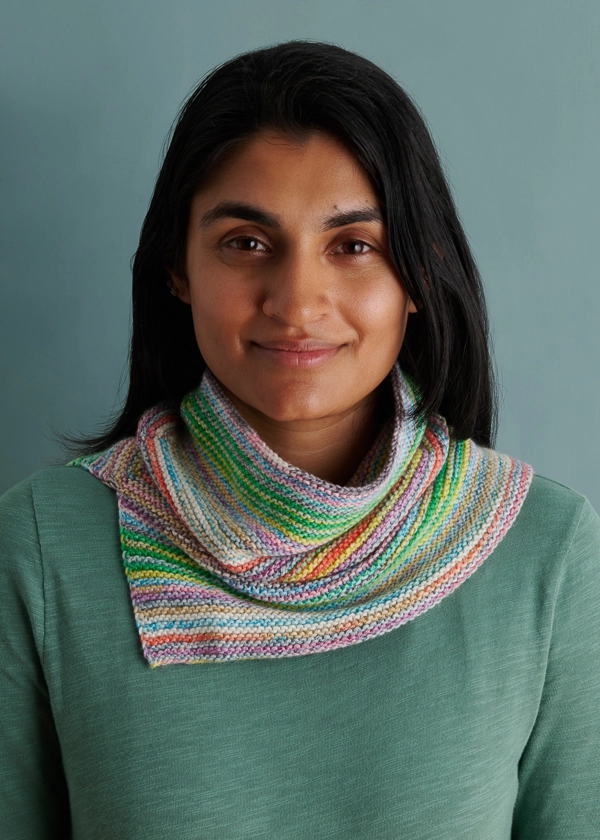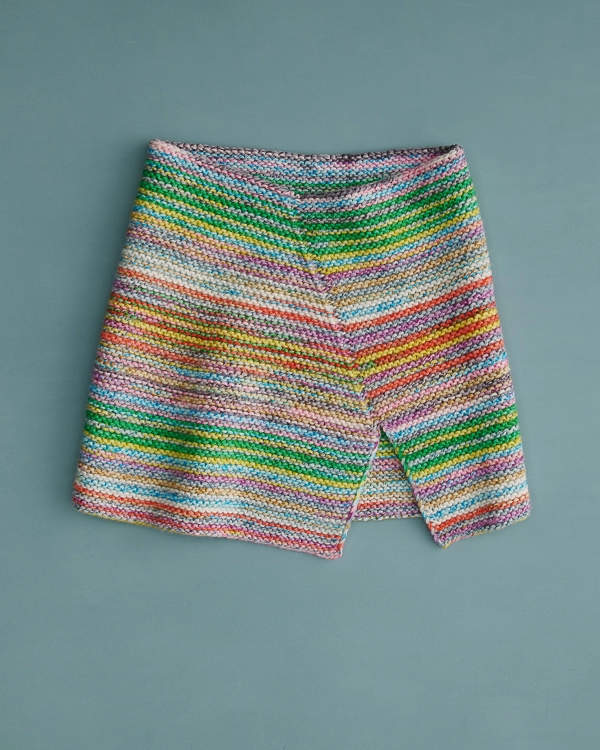 What may look like a mind-boggling knit is actually so simple a beginner can do it! It's just a matter of alternating two different colors of Novella, each with its own self-striping pattern.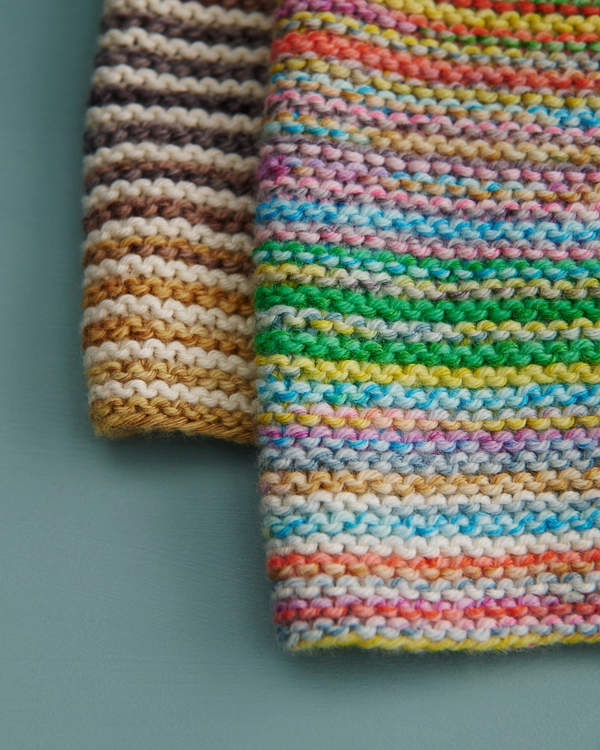 A "self-striping" yarn is dyed in a pattern of colors, so that when you knit it, the colors form repeating stripes, thick ones if your knitting is narrow and skinny ones if it's wide.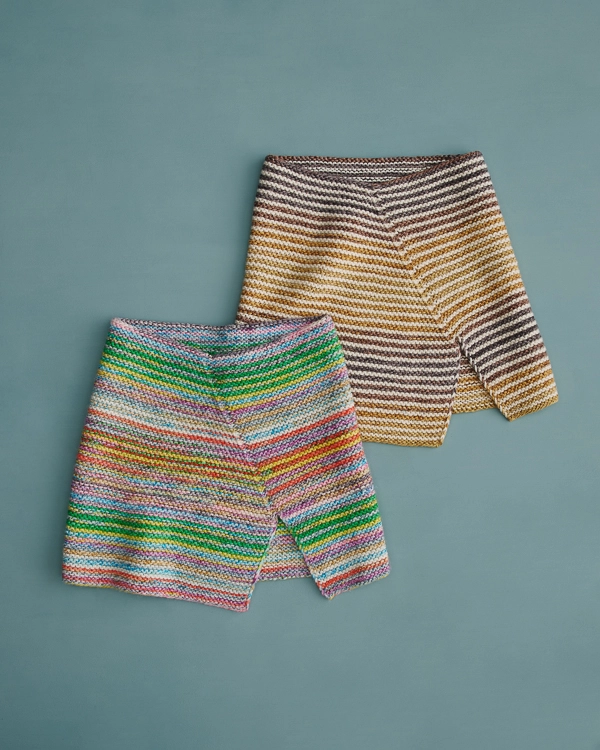 Novella is just that kind of yarn but with an additional twist. Not just a series of colors, Novella has two colors spun together throughout its overall multi-color repeat. For example, you can see below that the sky blue section of the yarn is a mix of vivid blue and pale blue and that the same is true for every color. The effect is softly marled colors with a beautiful depth and fascination.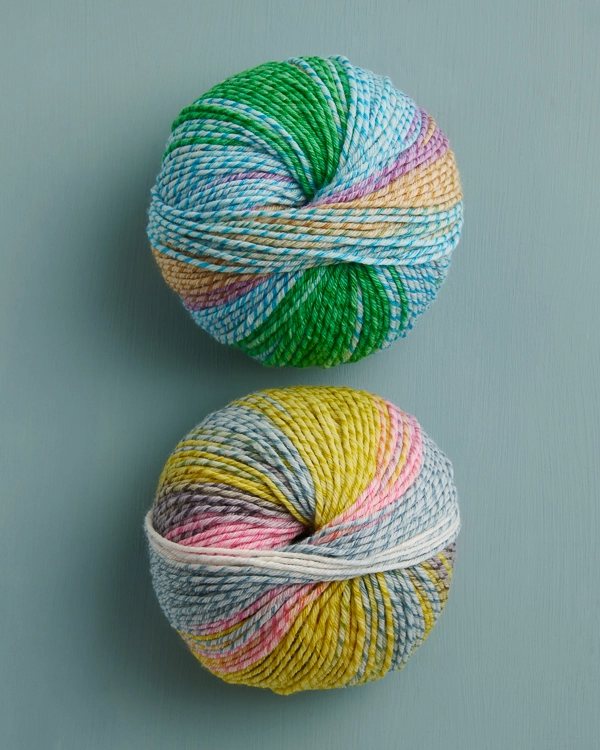 The brightly colored Candy Stripe Cowl is actually a mix of the two colors above, two rows of Flower Patch, then two rows of Salt Water Taffy. They mingle serendipitously but always beautifully… It's impossible to go wrong! Look how different, but equally lovely, the mix of Desert Ridge is with simple Heirloom White (below). You can really see the distinctive stripes but the shifting color remains soft and undulating and just beautiful!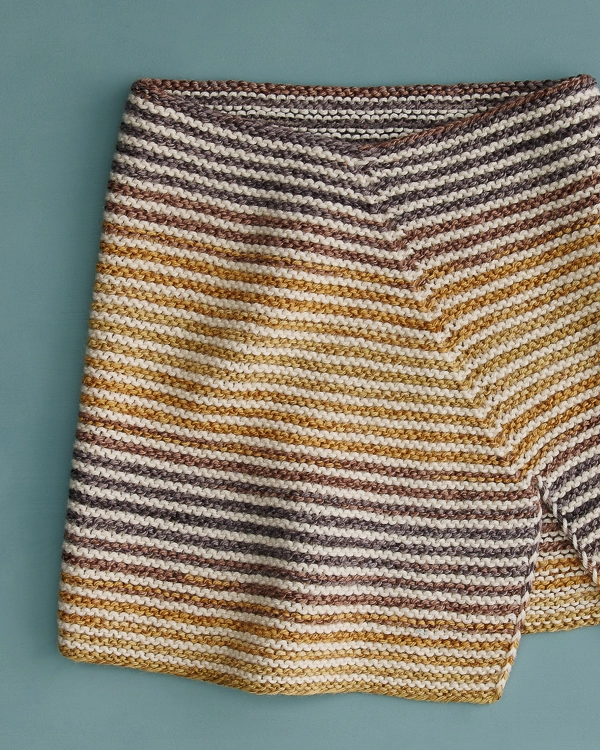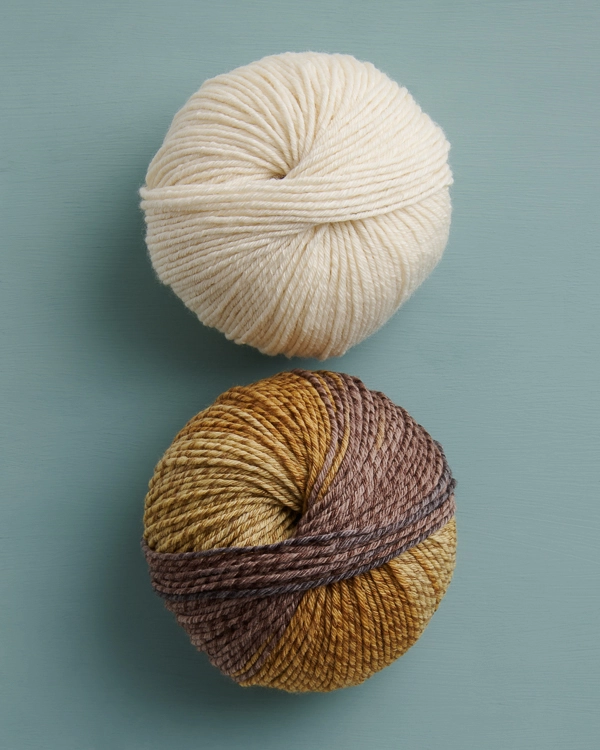 Aside from all its colorful tricks, Novella is, at its heart, a wonderful yarn to hold in your hands and wear around your neck. Made in Italy, it is 92% extra fine merino, which is the softest merino there is, plus 8% mulberry silk. The merino lends body and bounce to the yarn (and fun to your knitting experience!), while the silk adds luster to its surface and also beauty to its drape.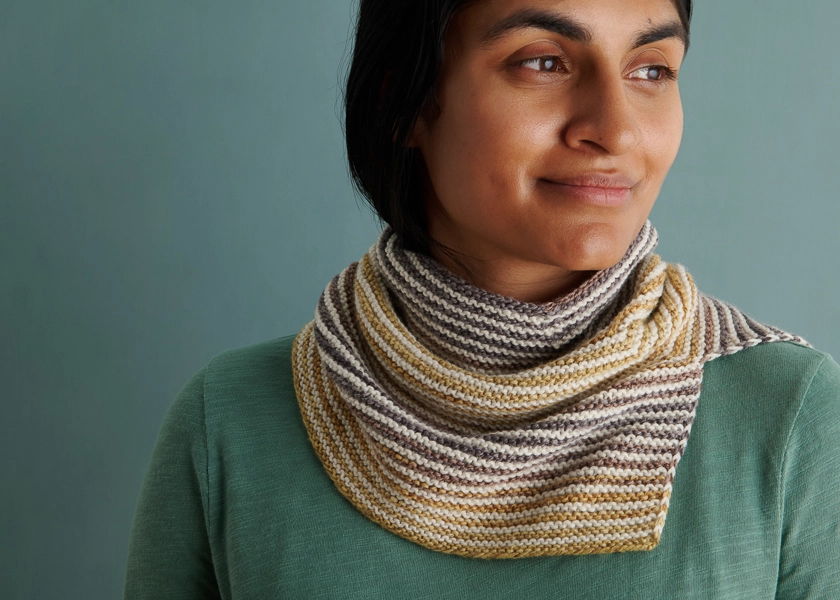 To make a Candy Stripe Cowl, you will only need two balls of Novella in two colors. We have five Candy Stripe Cowl Bundles to choose from, or explore your own combo by picking two colors of Novella that you think will pleasantly surprise you!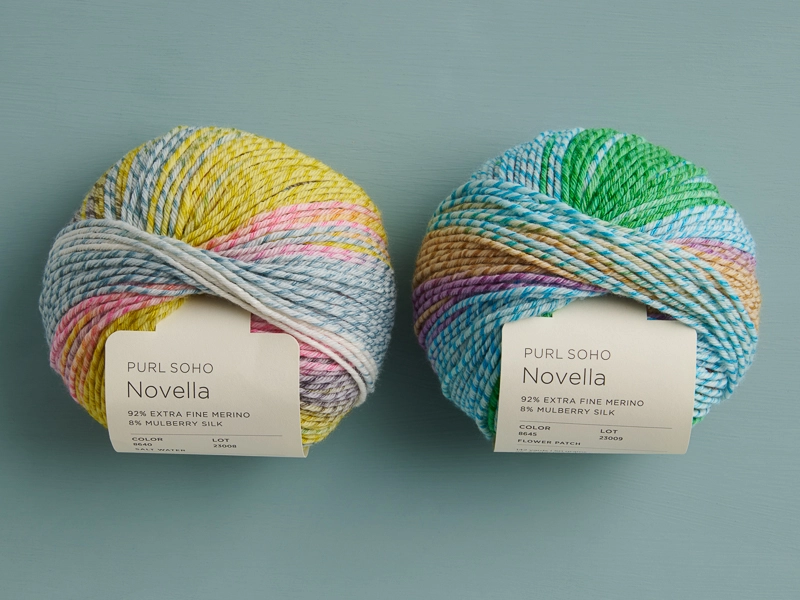 Designed by Purl Soho designer, Gianna Mueller. Click here to see even more of Gianna's designs!
Share your progress and connect with the community by tagging your pics with #PurlSoho, #PurlSohoBusyHands, #PurlSohoCandyStripeCowl, and #PurlSohoNovella. We can't wait to see what you make!
Materials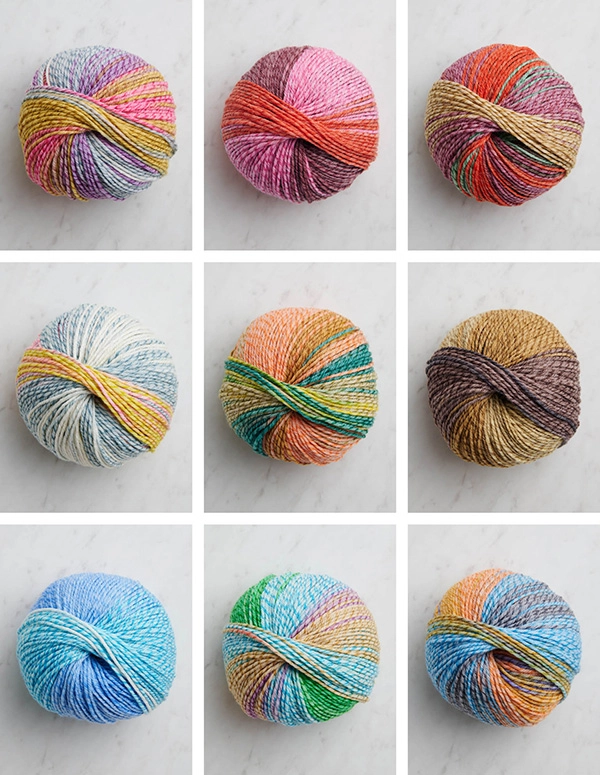 Pick up two balls of Novella in two colors or one of our Candy Stripe Cowl Bundles. It comes in five playful palettes and includes…
2 balls of Purl Soho's Novella, 92% extra fine merino and 8% mulberry silk. Each ball is approximately 142 yards/ 50 grams.

Color A: 1 ball; approximately 142 total yards required
Color B: 1 ball; approximately 142 total yards required
You will also need…
Samples: We used Salt Water Taffy + Flower Patch and Desert Ridge + Heirloom White for our cowls!
GAUGE
22 stitches and 44 rows = 4 inches in garter stitch
NOTE: We used every last yard for our cowls! To avoid running short, please re-use your swatch yarn (and avoid cutting it, if you can), double check your gauge, and be conservative with tails!
SIZE
Finished Circumference at Top: 18¼ inches
Finished Circumference at Bottom: 24¾ inches
Finished Height: 10½ inches
NOTES
Slip Stitches
Slip all slip stitches purlwise with yarn in front.
SLIP STITCH COLOR CHANGE
In Rows 1 and 3 of the Beginning section, you will change colors while working a slip-stitch selvage. Here's how…
Slip 1 purlwise with yarn in front, then hold old yarn over the new yarn (shown above, left: The white is the old yarn and the brown is the new,). Pick up new yarn and move it to the back of work, ready to knit (shown above, right: Note how the new yarn [brown] has caught and "trapped" the old yarn [white].).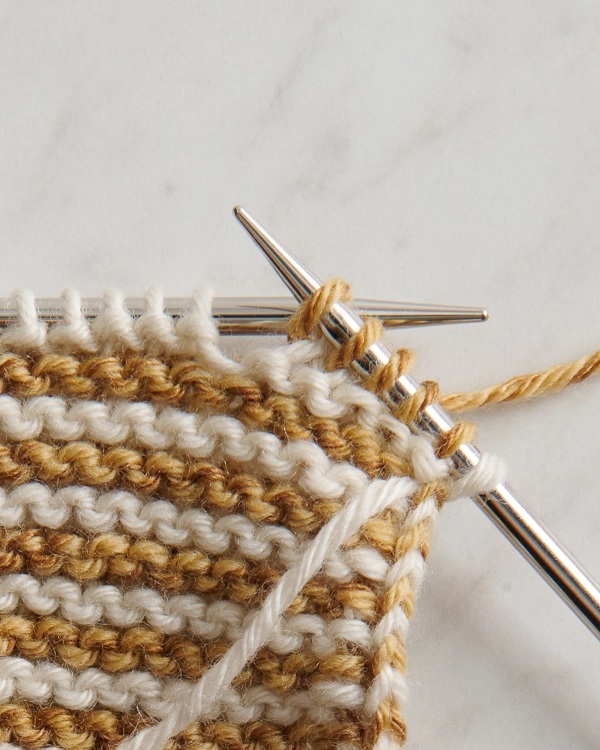 Then continue knitting… The result is a pretty, striped slip-stitch selvage!
PATTERN
BEGINNING
With Color A, cast on 136 stitches. We used a basic Long-Tail Cast On.
Set-Up Row (wrong side): With Color A, knit to end of row.
Row 1 (right side): With Color B and working Slip Stitch Color Change (see Notes), slip 1 (see Notes), knit to end of row.
Row 2 (wrong side): With Color B, slip 1, knit to end of row.
Rows 3 and 4: With Color A, repeat Rows 1 and 2.
Repeat Rows 1–4 nine more times, until piece measures approximately 3¾ inches from cast-on edge.
Mark one end of the final row with a removable stitch marker or piece of scrap yarn.
DECREASE
NOTE: You will not work a slip-stitch selvage in this section. Do not cut yarn between stripes.
Row 1 (right side): With Color B, k1, knit 2 together (k2tog), knit to end of row. [1 stitch decreased]
Row 2 (wrong side): With Color B, knit to end of row.
Rows 3 and 4: With Color A, repeat Rows 1 and 2. [1 stitch decreased]
Repeat Rows 1–4 seventeen more times, making sure to have a few yards of Color A left over. [100 stitches remain]
With Color A, bind off all stitches knitwise, leaving a long tail.
SEAM
Fold piece in half so wrong sides are together and the selvages are aligned.
Following our Seaming Garter Stitch tutorial, and beginning at the bind-off edge, use the tail to sew selvages together, stopping when you reach the stitch marker at the beginning of the Decrease section. Sew through the final stitch a couple of times to secure.
FINISHING
Weave in the ends and gently wet block!