Between our gorgeous new Sunshower Cotton with its delightful printed texture and Daniella Taylor's clever design, our Double-Thick Pot Holder is a hot little hot pad to keep your hands cool!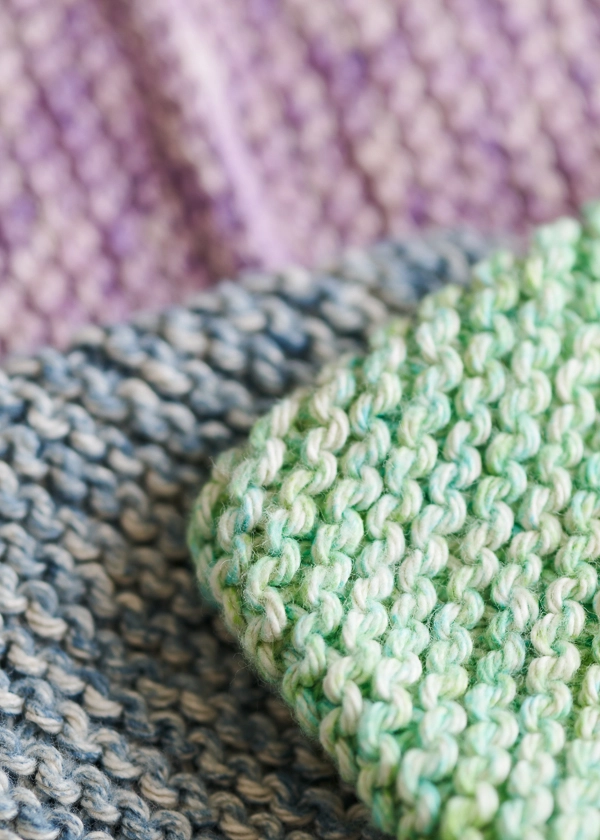 Daniella's super fun construction begins with a tube knit in the round that you seal at the top with a three-needle bind off. After you cast-on and bind-off for a little hanging loop, you open up the pouch, triumphantly flatten it into a square, and whipstitch a design-detail seam.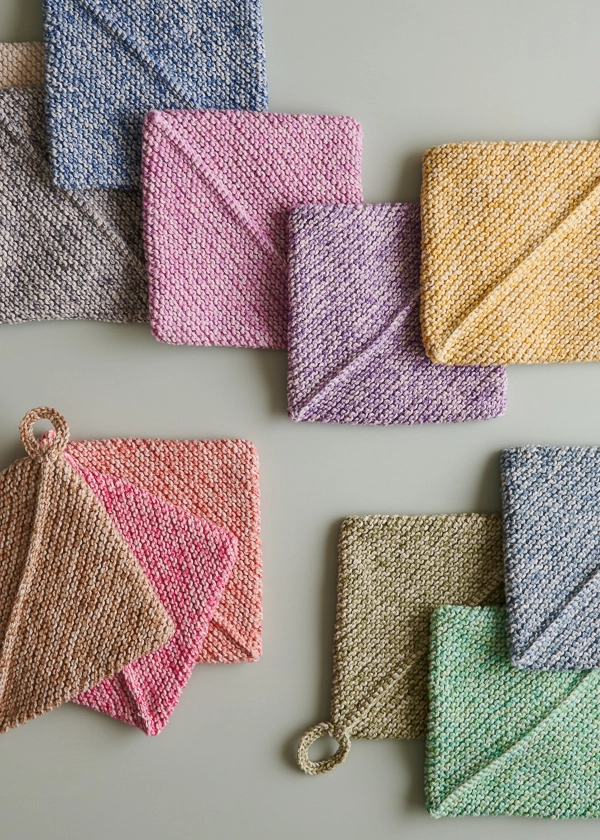 The garter stitch surface of the Double-Thick Pot Holders shows off the unique coloring of our new Sunshower Cotton. Like a ray of light filtering through the leaves of a tree, Sunshower Cotton has a gentle dappled appearance. Its white base shows through as the printed dye dances on the surface of the yarn, and each stitch is a beautiful little surprise as the hues shift under your fingers!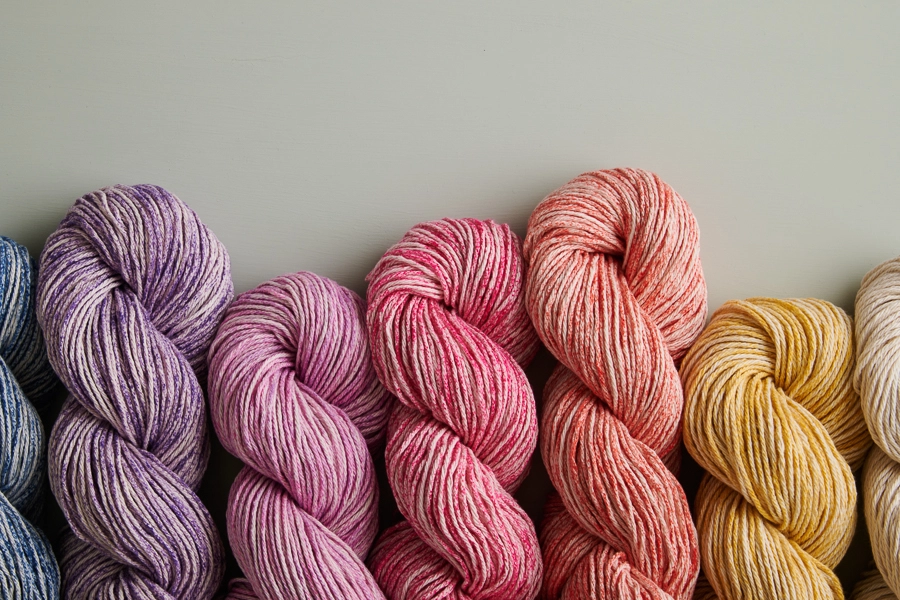 Soft and sturdy, Sunshower Cotton is made in Italy of 100% organically grown cotton. A worsted-weight yarn spun in four plies, it has a satisfying heft and a supple feel. In short, it makes for a beautiful and trusty heatproof pot holder… And you only need one skein to make one!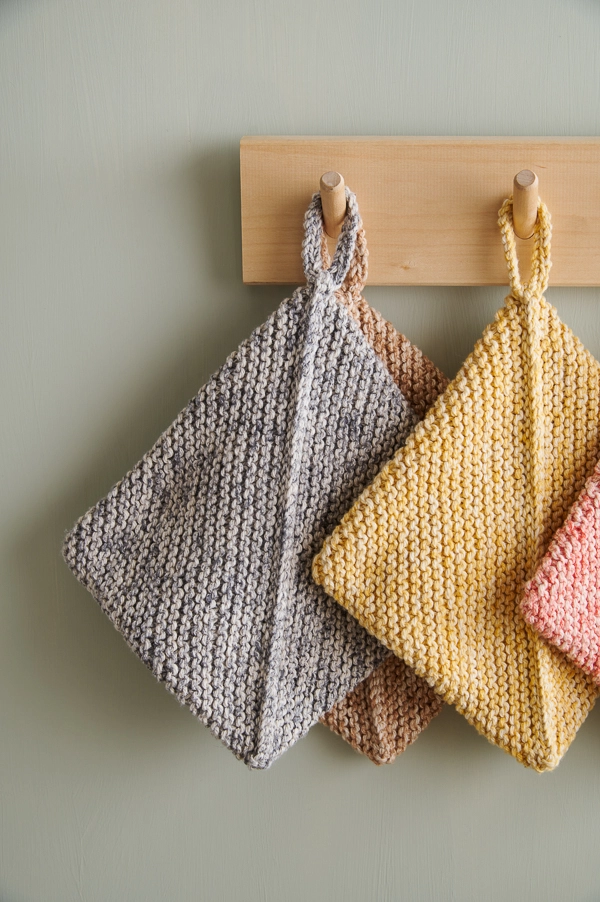 Sunshower Cotton's palette of twelve colors ranges from lively Bright Watermelon to moody Rain Storm… And we couldn't resist making a Double-Thick Pot Holder in each and every one!
Designed for Purl Soho by Daniella Taylor. Once a designer and art director for various household magazines, Daniella's passion for knitting took over, and she became a knitting shop owner and now designer. Her delightful knit Foxy, inspired by her sister's drawings of a fox who moved into her garden shed, is now a fully realized character (with his own handknit wardrobe!) who brings joy to children and adults alike!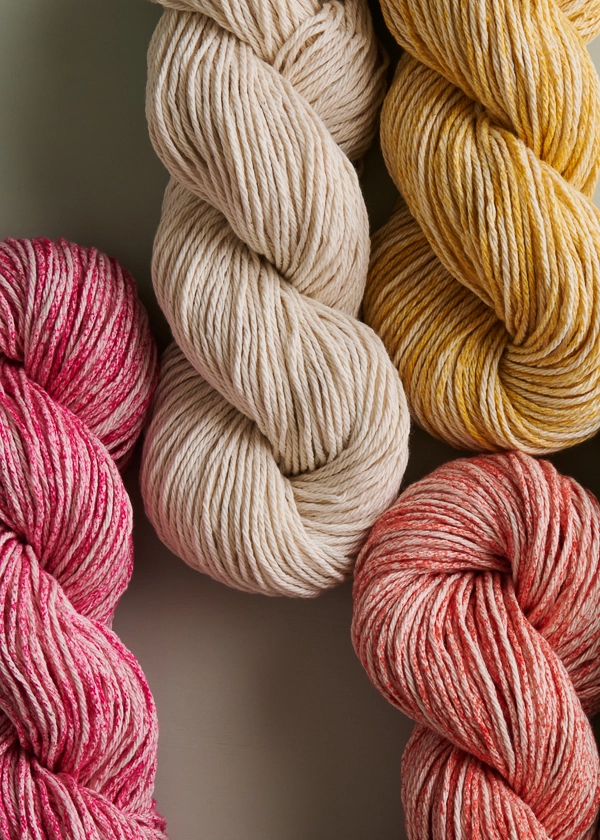 Share your progress and connect with the community by tagging your pics with #PurlSoho, #PurlSohoBusyHands, #PurlSohoDoubleThickPotHolder, and #PurlSohoSunshowerCotton. We can't wait to see what you make!
MATERIALS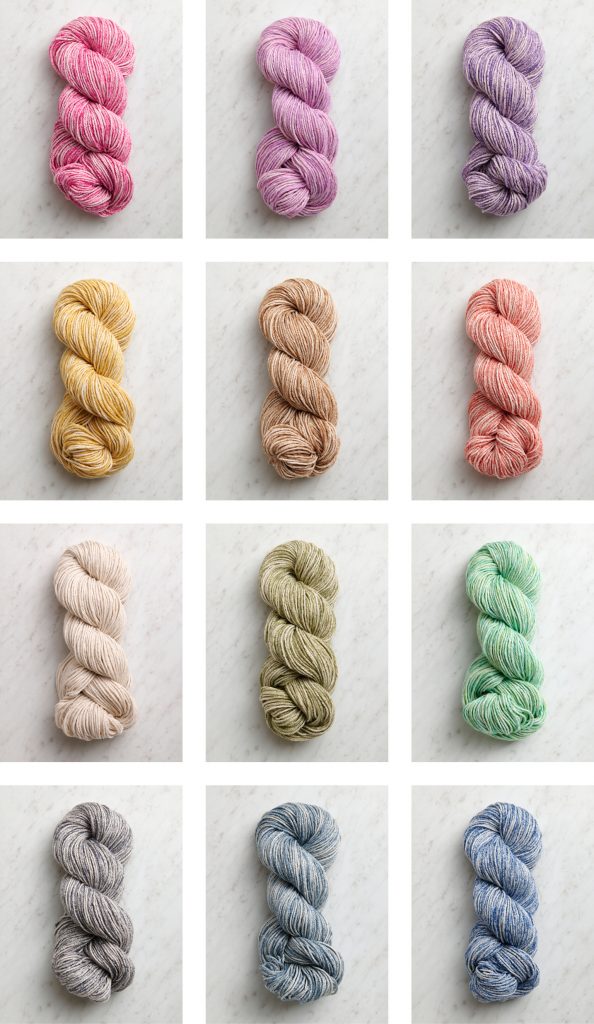 To make one Double-Thick Pot Holder, you will need…
GAUGE
19 stitches and 36 rows = 4 inches in garter stitch, unblocked
SIZE
Finished Dimensions: Approximately 7 inches square
NOTES
CONSTRUCTION
You knit this pot holder in the round in garter stitch, then fold it and seam it closed with a 3-Needle Bind Off. At the end of the seam, you cast on and bind off for a hanging loop. You then fold the piece flat, seam the cast-on edge together with a whipstitch and secure the hanging loop. The result is a double-sided, thick, and heatproof pot holder.
PATTERN
BEGIN
Using the Cable Cast On method, cast 96 stitches onto circular needles.
Place marker and join for working in the round, being careful not to twist the stitches.
Round 1: Knit to end of round.
Round 2: Purl to end of round.
Repeat Rounds 1 and 2 twenty-one more times or until piece measures 5 inches from cast-on edge.
Remove marker and fold piece in half so needles are parallel and 48 stitches are on each needle. With a spare needle, bind off using a 3 Needle Bind-Off, leaving last stitch on needle.
Do not cut yarn.
MAKE HANGING LOOP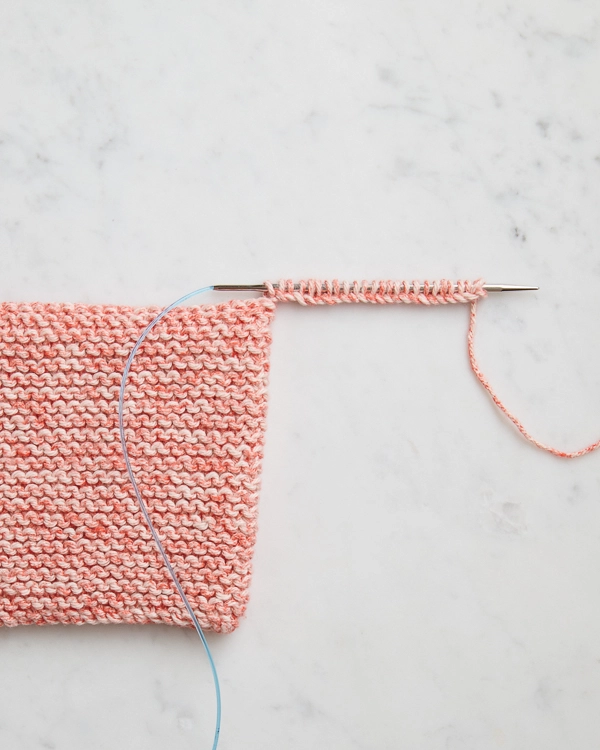 Using a Cable Cast On, cast on 25 stitches for Hanging Loop. [26 stitches]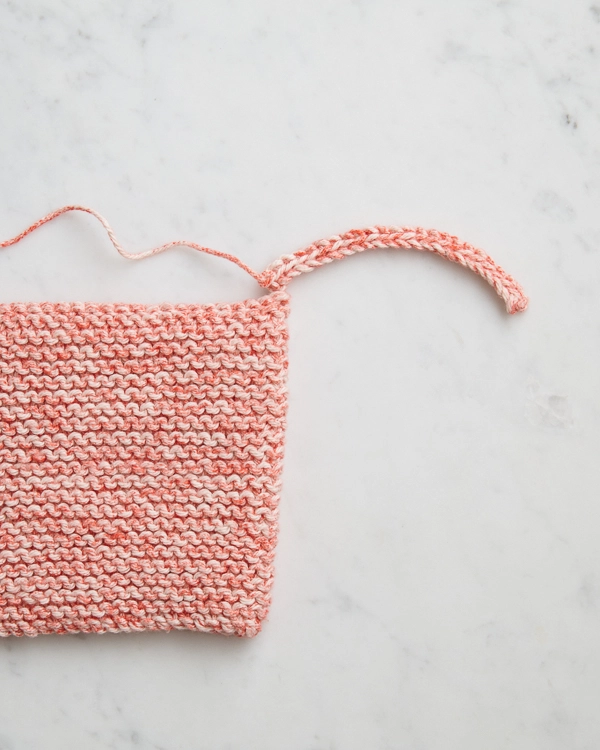 Turn work and bind off all stitches knitwise.
Cut yarn, leaving an 8-inch tail.
You now have a tube with one end closed by a seam, and at the end of that seam, you have a little knit tail.
SEAM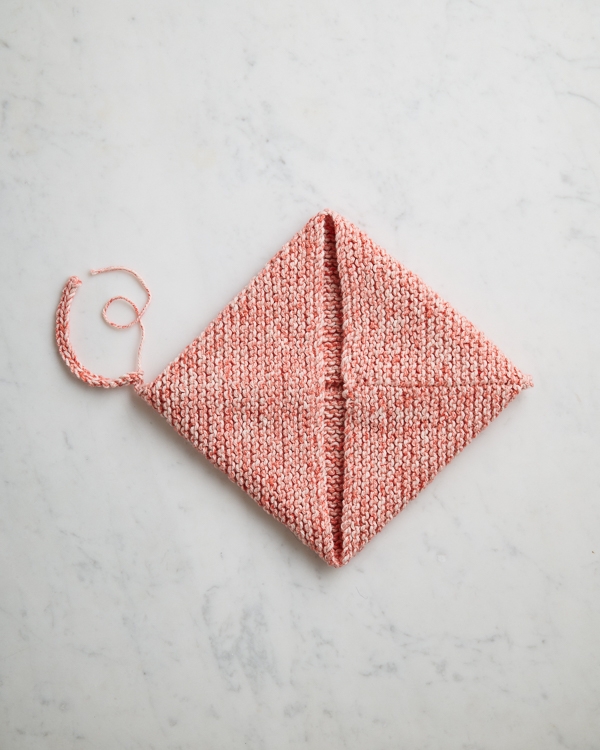 Now, create a double-layer square by folding the piece so that half the cast-on edge is parallel to the other half, and both edges are perpendicular to the bound-off edge, as shown above.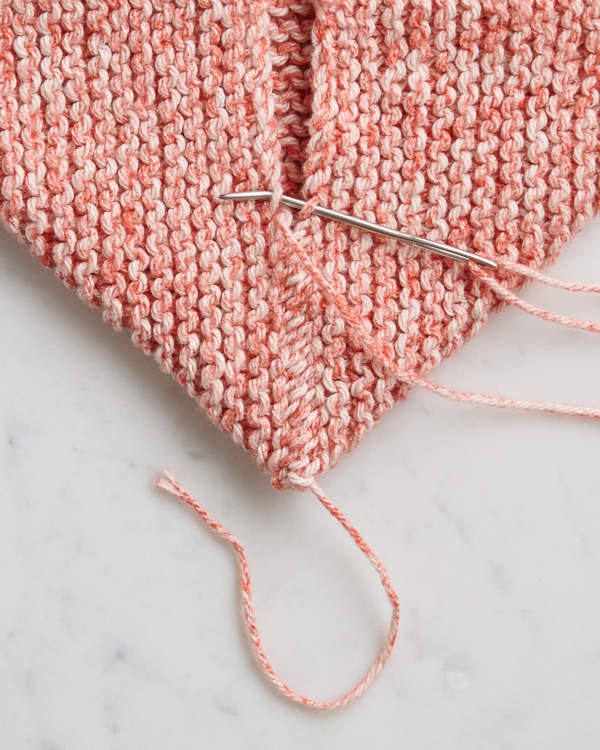 With a new length of yarn, seam the two sides of the cast-on edge together using a whipstitch, taking care not to catch the bottom side of the pot holder as you go. To see whipstitch in action, check out our Sewing Crocheted Squares Together tutorial (it's the same idea for seaming knit items)!
FINISHING
Use the Hanging Loop tail to secure the end of the loop to the corner of the pot holder.
Weave in the remaining ends and block if desired.