Walking down Broadway towards Purl Soho, past the glittering flagship stores, it's hard to imagine that the neighborhood streets were once tiled entirely in cobblestones. But turn onto an ankle-twisting street like Mercer or Wooster and we meet the vivid evidence of Soho's complex past.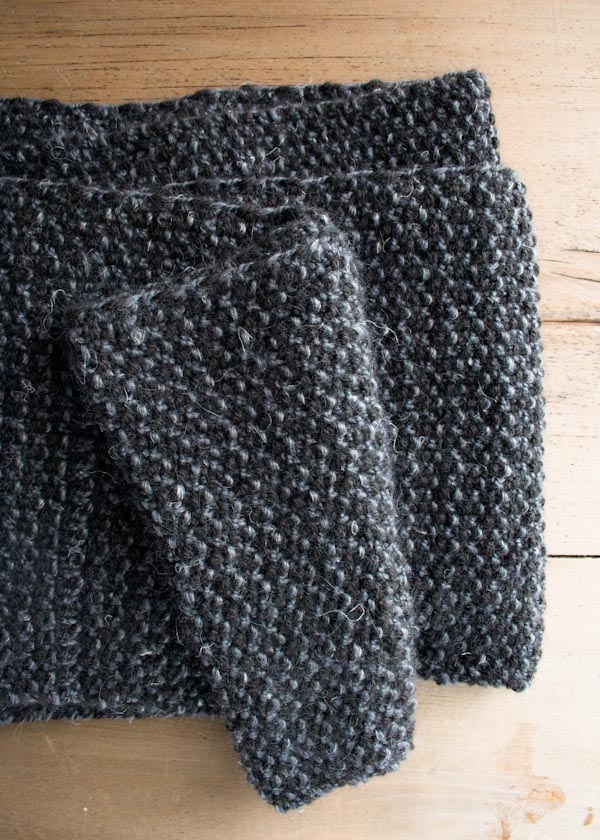 The beauty of New York City's remaining cobblestones inspired my knubbly, knobbily Cobblestone Scarf. I knit it with three of my favorite Purl Soho yarns: rustic Flax Down, soft Alpaca Pure and polished Mulberry Merino. Knit in combination, the three yarns bring out the best in each other and create a fascinating texture that looks as if it were built brick by brick.
Creating this Cobblestone Scarf is nowhere near as difficult an undertaking as repaving Broome Street. Simply knit one row of seed stitch in each of the three yarns. No stranding, no tricky slip stitch patterns and no trowels or mortar to speak of. It's stunning and surprising, just like New York City itself! -Gina
Designed by Purl Soho designer, Gina Rockenwagner. Click here to see even more of Gina's designs!
Share your progress and connect with the community by tagging your pics with #PurlSoho, #PurlSohoBusyHands, and #PurlSohoCobblestoneScarf. We can't wait to see what you make!
Materials
To knit your own Cobblestone Scarf, you will need…
The two color combinations, shown above, are…
Dark: Mulberry Merino in Toasted Charcoal, Flax Down in Toasted Charcoal and Alpaca Pure in Dark Loam
Light: Mulberry Merino in Oyster Gray, Flax Down in Heirloom White and Alpaca Pure in Heirloom White.
Gauge
20 stitches and 40 rows = 4 x 4 inches in pattern (see Note)
Size
Finished Measurements: 8 inches by 70 inches
Note
This scarf is worked in seed stitch, alternating between 3 different yarns every third row. You will not cut the yarn between each row. Instead, at the end of each row simply drop the old yarn, turn and begin the next row with the next yarn. Take care to not pull the new yarn too tight when beginning each row.
Pattern
With Mulberry Merino, cast on 41 stitches. We used a basic Long Tail Cast On.
Join Flax Down, but do not cut Mulberry Merino (see Note section, above)
Row 1 (with Flax Down): *K1, p1, repeat from * to last stitch, k1.
Join Alpaca Pure, but do not cut Mulberry Merino or Flax Down
Row 2 (with Alpaca Pure): Repeat Row 1.
Row 3 (with Mulberry Merino): Repeat Row 1.
Row 4 (with Flax Down): Repeat Row 1.
Repeat Rows 2, 3 and 4 until work measures 70 inches from cast on edge, ending with a Row 2 (in Alpaca Pure).
With Mulberry Merino, bind off in pattern.
Weave in the ends. Block as desired and enjoy your Cobblestone Scarf!