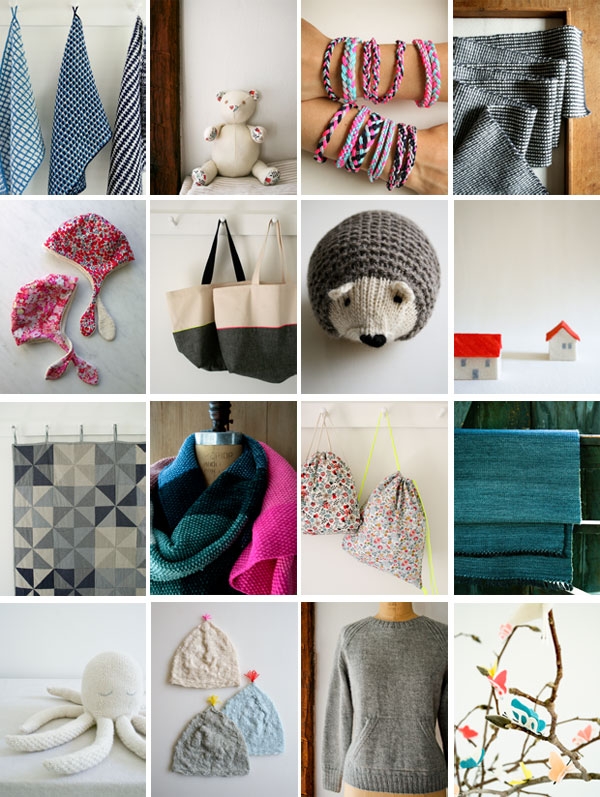 What?! Another year gone by? Impossible! It seems a year slips by in a blink, and in its wake we find a treasure trove of Purl Bee projects, some almost forgotten, they seem so long ago. That's why this week we're combing our archives, reacquainting ourselves with the old fruits of our labors and reminding our readers of some of this year's highlights. From a quirky hedgehog to a classic pinwheel quilt, and from simple friendship bracelets to sophisticated scarves, here's a look back on some of our very favorite projects from 2013!
Top Row (above): Slip Stitch Dishtowels, Wool and Liberty Teddy Bear, Braided Friendship Bracelets and Reversible Stripes Scarf
Second Row: Winter Baby Bonnet, Everyday Tote, Knit Hedgehogs and Needlepoint Houses
Third Row: Denim Pinwheel Quilt, Amazing Seed Stitch Wrap, Liberty Backpacks and Woven Scarf
Bottom Row: Knit Octopus, Pointy Hats for Newborns, The Sweatshirt Sweater and Bobby Pin Butterflies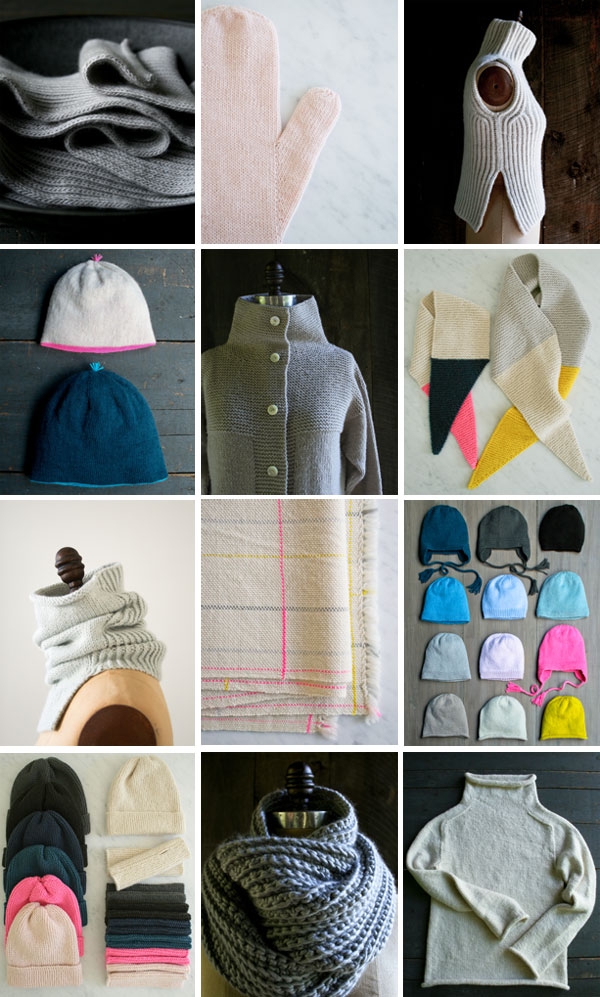 This past year on the Bee we found tons of inspiration from, not one, not two, but three new Purl Soho yarns. To the Super Soft Merino collection-of-one, we added Worsted Twist, Line Weight and Alpaca Pure. Each one came with its own special properties: Worsted Twist's classic heartiness, Line Weight's soft elegance and Alpaca Pure's decandence, these incredible yarns could only turn into incredible projects! Remember these?
Top Row (above): Brioche Scarf, Long Lovely Mittens and Brioche Vest
Second Row: The Purl Soho Reversible Hat, The Purl Soho Cardigan Coat + Vest and Color Tipped Scarves
Third Row: Structured Alpaca Cowl, Woven Plaid Scarf and Purl Soho Basic Hats for Everyone
Bottom Row: Hat and Hand Warmers for Beginners, Crocheted Rib Cowl and The Purl Soho Pullover
Did we forget anything? Let us know if we missed your favorites! May 2014 bring a whole new list and happy New Year!