I have to admit, there has been a time or two when presented with a fresh new baby that the words "old man" have crossed my mind. I know, I know, I'm being terrible. But listen, even with their little wrinkled brows and gummy grimaces, newborn babies fill me with wonder and overwhelm me with awe. And anyway, what's so bad about looking like an old man?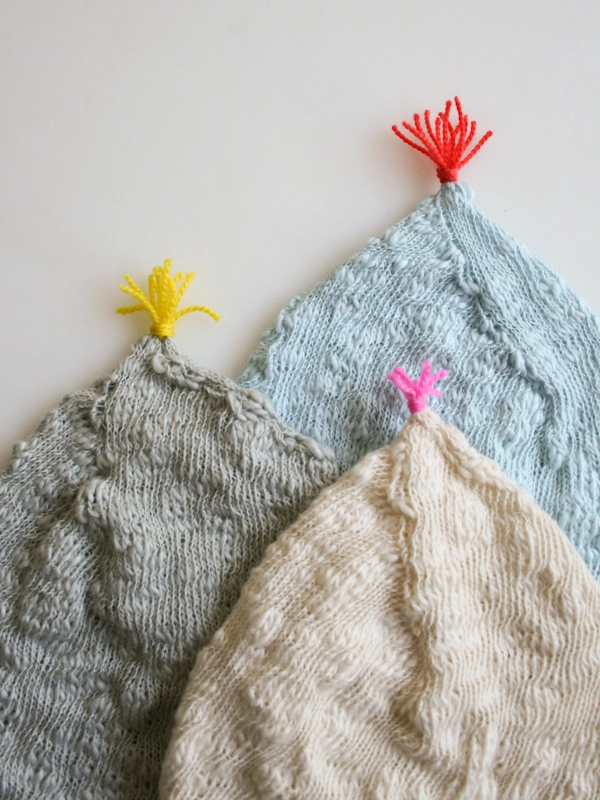 Which is why I love the idea of celebrating a baby's little-old-man-ness with this hat that seems plucked from the head of woodland gnome. Inspired by Joelle's chunky-weight Pointy Elf Hat from her book More Last Minute Knitted Gifts, this version is in a lace weight cotton, especially designed for the world's newest inhabitants.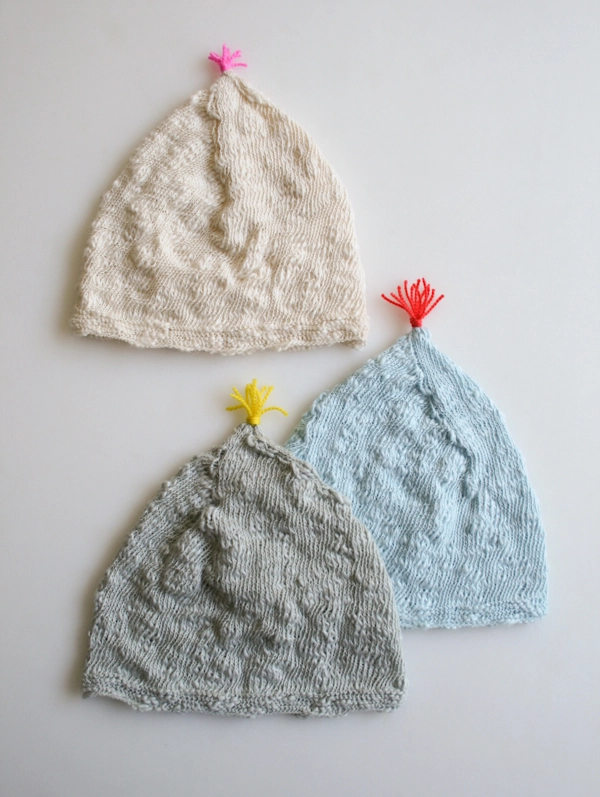 I made these Pointy Hats for Newborns with Habu's very elegant Nerimaki Cotton Slub. Textured puffs of cotton lend rich character and a soft, natural feel. And a festive sprout of Koigu KPM Needlepoint Yarn is a perfect little pop of color for a perfect little baby, old man wrinkles and all! -Laura
Designed by Purl Soho designer, Laura Ferguson.
Share your progress and connect with the community by tagging your pics with #PurlSoho, #PurlSohoBusyHands, and #PurlSohoPointyHatsForNewborns. We can't wait to see what you make!
Materials
To knit your own Point Hats for Newborns, you will need…
Main Color: 1 skein Habu's Nerimaki Cotton Slub, 100% cotton; approximately 110 yards required. (Please Note: We no longer carry the Nerimaki Cotton Slub but would happily recommend one skein of our Posy! While the texture will be different, the superwash quality of Posy will be a welcome substitution! Please be sure to check your gauge!)
Contrast Color: 1 skein Koigu KPM Needlepoint Yarn, 100% merino
A set of US 1 (2.5 mm) double pointed needles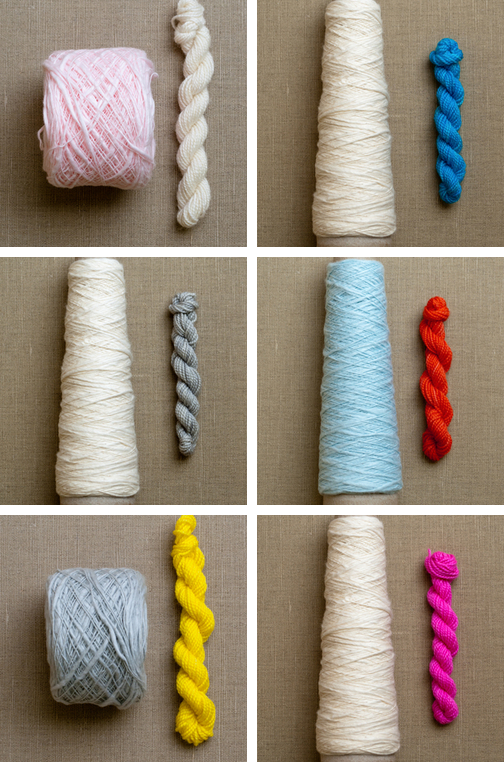 Pictured above are the six colorways…
Nerimaki Cotton Slub in Powder + KPM in 0000
Nerimaki Cotton Slub in Natural + KPM in 2130
Nerimaki Cotton Slub in Natural + KPM in 2403
Nerimaki Cotton Slub in Blue + KPM in 2220
Nerimaki Cotton Slub in Smoke + KPM in 2100
Nerimaki Cotton Slub in Natural + KPM in 1153
Gauge
38 stitches and 52 rows = 4 inches in stockinette stitch
Size
0 to 3 months
Finished circumference: 14 inches
Pattern
Begin
With the Main Color, cast on 132 stitches. We used a basic Long Tail Cast On.
Place a marker and join for working in the round, being careful to not twist the stitches.
Round 1: Knit.
Round 2: Purl.
Repeat Rows 1 and 2 three more times.
Next Round: Knit.
Continue working in stockinette stitch, knitting each round until piece measures 3 inches from cast on edge.
Shape the Point
Set Up Round: (K44, place marker) two times, knit to end.
Decrease Round: *Knit Two Together (k2tog), knit to next marker, slip marker, repeat from * to end of round. (3 stitches decreased)
Next Round: Knit.
Repeat previous two rounds 7 more times. (108 stitches)
Repeat Decrease Round every round until 3 stitches remain.
Cut yarn and thread it onto a tapestry needle to draw it through the remaining 3 stitches. Pull tight and bring tail to the inside of hat and weave in.
Add the Tiny Attached Tassel
Cut a 24-inch length of the Contrast Color and thread it onto a tapestry needle.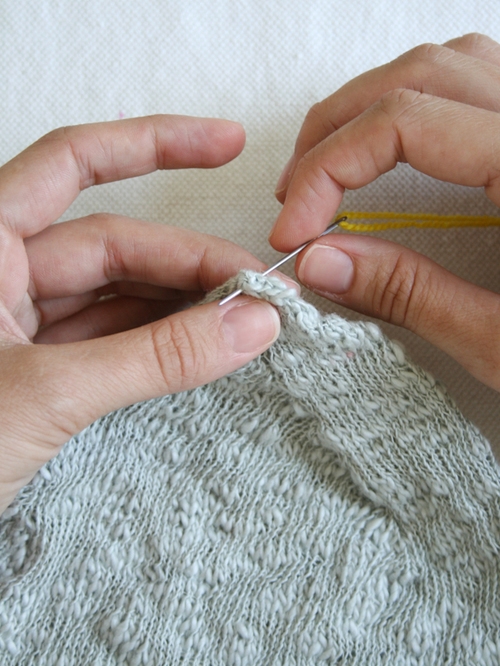 Pinch the tip of the hat with the middle finger and thumb of your non-sewing hand. Bring the needle through the tip of the hat.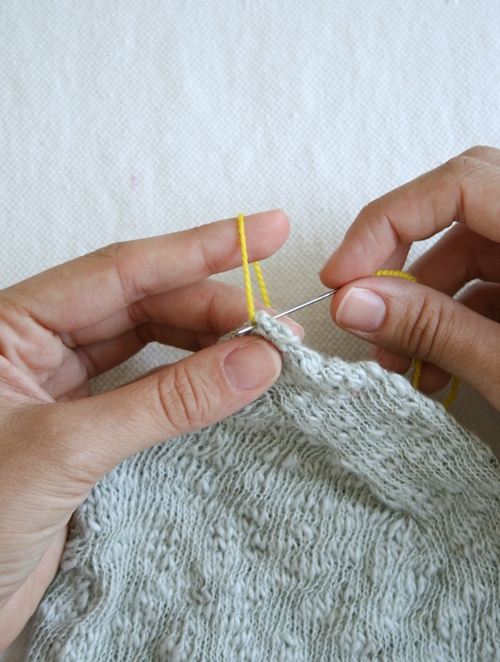 Then over the top of your index finger and back through the tip of the hat.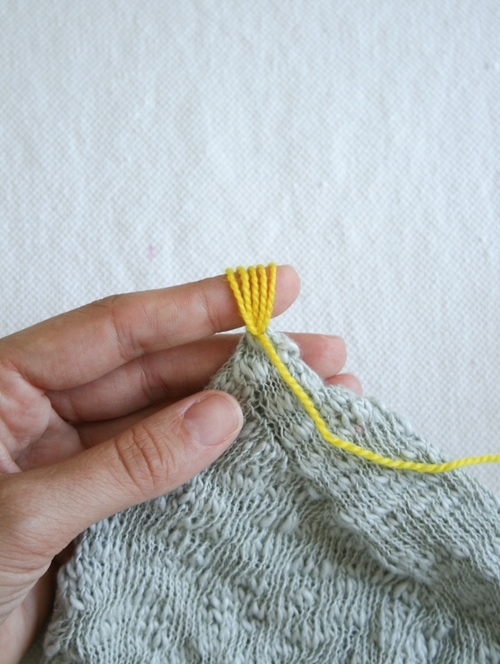 Repeat this, making as many loops as you want (I made 5 loops).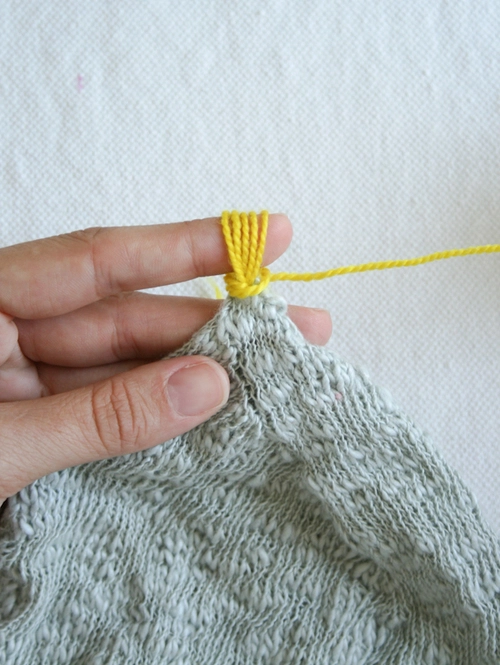 Tightly wrap the around the base of the loops a few times.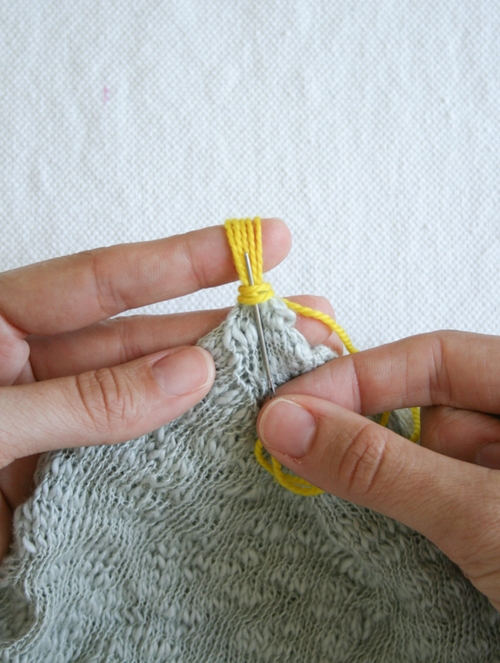 Bring the needle up through the center of the tassel.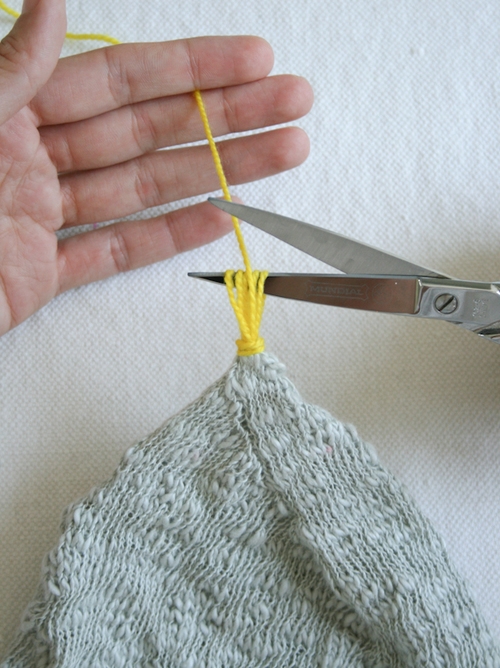 Cut through the loops and trim the tassel to whatever length you desire.
Weave in your ends.