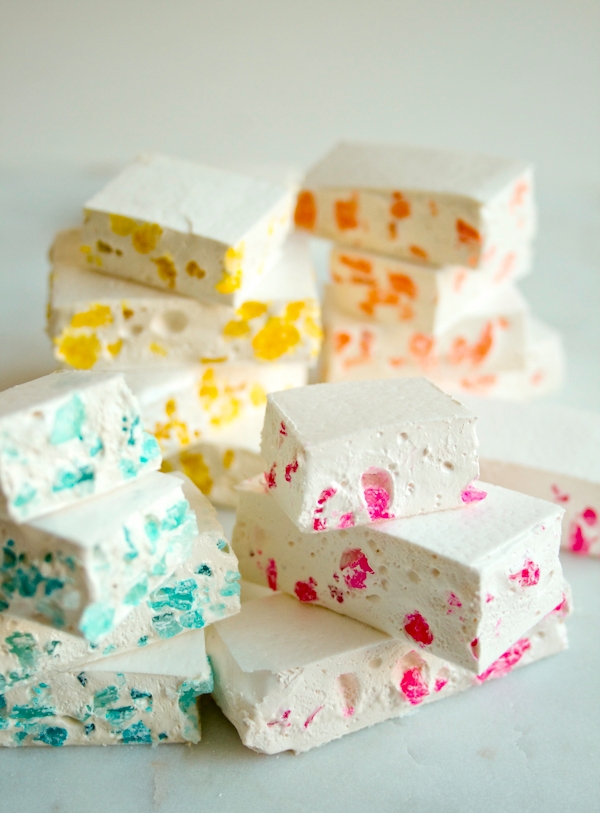 This holiday season we've been celebrating the sweet side of the seaon with confection-inspired projects: Laura's Candy Button Hat, Molly's Taffy Twist Felt Garland and Ribbon Candy Ornaments and Whitney's Crocheted Candy Ornaments. And while usually at this time of year we share an original cookie recipe, this season, to observe our candy-sweet yuletide theme, we tried our hand at candy making!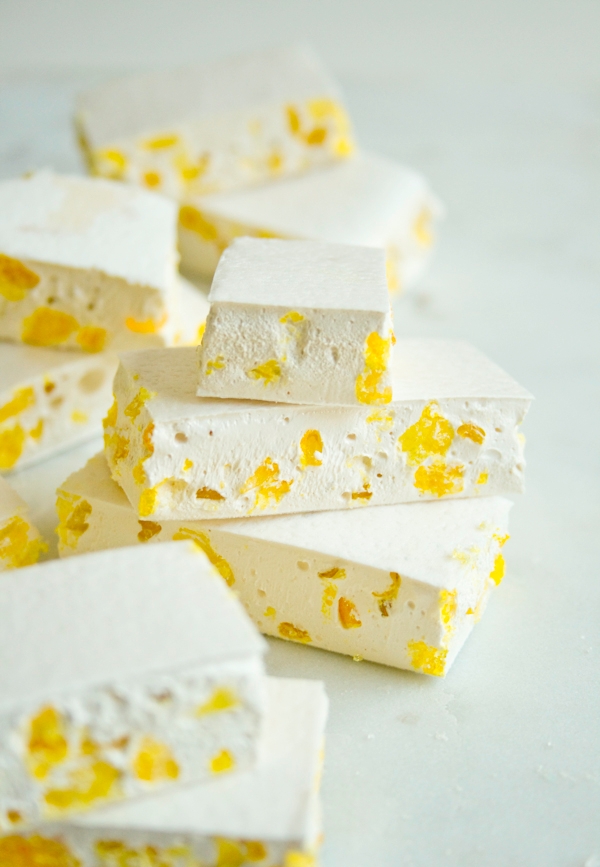 Page comes from a long line of Italian foodies, and one of her obsessions is honey-flavored torrone, a traditional Italian Christmas treat. Her version of this beautiful, glittering nougat is so seasonal and wintery, like a smooth blanket of snow flecked with jewels. (The colorful little sparkles are actually rock candy!) Dole out delicious pieces at your holiday festivities or wrap up some bars as a yummy gift!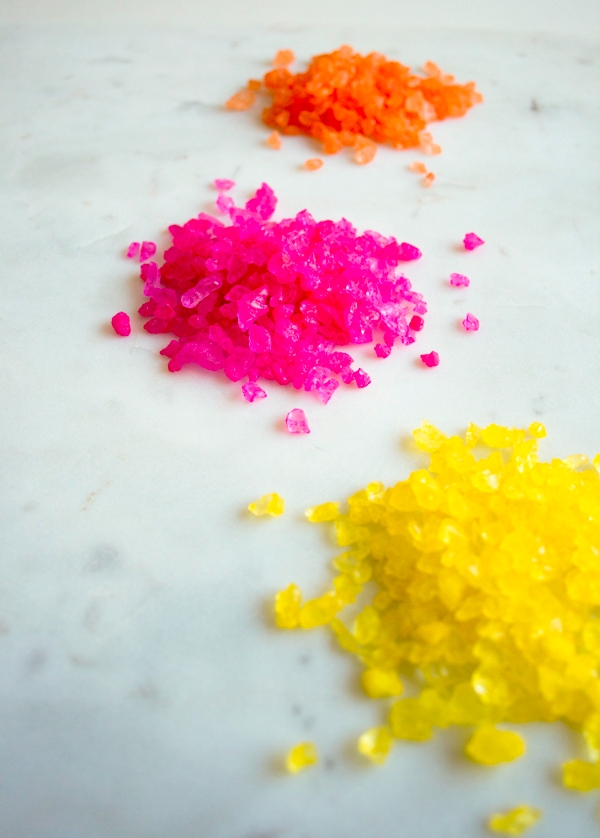 This recipe is a great first foray into the world of candy making! So take a break from sewing up that final seam or weaving in that last end and give it a try! For a less sweet version, make it the traditional way with almonds or pistachios instead of rock candy.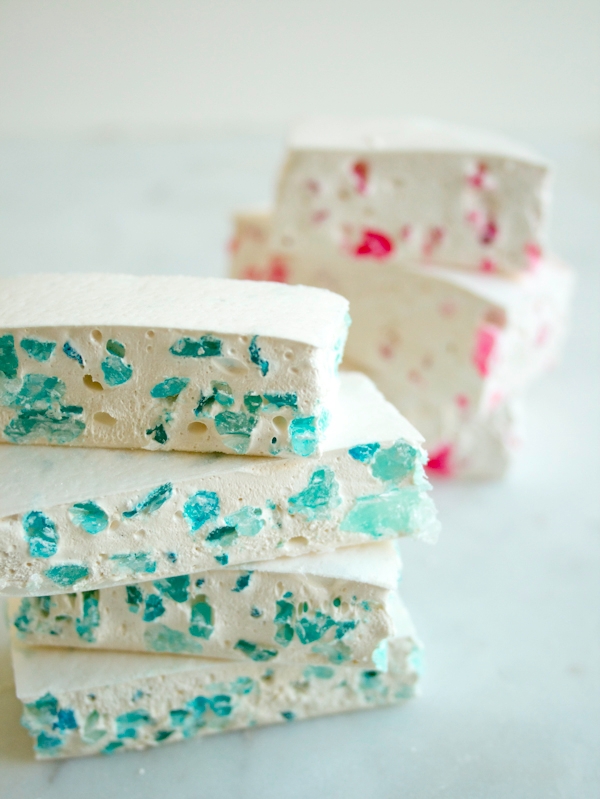 All of us at Purl Soho and the Purl Bee wish all of you a very sweet and merry Christmas!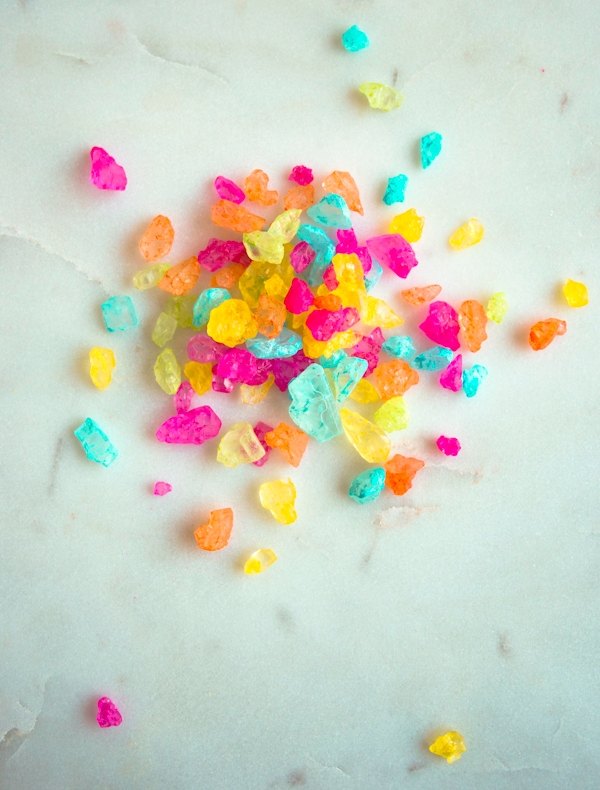 Total Active Time: 45 Minutes
Ingredients
Equipment Needed
8 X 8-inch baking pan
Non-stick vegetable spray
Plastic wrap
Electric stand mixer
Candy thermometer
4 cup glass measuring cup
Stiff rubber spatula
Off-set spatula
Large knife
Recipe
Spray an 8 x 8-inch baking dish with non-stick vegetable spray and then line the pan with plastic wrap, leaving a 4-inch overhang on each side.
Cut an 8 X 8-inch square of rice paper and place it at the bottom of the baking dish.
Put the egg whites and salt in a very clean and dry bowl of an electric stand mixer. Install the whisk attachment and have 2 tablespoons of sugar on hand.
Then, in a large saucepan over medium heat combine 3 cups sugar, corn syrup, honey and water. The saucepan needs to be large enough to hold triple the volume of the initial mixture so that it doesn't boil over. Stir until the sugar dissolves, then with the candy thermometer in the pan, heat for approximately 17-18 minutes, stirring occasionally until the mixture reaches 290 degrees Fahrenheit. Keep a close eye on the temperature; the last 10 degrees go quickly!
When the sugar mixture reaches approximately 240 degrees, start beating the egg whites and salt. Once they create soft peaks, slowly add the 2 tablespoons of sugar.  Beat until the whites are glossy and hold stiff peaks.  (Don't forget to keep an eye on the sugar mixture while you're doing this!) Turn off the mixer and replace the whisk with the paddle attachment.
Once the sugar mixture reaches 290 degrees, remove it from the heat and pour it into the large glass measuring cup.  Be very careful!  The hot sugar mixture is dangerously hot, and it bubbles when it hits the relatively cold measuring cup.
On medium speed, slowly pour the hot sugar mixture into the stand mixer with the egg whites.  Once you've added all of the sugar mixture, increase the stand mixer speed to medium high.  Beat the mixture for 5 minutes. It should be very thick and glossy.
Add the rock candy to the mixture and beat on low until rock candy is well incorporated. Mixture will start to cool and thicken very quickly so move fast from this point on.
Using a stiff rubber spatula, scrape the mixture out of bowl into the prepared pan.  Spread out the mixture in the pan as much as possible with the spatula.  It's not easy since the mixture is so thick. Stick a top layer of rice paper cut to size.  Using the off-set spatula, smooth out the mixture by pressing down on the rice paper and moving from side to side.  Or if you have another pan of the same size you can press that pan down on top of the rice paper, pressing the nougat to all 4 sides and corners of the pan.  Let sit at room temperature for several hours.
To cut nougat, use a large knife heated up under very hot water. Dry knife before cutting. You may have to wash and dry the knife between each cut.
Since nougat is quite sticky, you'll need to wrap individual pieces in parchment or wax paper and tie them up with yarn or bakers twine. Traditionally torrone is given in bars approximately 1 1/2-inches by 8-inches and the receiver cuts off small pieces to munch!