Need a little something to keep you busy? What if that little something also offered a bit of comfort? And on top of that, some beauty, too? Yes, that all sounds really good right about now!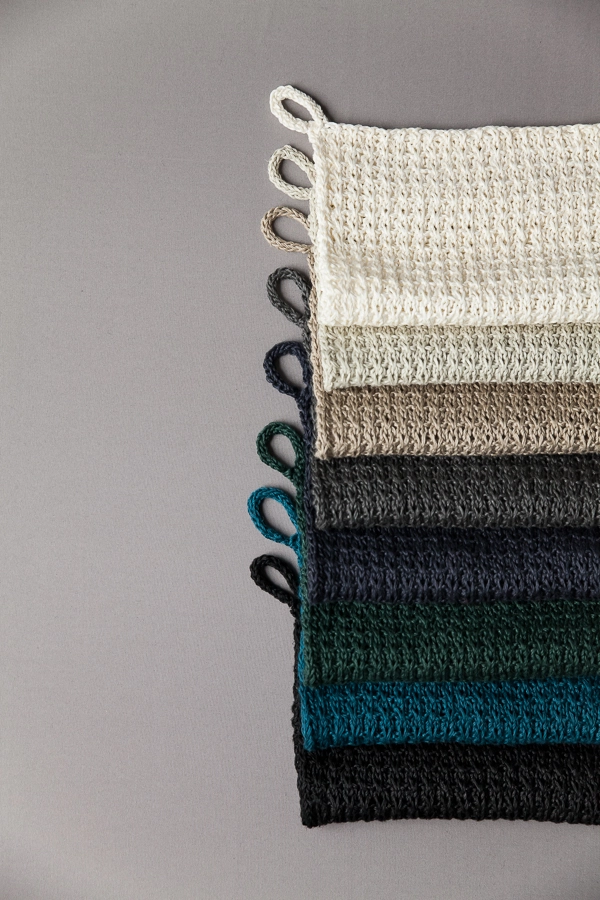 Our Waffle Stitch Washcloths are a wonderful diversion that, in the end, are also a lovely bit of self-care. A delicate texture, a pleasing heft, a spectrum of colors straight from the forest depths or the ocean's tides… Perfect!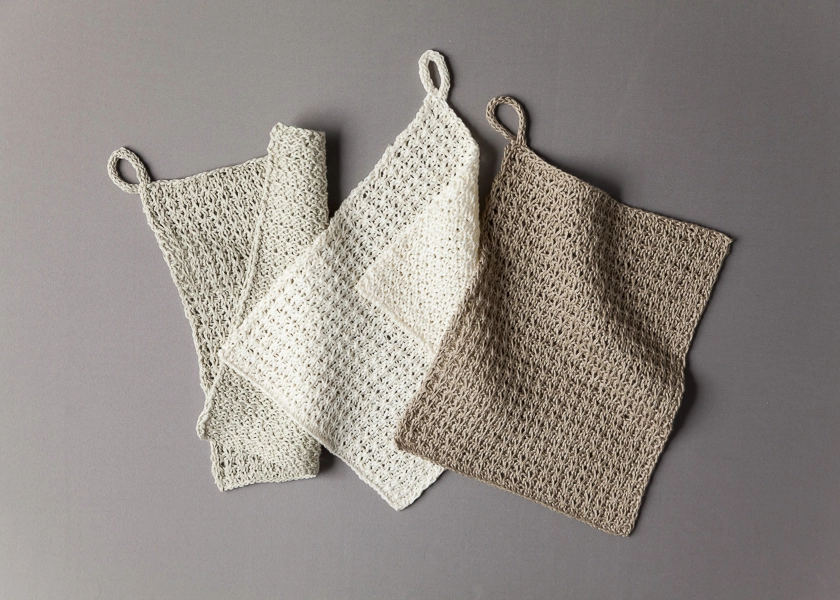 The subtle beauty of our Waffle Stitch Washcloths is rooted in Field Linen, our 100% linen yarn with a nature both raw and refined. Most comforting, it brings to our hearts a feeling of knitting's past.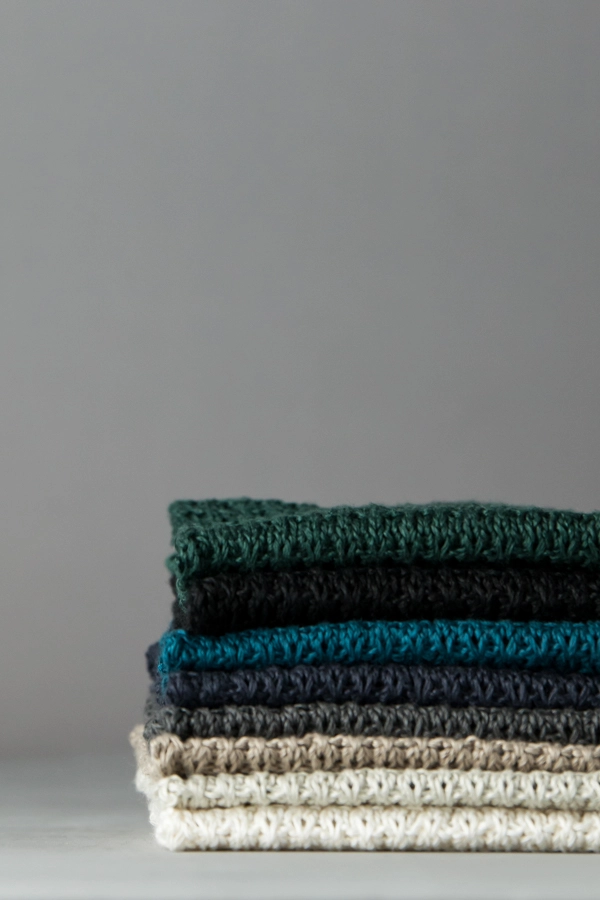 We just added five new colors to the palette, all deep and inky hues that soothe the soul, from Galapagos Teal to Bottle Green. One skein in any color makes four washcloths… Sweet, simple, and so satisfying!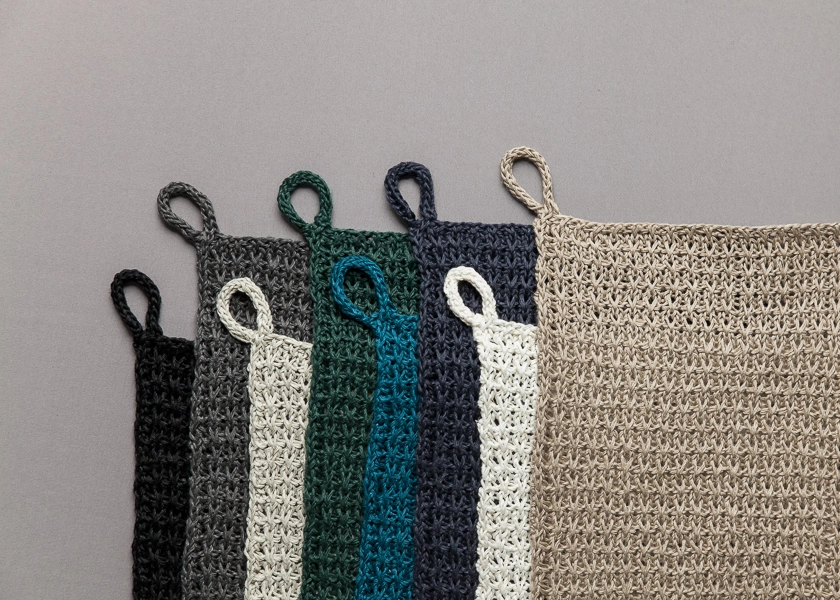 Designed for Purl Soho by Jake Canton.
UPDATE: NOW IN SANTOLINA + A HAND TOWEL, TOO!
JUNE 2022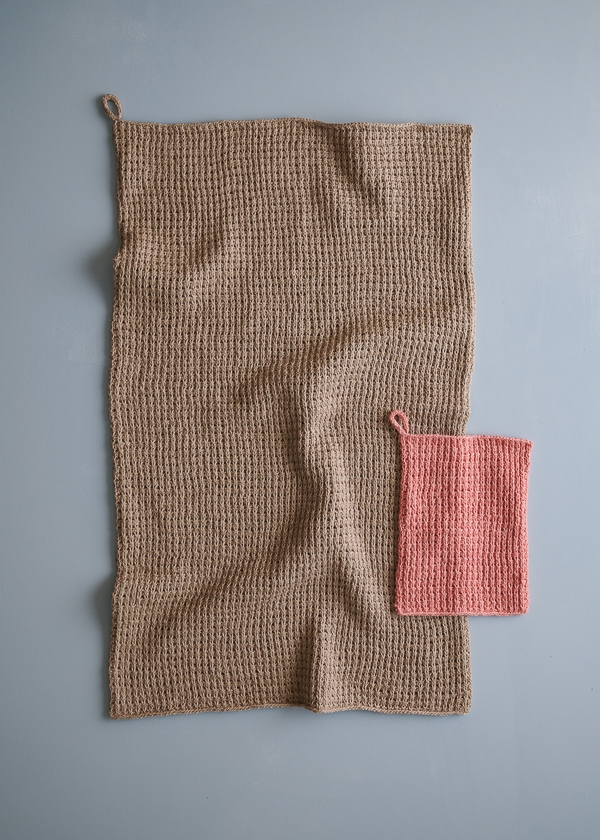 In Santolina, our Waffle Stitch Washcloths, plus Hand Towels, are extra special! A combination of cotton, bamboo, and hemp fibers work together to create a complex and beautiful yarn, a brew of contrasts and complements: Soft but textured. Smooth but gripping. Gently heathered but lustrous. All in all, magnificent!
Share your progress + connect with the community by tagging your pics with #PurlSoho, #PurlSohoBusyHands, #PurlSohoWaffleStitchWashcloth, and #PurlSohoFieldLinen. We can't wait to see what you make!
Materials
To make four washcloths…
1 skein of Purl Soho's Field Linen, 100% linen. Each skein is 295 yards; approximately 73 yards required for each washcloth. (Note that you use the entire skein to make all four washcloths, so to get four, please make sure your gauge is correct!)
US 4 (3.5 mm), straight or 16-inch circular needles
If using straight needles: Two US 4 double pointed needles for I-Cord
Gauge
26 stitches and 52 rows = 4 inches in stitch pattern, blocked
Size
Unblocked Dimensions: Approximately 5½ inches wide x 9 inches long
Finished Dimensions: Approximately 6½ inches wide x 8¾ inches long
Notes
Stitch Multiple
This pattern works over an odd number of stitches.
Slip Stitches
Slip all slipped stitches purlwise.
Pattern
Cast on 43 stitches. We used a basic Long Tail Cast On.
Row 1 (wrong side): K1, purl to last stitch, k1.
Row 2 (right side): Knit to end of row.
Row 3: *K1, slip 1 with yarn in front (wyif, see Notes), repeat from * to last stitch, k1.
Row 4: *K1, slip 1 with yarn in back (wyib), repeat from * to last stitch, k1.
Repeat Rows 1-4 until piece measures 9 inches from cast-on edge, ending with Row 3.
With right side facing you, bind off in 1×1 rib stitch pattern. Here's how…
Bind Off Row (right side): K1, *k1, pass first stitch over, p1, pass first stitch over, repeat from * to last 2 stitches, k2, leaving 3 stitches on right needle.
Make I-Cord
With the remaining 3 stitches, work an I-Cord for 3 inches, working the last row as follows…
Last Row: K1, knit 2 together, pass first stitch over second stitch and off the right needle. Cut yarn, leaving an 8-inch tail. Pull through remaining stitch.
Thread the tail onto a tapestry needle. Make a loop with the I-cord and weave the tail into the fabric of the washcloth at the base of the I-cord, then weave it through the looped I-cord, and back into the fabric of the washcloth.
Weave in the remaining ends and block as desired.