Many beautiful hand knits are complex feats of engineering, but the wonder of knitting is that even the simplest pattern, accessible to the most beginner of knitters, can be just as beautiful.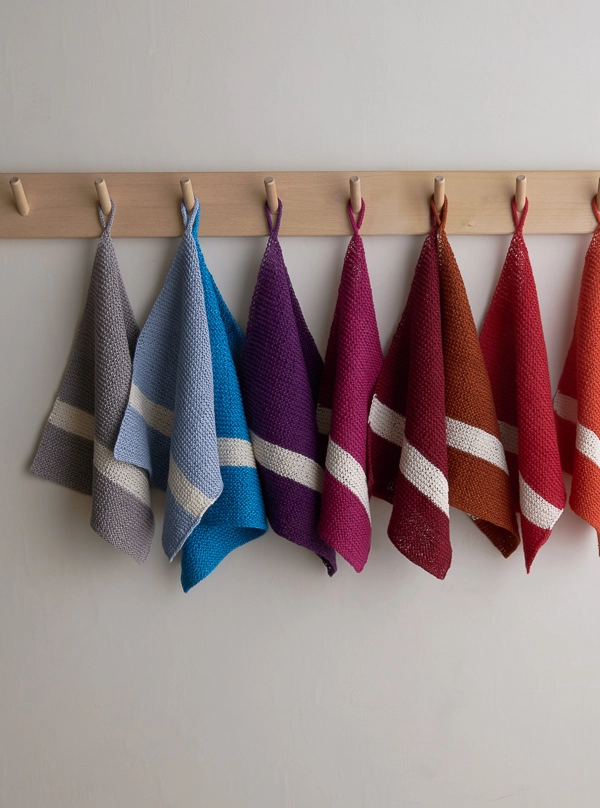 Our garter stitch Simple Stripe Washcloths require only the knit stitch, but what they lack in intricacy, they make up for in timeless charm. Our classic Field Linen lends a lovely drape and a satisfying touch that just gets better and better with use.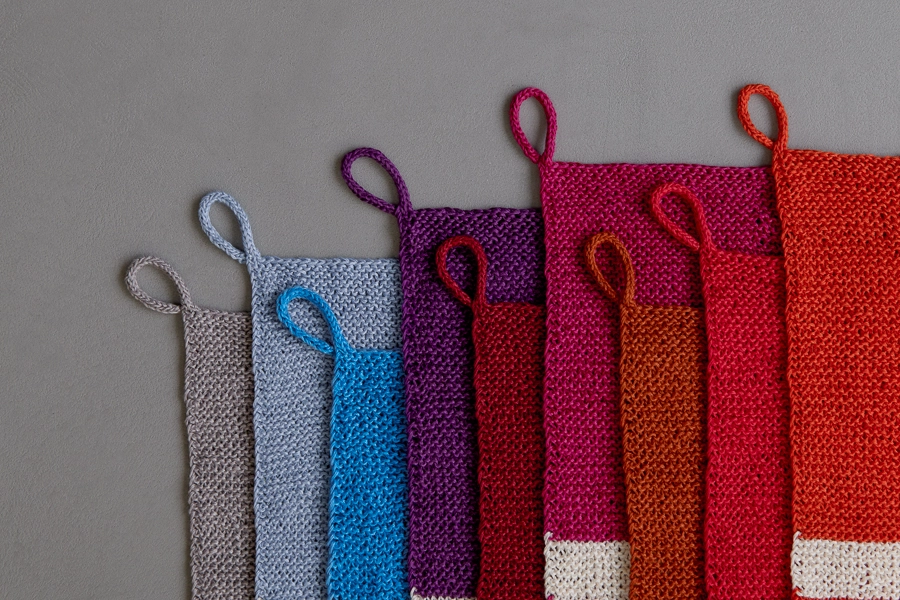 We've also added nine gorgeous new colors to our Field Linen palette, all pictured here. From rosy Red Radish to cool Blue Heron, we love the punch and depth these colors add to our world of linen. A stripe of creamy Queen Anne's Lace serves to make each color zing!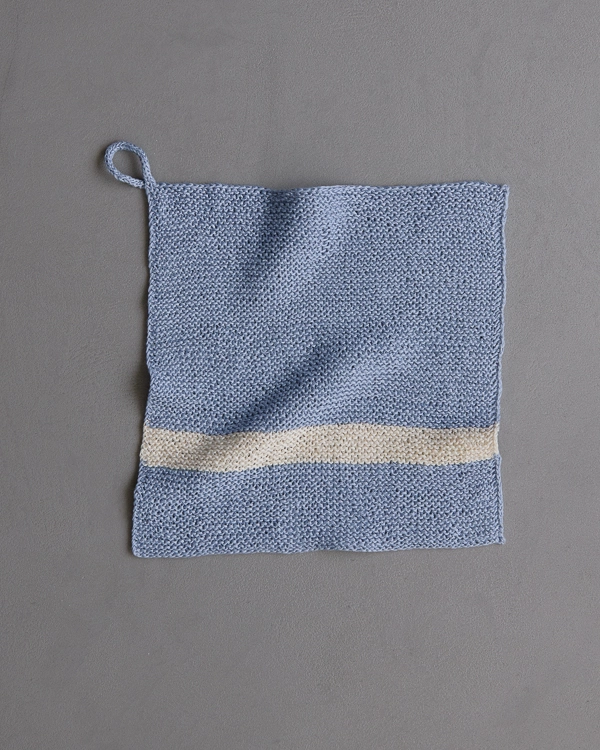 For old pro knitters who appreciate simple beauty and for newbies who are just finding our what they're capable of making, our Simple Stripe Washcloths appeal to the maker in us all!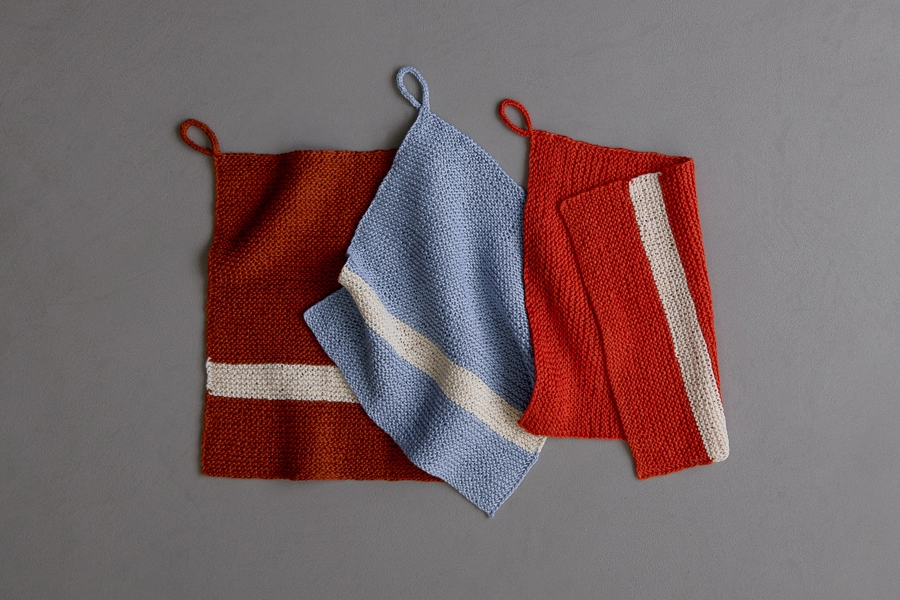 Designed by Purl Soho designer, Jake Canton. Click here to see even more of Jake's designs!
Share your progress + connect with the community by tagging your pics with #PurlSoho, #PurlSohoBusyHands, #PurlSohoSimpleStripeWashcloth, and #PurlSohoFieldLinen. We can't wait to see what you make!
Materials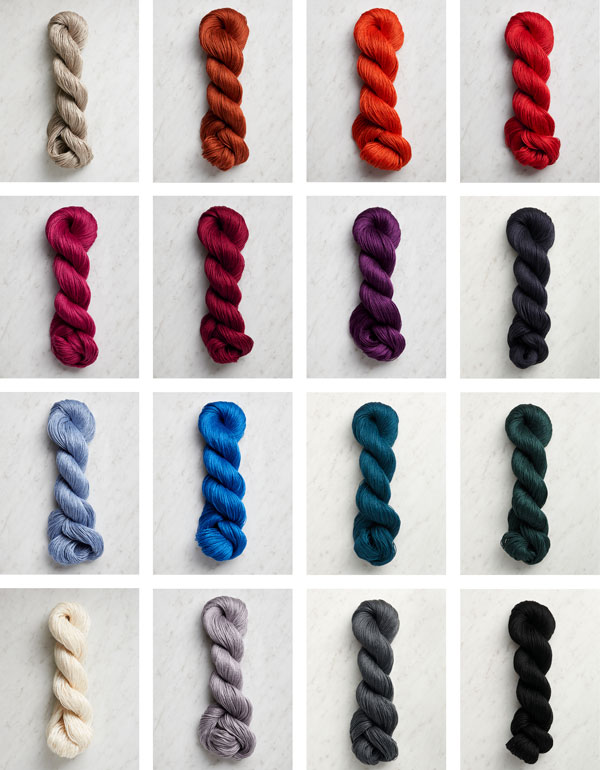 To make two Simple Stripe Washcloths, you'll need…
Main Color: 1 skein of Purl Soho's Field Linen, 100% linen. Each skein is 295 yards; approximately 107 yards required per washcloth. We used the colors Trowel Gray, Blue Heron, Electric Blue, Purple Plum, Ruby Pink, Red Onion, Red Radish, Carnelian Orange, and Warm Copper.
Contrast Color: 1 skein of Field Linen; approximately 26 yards required per washcloth. We used the color Queen Anne's Lace.
US 2 (3mm), straight or 24-inch circular needles
If using straight needles: Two US 2 double pointed needles for I-Cord
NOTE: With just 1 skein of each color, you can reverse the Main and Contrast colors to make two additional washcloths. Also, if you're thinking about making lots of washcloths, it's helpful to know that one skein of the Contrast Color can make stripes for 11 washcloths.
Gauge
24 stitches and 52 rows = 4 inches in garter stitch
Size
Finished Dimensions: Approximately 10 x 10 inches
Pattern
With Main Color (MC), cast on 60 stitches. We used a basic Long Tail Cast On.
Row 1: Slip 1 purlwise with yarn in front, knit to end of row.
Repeat Row 1 until piece measures 2½ inches from the cast-on edge.
Cut MC.
With Contrast Color (CC), repeat Row 1 for 1 inch, ending on the same side you ended the MC, i.e. the wrong side.
Cut CC.
With MC, repeat Row 1 until piece measures 10 inches from cast-on edge, ending with a wrong-side row.
With right side facing you, bind off knitwise to last 2 stitches, k2, leaving 3 stitches on right needle.
Make I-Cord
With remaining 3 stitches, work an I-Cord for 3 inches, working last row as follows…
Bind-Off Row: K1, k2tog, pass first stitch over second stitch and off right needle.
Cut yarn, leaving an 8-inch tail and pull through remaining stitch.
Thread tail onto a tapestry needle. Make a loop with I-cord and weave tail into fabric of washcloth at base of I-cord, then weave it through the looped I-cord, and back into fabric of the washcloth.
Weave in the ends and wet block!