Our new 40-ball bundle of Linen Quill Minis is a jubilant celebration of color… Join the party with our free Incredible Blanket pattern and revel in the beauty!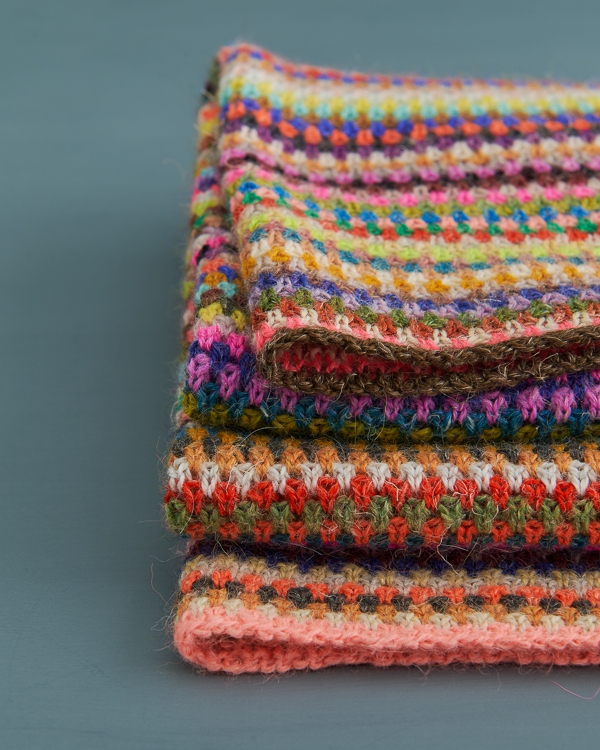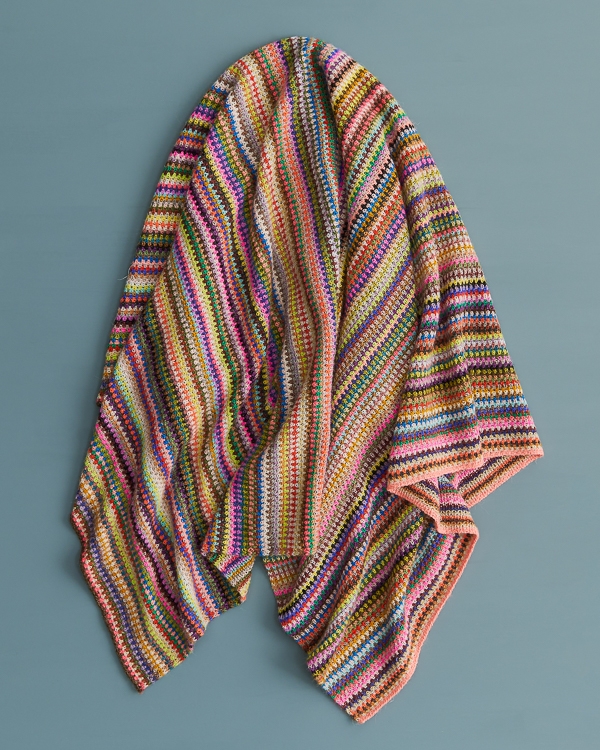 Linen Quill's glorious array of colors is always inspiring, so we've bundled up forty of them in 25-gram balls (including seven that aren't even available in skeins yet!). The big idea is for you to have a yarn palette as unfettered as a paintbox, where your creativity and love for color can be free!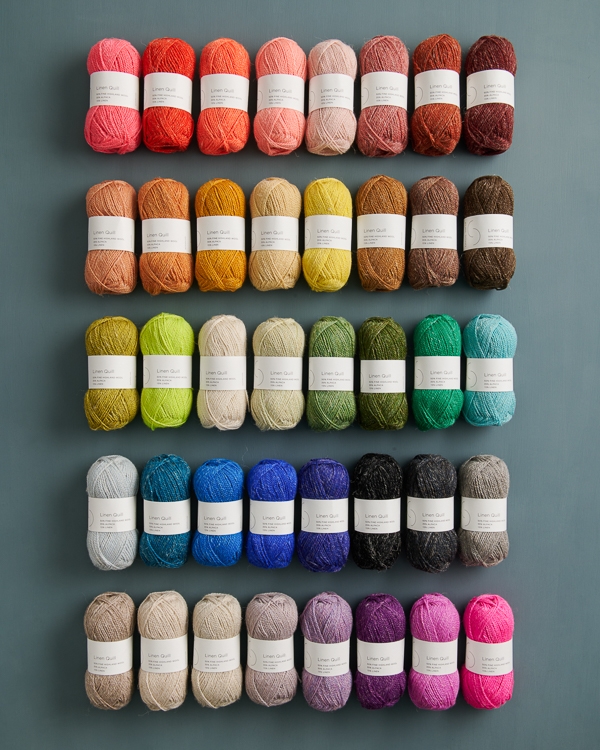 You'll get a splash of every color in the spectrum, plus some outside of it! A fantastic project for making use of this color extravaganza, The Incredible Blanket is just knit stitches on one side and a relaxed rhythm of purls and easy knit-one-below stitches on the other. The result is rows of interlocking colors, each change a moment to relish the glorious way colors relate to each other.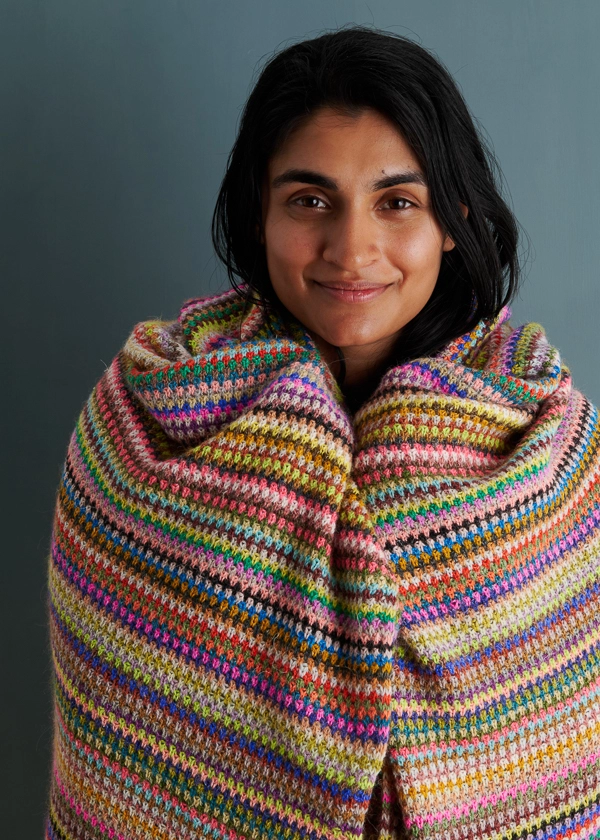 When we knit our Incredible Blanket, we pulled randomly from two baskets of Linen Quill Minis, one full of warm colors and one of cools. We let chance (and faith in the beauty of Linen Quill) lead the way! Follow our color order (listed in the pattern) to make the exact same Incredible Blanket; replicate our method to make your own serendipitous beauty; or come up with your own color logic!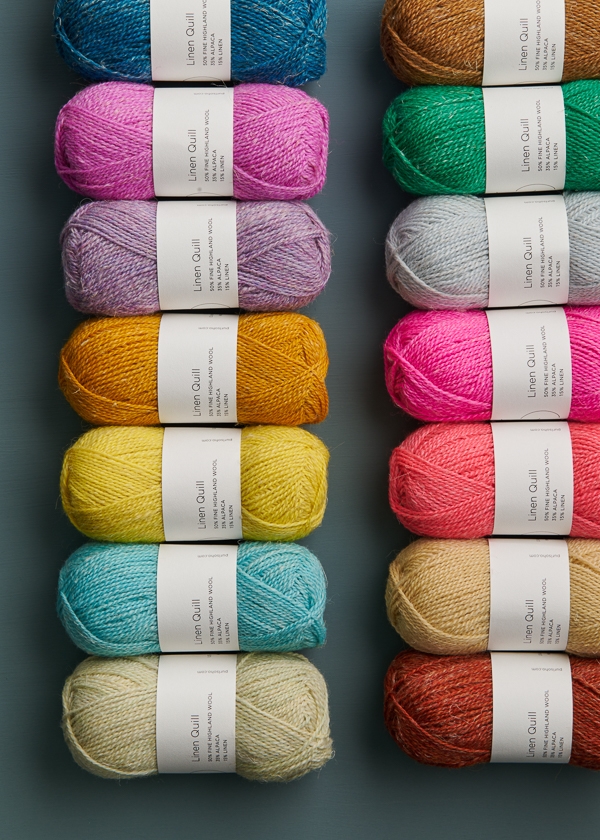 Behind all this play is the serious beauty of Linen Quill. Fifty percent fine highland wool for springiness, 35% alpaca for softness, and 15% linen for earthiness. The linen takes dye differently than animal fibers, giving each color of Linen Quill a heather-y depth, and linen's tendency to sprout out of the yarn lends a rustic liveliness that knitters love.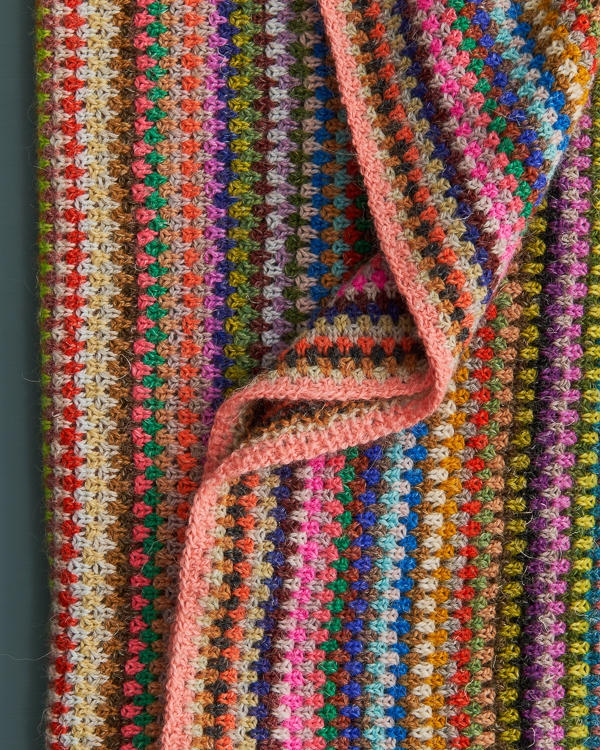 Inspired? Pick up a beautiful bundle of Linen Quill Minis for yourself and for the makers in your life who love fiber, color, and natural beauty, and paint the town in splendorous color!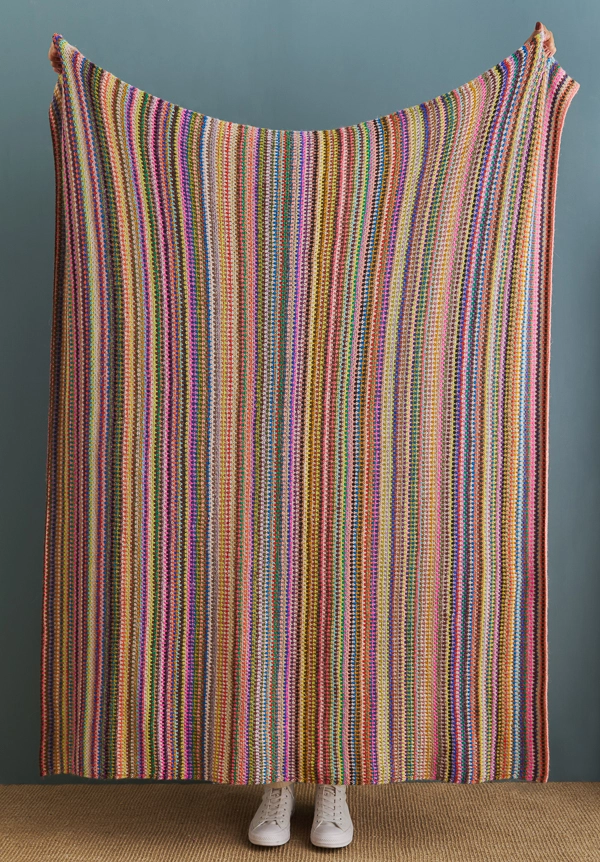 Designed by Purl Soho designer, Hiromi Glover. Click here to see even more of Hiromi's work! Color order chosen by Purl Soho founder and co-owner, Joelle Hoverson.
Share your progress and connect with the community by tagging your pics with #PurlSoho, #PurlSohoBusyHands, #PurlSohoTheIncredibleBlanket, and #PurlSohoLinenQuill. We can't wait to see what you make!
Materials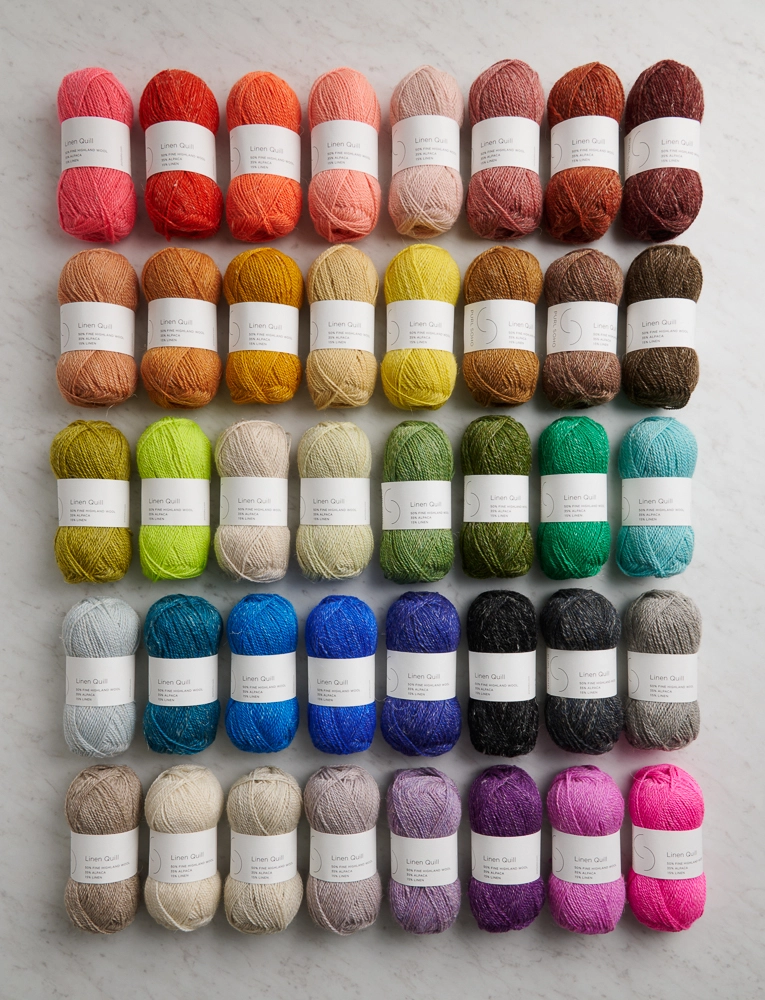 1 Linen Quill Minis bundle, 50% highland wool, 35% alpaca, and 15% linen. Each bundle is approximately 4,360 yards/ 1000 grams; approximately 3,490 total yards required.
US 4 (3.5 mm), 40-inch circular needles
GAUGE
26 stitches and 44 rows = 4 inches in stitch pattern (see Notes)
SIZE
Finished Dimensions: 51 x 51 inches
NOTES
STITCH MULTIPLE
This pattern is worked over a multiple of 2 stitches.
SLIP STITCHES
Slip all stitches purlwise with yarn in front.
KNITTING INTO THE STITCH BELOW (K1b)
NOTE: For more information about this technique, be sure to visit our Working into the Stitch Below Tutorial!
Insert the tip of the right needle into the stitch below the next stitch (from front to back), knit normally (wrapping the yarn around the needle and pulling it back through the stitch below), and let the stitch above fall from the left needle.
KNITTING IN TAILS
To spare yourself weaving in dozens and dozens of tails, we recommend knitting them in every time you join a new color at Rows 1 and 3. Note that you want to knit in ends only on knit or knit 1 below (k1b) stitches. To keep this rhythm, begin knitting in ends on the third knit stitch of Row 1, or the second knit stitch of Row 3, then every other stitch after that. Here's how…
To knit in tails, *hold the tails of the new and old color together, bring them over the working yarn at the wrong side of the work, and knit next stitch; then, drop tails and knit next stitch as normal. Continue knitting in tails every other stitch for approximately 1 inch.
STITCH PATTERN (FOR GAUGE SWATCH)
Row 1 (right side): K3, *p1, k1b (see Notes), repeat from * to last 3 stitches, k1, slip 1 (see Notes), k1.
Row 2 (wrong side): Slip 1, k1, slip 1, knit to last 3 stitches, slip 3.
Row 3: K3, *k1b, p1, repeat from * to last 3 stitches, k1, slip 1, k1.
Row 4: Repeat Row 2.
Repeat Rows 1–4 for pattern.
COLOR ORDER
Knitting this blanket is all about the fun and surprise of color relationships, of striping two colors that you might normally think have no business being together and discovering that they actually make each other sing. Along the way, your heart will open to colors you've never loved before and you may never see the world the same! Here's how to do it…
Grab four vessels (we used paper bags). Put the following colors into two bags (if you've lost any labels, you can refer to the Color Guide included with your bundle)…
BAG OF WARM COLORS
Magnolia Blossom, Red Poppy, Bright Flamingo, Chestnut Red, Super Orange, Golden Wheat, Buttercup Yellow, Raw Sienna, Peony Pink, Peachy Pink, Fresh Nutmeg, Butterscotch Yellow, Turmeric Yellow, Kiln Red, Pink Pop, Lychee Pink, Baked Earth, Golden Green, Crocus Bud, and Purple Clematis
BAG OF COOL COLORS
Clover Green, Fresh Pickle, Pale Mushroom, Lavender Opal, Pale Oats, Cobalt Blue, Reed Gray, Blue Blue, Kettle Black, Eggshell Blue, Pale Celery, Wheat Flour, Stillwater Blue, Stonewall Gray, Grasshopper Green, True Turquoise, Pine Cone, Blue Pansy, Bird's Egg Blue, and Lemon Lime
Now, close your eyes and select one color from each bag to create a pairing. If they aren't high enough contrast or they're too similar to the colors you just knit, just put them back and pick again. Use this pair to work Rows 1-4 of the pattern, then set these colors aside, putting the warm one in a second bag for warm colors and the cool one in a second bag for cool colors. Continue to pick and knit pairs until you have used all 40 colors once and your original bags are empty. Now use your full bags of warm and cool colors to do it all again! Repeat the process 6 more times (7 total) to complete your blanket. Nothing could be more fun!
NOTE: If you'd rather not put your trust in controlled chaos and want to make your Incredible Blanket just like ours, feel free to follow along with Joelle's exact color order at the end of the pattern!
PATTERN
NOTE: Read all about how to pick your colors, above, or to knit a blanket exactly like ours, use Joelle's Color Order, listed below.
With Color 1, cast on 332 stitches. We used a Long Tail Cast On.
Set-Up Row (wrong side): Slip 1 (see Notes), k1, slip 1, knit to last 3 stitches, slip 3.
With Color 1…
Row 1 (right side): K3, *p1, k1b (see Notes), repeat from * to last 3 stitches, k1, slip 1, k1.
Row 2 (wrong side): Slip 1, k1, slip 1, knit to last 3 stitches, slip 3.
Cut Color 1, leaving a 2-inch tail, and join Color 2.
With Color 2 and knitting in tails (see Notes)…
Row 3 (right side): K3, *k1b, p1, repeat from * to last 3 stitches, k1, slip 1, k1.
Row 4 (wrong side): Slip 1, k1, slip 1, knit to last 3 stitches, slip 3.
Cut Color 2, leaving a 2-inch tail, and join Color 3.
With Color 3 and knitting in tails, repeat Rows 1 and 2.
Cut Color 3, leaving a 2-inch tail, and join Color 4.
With Color 4 and knitting in tails, repeat Rows 3 and 4.
Continue with the same logic, working in pattern and switching colors every 2 rows according to your preferred Color Order. Work until piece measures 51 inches, ending with Row 4, then go on to the Finishing section below. [561 rows total]
JOELLE'S COLOR ORDER
Peachy Pink
Pale Celery
Butterscotch Yellow
Stillwater Blue
Super Orange
Reed Gray
Golden Wheat
Blue Pansy
Chestnut Red
Wheat Flour
Pink Pop
Lavender Opal
Bright Flamingo
Clover Green
Kiln Red
Blue Blue
Fresh Nutmeg
Eggshell Blue
Peony Pink
Cobalt Blue
Raw Sienna
Pale Oats
Turmeric Yellow
Stonewall Gray
Red Poppy
Grasshopper Green
Baked Earth
Pine Cone
Golden Green
Kettle Black
Purple Clematis
Pale Mushroom
Magnolia Blossom
Fresh Pickle
Buttercup Yellow
True Turquoise
Lychee Pink
Birds Egg Blue
Crocus Bud
Lemon Lime
Butterscotch Yellow
Stillwater Blue
Kiln Red
Stonewall Gray
Super Orange
Cobalt Blue
Peony Pink
Pine Cone
Purple Clematis
Clover Green
Magnolia Blossom
Wheat Flour
Red Poppy
Blue Blue
Crocus Bud
Kettle Black
Buttercup Yellow
Reed Gray
Chestnut Red
Lavender Opal
Fresh Nutmeg
Grasshopper Green
Pink Pop
Pale Mushroom
Baked Earth
Pale Celery
Turmeric Yellow
Pale Oats
Lychee Pink
Birds Egg Blue
Raw Sienna
Eggshell Blue
Bright Flamingo
Fresh Pickle
Golden Wheat
True Turquoise
Golden Green
Blue Pansy
Peachy Pink
Lemon Lime
Purple Clematis
Stonewall Gray
Raw Sienna
Lavender Opal
Kiln Red
Blue Blue
Fresh Nutmeg
Lemon Lime
Crocus Bud
Pale Celery
Golden Green
Wheat Flour
Baked Earth
Blue Pansy
Pink Pop
True Turquoise
Super Orange
Grasshopper Green
Red Poppy
Birds Egg Blue
Butterscotch Yellow
Stillwater Blue
Turmeric Yellow
Cobalt Blue
Peony Pink
Kettle Black
Peachy Pink
Pale Mushroom
Magnolia Blossom
Clover Green
Buttercup Yellow
Reed Gray
Chestnut Red
Eggshell Blue
Golden Wheat
Fresh Pickle
Bright Flamingo
Pine Cone
Lychee Pink
Pale Oats
Bright Flamingo
Stillwater Blue
Raw Sienna
Lemon Lime
Kiln Red
Reed Gray
Turmeric Yellow
Pine Cone
Buttercup Yellow
Pale Oats
Baked Earth
Kettle Black
Lychee Pink
Wheat Flour
Purple Clematis
Pale Celery
Pink Pop
Blue Blue
Golden Wheat
Stonewall Gray
Peachy Pink
True Turquoise
Fresh Nutmeg
Clover Green
Red Poppy
Eggshell Blue
Butterscotch Yellow
Cobalt Blue
Peony Pink
Fresh Pickle
Crocus Bud
Birds Egg Blue
Chestnut Red
Grasshopper Green
Golden Green
Blue Pansy
Magnolia Blossom
Pale Mushroom
Super Orange
Lavender Opal
Baked Earth
Clover Green
Bright Flamingo
Pine Cone
Raw Sienna
Reed Gray
Golden Wheat
Birds Egg Blue
Red Poppy
Wheat Flour
Lychee Pink
Lemon Lime
Butterscotch Yellow
Pale Celery
Crocus Bud
Stonewall Gray
Fresh Nutmeg
Pale Oats
Peony Pink
Cobalt Blue
Kiln Red
Grasshopper Green
Peachy Pink
Fresh Pickle
Golden Green
True Turquoise
Magnolia Blossom
Blue Pansy
Pink Pop
Lavender Opal
Buttercup Yellow
Stillwater Blue
Chestnut Red
Eggshell Blue
Turmeric Yellow
Blue Blue
Super Orange
Pale Mushroom
Purple Clematis
Kettle Black
Pink Pop
Wheat Flour
Crocus Bud
Pine Cone
Baked Earth
Clover Green
Chestnut Red
Lemon Lime
Golden Wheat
Birds Egg Blue
Bright Flamingo
Blue Pansy
Magnolia Blossom
Eggshell Blue
Turmeric Yellow
Stonewall Gray
Peony Pink
Fresh Pickle
Kiln Red
Reed Gray
Buttercup Yellow
Pale Celery
Super Orange
Pale Oats
Lychee Pink
Stillwater Blue
Golden Green
True Turquoise
Raw Sienna
Kettle Black
Purple Clematis
Grasshopper Green
Fresh Nutmeg
Cobalt Blue
Peachy Pink
Lavender Opal
Red Poppy
Blue Blue
Butterscotch Yellow
Pale Mushroom
Peony Pink
Birds Egg Blue
Buttercup Yellow
Eggshell Blue
Raw Sienna
Blue Blue
Super Orange
Stillwater Blue
Purple Clematis
Wheat Flour
Butterscotch Yellow
Stonewall Gray
Magnolia Blossom
Kettle Black
Chestnut Red
Pale Mushroom
Pink Pop
Grasshopper Green
Golden Green
Cobalt Blue
Peachy Pink
Clover Green
Red Poppy
Reed Gray
Golden Wheat
Lemon Lime
Lychee Pink
True Turquoise
Baked Earth
Pale Oats
Turmeric Yellow
Lavender Opal
Fresh Nutmeg
Blue Pansy
Crocus Bud
Fresh Pickle
Kiln Red
Pale Celery
Bright Flamingo
Pine Cone
FINISHING
With right side facing you, bind off in pattern as for Row 1.
Weave in any remaining ends, but do not trim just yet! First gently wet block to finished dimensions, using pins if necessary. Once dry, trim all remaining ends, and enjoy!