Our new bundle of Linen Quill Minis is a glorious confluence of natural fibers, gorgeous colors, and all the creativity and beauty they inspire. Forty 25-gram balls of Linen Quill, each bundle of Minis is an invitation to the most vibrant places in your imagination, and our free and simple Joy of Color Scarf pattern takes you there!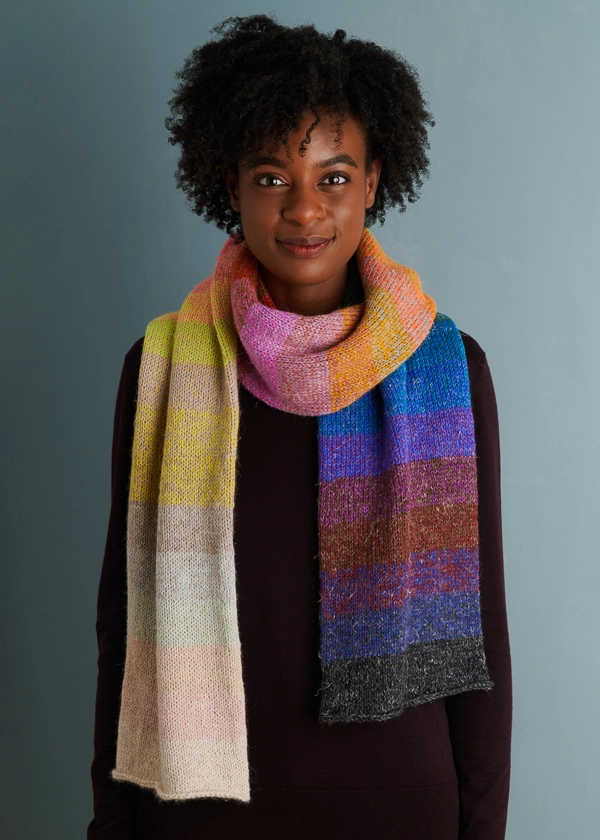 You knit the Joy Of Color Scarf holding two different colors together, swapping out one at a time to create smooth transitions and a spectacular array of complex colors.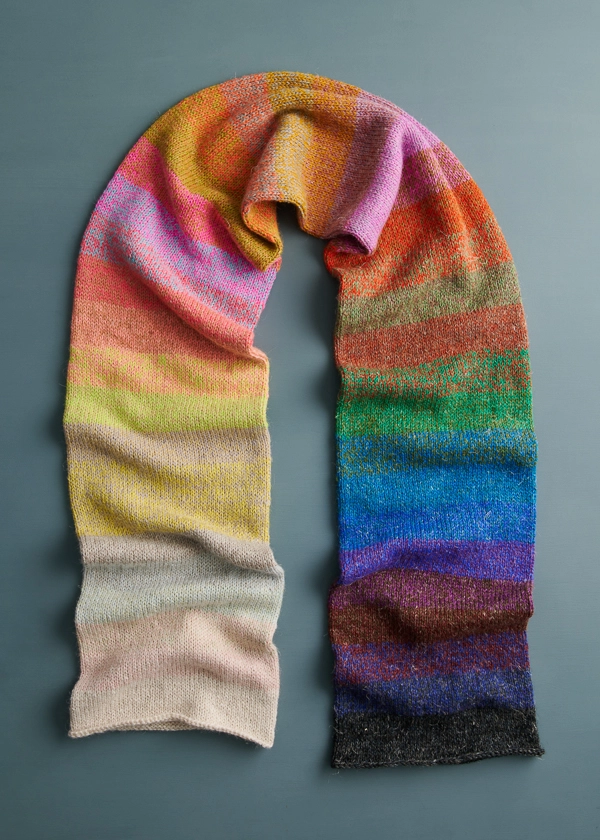 The pattern itself could not be any simpler, just casting on and knitting in the round. The true joy is in watching as each marled color melds into the next one, from a golden pink to a bronzes lime to a verdant orange and on and on!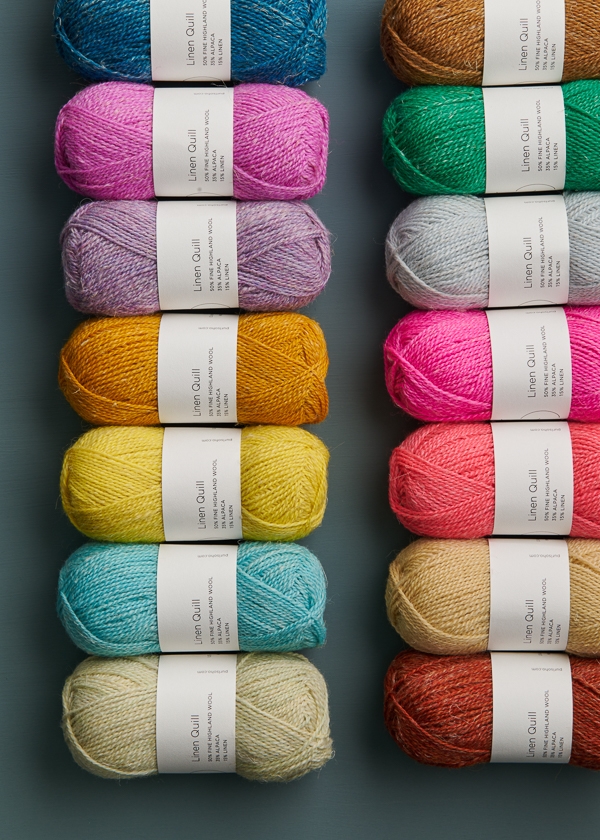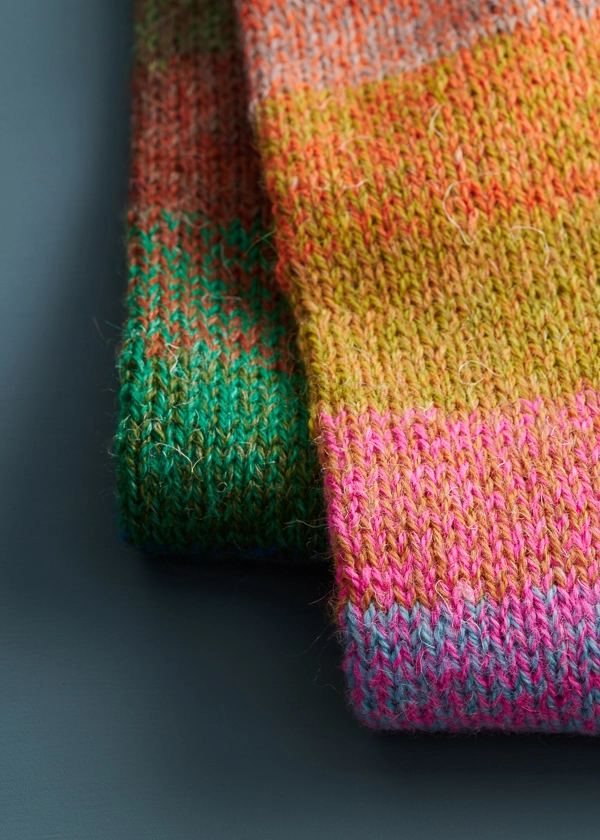 And as always, you will love the experience of knitting Linen Quill's wonderful mix of 50% fine highland wool, 35% alpaca, and 15% linen. Each strand of this yarn has a richness that comes from the three fibers contributing in their own way to its character.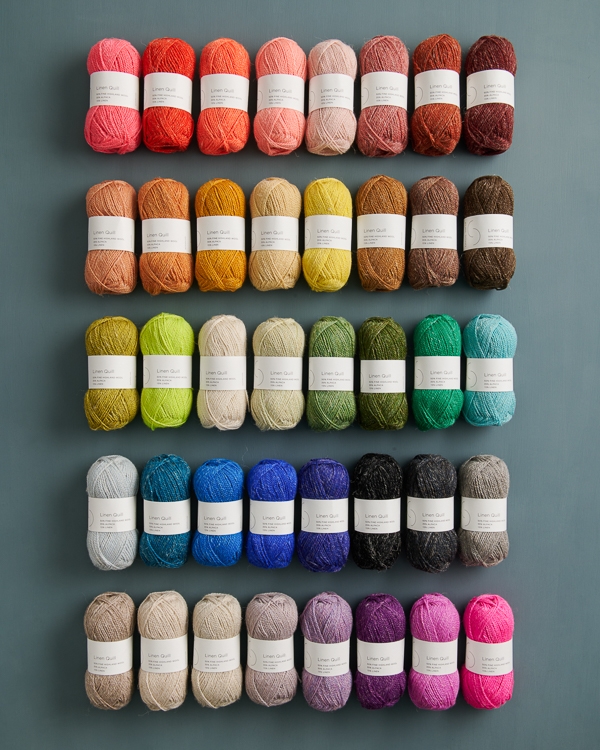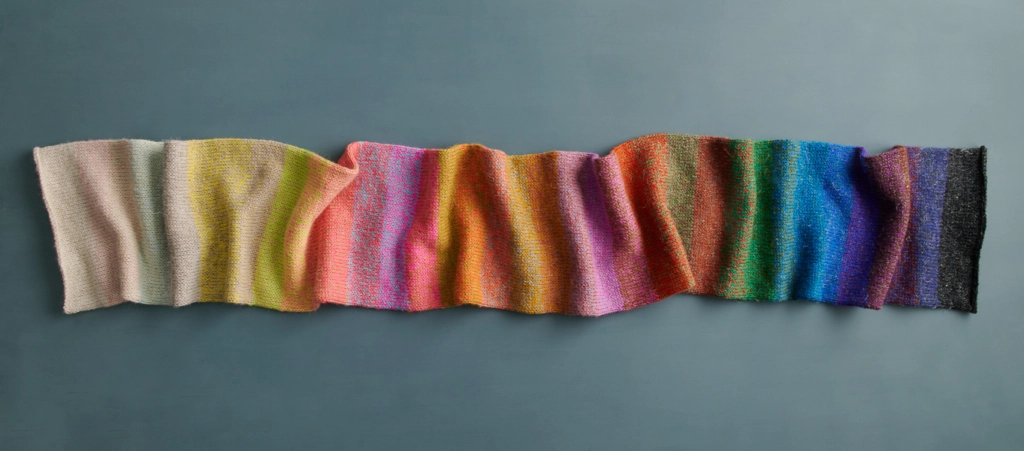 The wool adds bounce and durability and vibrant color, the alpaca softness and luster, and the linen, with its lighter fibers that tend to sprout from the yarn, adds an abundance of natural charm and beauty!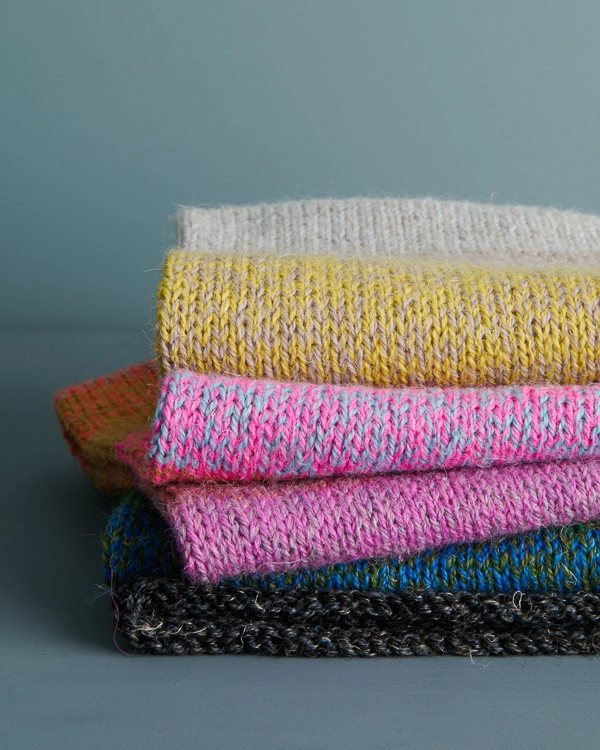 Our Linen Quill Minis make a spectacular gift for any crafter, or cast on for your own Joy Of Color Scarf and be transported to a breathtaking world of color!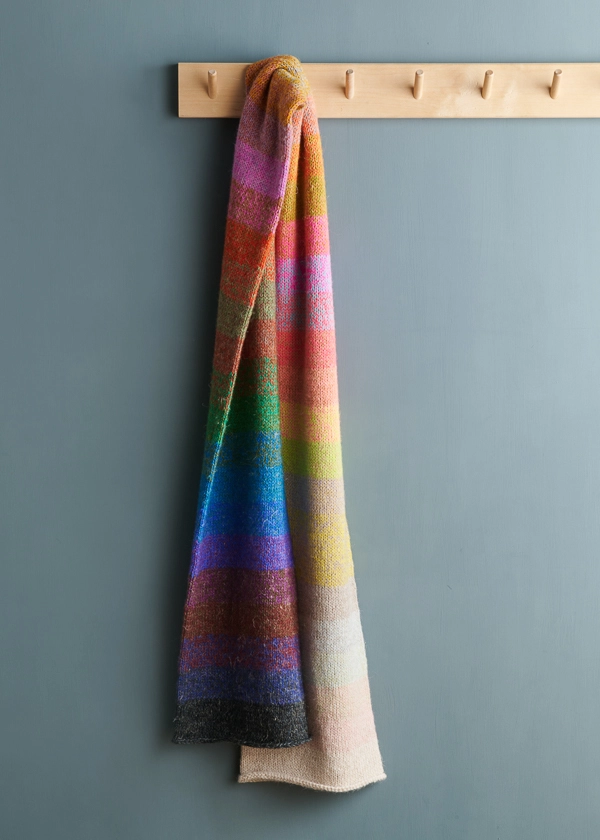 Designed by Purl Soho founder and co-owner, Joelle Hoverson.
Share your progress and connect with the community by tagging your pics with #PurlSoho, #PurlSohoBusyHands, #PurlSohoJoyOfColorScarf, and #PurlSohoLinenQuillMinis. We can't wait to see what you make!
Materials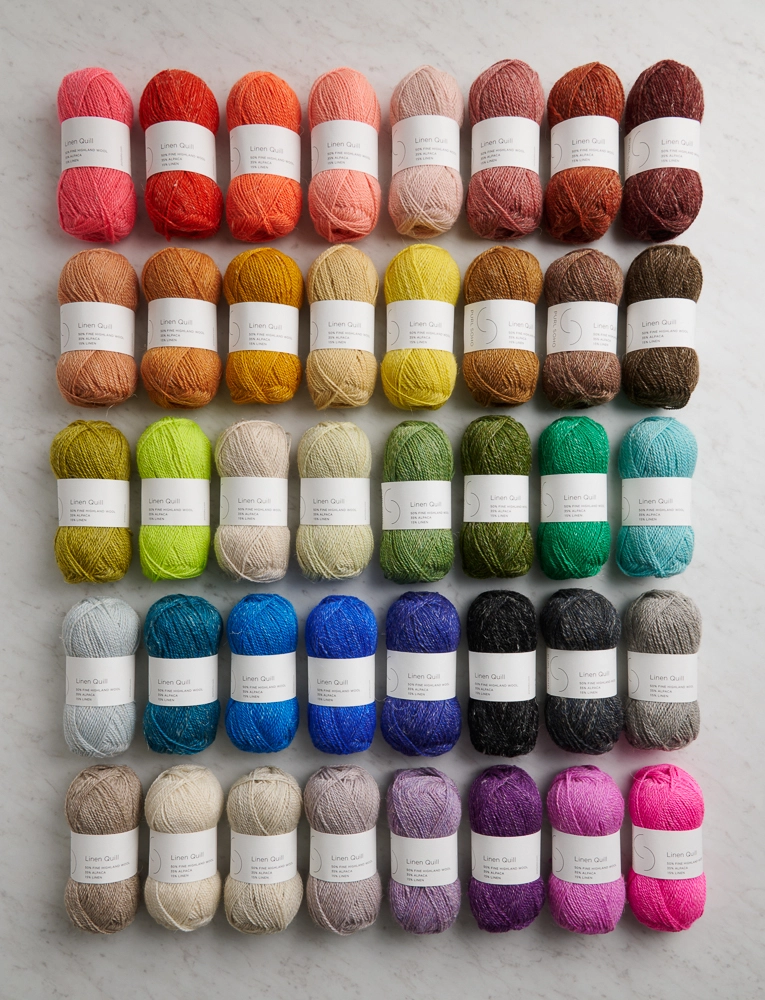 1 Linen Quill Minis bundle, 50% highland wool, 35% alpaca, and 15% linen. Each bundle is a total of 4,360 yards/ 1000 grams; approximately 1,600 (2,210) total yards required.
US 7 (4.5 mm), 12- or 16-inch circular needles, or long circulars for Magic Loop
NOTE: You can make 2 Small scarves with this bundle, or one Large!
GAUGE
19 stitches and 24 rounds = 4 inches in stockinette stitch with yarn doubled
SIZES
Small (Large)
Finished Circumference: 14 (20) inches
Finished Length (unrolled): 79¼ inches long
Finished Length (rolled): 77¼ inches long
Sample: We knit the Large size.
NOTES
KEEPING TRACK OF COLORS
With 40 colors of Linen Quill in this bundle, you have to keep organized! We recommend sorting your colors into bags of similar shades (reds, blues, greens, yellows, etc) to make them easier to find. If you lose any labels, be sure to consult the Color Guide included with your bundle!
WEAVING IN TAILS AS YOU GO
To avoid weaving in a whole lot of ends when you're finished knitting, follow these instructions for weaving in tails as you go. Note that you will always be knitting with two different color yarns, and every time you change colors, you will cut one yarn, then add a new yarn to the remaining yarn, creating a new color combo. Here's how we recommend taking care of all those tails…
Join the new color, leaving a 1½ to 2-inch tail on the purl side of the work. Knit the first 4 stitches of the round holding both the new and old colors together (i.e. three strands of yarn). Cut the old color, leaving a 1½ to 2-inch tail on the purl side of the work, and continue on with just the two strands of the new color combo.
Don't worry, all those little tails you're leaving will stay secure and will be hidden on the inside of your scarf! (Or, feel free to change colors as you normally would, just be prepared for many tails to weave in!)
PATTERN
NOTE: Throughout this pattern you will hold two colors of yarn as you work. We have named each color combination Color 1–39; see Color Order, below, for the full list of color combinations.
With Color 1 (see Color Order, below), cast on 67 (95) stitches. We used a basic Long Tail Cast On.
Place marker and join for working in the round, being careful not to twist the stitches.
Knit 16 rounds, or until piece measures approximately 2¾ inches from cast-on edge, unrolled.
*Color Change Round: With Color 2 and weaving in tails as you go (see Notes), knit to end of round.
Knit 11 more rounds, or until Color 2 section measures 2 inches.
Repeat from * with Colors 3–39, working 16 total rounds of Color 39 (instead of 12). [Piece measures approximately 79 inches from cast-on edge, unrolled]
Bind-Off Round: With Color 39, bind off loosely knitwise.
Cut yarns and weave in remaining cast-on and bind-off tails.
Gently wet block, allowing edges to roll up.
COLOR ORDER
Color 1: Pale Oats + Wheat Flour
Color 2: Wheat Flour + Peony Pink
Color 3: Peony Pink + Pale Celery
Color 4: Pale Celery + Bird's Egg Blue
Color 5: Bird's Egg Blue + Reed Gray
Color 6: Reed Gray + Pale Mushroom
Color 7: Pale Mushroom + Buttercup Yellow
Color 8: Buttercup Yellow + Lavender Opal
Color 9: Lavender Opal + Golden Wheat
Color 10: Golden Wheat + Lemon Lime
Color 11: Lemon Lime + Peachy Pink
Color 12: Peachy Pink + Baked Earth
Color 13: Baked Earth + Pink Flamingo
Color 14: Pink Flamingo + Eggshell Blue
Color 15: Eggshell Blue + Pink Pop
Color 16: Pink Pop + Butterscotch Yellow
Color 17: Butterscotch Yellow + Golden Green
Color 18: Golden Green + Super Orange
Color 19: Super Orange + Stonewall Gray
Color 20: Stonewall Gray + Turmeric Yellow
Color 21: Turmeric Yellow + Lychee Pink
Color 22: Lychee Pink + Crocus Bud
Color 23: Crocus Bud + Magnolia Blossom
Color 24: Magnolia Blossom + Raw Sienna
Color 25: Raw Sienna + Red Poppy
Color 26: Red Poppy + Grasshopper Green
Color 27: Grasshopper Green + Fresh Nutmeg
Color 28: Fresh Nutmeg + Kiln Red
Color 29: Kiln Red + Clover Green
Color 30: Clover Green + Fresh Pickle
Color 31: Fresh Pickle + Cobalt Blue
Color 32: Cobalt Blue + True Turquoise
Color 33: True Turquoise + Blue Blue
Color 34: Blue Blue + Purple Clematis
Color 35: Purple Clematis + Pine Cone
Color 36: Pine Cone + Chestnut Red
Color 37: Chestnut Red + Blue Pansy
Color 38: Blue Pansy + Stillwater Blue
Color 39: Stillwater Blue + Kettle Black