Very cute with its thick and thin stripes, and fun to make with its boundless potential for colorplay, Tayler Harris's Far + Wide Hat is a happy head topper you'll wear here, there, and everywhere!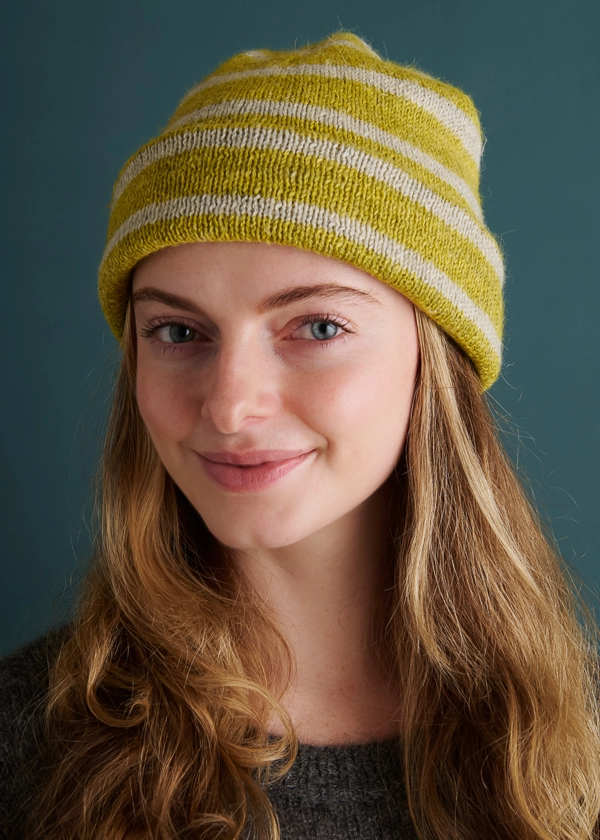 Tayler begins this hat with a provisional cast on, eventually joining the working and cast-on stitches to create a double-thick cozy cuff you can fold up or leave flat… wearer's choice! Beyond that, it's perfect travel or TV knitting, stockinette in the round from cast on to crown decreases.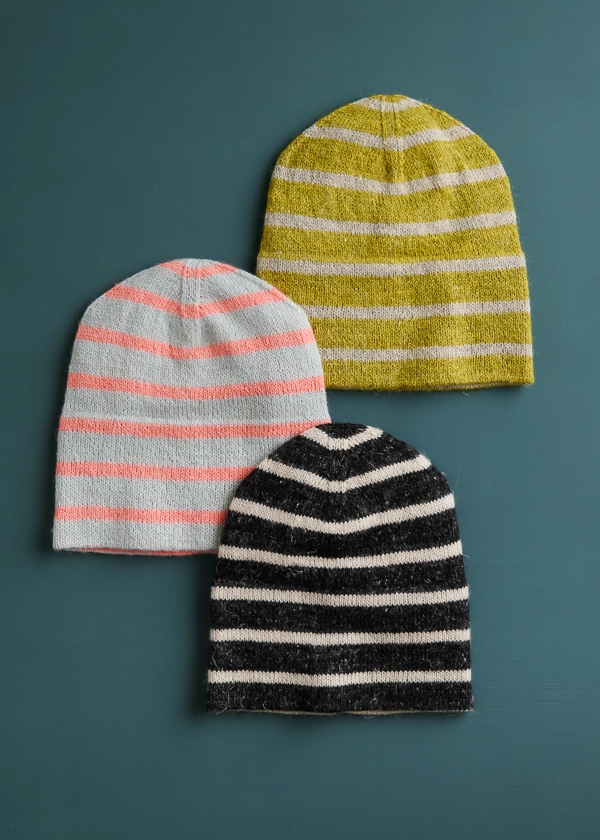 Tayler chose to knit her Far + Wide Hat in Linen Quill, knowing that its spectacular palette would give knitters tons of choices when it came to picking colors.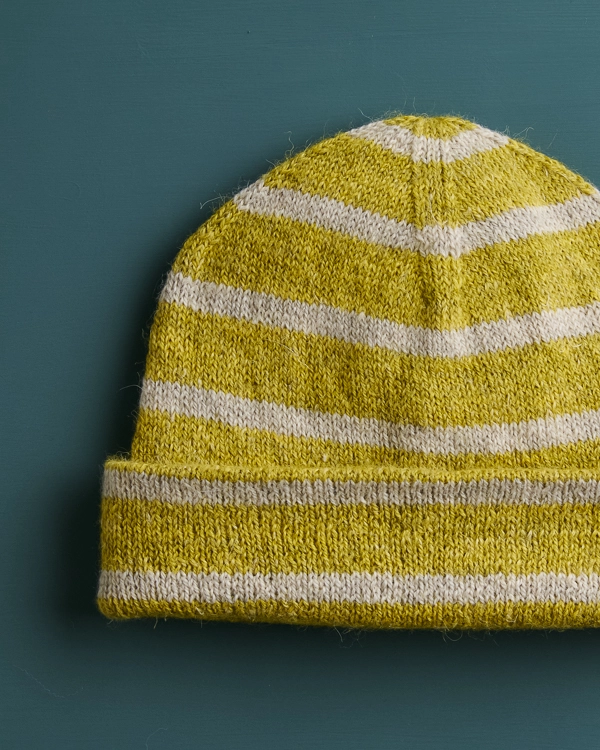 Linen Quill, with its beautiful mix of 50% fine highland wool, 35% alpaca, and 15% linen, has all the wonderful qualities of these various fibers: springy durability from the wool, long-fiber softness from the alpaca, and breathable strength from the linen.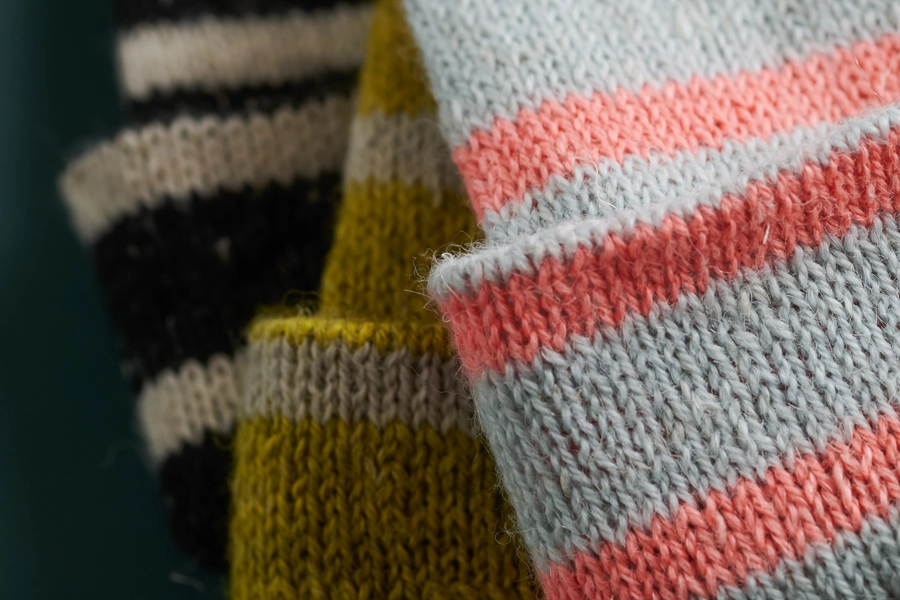 Plus, the way linen takes dye differently adds to this yarn's unique depth and texture, bringing even more character to this very charming knit!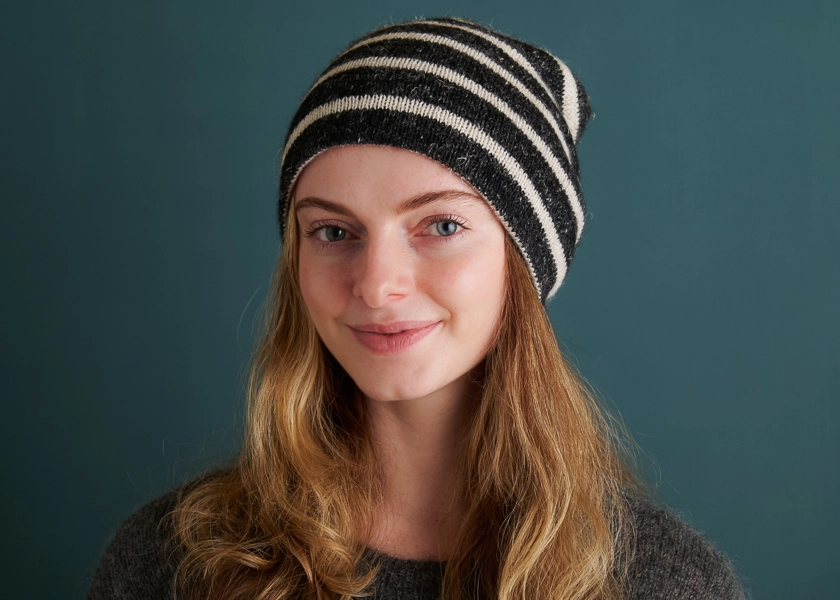 You only need one skein of each color for your Far + Wide Hat, and if you swap the stripes, you can even get a second hat from those same two skeins!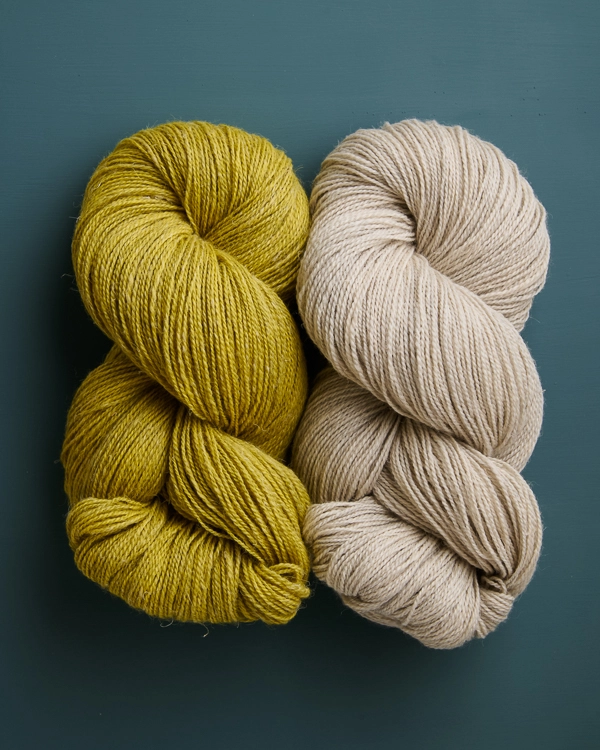 Sized for babies, adults, and anyone in between, cast on with your favorite color combo and you'll go far!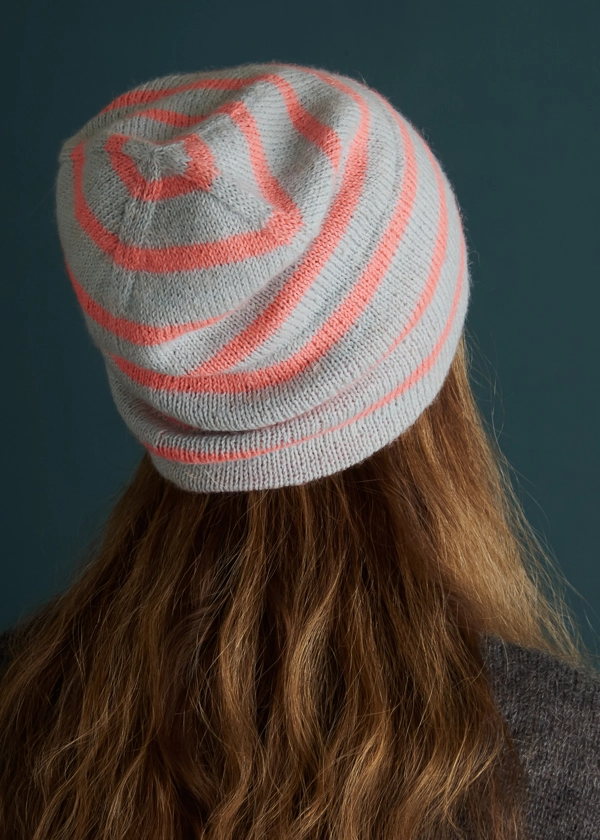 Designed for Purl Soho by Tayler Harris. Based in Utah, Tayler finds inspiration for her designs from the unique landscapes of her home state. From the beautiful mountains and canyons to the national parks and natural landscapes, she loves to incorporate the colors, textures, and shapes of her favorite places.
Share your progress and connect with the community by tagging your pics with #PurlSoho, #PurlSohoBusyHands, #PurlSohoFarAndWideHat, and #PurlSohoLinenQuill. We can't wait to see what you make!
Materials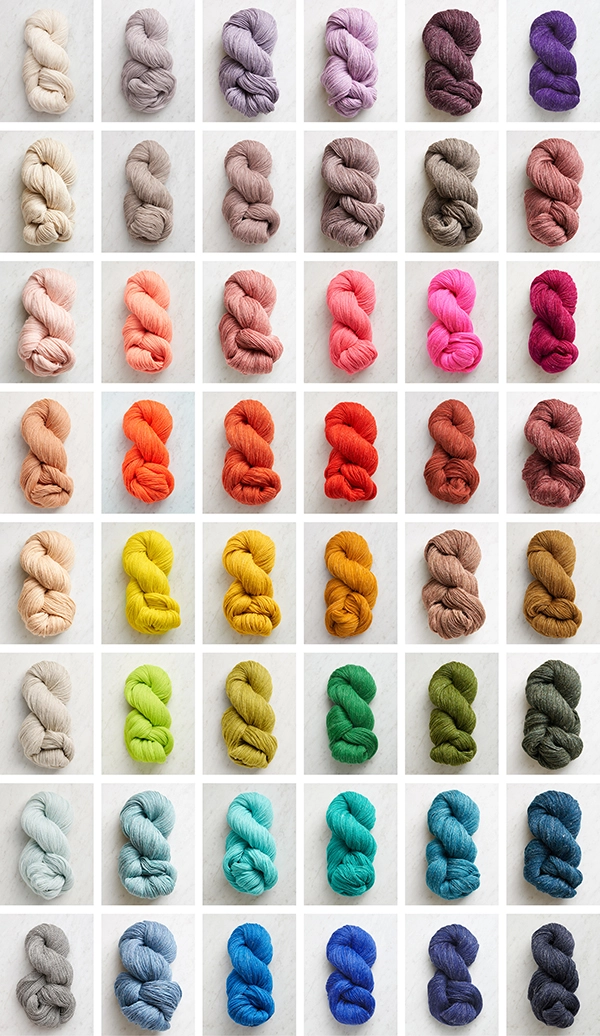 Purl Soho's Linen Quill, 50% fine highland wool, 35% alpaca and 15% linen. Each skein is approximately 439 yards/ 100 grams.

Main Color (MC): 1 skein; approximately 110 (135, 225, 240, 275) total yards required.
Contrast Color (CC): 1 skein; approximately 40 (50, 80, 95, 100) total yards required.

US 3 (3.25 mm), 16-inch circular needles, for Kid and Adult Sizes
A set of US 3 double pointed needles
Stitch markers, including one unique
Scrap yarn and crochet hook for Provisional Cast On
Spare 16-inch circular needles or double pointed needles, US 3 or smaller
NOTE: This is enough yarn to make 4 (3, 1, 1, 1) hat(s) using the same MC and CC, or enough for 5 (4, 2, 2, 2) hats if you alternate colors!
We used these colorful combos for our samples…
Main Color: Golden Green; Contrast Color: Reed Gray
Main Color: Birds Egg Blue; Contrast Color: Peachy Pink
Main Color: Kettle Black; Contrast Color: Pale Oats
GAUGE
27 stitches and 39 rounds = 4 inches in stockinette stitch
SIZES
Baby (Toddler, Kid, Adult Small, Adult Large)
Finished Circumference: 13 (15½, 17¾, 19, 21¼) inches, comfortably stretching 1-3 inches
Finished Height: 7 (8¼, 9½, 10¾, 12) inches
SAMPLES: We knit all of our hats in the Adult Small size.
NOTES
CONSTRUCTION
You will knit this hat in the round from the bottom edge to the crown. You will start with a Provisional Cast On to keep the bottom stitches live, and you will later join the working stitches with the cast-on stitches in order to create a cuff.
PROVISIONAL CAST ON
We used the Provisional Cast-On: One-Step Method to cast on our stitches, but for assistance putting live stitches back onto needles please visit our Provisional Cast-On: A Two-Step Method Tutorial.
WORKING STRIPES IN THE ROUND
You will carry the non-working yarn up the wrong-side of the work in order to avoid cutting yarns at the end of each stripe. For help with knitting stripes in the round, please visit our Stripes In The Round Tutorial.
STITCH PATTERN
THICK STRIPES
NOTE: Do not cut yarn at color changes. Carry the non-working yarn up the wrong side of the work (see above).
Rounds 1–10: With Main Color (MC), knit 10 rounds even.
Rounds 11–14: With Contrast Color (CC), knit 4 rounds even.
Repeat Rounds 1–14 for pattern.
PATTERN
CAST ON
With crochet hook and scrap yarn, use a Provisional Cast On (see Notes) to cast 88 (104, 120, 128, 144) stitches onto circular or double-pointed needles.
Place unique marker and join for working in the round, being careful not to twist the stitches.
CUFF
NOTE: For step-by-step photos of this cuff technique, check out our Knit Hem Tutorial!
Work Rounds 1–14 of Thick Stripes (see Stitch Pattern) 4 (4, 5, 6, 6) times, then work Rounds 1 and 2 one more time.
With right side facing you, carefully remove scrap yarn from Provisional Cast On, slipping the 88 (104, 120, 128, 144) stitches onto spare needles as you go.
Fold piece in half with wrong sides together and needles parallel, then with working needles in front and spare needles in back…
Next Round: Continuing with Main Color (MC) and right working needle, *knit first stitch on left working needle together with first stitch on left spare needle, repeat from * to end of round.
BODY
Beginning with Round 4, continue working Thick Stripes as established, until piece measures approximately 5 (6, 6¾, 7¾, 9) inches from folded edge of Cuff.
SHAPE CROWN
NOTE: Change to double pointed needles when necessary.
Set-Up Round: Continuing in Thick Stripes pattern, [k22 (26, 30, 32, 36), place marker] 3 times, knit to end of round.
Decrease Round: Continuing in Thick Stripes pattern, k1, slip slip knit (ssk), [knit to 3 stitches before next marker, knit two together (k2tog), k1, slip marker, k1, ssk] 3 times, knit to 3 stitches before next marker, k2tog, k1. [8 stitches decreased]
Continuing in Thick Stripes pattern as established, repeat Decrease Round every other round 8 (10, 12, 13, 15) more times. [16 stitches remain]
Cut yarns, leaving 8-inch tails. Thread tails onto tapestry needle and thread needle through remaining 16 stitches two times. Pull taut. Bring tail to inside of hat and weave in.
Weave in remaining ends and gently wet block.