Hand-stitched sweaters grow like a garden, from the seed of an idea, then stitch by stitch, slowly blossoming into the light of day. Isa Catepillán discovered the connection last year when she watched her first garden grow at the same time she hooked up her wonderfully earthy Terra-Madre Top.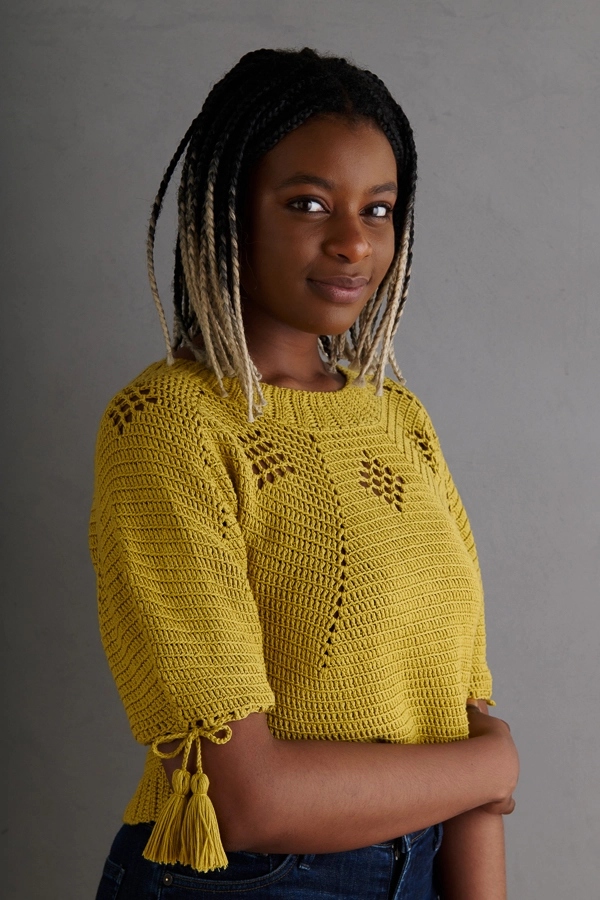 Meaning "Mother Earth," Isa's Terra-Madre Top leans into bucolic details while keeping an eye on the overall elegance of the garden. A swingy loose fit and a fluted texture is punctuated by eyelets in the yoke and classic ribbing along the edges. Balloon sleeves with drawstring tassels ensure the whole thing skews charming!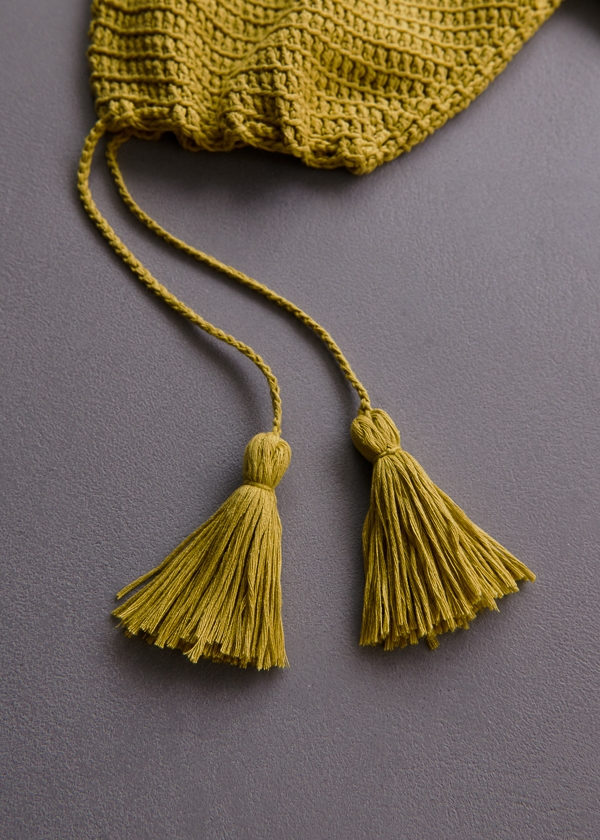 Worked from top down, you'll start your Terra-Madre Top with a ribbed strip that you sew into loop for the neckline. You then pick up around its edge and crochet in one piece down to the bottom, using a simple double crochet into the back loop pattern. You make another ribbed strip for the hem, then work the sleeves, finishing them off with drawstrings woven into the ends.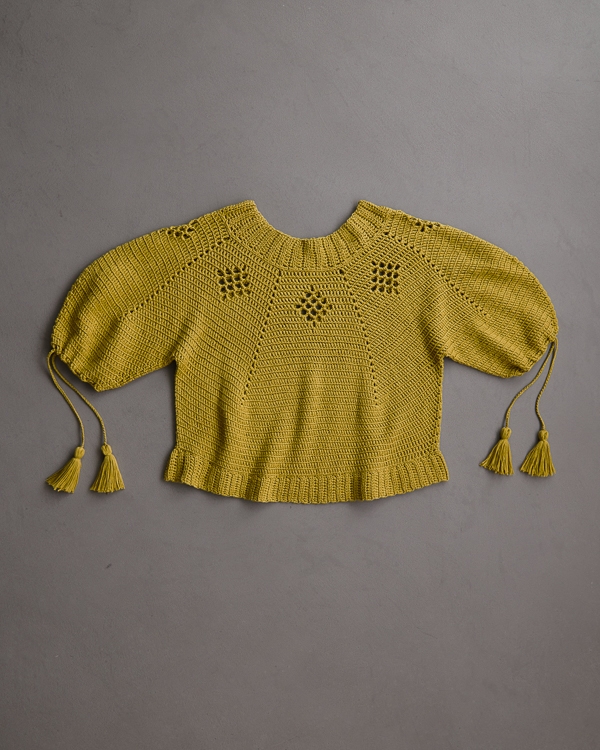 While Isa's garden planted the idea for her Terra-Madre Top, our Spectrum Silk inspired its easy-going whimsy. A wonderfully down-to-earth silk, it has a very gentle shine, a lovely hand, and a simple, rustic beauty.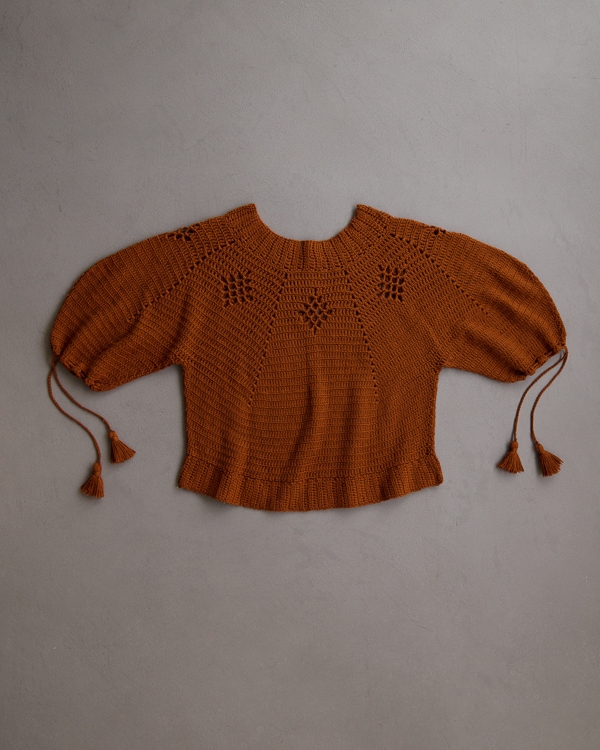 We love the warm Ginger Brown and tangy Spicy Mustard colors we used to hook up our versions, but we can imagine every single color bringing its personality to the party… Pick your favorite and watch your garden grow!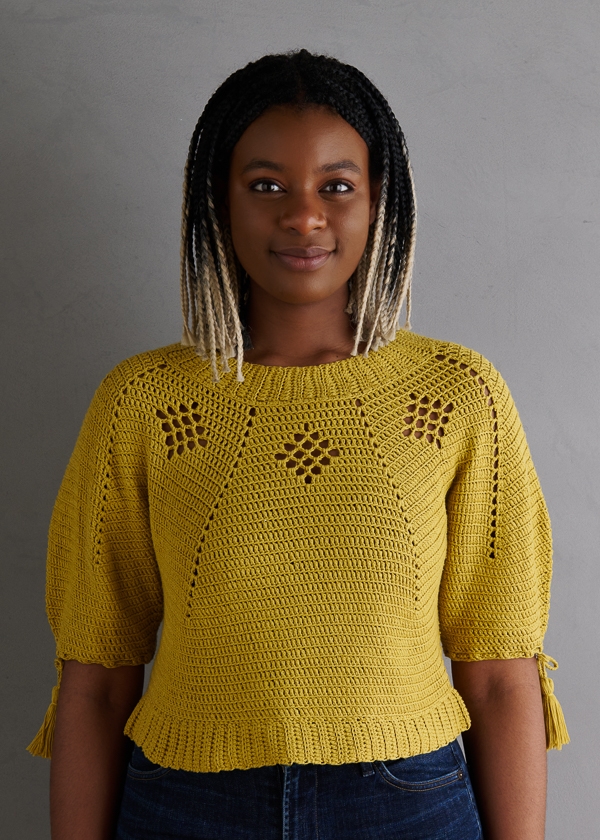 Designed for Purl Soho by Isa Catepillán.
Share your progress and connect with the community by tagging your pics with #PurlSoho, #PurlSohoBusyHands, #PurlSohoTerraMadreTop and #PurlSohoSpectrumSilk. We can't wait to see what you make!
UPDATE: NOW IN PICNIC COTTON
JULY 2022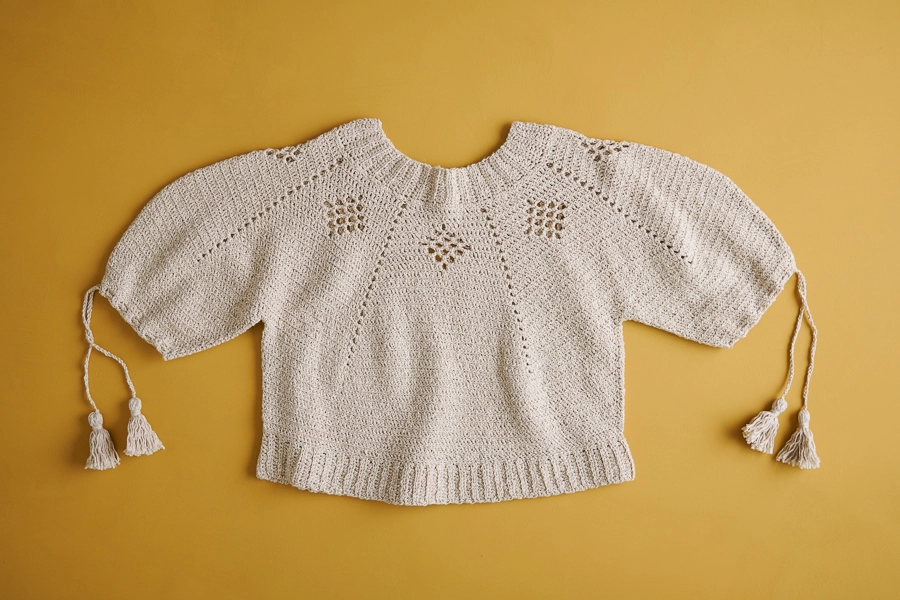 Our beautiful Picnic Cotton creates a fabric with just the right amount of earthy charm for Isa's design. Made in Peru from 100% organically grown Pima cotton, this yarn features a colored thread (in this case, a pearly gray) wrapped around a fluffy white core, which is reminiscent of the cotton bolls that started it all and a beautiful reminder with each stitch of the many gifts of "Terra-Madre"!
Materials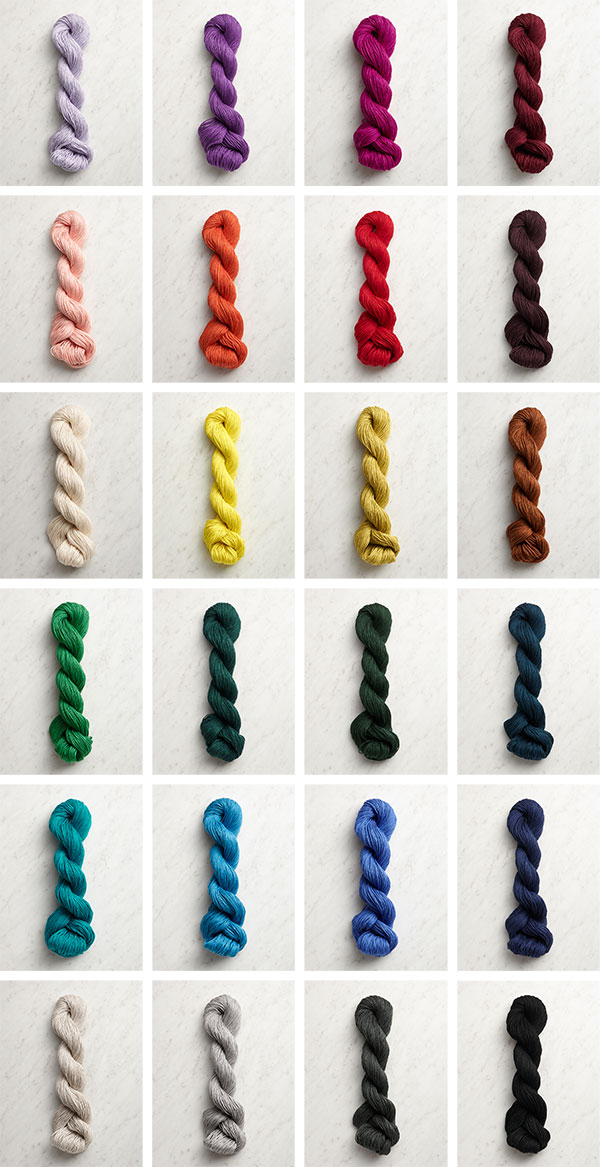 Gauge
23 dcs and 9 rounds = 4 inches in double crochet in back loop only, after blocking
Sizes
31 (32½, 36, 38¾, 42½, 45) (47¼, 49¾, 52, 55¾, 61)
To fit actual high hip circumference of approximately 27–29 (28–31, 32–34, 34–37, 38–40, 41–43) (43–45, 46–48, 48–50, 51–54, 55–59) inches with 2–4 inches of ease
NOTE: This design is very roomy through chest. Choose size based on high hip measurement (below waist, about level with tops of jeans' back pockets).
Finished High Hip Circumference: 31 (32½, 36, 38¾, 42½, 45) (47¼, 49¾, 52, 55¾, 61) inches
Finished Length From Shoulder To Bottom Edge: 15½ (15½, 16¼, 17, 17¾, 18½) (18½, 19¼, 19¼, 19½, 20) inches
Sample: The sweaters shown here are size 36, worn with 4 inches of ease at the high hip.
Pattern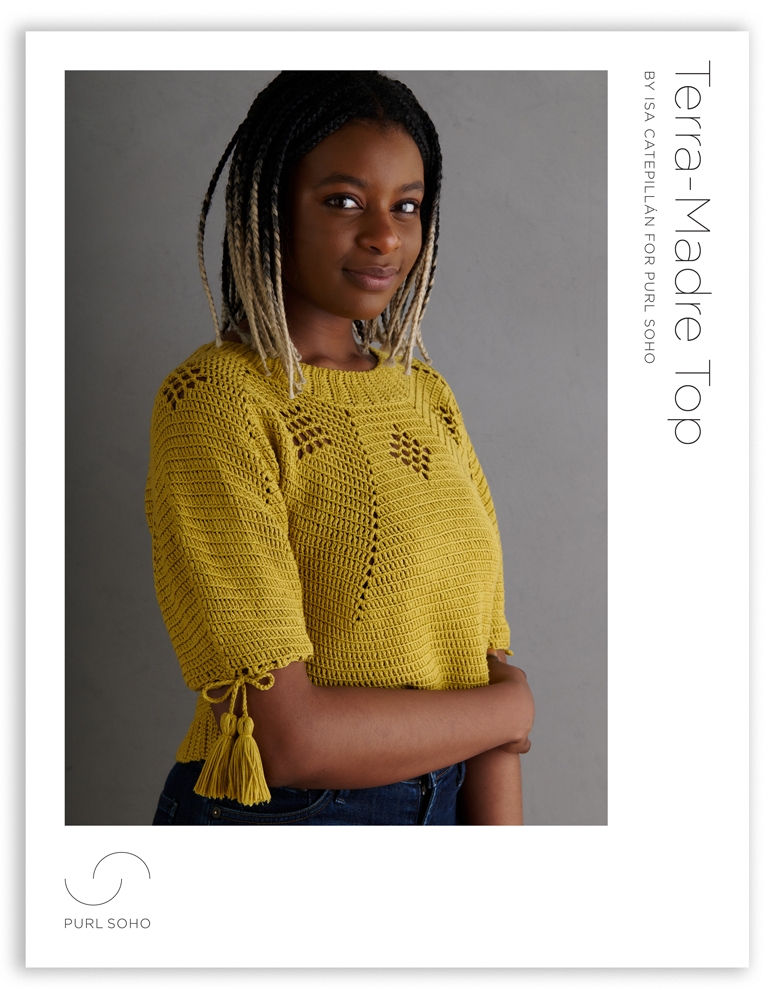 The Terra-Madre Top pattern is available for purchase exclusively as a PDF download.