Our Pebble Dishcloths are like a collection of carefully gathered stones, beautifully textured, spirited, and very charming!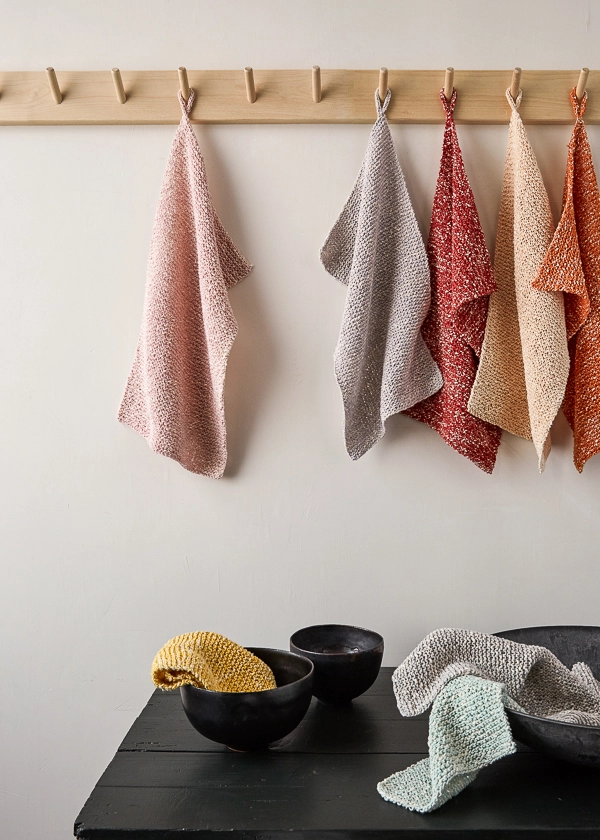 A single-color block of garter stitch with an I-cord loop for hanging, making our Pebble Dishcloths couldn't be simpler! Their complexity comes from our newest yarn, Lantern, a linen-wrapped white cotton core filled with immense character and surprise. It's also wonderfully durable for the wiping, drying, and scrubbing work of a kitchen!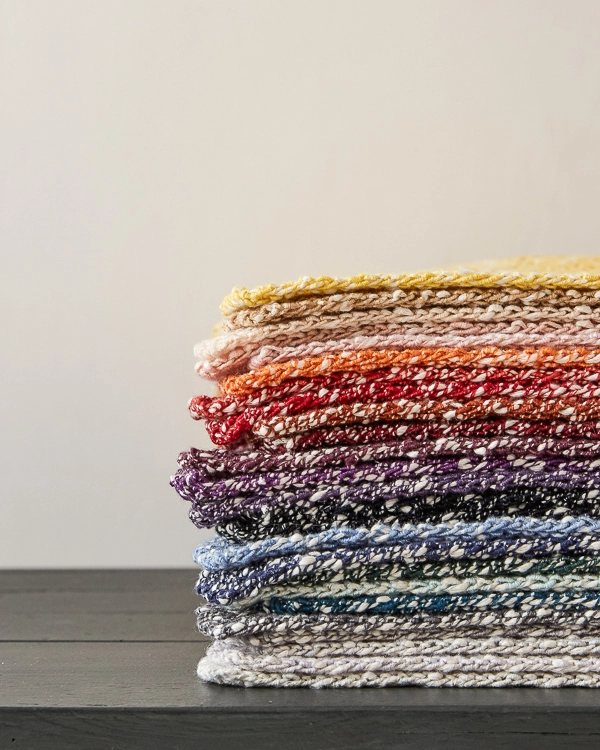 Make a set of your own beautiful Dishcloths with our Pebble Dishcloth Bundles. Available in 5 five-color palettes, each one explores its own corner of the spectrum, from delicate grays to syrupy purples.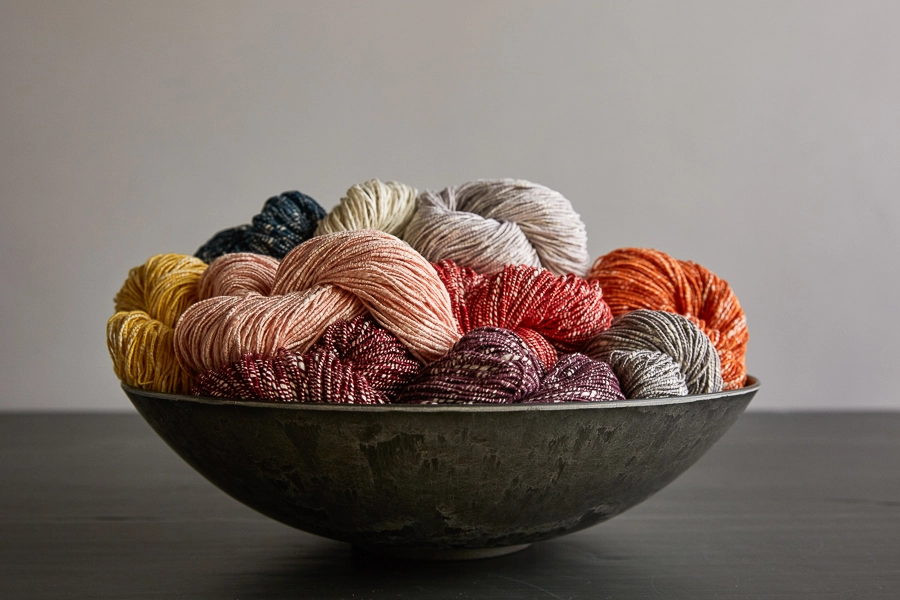 It's amazing how a set of Pebble Dishcloths in Lantern illuminates the kitchen with sparks of color and beauty. Pack a Bundle on your summer travels and return with your own collection of hand knit treasures!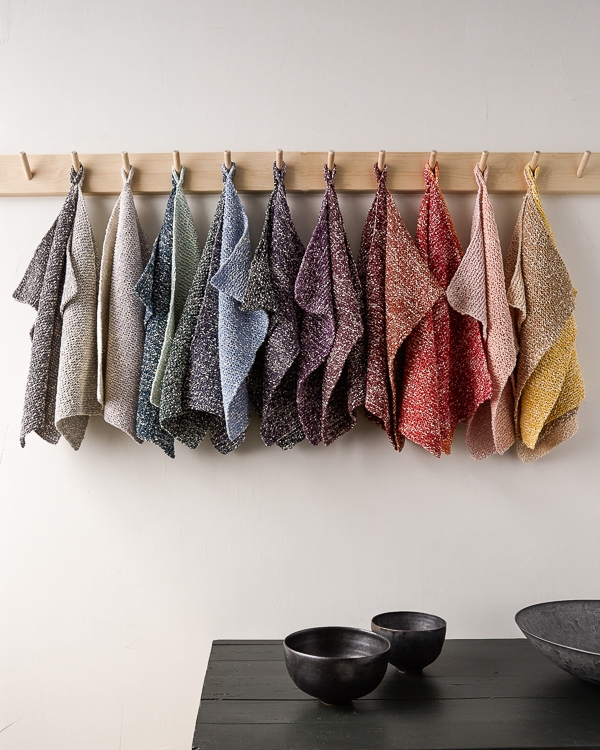 Designed for Purl Soho by Jake Canton.
Share your progress and connect with the community by tagging your pics with #PurlSoho, #PurlSohoBusyHands, #PurlSohoPebbleDishcloths, and #PurlSohoLantern. We can't wait to see what you make!
Materials
5 skeins of Purl Soho's Lantern, 61% cotton and 39% linen. Each skein is 164 yards/ 100 grams; approximately 147 yards required. (NOTE: We no longer offer Lantern, but choose from one of our other worsted weight yarns.)
You will also need…
Choose from five palettes, shown above from top to bottom…
Oyster Shell: Gray Ember, Nickel Gray, Platinum Gray, Lavender Frost, White Smoke
Honeysuckle: Beech Leaf, Moth Wing, Peach Cream, Pink Salt, Dogwood Pink
Sumac: Beet Red, Horse Chestnut, Pigment Red, Cinnabar Red, Orange Poppy
Aubergine: Black Feather, Blue Black, Blue Violet, Purple Heliotrope, French Purple
Coast: Bluegrass Blue, Frost Blue, Copse Green, Shibori Blue, Dew Blue
Gauge
19 stitches and 46 rows = 4 inches in garter stitch
Size
Finished Dimensions: 10 inches wide x 15 inches long
Notes
Avoid Pooling
If you are using Purl Soho's Lantern (or any other yarn whose color or texture is supposed to appear irregular and random when it's knit), alternate skeins every one or two rows or rounds. For tips on alternating skeins, check out our Working With Irregular + Hand Dyed Yarns: Avoiding Pooling tutorial here.
Care Instructions
Although our official recommended care instructions for Lantern are to hand wash and lay flat to dry, our insider practical knowledge is that Lantern holds up great in a cold or warm machine wash and even in a low or warm dry cycle. There may be a very small amount of shrinkage (like 2%), so stick with hand washing for garments. Also, washing with like colors is always a good idea!
Pattern
Cast on 48 stitches. We used a basic Long Tail Cast On.
Row 1: Knit to end of row.
Repeat Row 1 until piece measures 15 inches from cast-on edge.
Bind off knitwise, until 3 stitches remain (1 stitch on the right needle and 2 stitches on the left needle), k2.
Make I-Cord Loop
With the remaining 3 stitches, use two double pointed needles to make a 3-inch I-cord, working the last row as follows…
Last Row: K1, k2tog, pass first stitch over second and off the right needle. Cut yarn, leaving a 12-inch tail, and pull it through the remaining stitch.
Thread the tail onto a tapestry needle. Make a loop with the I-cord and weave the tail into the fabric of the Dishcloth at the base of the I-cord, then weave it through the looped I-cord, and back into the fabric of the Dishcloth.
Weave in the cast-on end and your Dishtowel is ready to use!