Fisherman's Rib was once named for the rustic seafaring men it warmed. But in Purl Soho's newest yarn, the incredibly sumptuous wool-angora Lanecardate Feltro, Fisherman's Rib is also suitable for the most sensitive of landlubbers.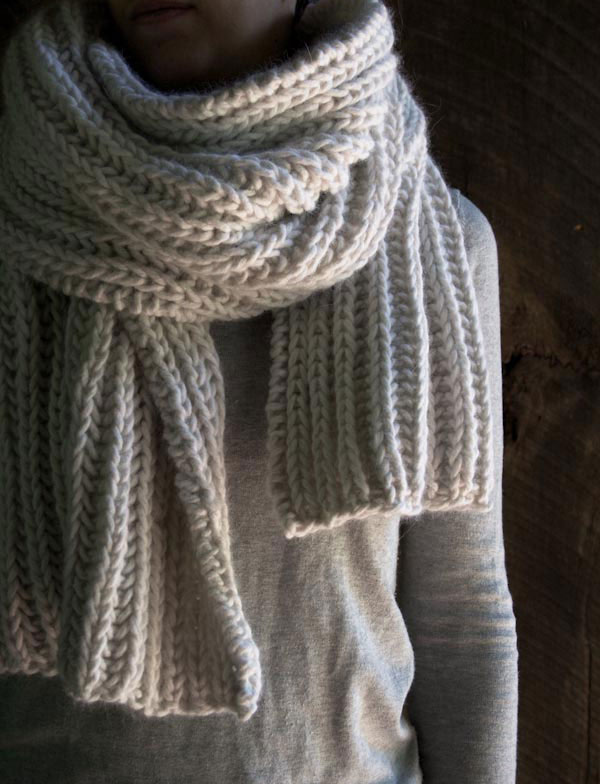 Feltro's magically lofty structure lends itself perfectly to this age-old stitch. Its simple cord-like spin captures beautiful nuances, well defining the important moments of Fisherman's Rib: its steep crests, deep troughs and waves of crosscurrents.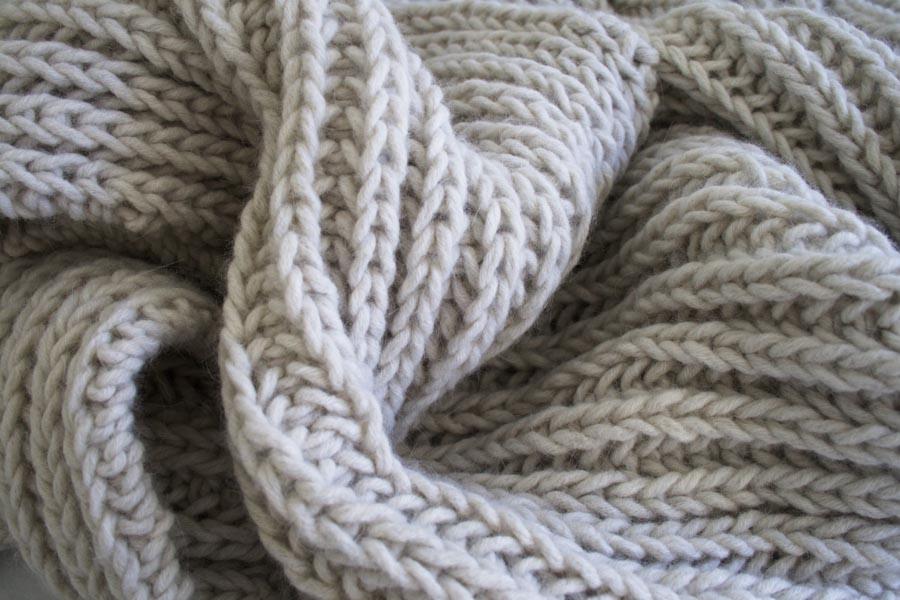 If you're weathering the elements on land or at sea these coming cold months, be safely wrapped in our big, gorgeous Seafaring Scarf! -Laura
Update: New Yarn
October 6, 2019
Our classic Seafaring Scarf In Big Good Wool is just the right vehicle for our gorgeous Big Good Wool (no longer available). One hundred percent Andean highland wool in the colors of the sheep themselves, our chunky weight Big Good Wool is always dynamic and beautiful! Choose from five natural, undyed colors, in a range from this soft and subtle Winter Grass to rustic Hickory Nut. And Big Good Wool comes in big skeins, so you'll need just two for your own Seafaring Scarf!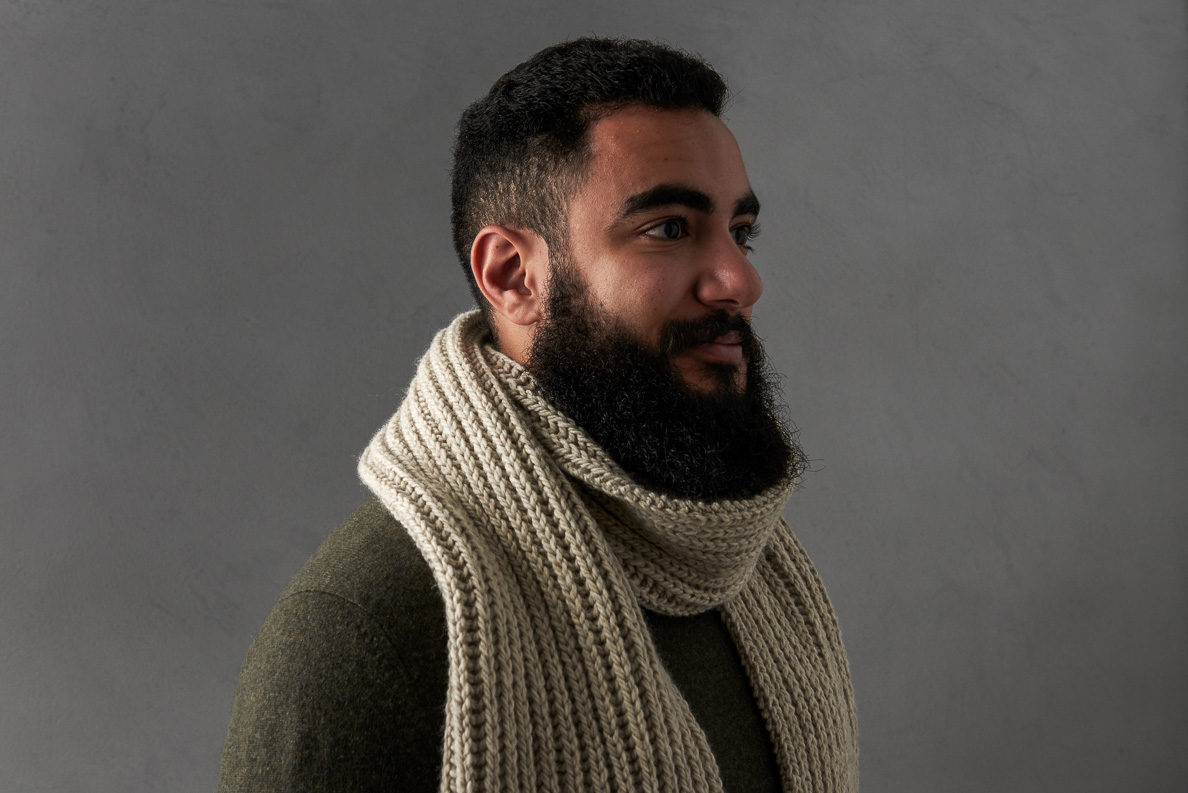 Designed by Purl Soho designer, Laura Ferguson.
Share your progress and connect with the community by tagging your pics with #PurlSoho, #PurlSohoBusyHands, and #PurlSohoSeafaringScarf. We can't wait to see what you make!
Materials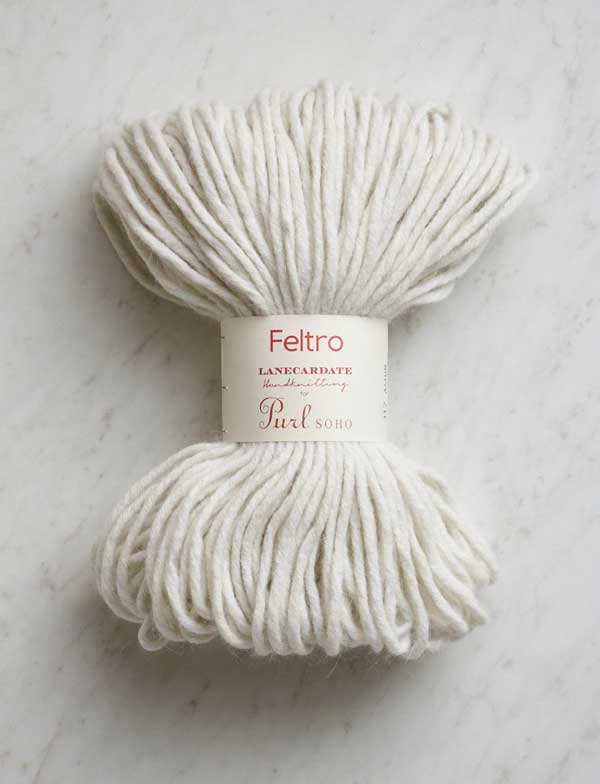 7 skeins of Purl Soho's Lanecardate Feltro, 75% superfine wool, 25% Caregora angora. Each skein is 98 yards/ 100 grams; approximately 650 yards required. This is the color Amur, Very Light Gray. (NOTE: We no longer offer Lanecardate Feltro, but choose from one of our other super bulky weight yarns.)
US 13 (9 mm) needles
Gauge
8 stitches = 4 inches in Fisherman's Rib
Size
15 inches wide x 70 inches long
Notes
The pattern is worked over a multiple of 2 + 1 stitches.
k1b [knit one below]: Insert the tip of the right needle into the stitch below the next stitch, knit normally (wrapping the yarn around the needle and pulling it back through the stitch below) and let the stitch above fall from the left needle.
To see a "k1b" in action, check out this video tutorial…
Pattern
Cast on 31 stitches. We used a basic Long Tail Cast On.
Row 1: *K1, p1, repeat from * to last stitch, k1.
Row 2: K1, *k1b, p1, rep from * to last two stitches, k1b, k1.
Row 3: K1, *p1, k1b, rep from * to last two stitches, p1, k1.
Repeat Rows 2 and 3 until piece is just shy of desired finished length, ending with Row 2.
Bind off in 1 x 1 rib. Here's how…K1, *p1, pass first stitch over the second stitch and off right needle, k1, pass first stitch over the second stitch and off right needle, repeat from * to end of row.
Weave in the ends and gently block, if desired.