Having grown up in southern California, I've never made a snow angel or felt the supposed sting of a direct snowball hit. My first winter in New York I had to ask, "What is sleet?" Don't get me wrong, I thoroughly enjoyed my warm-weather childhood, but I do feel a pang of sadness that I never experienced the singular joy of a snow day!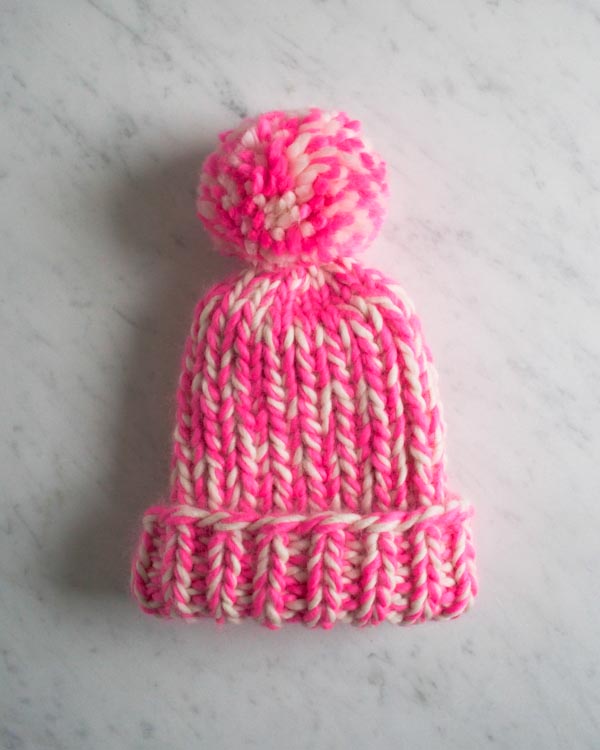 Though I'm far from expert on the subject, my Snow Day Hat seems to me the perfect accessory for child and adult snow days alike. Knit with two strands of Purl Soho's Super Soft Merino, the marled fabric looks like the cozy version of a January blizzard.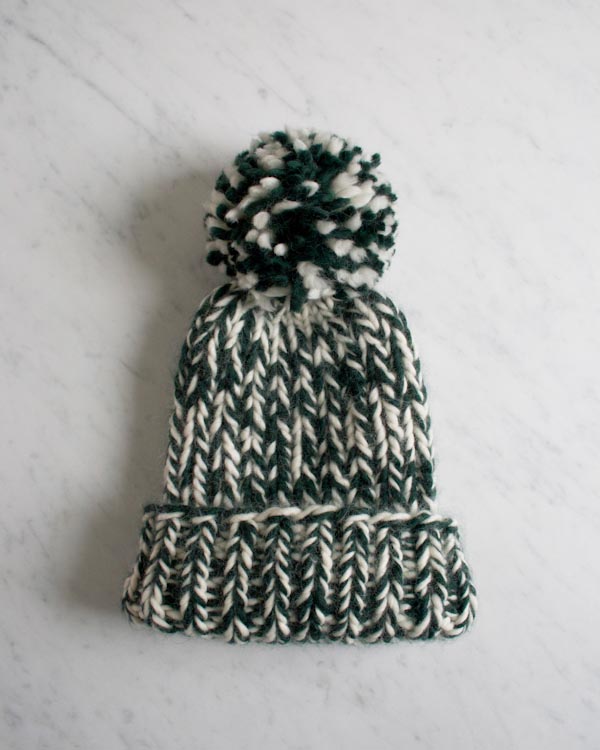 Snug in my Snow Day Hat, I plan to make up for lost time this winter. I may be too old for snow days, but not for building a snowman, right? -Gina
Update: New Colors
November 2016
When we added over a dozen new colors to our Super Soft Merino palette, we couldn't help knitting up a new collection of Snow Day Hats! For the full story and additional photos, click here!
Update: New Pom Poms
November 2019
We're having a party and you're invited! We've topped a few of our favorite hat patterns with festive pom poms including our Snow Day Hat! Using our Pom Pom Maker Set in the Small + Large and Extra Large + Jumbo sizes, adorn your Snow Day Hat and join in on the party here!
Designed by Purl Soho designer, Gina Rockenwagner.
Share your progress and connect with the community by tagging your pics with #PurlSoho, #PurlSohoBusyHands, #PurlSohoSnowDayHat, and #PurlSohoSuperSoftMerino. We can't wait to see what you make!
Materials
KID HAT: 1 skein of Heirloom White, 1 skein of Super Pink
ADULT HAT: 1 skein of Heirloom White, 1 skein of Black Green
Gauge
10 stitches = 4 inches in 1×1 rib, with yarn doubled
Sizes
Kids (Adult)
To fit head sizes up to 20 (23) inches in circumference
Finished height (not including pom pom): 9½ (12½) inches
Finished circumference (relaxed): 11 (14) inches
Pom pom diameter: 3½ (4) inches
Pattern
Using a strand of each yarn held together, cast 34 (40) stitches onto the circular needle. We used a basic Long Tail Cast On.
Place marker and join to work in the round, being careful to not twist the stitches.
Round 1: *K1, p1, repeat from * to end of round.
Repeat Round 1 until piece measures 8 (11) inches from cast on edge.
Changing to the double pointed needles…
Next Round: [Ssk] 17 (20) times. [17 (20) stitches]
Knit 2 rounds.
Next Round: [K2tog] 7 (10) times, K3tog 1 (0) time. [8 (10) stitches]
Cut both strands of yarn and thread them onto a tapestry needle. Draw the needle through the remaining stitches, pull taut and bring the tails to the inside of the hat.
Use both yarns and the smaller (larger) Extra Large Pom Pom Maker to make a pom pom 3 ½ (4) inches in diameter. Attach securely at crown. Here's how…
You should have 2 long tails coming from the pom pom. Thread 1 tail through a tapestry needle. Insert the tapestry needle through the very top of the hat, directly to one side of the closure at the crown. Pull the tail through to the inside. Repeat with the other tail, this time inserting the needle on the opposite side of the closure at the crown. Turn the hat inside out. Firmly tie the two tails together in a tight double knot. Thread both tails onto the tapestry needle and bring the needle through the crown and up through the center of the pom pom. Trim the tails to the same length as the rest of the pom pom.
Weave in the remaining ends and enjoy your Snow Day Hat!