Although I know how to knit, I tend to be all talk and no action. I'm great at buying yarn and casting on, but I'm also quite good at abandoning my projects before they're done. But with everyone at the Purl Bee creating such amazing projects with our new Super Soft Merino (like these great hats and this awesome cowl), I was beginning to feel a little left out!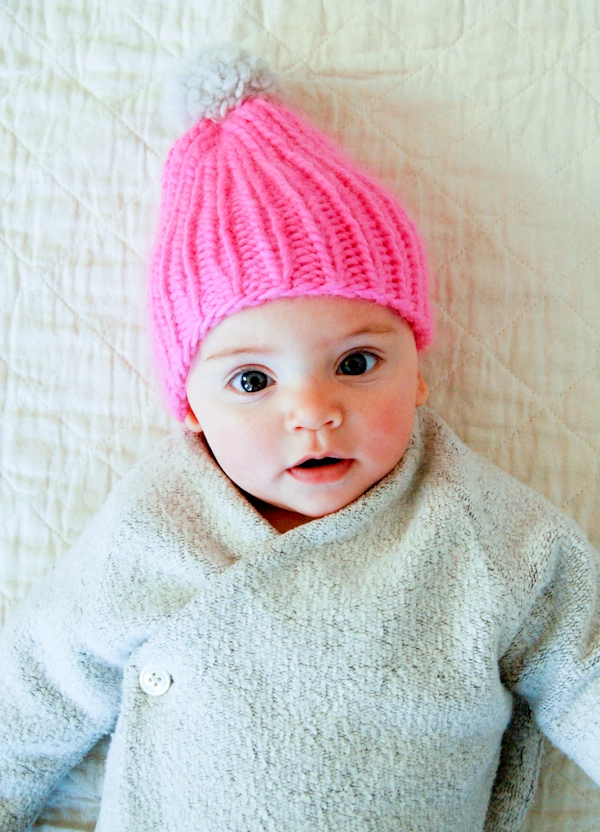 I knew I wanted to get in on the Super Soft Merino action, but I certainly didn't want another partnerless mitten or half-finished sweater. With winter here and a new baby to keep warm, I decided I could probably manage a simple baby hat, as long as it was really easy. This pattern fits the bill!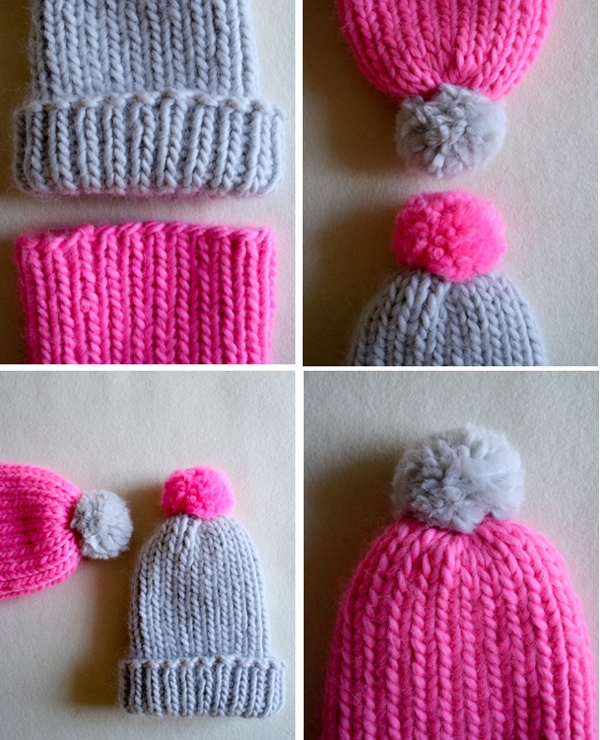 The Super Simple Super Soft Merino Baby Hat is truly the easiest hat you will ever knit. The yarn's chunky weight makes it quick, and its vivid range of colors makes it fun. It also happens to make the softest, fluffiest pom poms so I added one to the top! I had such a good time making mine that I ended up knitting two versions in as many nights. I was so proud of myself! The short version just covers the ears, while the tall version can be worn cuffed up and trim or unfolded and a little floppy. -Molly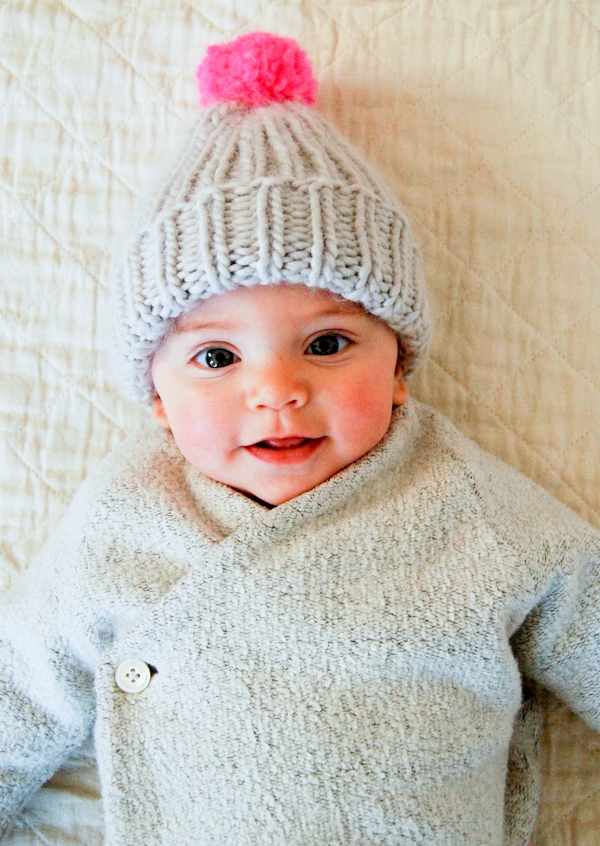 Designed by Purl Soho designer, Molly Schnick. Click here to see even more of Molly's work!
Share your progress and connect with the community by tagging your pics with #PurlSoho, #PurlSohoBusyHands, #PurlSohoSuperSimpleSuperSoftMerinoBabyHat, and #PurlSohoSuperSoftMerino. We can't wait to see what you make!
Materials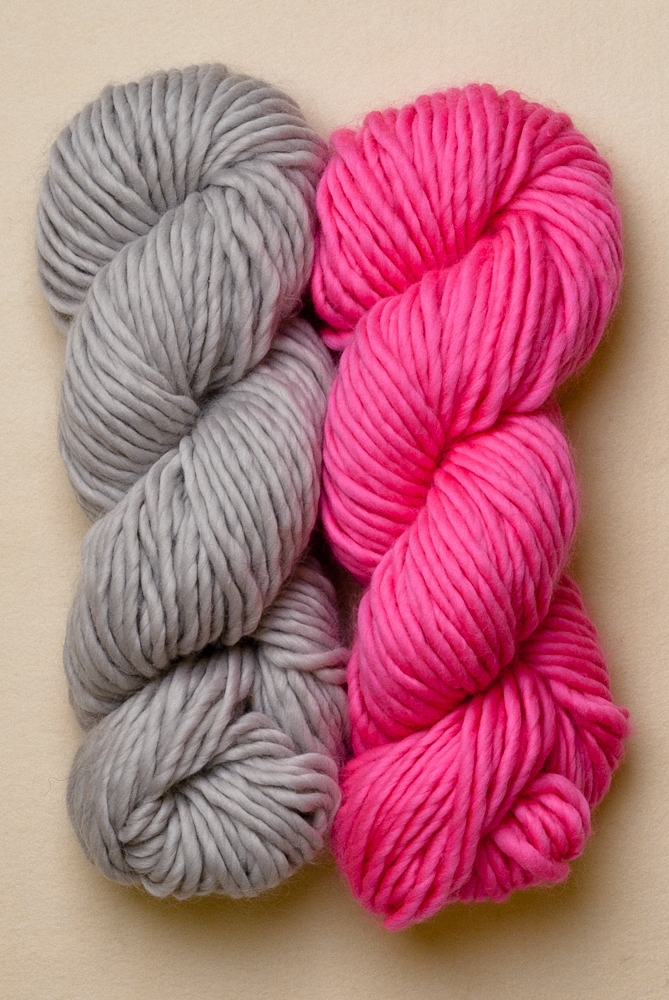 To make two hats in opposite colorways, you'll need…
2 skeins of Super Soft Merino, 100% merino wool. Each skein is 87 yards/ 100 grams; approximately 174 yards required. We used Oyster Gray and Super Pink.
A US 11 (8 mm), 16-inch circular needle
NOTE: One skein is enough to make one hat in one color.
Gauge
16 stitches = 4 inches in 1 X 1 rib, unstretched
Sizes
Short (Long)
Finished Circumference: Up to 16 inches circumference, stretched
Finished Height: 6½ (8¼) inches tall, to fit babies up to 1 year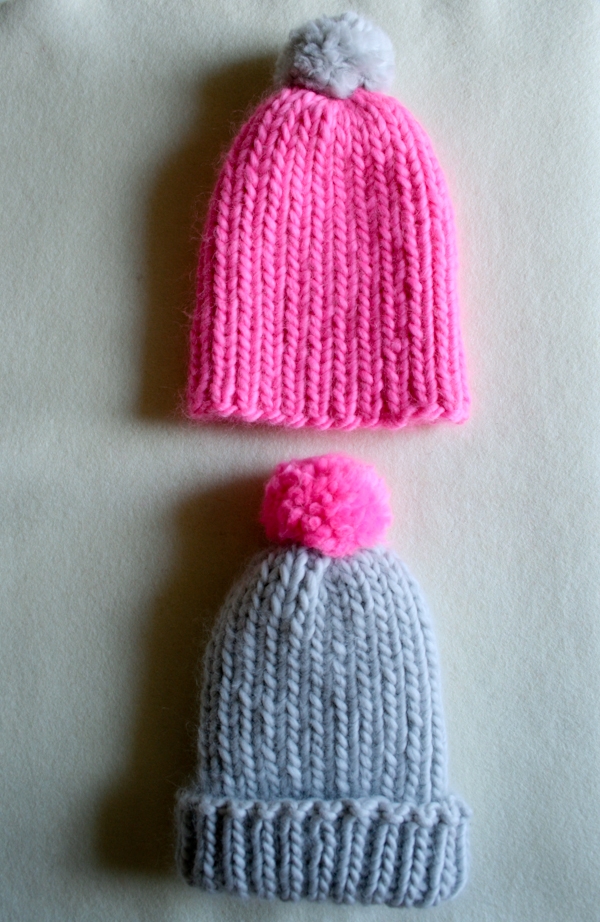 Pattern
With the Main Color, loosely cast on 44 stitches. We used a basic Long Tail Cast On.
Place a marker and join for working in the round, being careful not to twist the stitches.
Round 1: *K1, p1, repeat from * to end of round.
Repeat Round 1 until hat measures 6½ (8¼) inches from cast on edge.
Cut the yarn leaving an 8-inch tail. Thread the tail through the remaining stitches. Pull the tail firmly and bring it to the inside of the hat. Tie a knot on the inside to secure it closed.
With the Contrast Color, make an approximately 1⅝-inch pom pom. Need help? Check out our Pom Pom Tutorial here!
Now bring the pom pom tails to the inside of the hat, tie a knot and weave in the ends.
Weave in the rest of your ends and you're done!