Lace may conjure delicate gowns or teatime tablecloths, but what about when you knit lace in 100% super kid mohair? Well, then it's delicate and beautiful, but also soft and cozy!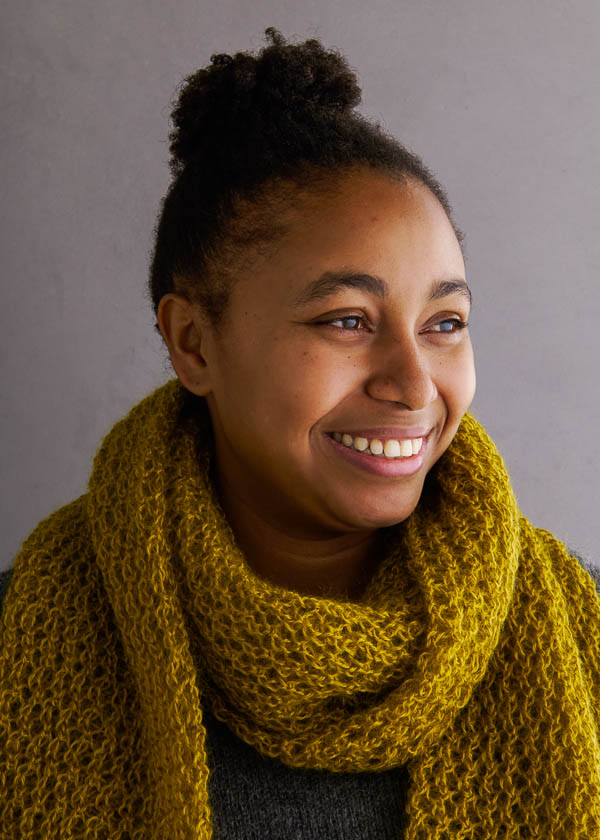 Our new Coorie brings a lush beauty to our Very Pretty Lace Scarf. Its subtle glisten and slightly fluffy halo ensure that it is very pretty, indeed!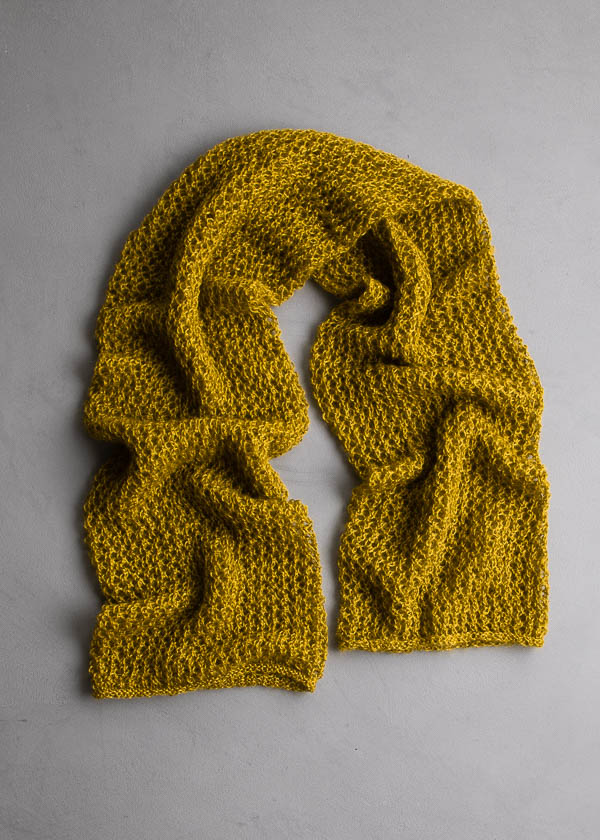 Originally published in Purl Soho co-owner Joelle Hoverson's More Last Minute Knitted Gifts (now out of print), this simple pattern is still a total keeper! Knit in the round, it is a wonderfully voluminous tube with no wrong side and the oomph to wrap buoyantly around your neck.
A no-sweat four-row repeat, the only stitches you'll need beyond knits and purls are knit 2 together's, slip slip knits, and yarn overs. So straightforward, you can use all that extra brain space to think about the beauty your own two hands are creating!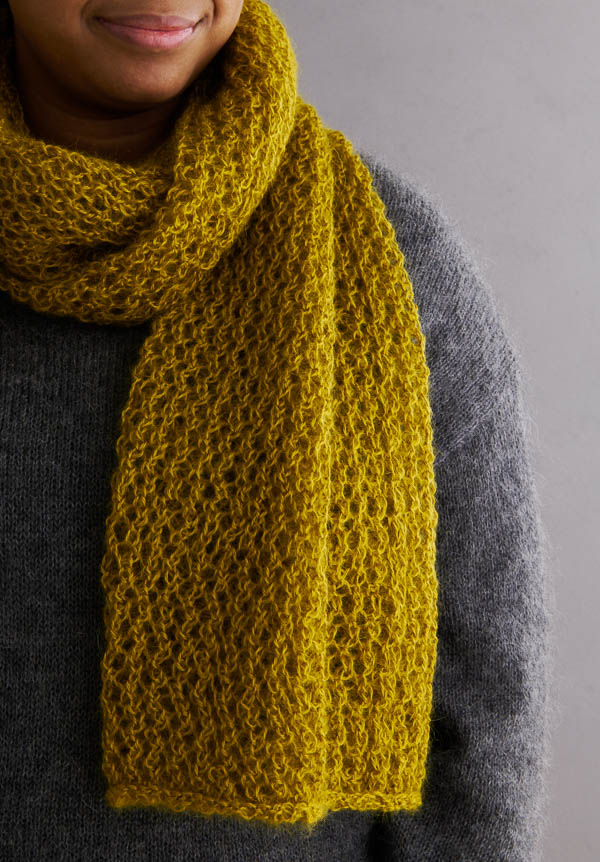 To get started, pick up six skeins of Coorie… Maybe in this magnificent Wild Mustard color, or in whatever very pretty color you choose for your Very Pretty Scarf!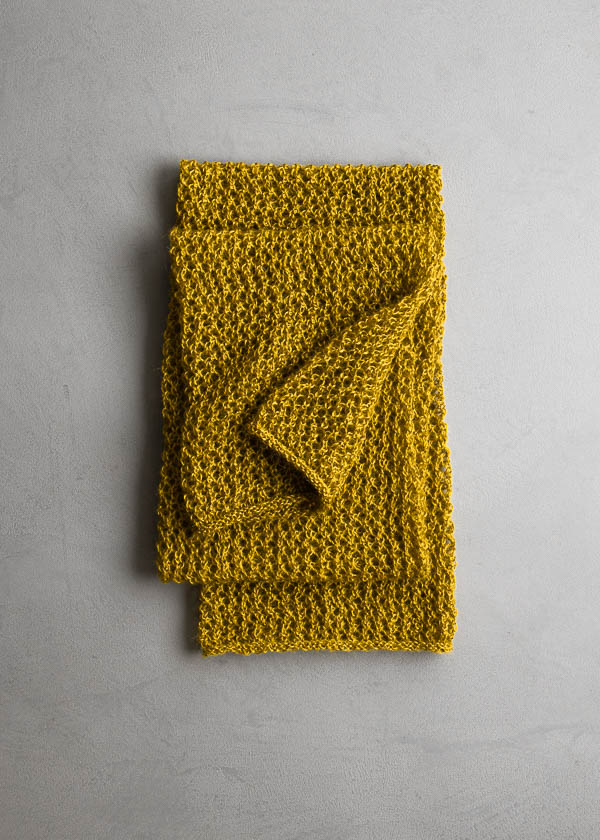 UPDATE: NOW IN QUARTZ
SEPTEMBER 2022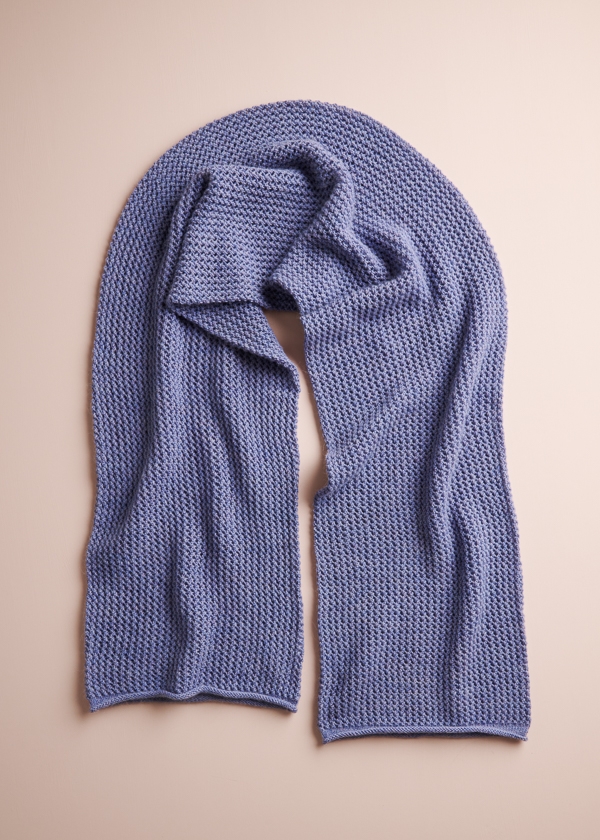 Knit in our merino-suri Quartz, our Very Pretty Lace Scarf is warm, soft, and has a delicate halo. Quartz takes dye beautifully, seeming to glow like its namesake, and a gently heathered mélange of color adds even more depth and interest to this scarf. We used lovely Hydrangea Blossom, anticipating a need for a mid-winter pick-me-up, but take a look and pick the color that lifts your spirit… Very pretty, indeed!
Designed by Purl Soho founder and co-owner, Joelle Hoverson.
Share your progress + connect with the community by tagging your pics with #PurlSoho, #PurlSohoBusyHands, #PurlSohoVeryPrettyLaceScarf, and #PurlSohoCoorie. We can't wait to see what you make!
Materials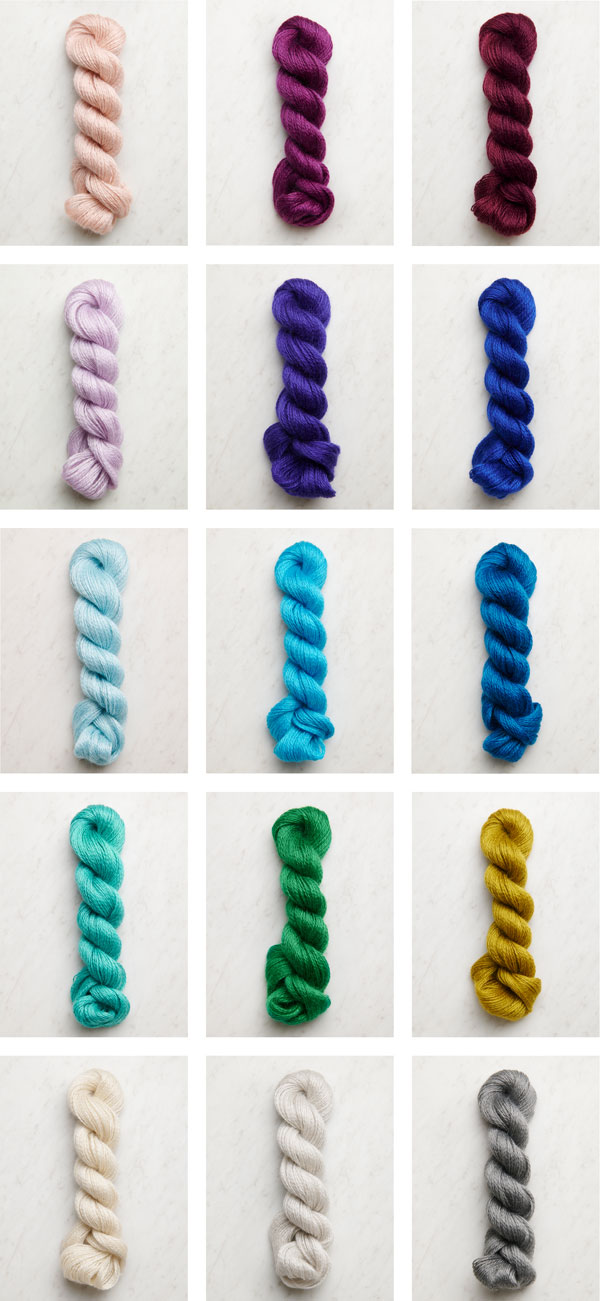 6 skeins of Purl Soho's Coorie, 100% super kid mohair. Each skein is 137 yards/ 50 grams; approximately 783 yards required. We used the color Wild Mustard. (NOTE: We no longer offer Coorie, but choose from one of our other sport weight yarns.)
US 7 (4.5 mm), 16-inch circular needles
Gauge
15 stitches and 32 rounds = 4 inches in stitch pattern
19 stitches and 24 rounds = 4 inches in stockinette stitch
Size
Finished Dimensions: 10½ inches wide (21 inches in circumference) x 70 inches long
Note
To change the finished circumference, cast on any odd number of stitches.
Pattern
Use a basic Long Tail Cast On to cast on 79 stitches.
Place marker and join for working in the round, being careful not to twist the stitches.
Bottom Edge
Knit each round until piece measures 1 inch from cast-on edge (unrolled).
Body
Round 1: Knit to end of round.
Round 2: K1, *yarn over (yo), knit 2 together, repeat from * to end of round.
Round 3: Knit to end of round.
Round 4: *Slip slip knit, yo, repeat from * to last stitch, k1.
Repeat Rounds 1-4 until piece measures approximately 69 inches from cast-on edge (unrolled).
Top Edge
Knit each round for 1 inch.
Bind off loosely knitwise.
Weave in ends and block as desired.