Like the sun glinting through the columns of the Parthenon, illuminating the beauty Ancient Greeks found in balance and harmony, our Lace Columns Wrap embraces the elegance of graceful lines.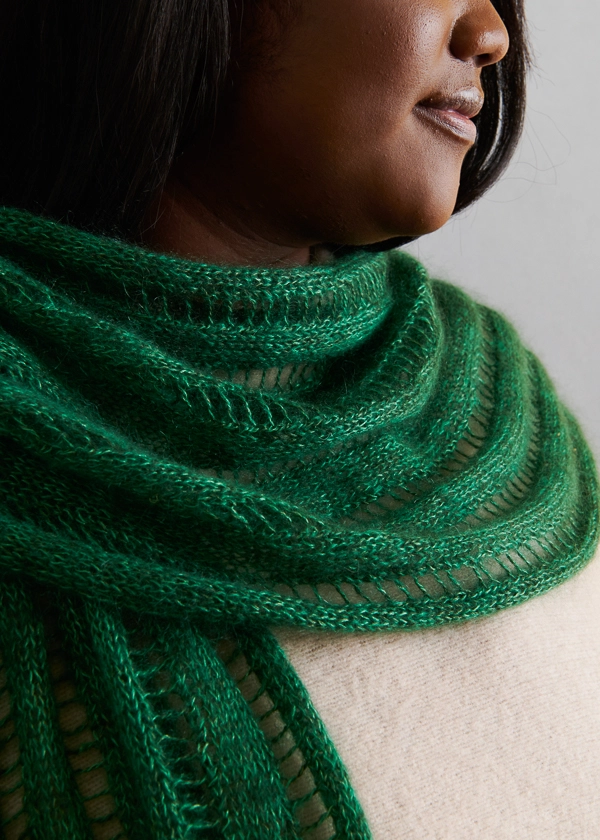 A pattern of yarn-over increases and simple decreases creates the graphic lines that define the Lace Columns Wrap. The resulting small windows highlight that it's often the space between where the play of color and light turn to magic.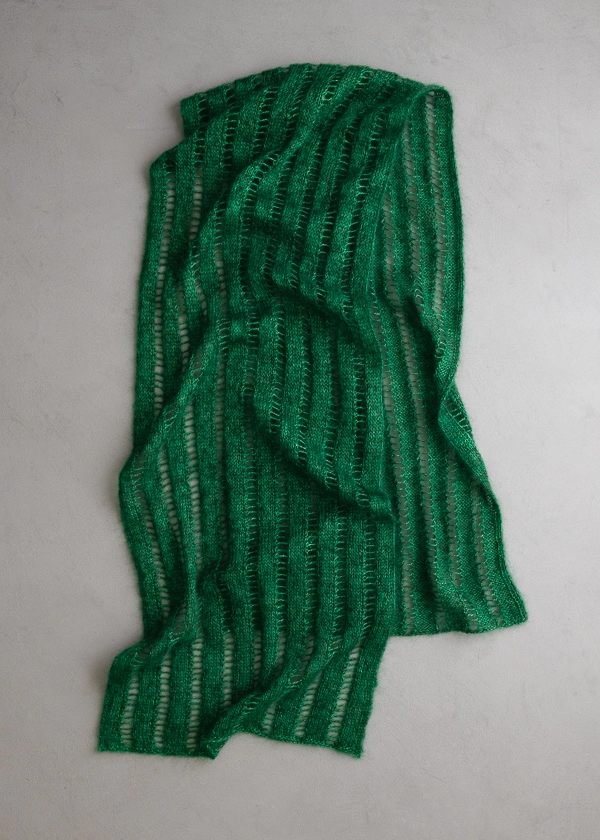 In our mohair-silk Tussock, light glistens off the silk and mingles with the soft mohair, while the unique depth of color comes from holding two strands of different, but related, shades. We've created twelve gorgeous Lace Columns Wrap Bundles so you can pick the one that shines for you!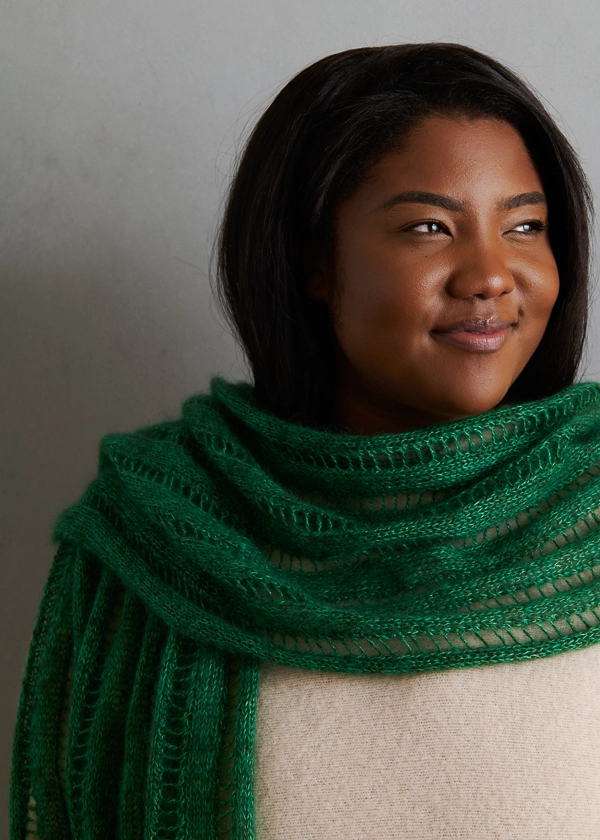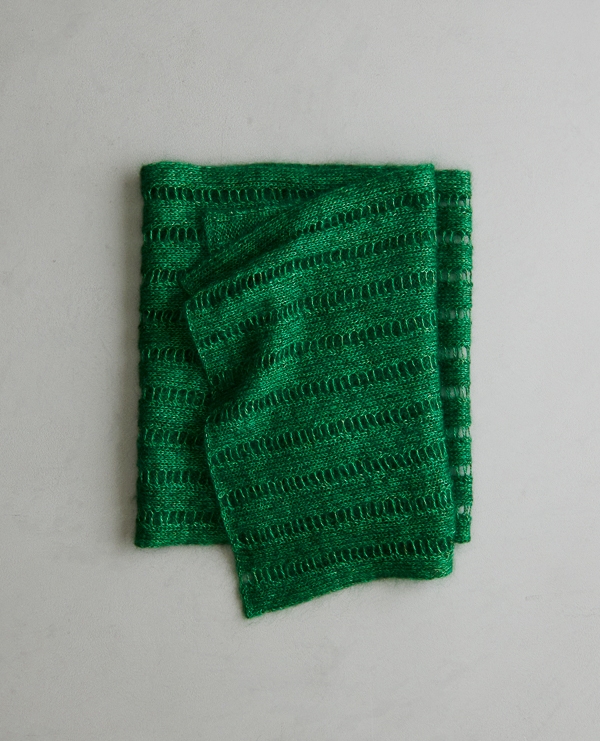 Designed for Purl Soho by Jake Canton.
Share your progress and connect with the community by tagging your pics with #PurlSoho, #PurlSohoBusyHands, #PurlSohoLaceColumnsWrap and #PurlSohoTussock. We can't wait to see what you make!
Materials
Color A: 2 (3) skeins of Purl Soho's Tussock, 60% super fine kid mohair and 40% silk. Each skein is 328 yards/ 25 grams; approximately 355 (700) total yards required. We used the color Lucky Green.
Color B: 2 (3) skeins of Tussock; approximately 355 (700) total yards required. We used the color Cypress Green.
US 5 (3.75 mm), straight or 24-inch circular needles
Our Lace Columns Wrap Bundle includes all the yarn you need to make the Wrap size. Pick from 12 palettes, shown above… (NOTE: Some of these bundles are no longer available.)
Top Row: Heirloom White + Beach Stone; Pink Fog + Apple Blossom; Anjou Pear + Alizarin Orange
Second Row: Silver Needle + Cloud Blue; Pale Orchid + Alpine Phlox; Ripe Boysenberry + Pink Joy
Third Row: Nickel Blue + Partly Cloudy Blue; Cerulean Sea + Bright Verdigris; Blue Fjord + Lapis Lazuli
Bottom Row: Saffron Yellow + Golden Lichen; Lucky Green + Cypress Green (we used this for our sample); Gray Quartz + Blue Black
Gauge
19 stitches and 27 rows = 4 inches in stitch pattern, holding Colors A and B together
Sizes
Scarf (Wrap)
Finished Dimensions: 8¾ (17¼) inches wide x 70 inches long
Sample: We knit the Wrap size.
Notes
STITCH MULTIPLE
This pattern is worked over a multiple of 8 + 2 stitches.
Pattern
Holding Color A and Color B together, loosely cast on 42 (82) stitches. We used a basic Long Tail Cast On.
Set-Up Row (wrong side): K1, p1, knit to last 2 stitches, p1, k1.
Row 1 (right side): K2, p1, *k4, knit 2 together (k2tog), [yarn over (yo)] 2 times, slip slip knit (ssk), repeat from * to last 7 stitches, k4, p1, k2.
Row 2 (wrong side): K1, p1, k1, p5, *[k1, p1] into 2 yo's from previous row, p6, repeat from * to last 10 stitches (2 yo's from previous row count as two stitches), [k1, p1] into 2 yo's from previous row, p5, k1, p1, k1.
Repeat Rows 1 and 2 until piece measures 70 inches from cast-on edge, ending with Row 1.
Next Row (wrong side): K1, p1, *k6, [k1, p1] into 2 yo's from previous row, repeat from * to last 8 stitches, k6, p1, k1.
With right side facing you, bind off knitwise.
Weave in ends and gently wet block to finished dimensions.