Intricate lacework definitely engages your brain, but sometimes it's a nice diversion to create lace without the mental gymnastics. Our Cat Eye Lace Wrap is just such an exercise!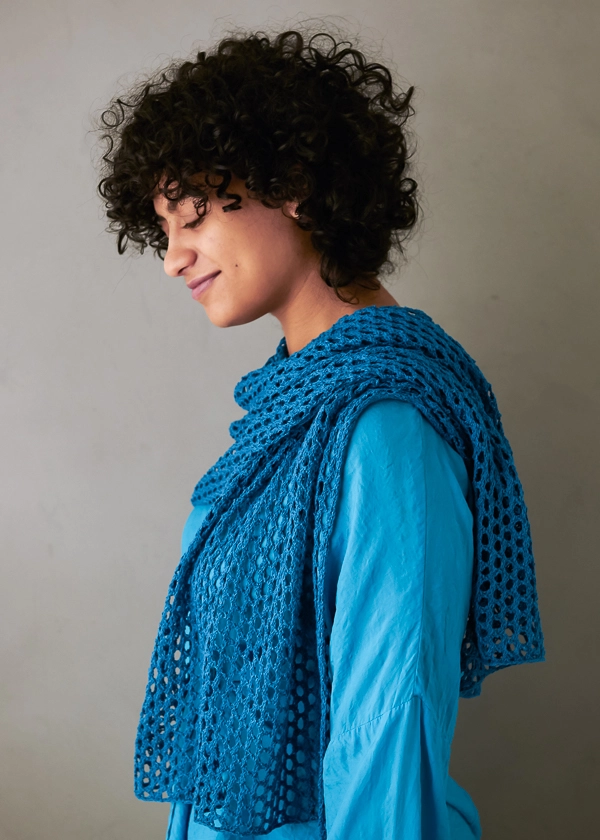 Just four simple rows create this pattern, known as the cat's eye stitch. It does evoke wide-eyed wonder and cat-like grace!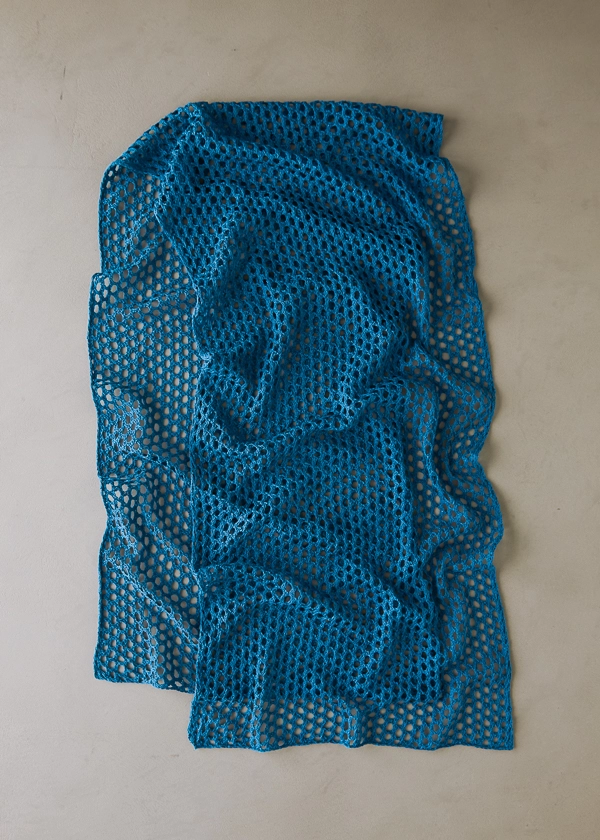 We knit up our wrap in beautiful Cattail Silk (more cats!), our lightweight silk with a raw, natural finish. And news flash… We just added 10 gorgeous new colors to our palette, including this rich and saturated Cerulean Velvet. What a blue!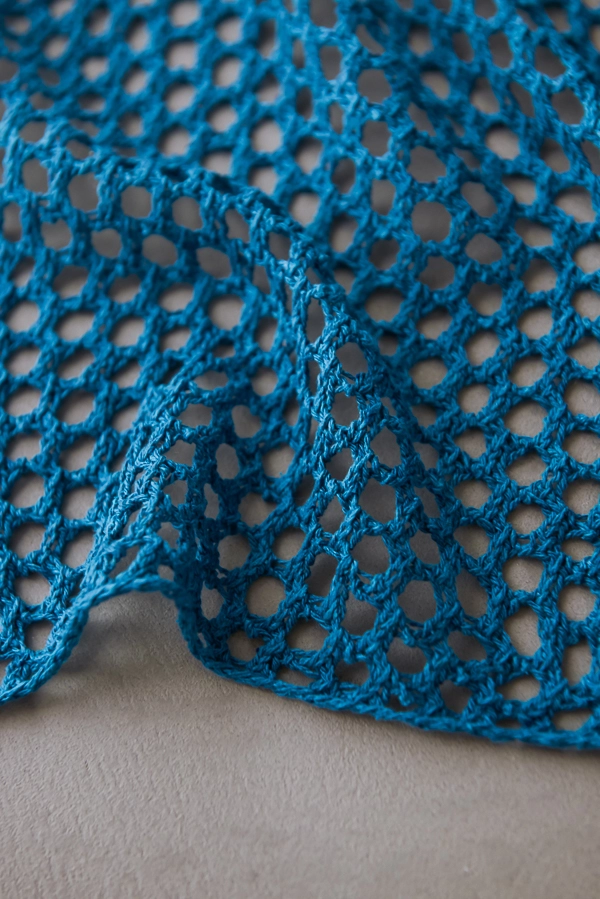 You'll just need two skeins of your favorite color… Plus a feline friend in your lap while you cast on for your Cat Eye Lace Wrap in Cattail Silk!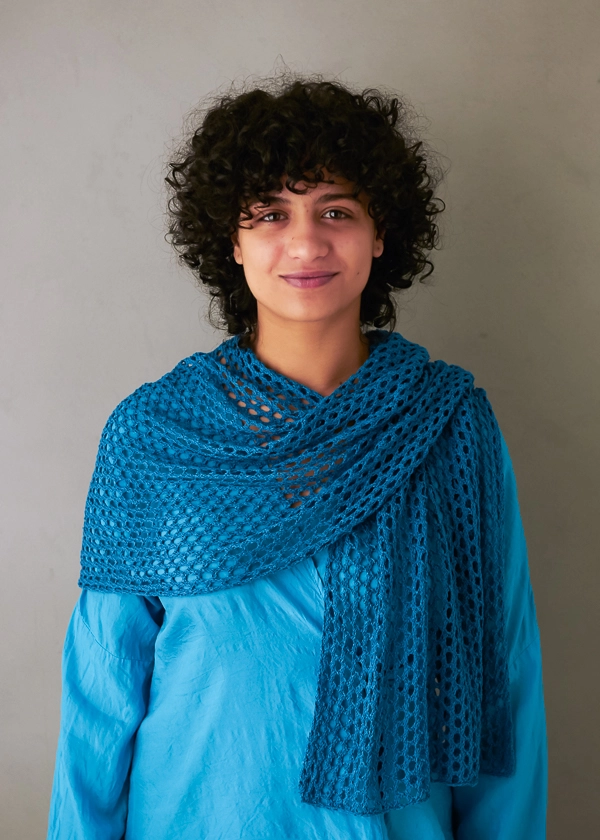 Designed by Purl Soho designer, Jake Canton. Click here to see even more of Jake's designs!
Share your progress + connect with the community by tagging your pics with #PurlSoho, #PurlSohoBusyHands, #PurlSohoCatEyeLaceWrap, and #PurlSohoCattailSilk. We can't wait to see what you make!
Materials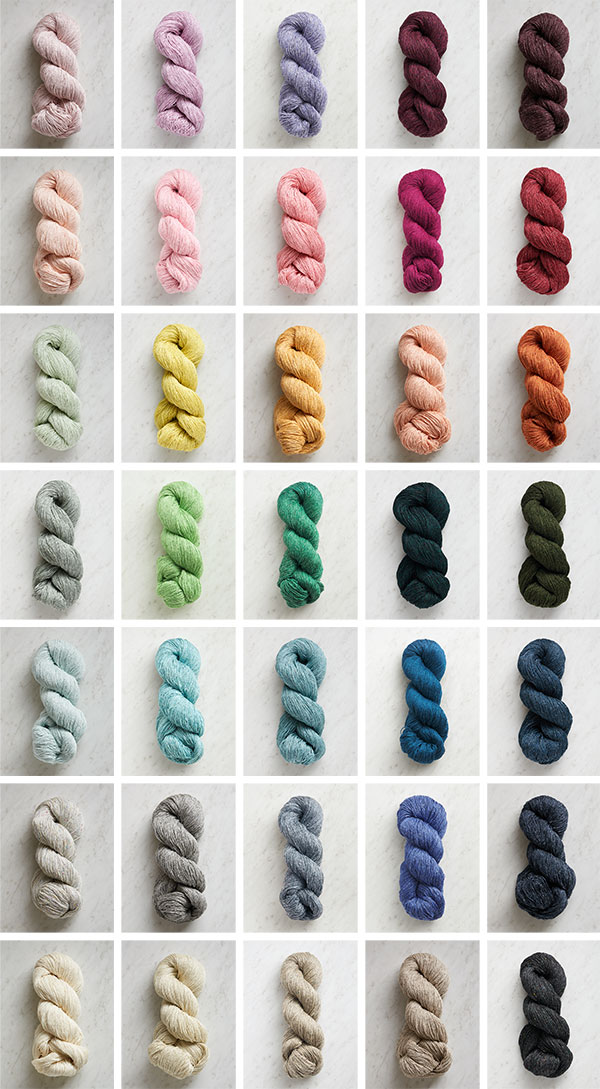 2 skeins of Purl Soho's Cattail Silk, 100% silk. Each skein is 618 yards; approximately 857 yards required. We used the color Cerulean Velvet.
US 4 (3.5 mm) circular or straight needles
Gauge
18 stitches and 38 rows = 4 inches in stitch pattern
Size
Finished Dimensions: 17¾ inches wide x 68 inches long
Notes
Stitch Multiple
This pattern works over a multiple of 4 stitches.
Slip Stitches
Slip all slipped stitches purlwise with yarn in front.
Pattern
Cast on 80 stitches. We used a basic Long Tail Cast On.
Set-Up Row (wrong side): Slip 1 (see Notes), purl to last stitch, k1.
Row 1 (right side): Slip 1, k3, *yarn over (yo) twice, k4, repeat from * to end of row. [118 stitches]
Row 2 (wrong side): Slip 1, p1, *purl 2 together (p2tog), p1 into first yo, k1 into second yo, p2tog, repeat from * to last 2 stitches, p1, k1. [80 stitches]
Row 3: Slip 1, k1, yo, *k4, yo twice, repeat from * to last 6 stitches, k4, yo, k2. [118 stitches]
Row 4: Slip 1, p2, *p2tog twice, p1 into first yo, k1 into second yo, repeat from * to last 7 stitches, p2tog twice, p2, k1. [80 stitches]
Repeat Rows 1-4 until piece measures 70 inches from cast-on edge, ending with Row 2.
With right side facing you, bind off knitwise.
Weave in the ends and wet block.