Sock knitting is a particularly delightful rabbit hole that we encourage everyone to jump right into! If the twists and turns of heel flaps, short rows, and gussets are keeping you from the venture, our Easy Heel Colorblock Socks are here to clear the way.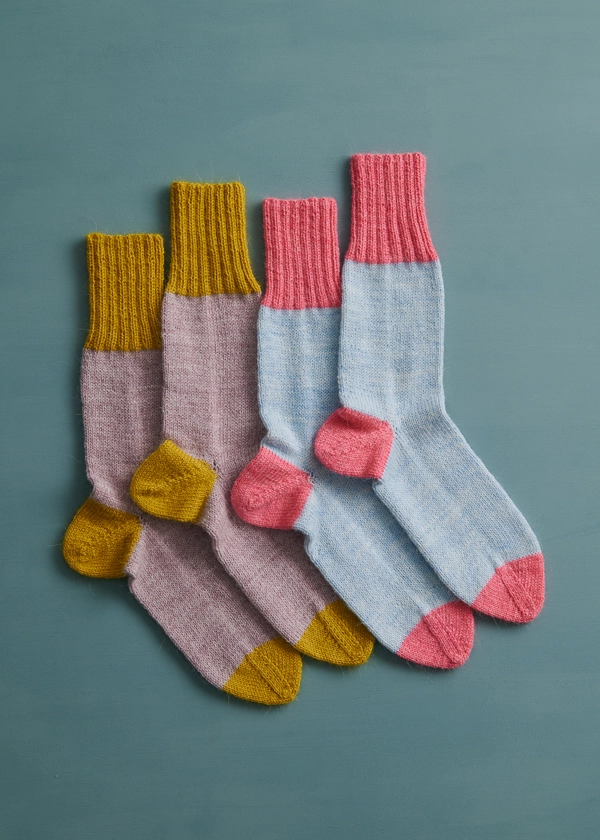 If you can knit a tube and work basic increases and decreases (or are willing learn… Our tutorials are here for you!), you're ready to knit these socks!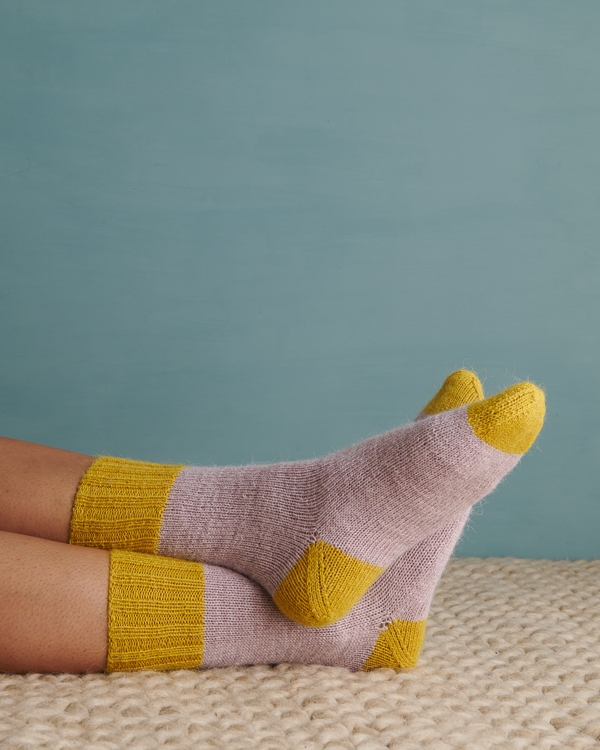 You can start your socks at the cuff or toe… Knitter's choice! Either way, aside from the toe shaping, you simply knit a tube, pausing partway through to prepare the "easy heel." This step is just knitting back and forth across half the stitches with a piece of scrap yarn.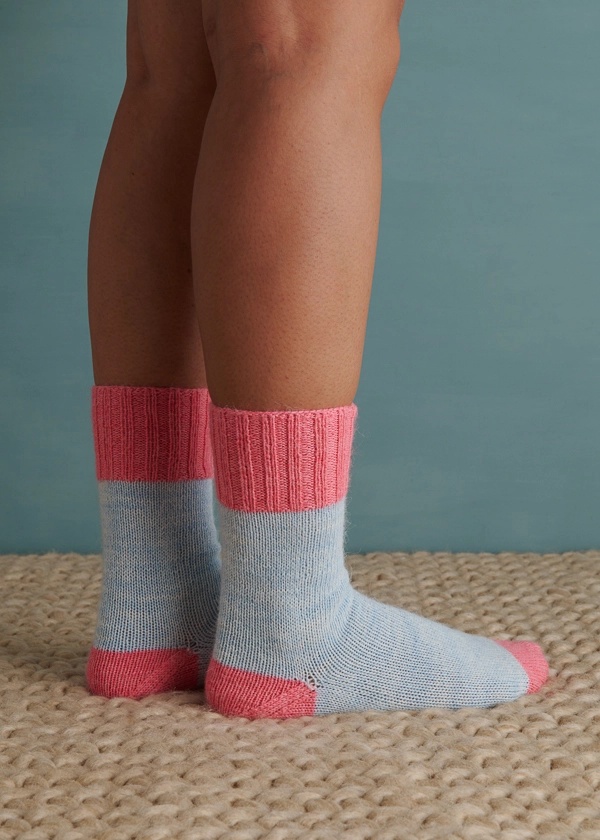 Once the rest of the sock is complete, you remove the scrap yarn and place the remaining live stitches back on your needles. Then you knit the heel in the round, decreasing to give it a heel shape and grafting what remains with Kitchener Stitch. No short rows, no gusset, no picking up stitches, no sweat!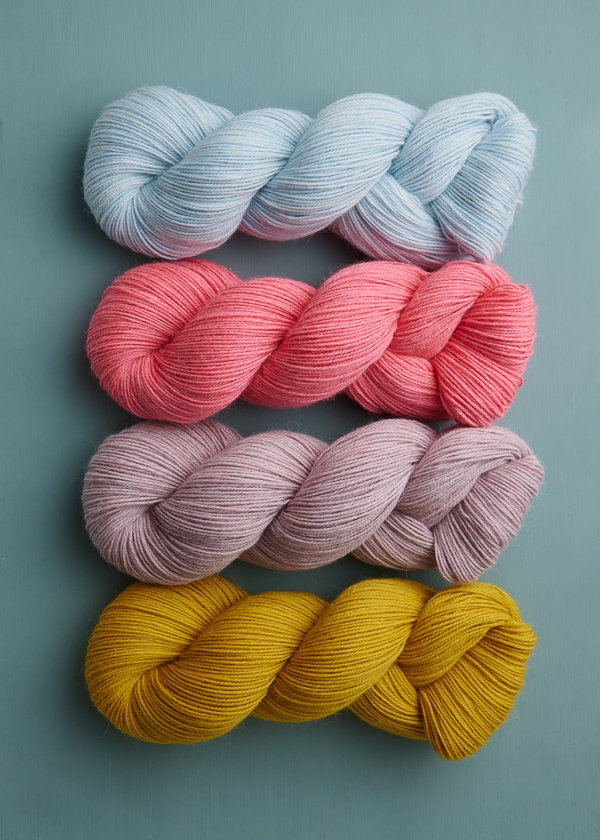 For this new version of our Easy Heel Colorblock Socks, we went nylon-free with our lovely Quartz, a radiant mix of 65% merino wool and 35% suri alpaca.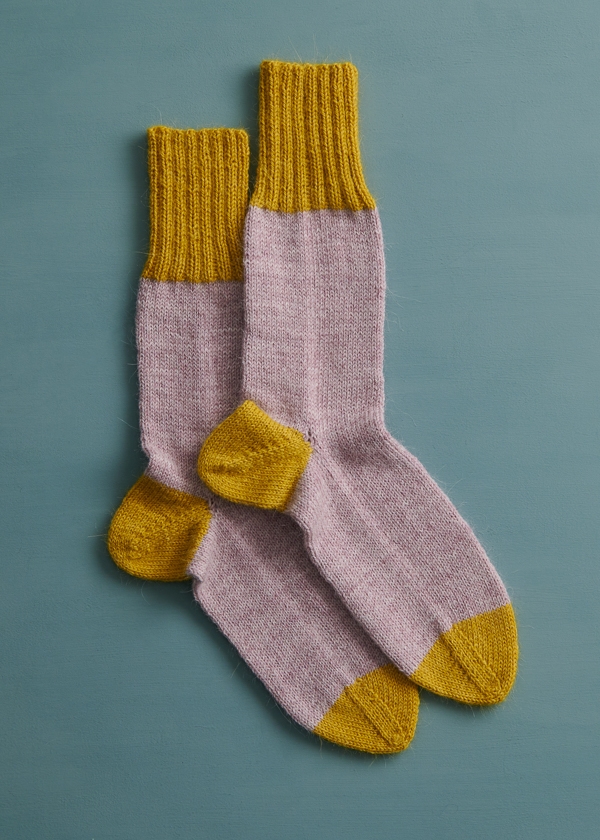 Soft enough to spoil your feet, the suri in Quartz glows with a lustrous beauty. Its long fibers also create a lovely halo that floats just above the fabric's surface. The merino offers breathability, durability, and elasticity to keep your socks snug.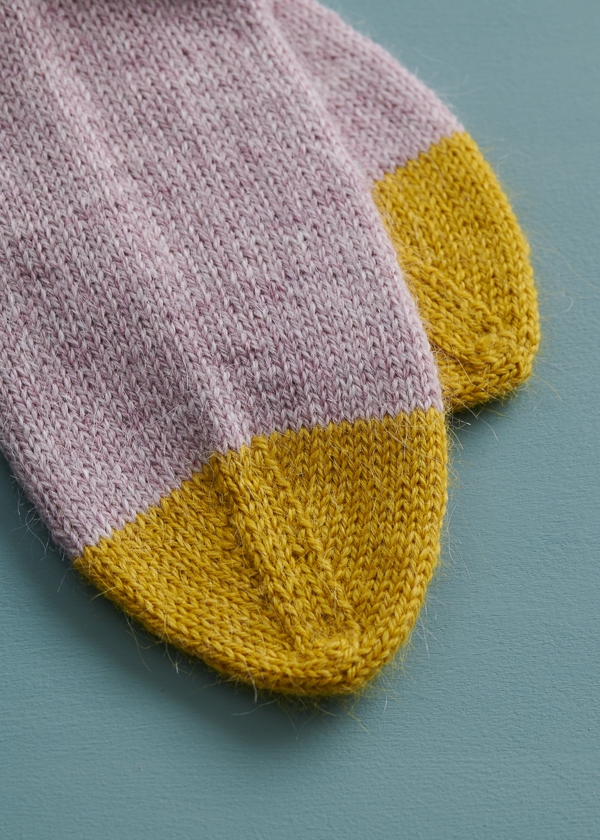 Quartz also comes in nine new colors! The contrast colors we used for our socks are both new hues: golden Yellow Yarrow above and juicy Pink Guava below.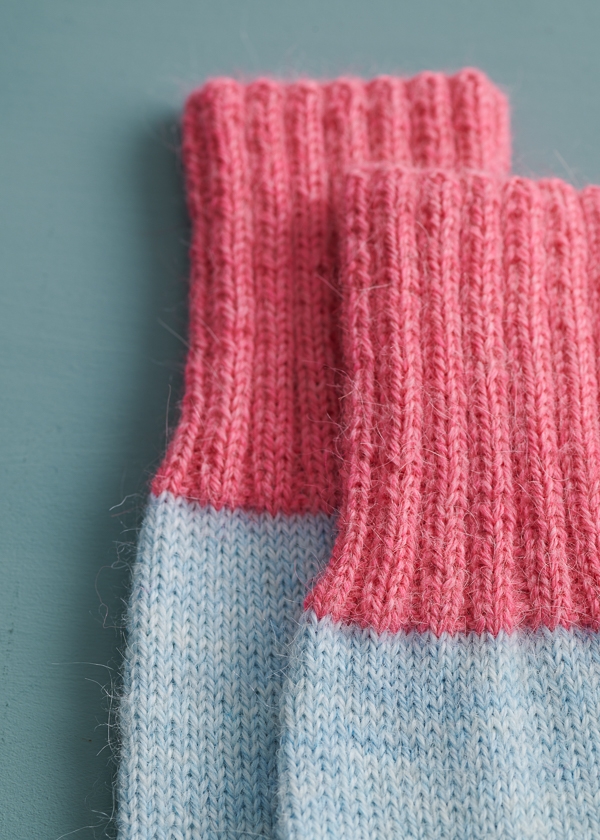 With twenty-nine colors to choose from, find a fetching pair and jump in feet first!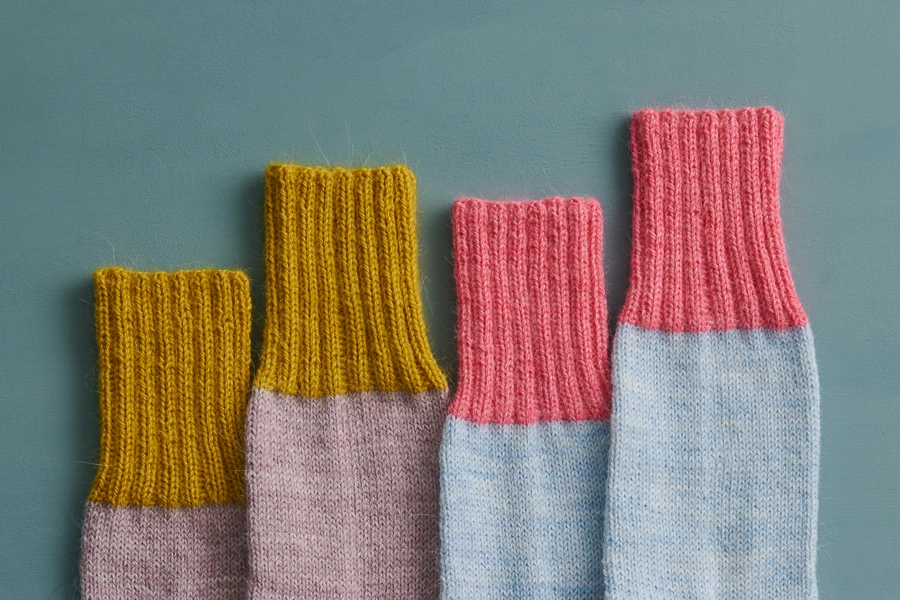 Designed by Purl Soho designer, Jake Canton. Click here to see even more of Jake's designs!
Share your progress and connect with the community by tagging your pics with #PurlSoho, #PurlSohoBusyHands, #PurlSohoEasyHeelColorblockSocks, and #PurlSohoQuartz. We can't wait to see what you make!
Materials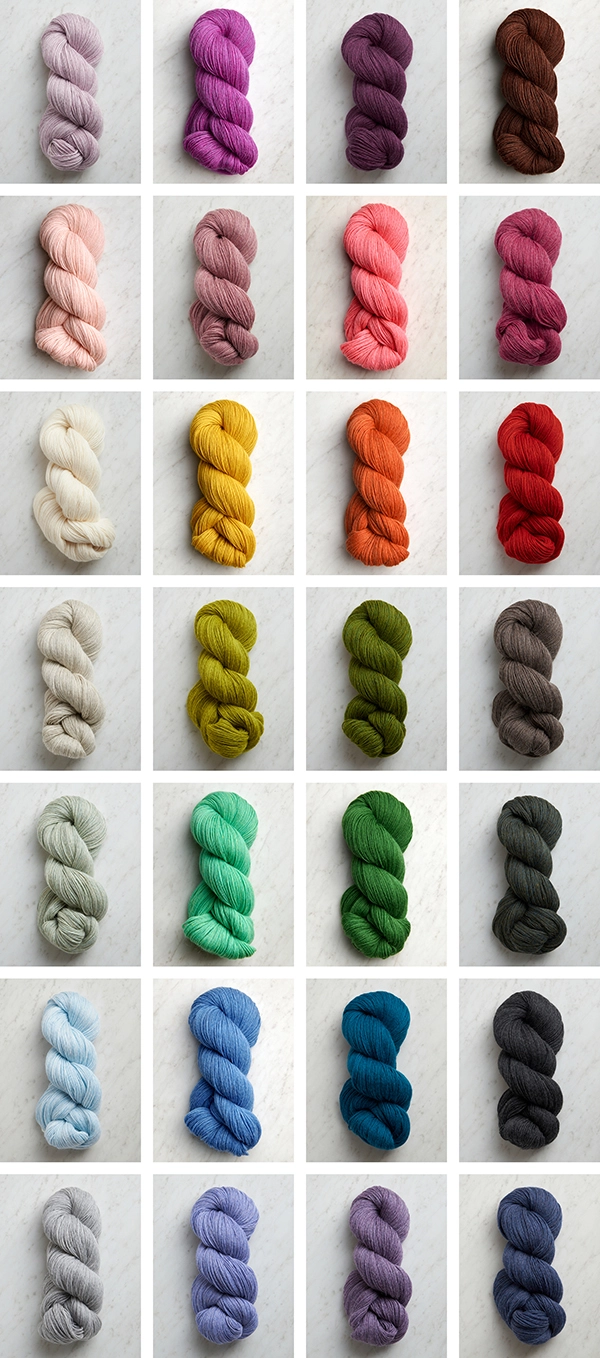 Purl Soho's Quartz, 65% merino wool and 35% suri alpaca. Each skein is 420 yards/ 100 grams.

Main Color: 1 skein; approximately 210–240 (235–265, 265–295, 285–320, 310–355) yards required, depending on foot length. We used Lavender Moon for one pair and Icicle Blue for the other.
Contrast Color: 1 skein; approximately 110 (135, 165, 190, 220) yards required. For the Lavender Moon pair, we used Yellow Yarrow, and for the Icicle Blue pair, we used Pink Guava.

A set of US 1 (2.25 mm) double pointed needles
A few yards of fingering weight scrap yarn
For Toe-Up Version: A size B–E (2.5–3.5 mm) crochet hook for Provisional Cast On
GAUGE
34 stitches and 50 rounds = 4 inches in stockinette stitch
SIZES
6 (7, 8, 9, 10) to fit kids to adults
Choose a size that is approximately 1–2 inches smaller than the circumference of the wearer's foot.
Foot Circumference: 6 (7, 8, 9, 10) inches
Foot Length: Adjustable
Samples: Both pairs pictured here are size 7.
PATTERN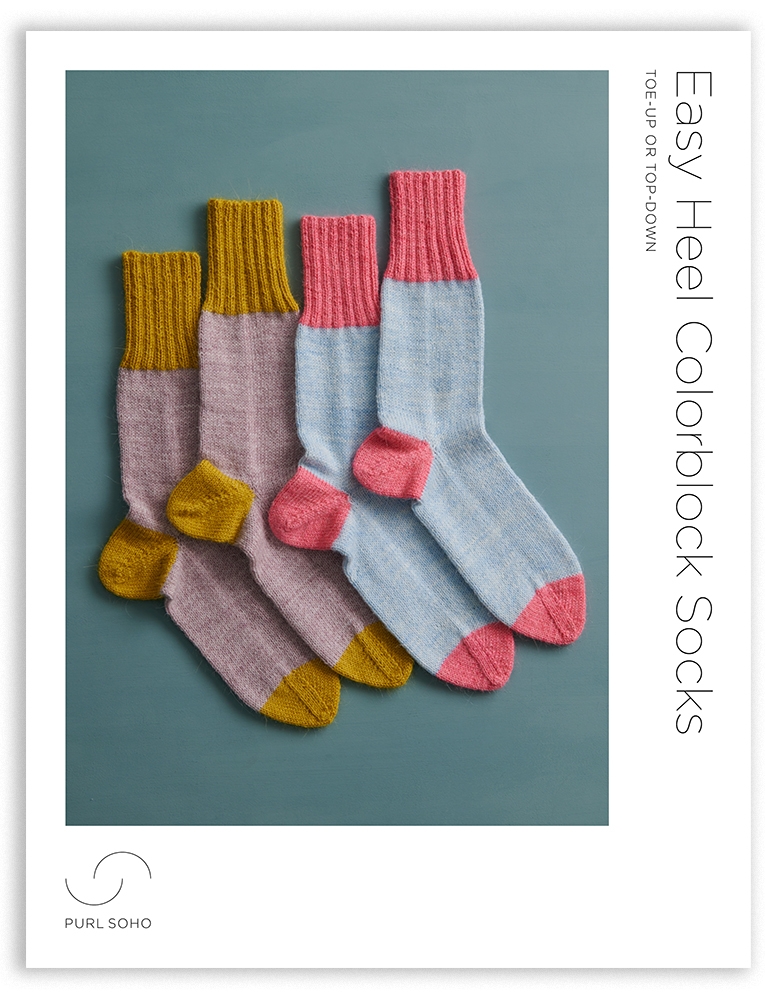 Our Easy Heel Colorblock Sock Pattern is available for purchase as a PDF download only.