As you probably know, hand-making things you come into contact with every single day guarantees that every single day you get a self-loving burst of aren't-I-clever. Even in the midst of drying a dish or wiping a table, our Rose Stitch Dishtowel will whisper these sweet nothings into your ear!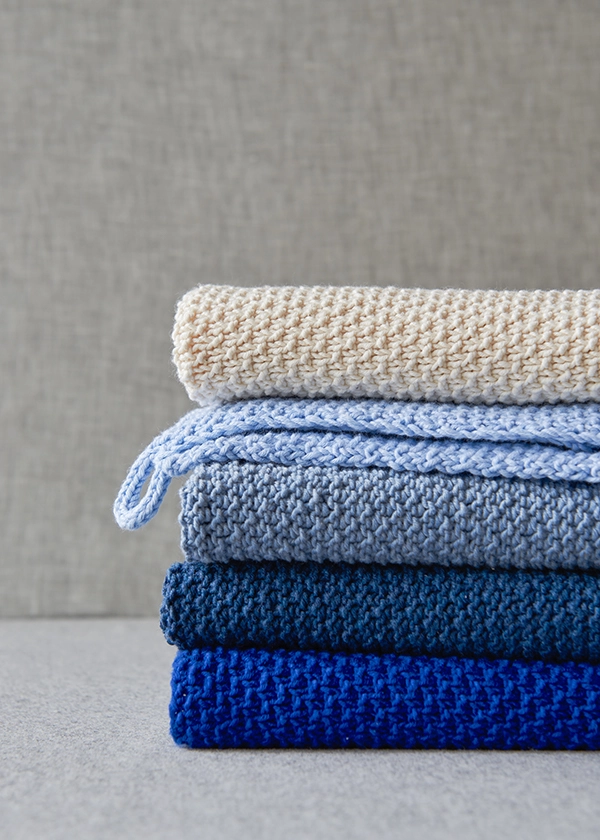 It all begins the moment you cast on because the very process of knitting these little gems with your own two hands brings on tingles of accomplishment and pride, the kind of satisfaction that no other dishtowel could possibly bring.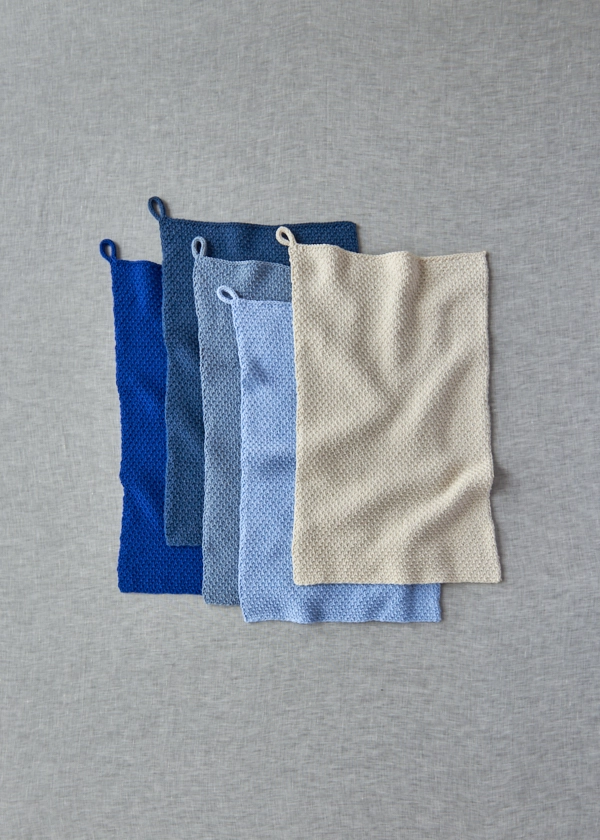 Besides having been made you, what makes this particular dishtowel so lovable is its all-over nubbly rose-stitch texture. A basic seed stitch with a literal twist on the knit stitches of every other row, the result is dual-sided beauty with a bit of scrubbing power.
All this in our perfectly lovely Cotton Pure. One hundred percent organically grown cotton and just one skein for one dishtowel… No time like the present!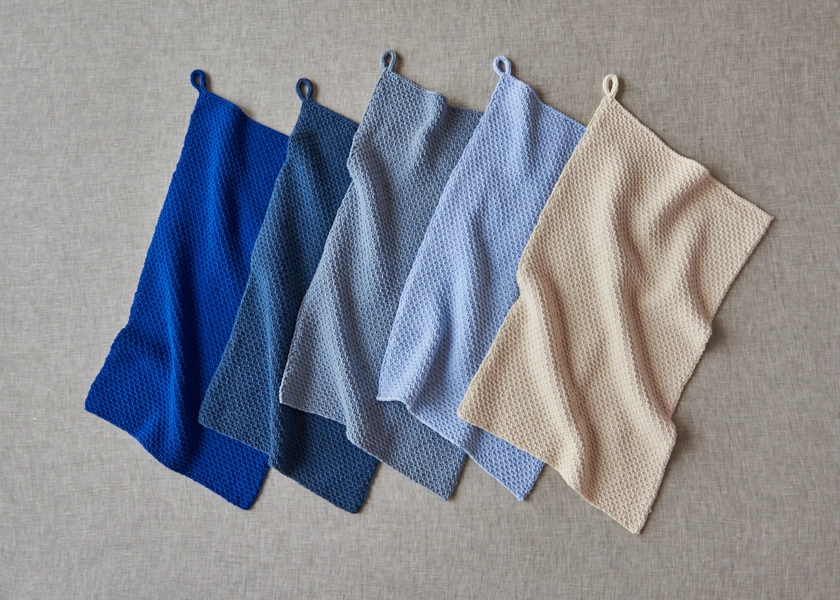 UPDATE: IN MORE BEAUTIFUL COTTON PURE COLORS
JULY 2022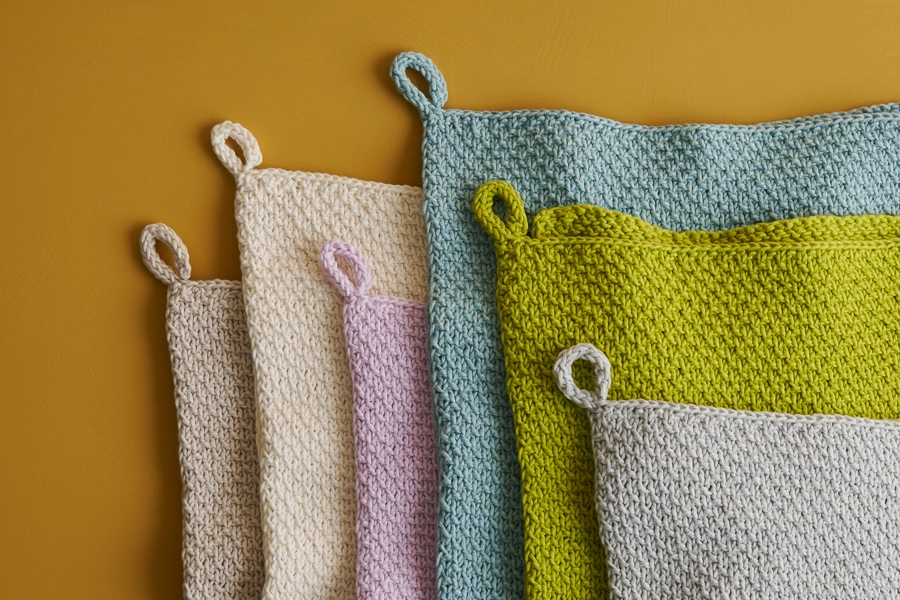 With over two dozen colors available, Cotton Pure has a palette as bountiful as a ripening garden. We love how punchy Lemon Mint brightens this set of Rose Stitch Dishtowels in dreamy, soft colors and down-to-earth neutrals… Gorgeous! Get your creative juices flowing and craft the right combo for you, whether it's full of peaceful pigments or a vibrant variety!
Designed for Purl Soho by Jake Canton.
Share your progress + connect with the community by tagging your pics with #PurlSoho, #PurlSohoBusyHands, #PurlSohoRoseStitchDishtowel, and #PurlSohoCottonPure. We can't wait to see what you make!
Materials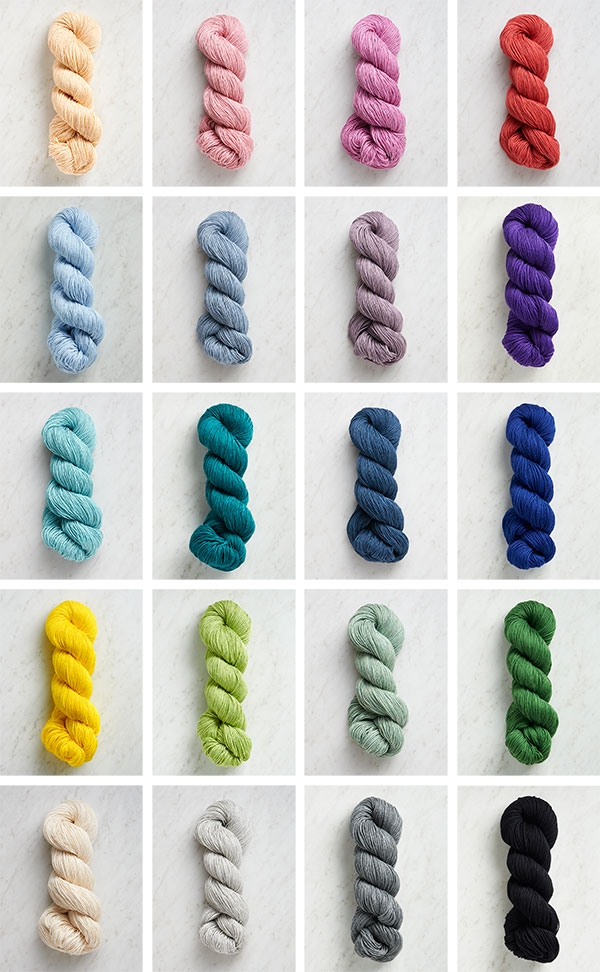 1 skein of Purl Soho's Cotton Pure, 100% organically grown cotton. Each skein is 279 yards; approximately 279 yards required.
US 4 (3.5 mm) straight or circular needles
If using straight needles: Two US 4 double pointed needles for I-Cord
SAMPLES: We knit our samples in the colors Heirloom White, Moonflower Blue, Waterdrop Blue, Blue Gale, and Ultramarine Blue.
Gauge
22 stitches and 40 rows = 4 inches in stitch pattern
Size
Finished Dimensions: Approximately 12 inches wide x 20 inches long
Note
Stitch Multiple
This stitch pattern works over an odd multiple of stitches.
Slip Stitches
Slip all slipped stitches knitwise with yarn in front.
Pattern
Cast on 65 stitches. We used a basic Long Tail Cast On.
Row 1 (wrong side): Slip 1 (see Notes), *k1, p1, repeat from * to last 2 stitches, k2.
Row 2 (right side): Slip 1, *k1 through the back loop (tbl), k1, repeat from * to end of row.
Row 3: Slip 1, *p1, k1, repeat from * to end of row.
Row 4: Slip 1, *k1, k1 tbl, repeat from * to last 2 stitches, k2.
Repeat Rows 1-4 until piece measures 20 inches from cast-on edge or until desired length, ending with Row 1.
Bind-Off Row (right side): Bind off knitwise to last 2 stitches, k2, leaving 3 stitches on right needle.
Make I-Cord
With the remaining 3 stitches, work an I-Cord for 3 inches, working the last row as follows…
Last Row: K1, k2tog, pass first stitch over second stitch and off the right needle. Cut yarn, leaving an 8-inch tail and pull through remaining stitch.
Thread the tail onto a tapestry needle. Make a loop with the I-cord and weave the tail into the fabric of the dishtowel at the base of the I-cord, then weave it through the looped I-cord, and back into the fabric of the dishtowel.
Weave in the ends, wet block, and done!