Our Giant Garter Scarf is a great big deal that's no big deal to knit up. It is high-impact, high-volume, high-drama, and high-reward… as both a presence and a present!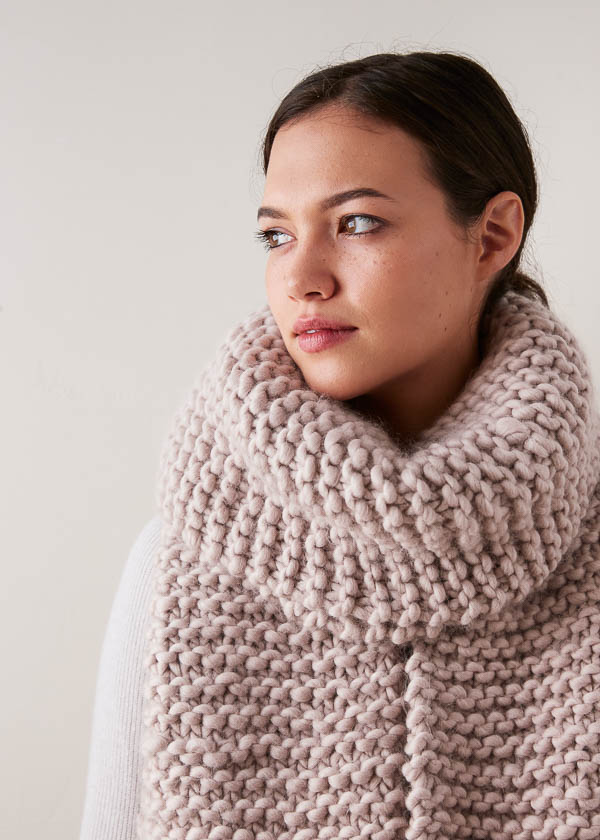 Consider its supersize comfort and coziness a secret-weapon for the season: Who doesn't want a warm, fuzzy force field to take on chilly walks, unpleasant commutes, and complicated relatives?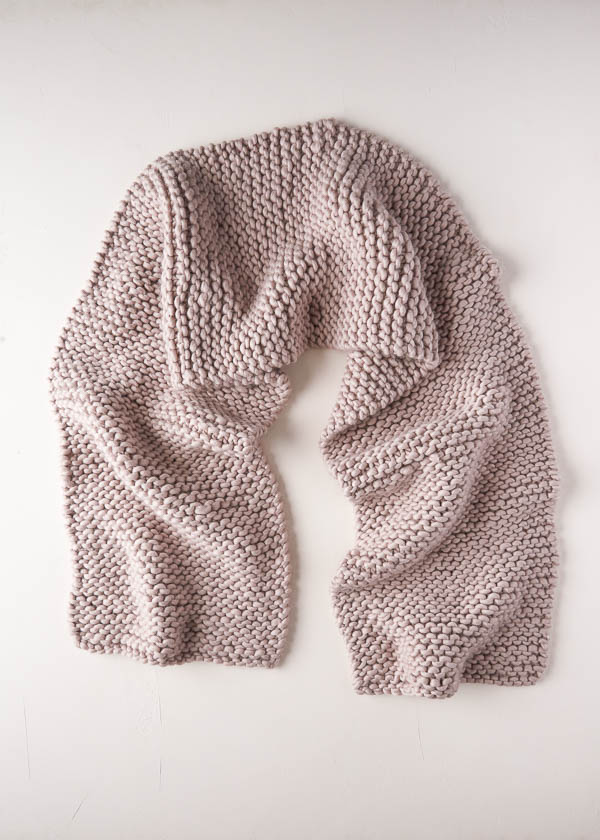 Simple garter stitch (just knit, knit, knit) in our jumbo Gentle Giant on US 19 needles hits all the right extremes in speed and satisfaction. Even very beginner knitters are equipped to appreciate the simplicity of this feat!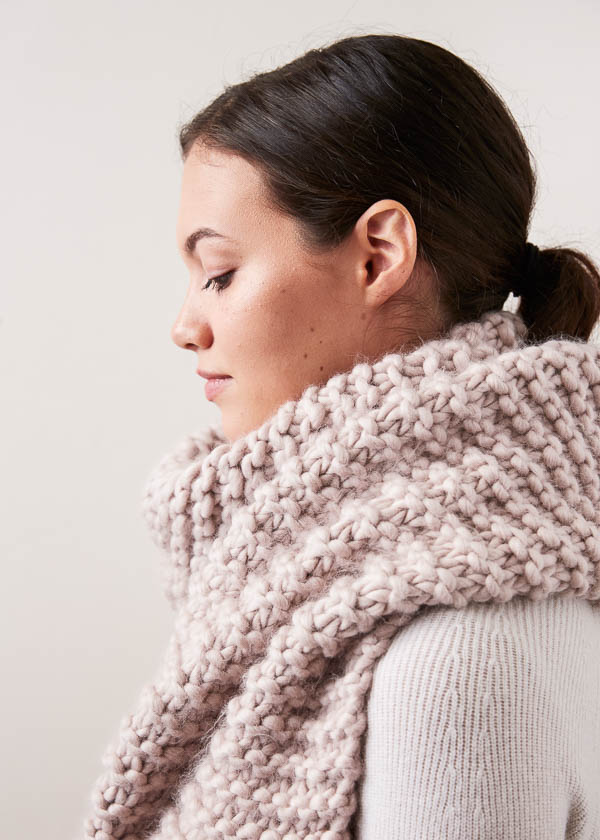 You'll need eight skeins of our incredibly soft single-ply Gentle Giant. Here we used the color Silver Mauve, pairing its subtle elegance with the scarf's big personality.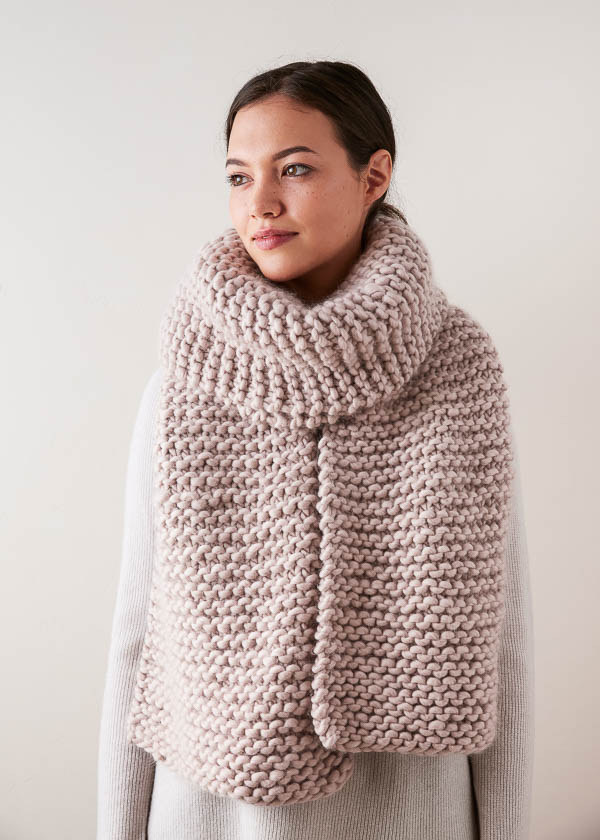 But any of our 21 colors will make a statement: Super Yellow or Super Pink for super impact, Graphite Gray for oversize-but-understated chic, Sugar Maple for a toasty scarf that suggests logs, leaves, and lounging. This is a wrap that wraps up your year, and your special gift list, in grand finale style!
Designed by Purl Soho designer, Jake Canton. Click here to see even more of Jake's designs!
Share your progress and connect with the community by tagging your pics with #PurlSoho, #PurlSohoBusyHands, #PurlSohoGiantGarterScarf, and #PurlSohoGentleGiant. We can't wait to see what you make!
Materials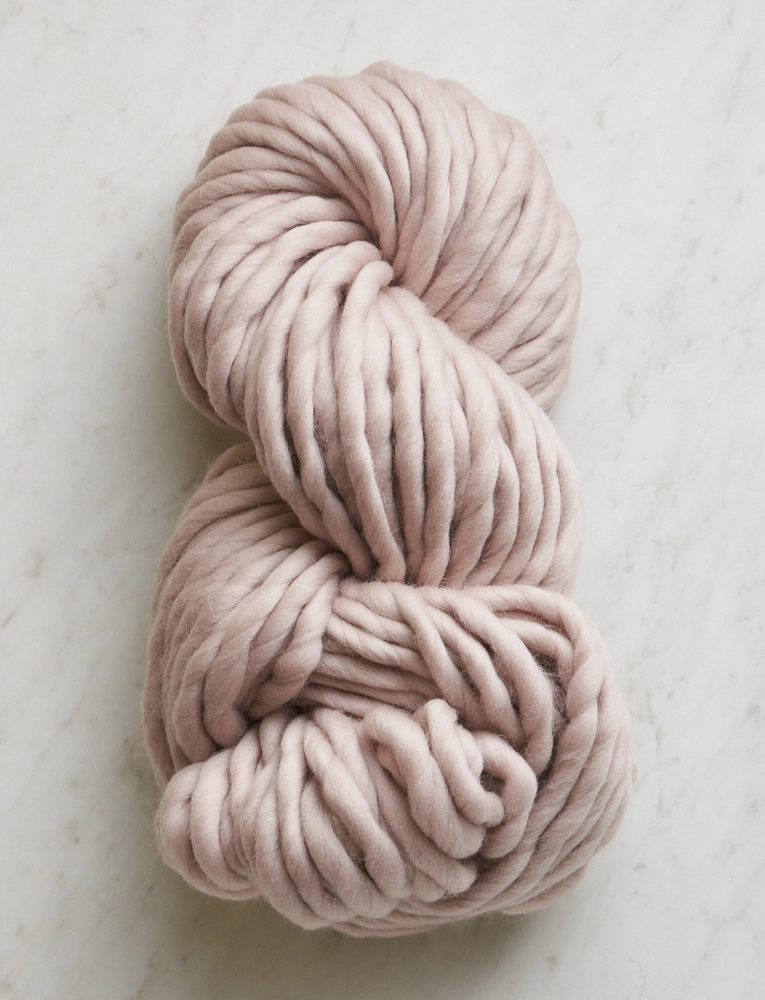 8 skeins of Purl Soho's Gentle Giant, 100% merino wool. Each skein is 48 yards/ 125 grams; approximately 373 yards required. We used Silver Mauve.
US 19 (15/16 mm) straight or circular needles
Gauge
6 stitches and 12 rows = 4 inches in garter stitch
Size
Finished Dimensions: 14 inches wide x 73 inches long
Notes
Slip all slipped stitches knitwise with yarn in back.
Pattern
Cast on 24 stitches. We used a basic Long Tail Cast On.
Row 1: Slip 1 knitwise with yarn in back, knit to end of row.
Repeat Row 1 until piece measures 73 inches from cast-on edge.
Bind off loosely knitwise.
Weave in the ends.