It truly is time for a Homestretch Hat, but this hat is not only a super quick knit, it's also a real mood lifter! Soft and cozy, colorful and exuberant, our Two-Color Homestretch Hats really bring the holiday spirit!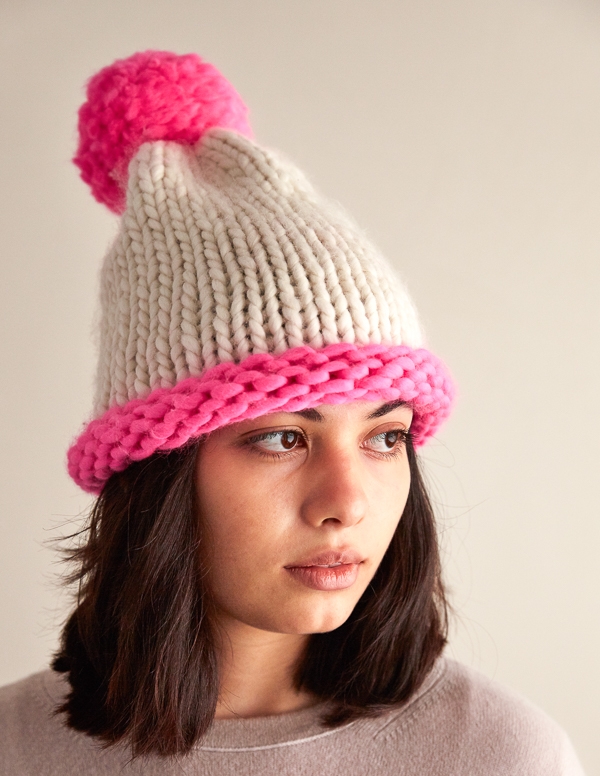 The secret to calmly making it through the weeks leading up to Christmas is our quick jumbo Gentle Giant merino wool, plus this pattern that requires no double pointed needles and no decreasing.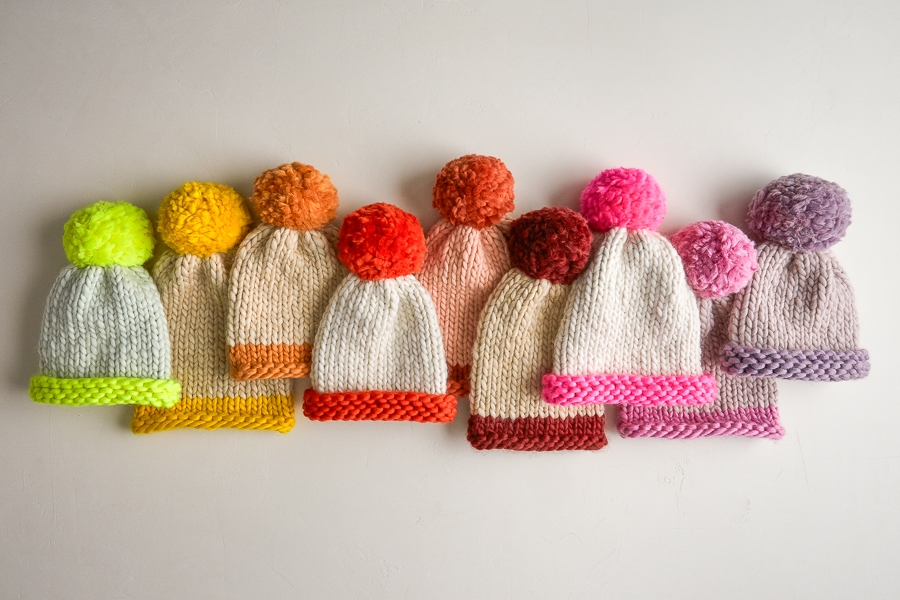 Just knit a tube, cinch the top, add a big, fluffy pom pom, and you're done! This no-fuss design means it's perfect for brand new knitters and a boon for experienced ones.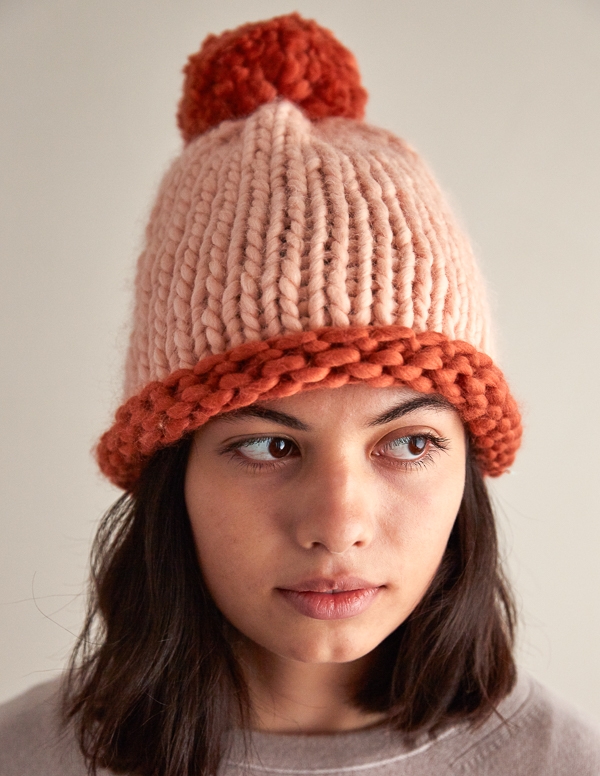 Based on last year's one-color version, this year's Two-Color Homestretch Hat takes advantage of our newly expanded Gentle Giant palette. Tone on tone or high contrast, there's a combination that will suit every single personality on your list.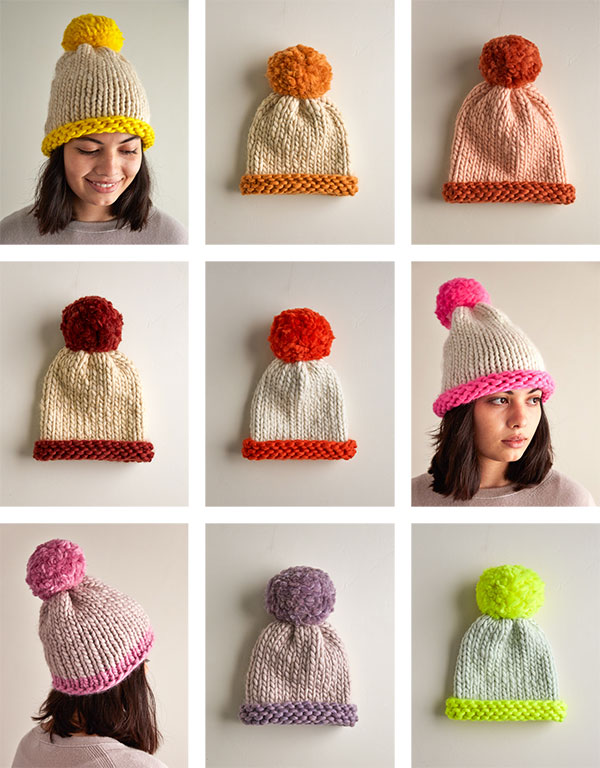 In just an hour or two, you can make a gift that will be far more memorable than anything you purchase out of pressure. The Two-Color Homestretch Hat not only solves the last-minute gift challenge, but making it will calm your nerves and warm your heart!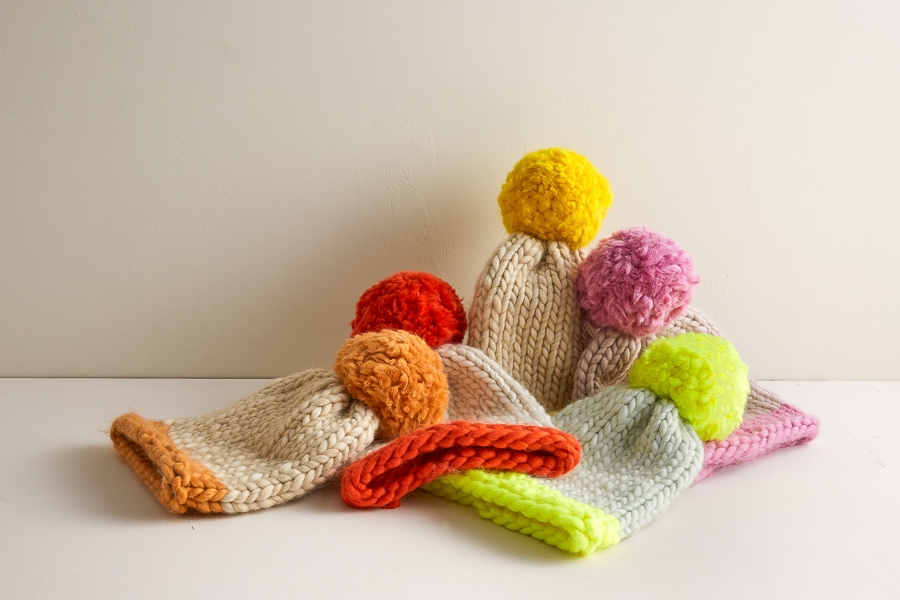 Update: New Pom Poms
November 2019
We're having a party and you're invited! We've topped a few of our favorite hat patterns with festive pom poms including our Two-Color Homestretch Hat! Using our Pom Pom Maker Set in the Small + Large and Extra Large + Jumbo sizes, adorn your Two-Color Homestretch Hat and join in on the party here!
Update: New Style
December 2021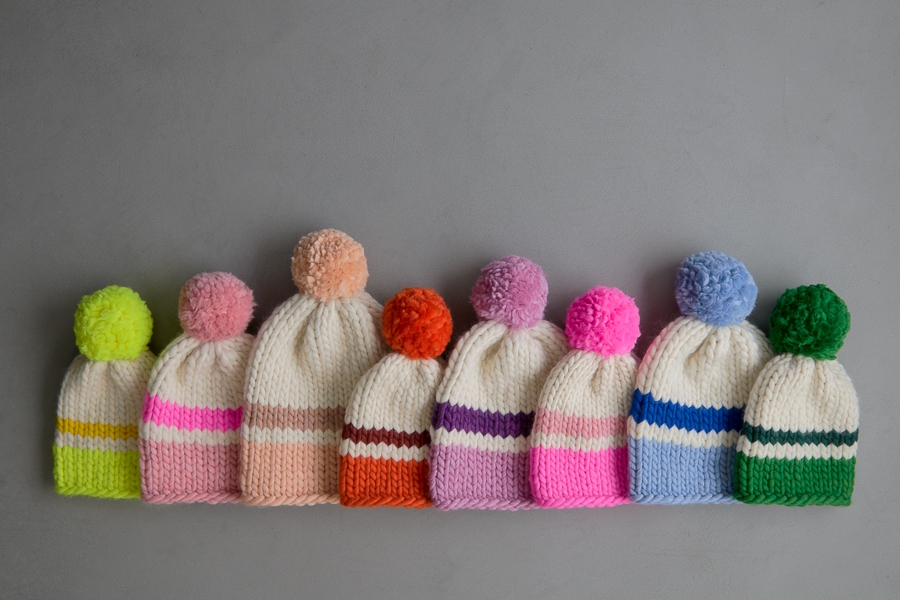 Our Happy Hat uses the same basic pattern as our original Homestretch Hat, but with the boost of sweet stripes and chipper pom poms! Check out our free Happy Hat pattern here and pick up a Happy Hat Bundle here!
Designed by Purl Soho designer, Jake Canton. Click here to see even more of Jake's designs!
Share your progress and connect with the community by tagging your pics with #PurlSoho, #PurlSohoBusyHands, #PurlSohoTwoColorHomestretchHat, and #PurlSohoGentleGiant. We can't wait to see what you make!
Materials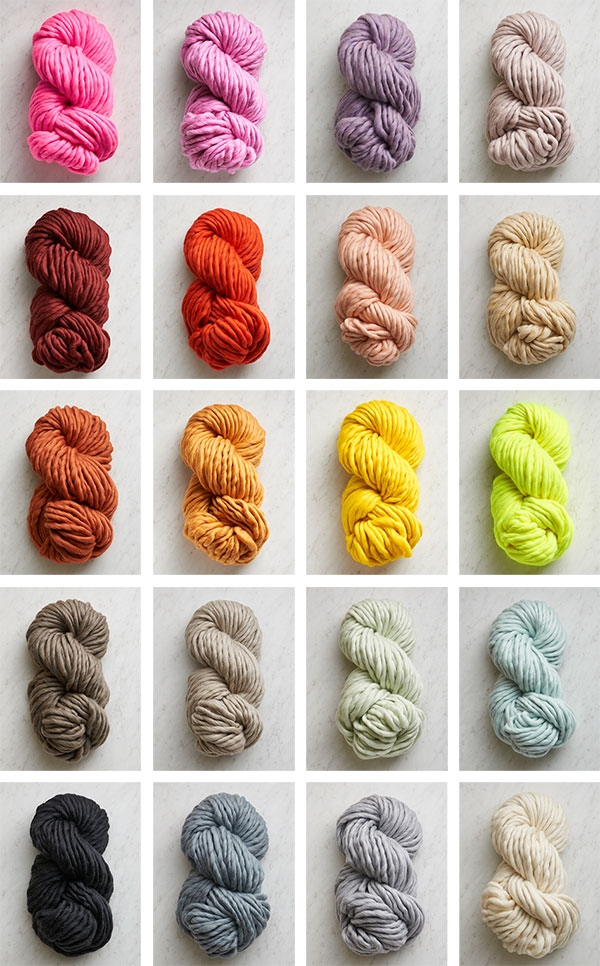 Main Color (MC): 1 skein of Purl Soho's Gentle Giant, 100% merino wool. Each skein is 48 yards/ 125 grams; approximately 27 (33, 45, 45) yards required.
Contrast Color (CC): 1 skein of Gentle Giant; approximately 3 yards required.
US 17 (12mm), 16-inch circular needles
Optional but helpful: Clover's Pom Pom Maker, size Large
NOTE: This is enough yarn to make one hat, except you can make two Baby size hats if you switch the colors. Also, if you omit the pom pom, two skeins is enough to make two hats in any size, reversing the colors.
Samples
We knit up samples in 9 color combinations, in sizes Kid and Adult Small…
Mint Ice + Super Yellow
White Peppercorn + Parakeet Yellow
White Peppercorn + Honey Amber
Heirloom White + Orange Koi
Cowrie Pink + Clay Pot
White Peppercorn + Sugar Maple
Heirloom White + Super Pink
Silver Mauve + Rose Violet
Silver Mauve + Purple Lupine
Gauge
7 stitches and 10 rounds = 4 inches
Size
Baby (Kid, Adult Small, Adult Large)
Finished Circumference: 14 (16, 18, 20) inches
Finished Height: 7¾ (8¾, 9¾, 10¾) inches
Pattern
To make the Two-Color Homestretch Hat, simply follow our original Homestretch Hat pattern, casting on with the Contrast Color and knitting the first 5 rounds with it. Switch to the Main Color to finish and add a Contrast Color pom pom to the top!
For the free pattern, visit out original Homestretch Hat story!