Our Happy Hats are the Snoopy dance of hats… Jumbo stitches, bright stripes, fluffy pom poms, all great reasons to dance it out!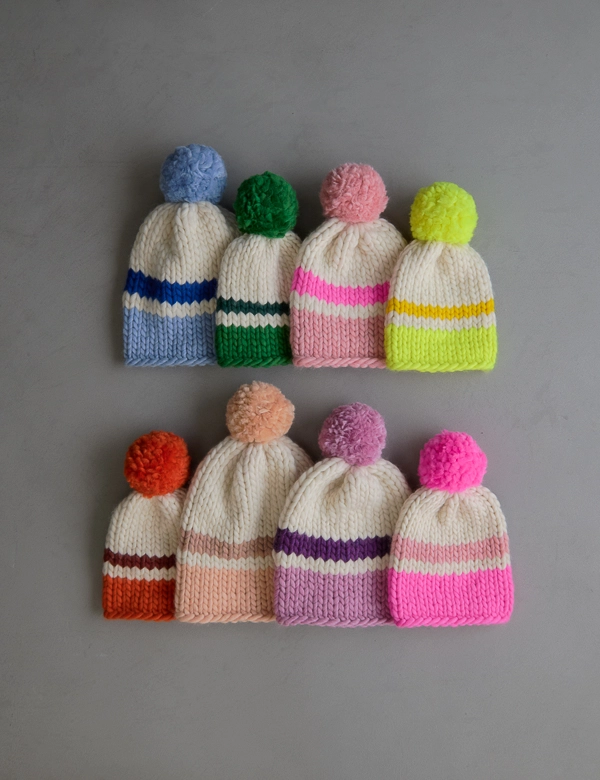 We're closing in on some important crafting deadlines right about now, so for expediency, these hats are double-pointed-needle-free. You just knit a tube, then thread your yarn through the live stitches and cinch the top closed. That definitely makes us happy.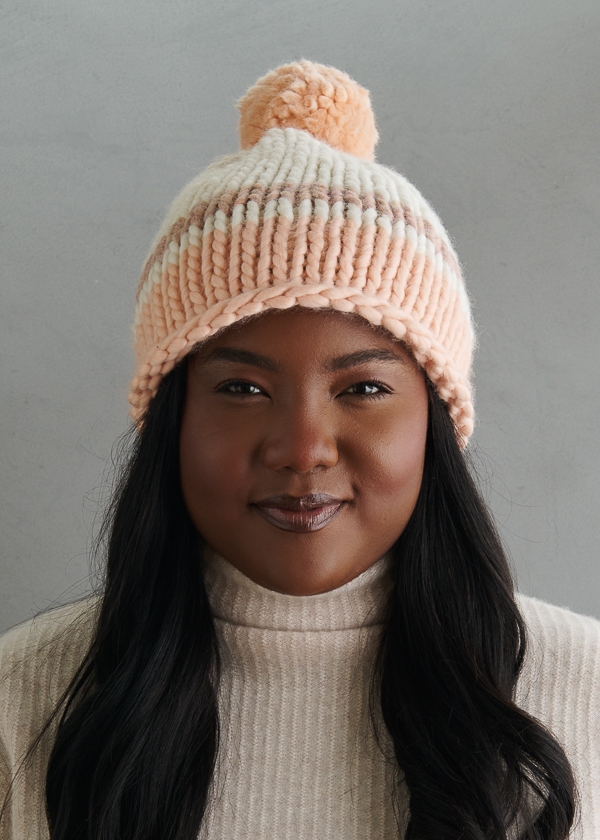 The free pattern is sized for babies, kids, small, and large adults… Pretty much everyone, and so Happy Hats all around!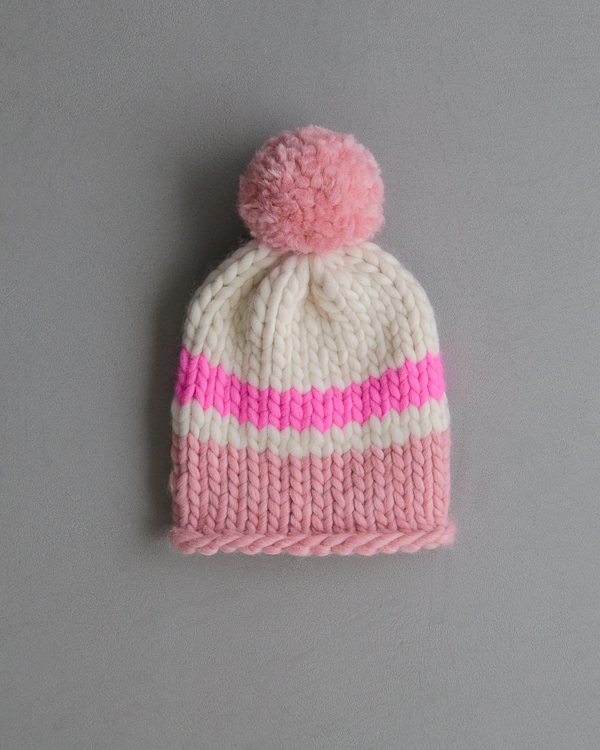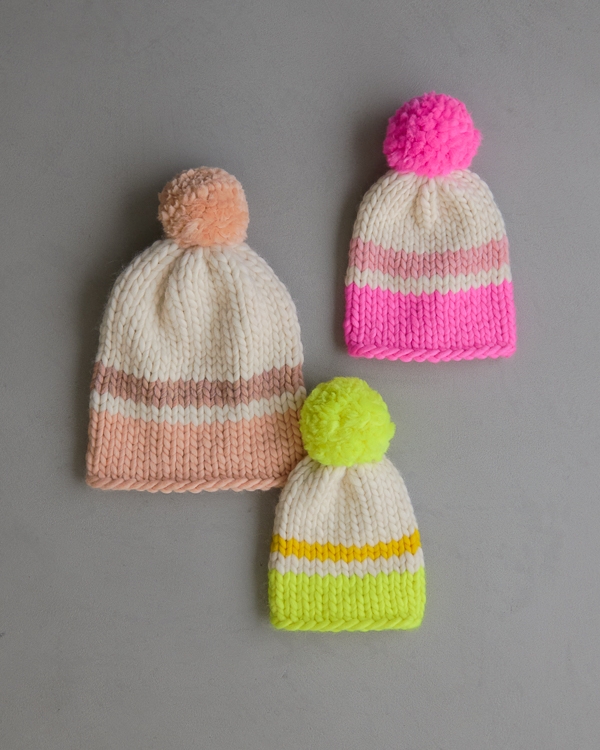 The oversize stitches, the quick knitting, the fun colors, and the super soft touch all come from our wonderful Gentle Giant merino wool. We also used our Pom Pom Maker Set for these perfectly dense and shapely fluffers at the top!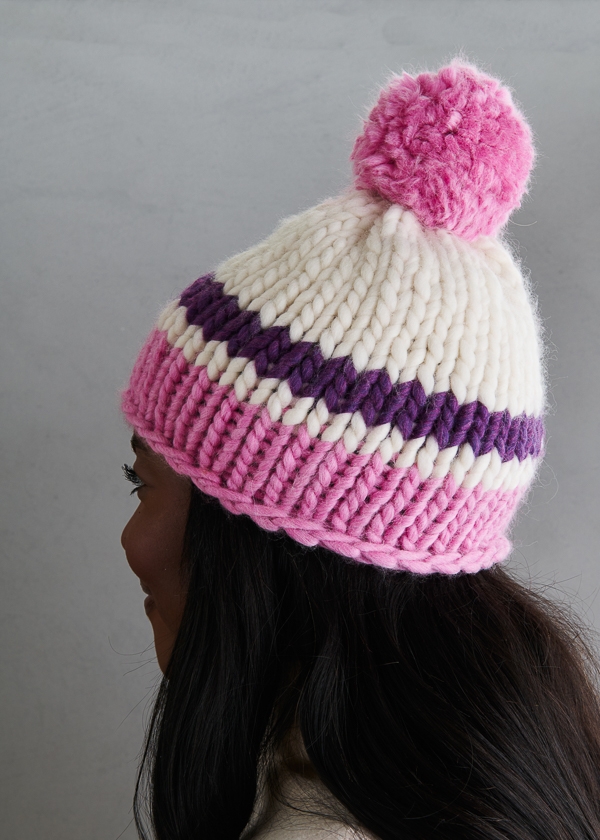 Choose your own palette of Gentle Giant colors, or pick up a Happy Hat Bundle (no longer available)! It includes enough squishy Gentle Giant for two baby- or kid-size hats, if you switch the colors of the stripes, or two adult-size hats, if you also add an extra skein of the main color.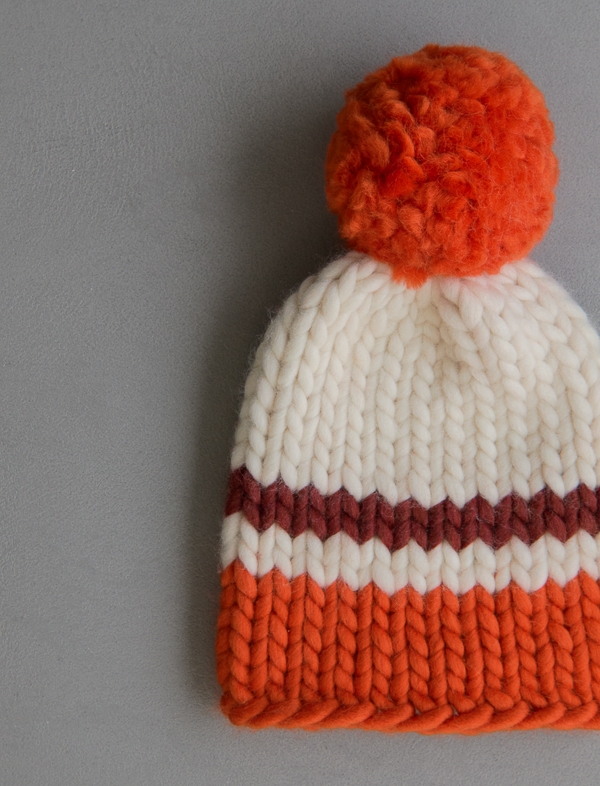 We are pretty grateful for such a happy solution to the quick-knit quandary… Happy enough to do a little dance!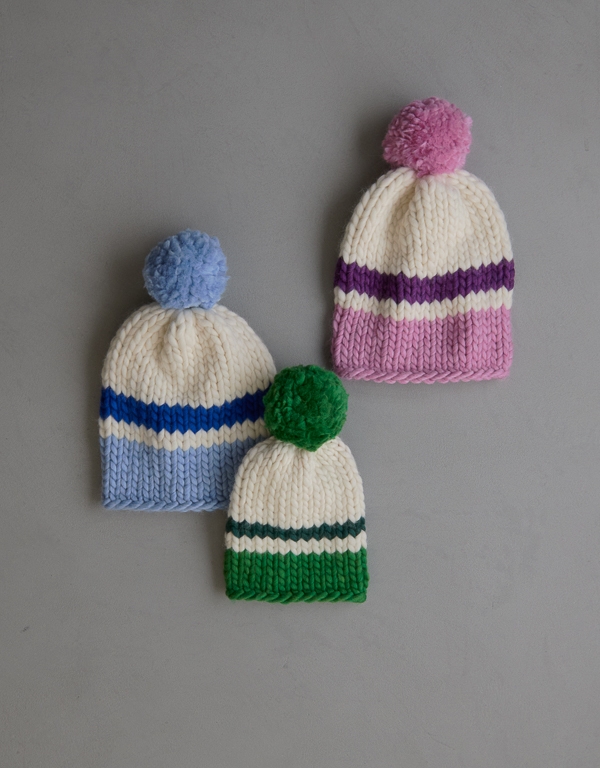 Designed by Purl Soho designer, Jake Canton. Click here to see even more of Jake's designs!
Share your progress and connect with the community by tagging your pics with #PurlSoho, #PurlSohoBusyHands, #PurlSohoHappyHat and #PurlSohoGentleGiant. We can't wait to see what you make!
Materials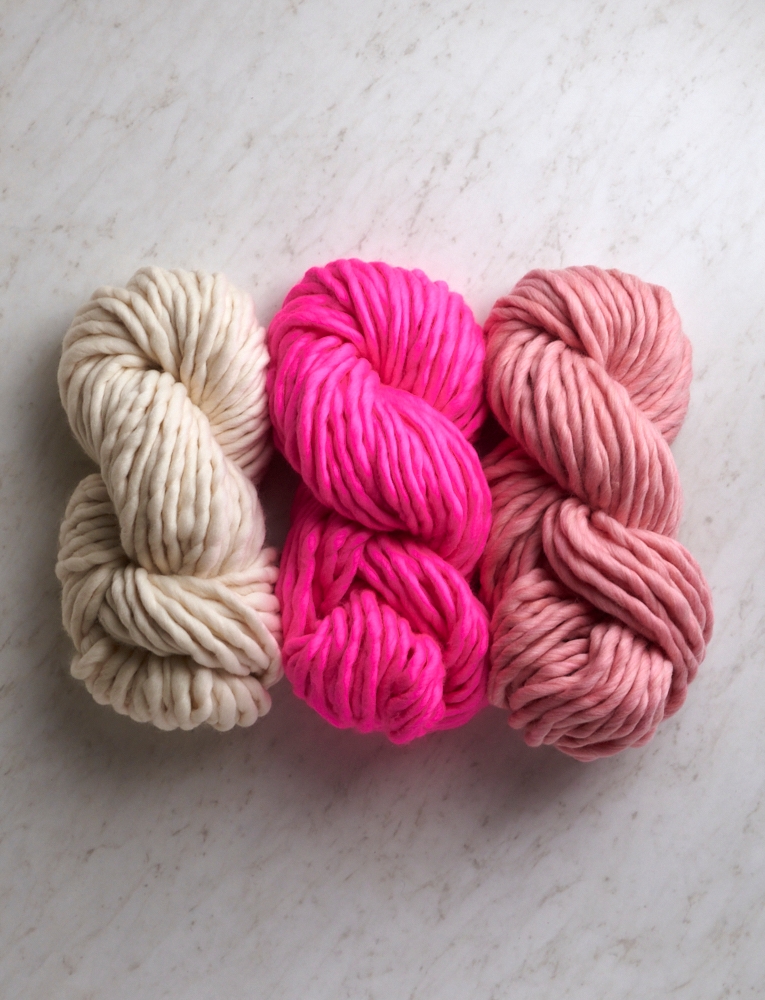 (NOTE: the Happy Hat Bundles are no longer available.)
Main Color: 1 skein of Purl Soho's Gentle Giant, 100% merino wool, in Heirloom White. Each skein is 48 yards/ 125 grams; approximately 20 (23, 30, 39) yards required.
Color A: 1 skein of Gentle Giant; approximately 27 (32, 34, 37) yards required.
Color B: 1 skein of Gentle Giant; approximately 3 (6, 7, 8) yards required.
NOTE: These materials will make two hats with pom poms if you swap Colors A and B. Adult sizes will also need to add an additional skein of the Main Color.
You will also need…
We made our samples in the following sizes and colors, using Heirloom White as the Main Color for all of them…
BABY SIZE: Super Yellow + Parakeet Yellow; Orange Koi + Sugar Maple; Parsley Green + Mountain Hemlock
KID SIZE: Super Pink + Pink Camellia (NOTE: We knit this palette in 2 ways, first using Super Pink for Color A and Pink Camellia for Color B, and then flipping them for the second hat!)
ADULT SMALL: Periwinkle Blue + Lapis Blue; Rose Violet + Red Violet
ADULT LARGE: Cowrie Pink + Calico Pink
GAUGE
7 stitches and 10 rounds = 4 inches in stockinette stitch
SIZES
Baby (Kid, Adult Small, Adult Large)
Finished Circumference: 14 (16, 18, 20) inches
Finished Height: 7¾ (8¾, 9¾, 10¾) inches
PATTERN
With Color A, loosely cast on 24 (28, 31, 35) stitches. We used a basic Long Tail Cast-On.
Place marker and join for working in the round, being careful not to twist the stitches.
Round 1: Knit to end of round.
Repeat Round 1 for 4 (6, 6, 6) more rounds.
Cut Color A.
With Main Color (MC), repeat Round 1 for two rounds. Do not cut yarn.
With Color B, repeat Round 1 for 2 (3, 3, 3) rounds.
Cut Color B.
With MC, repeat Round 1 until piece measures 7¾ (8¾, 9¾, 10¾) inches from cast-on edge, unrolled.
Cut MC, leaving about a 12-inch tail.
Thread the tail onto a tapestry needle, and thread the needle through all the live stitches. Pull taut, then bring the tail to the inside of the hat to weave in.
POM POM
If you're using Purl Soho's Pom Pom Maker Set, use the Extra Large Pom Pom Maker with the 3-inch Trim Guide. Using Color A, follow our Pom Pom Tutorial to make a 3-inch pom pom.
ATTACH POM POM
Thread each pom pom tail separately through the top of the hat. Tie the tails into a knot, then thread the tails up through the pom pom itself and trim them flush with the pom pom.
Weave in the ends and steam block if desired.