The signs of fall come every year, and yet we are always taken by surprise, invariably stuck in our summer rhythm. That's where our Trellis Scarf + Wrap come in… Wrap one around your neck the minute the sun goes down, and stretch those summer nights well into November! Both, of course, will also take you straight through winter, day and night.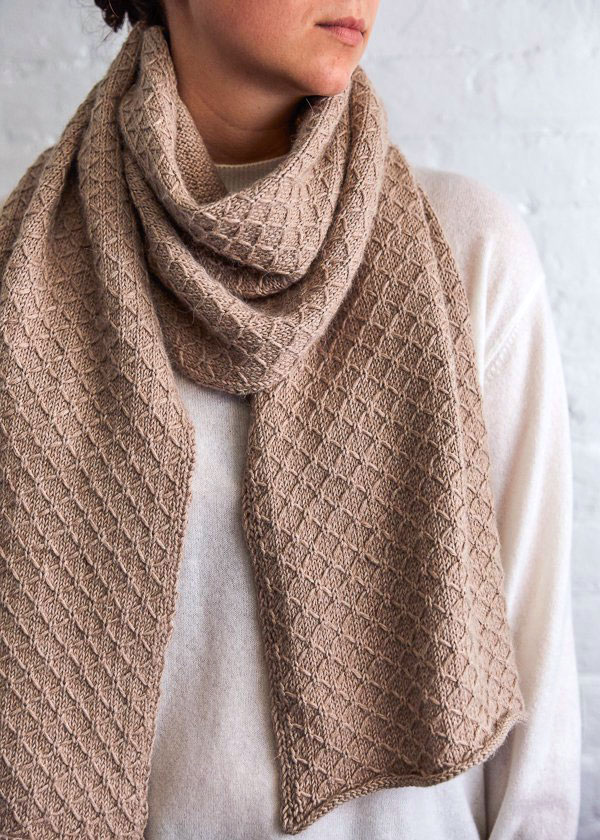 Based on our original Trellis Scarf, this redux version features two patterns: one for an 8-inch wide Scarf and another for a 16-inch wide Wrap. In Quilted Lattice Stitch, these beauties are subtly graphic, soothingly repetitive, and far easier to knit up than they may look! (Just check out our new video tutorial that shows you the main technique involved.)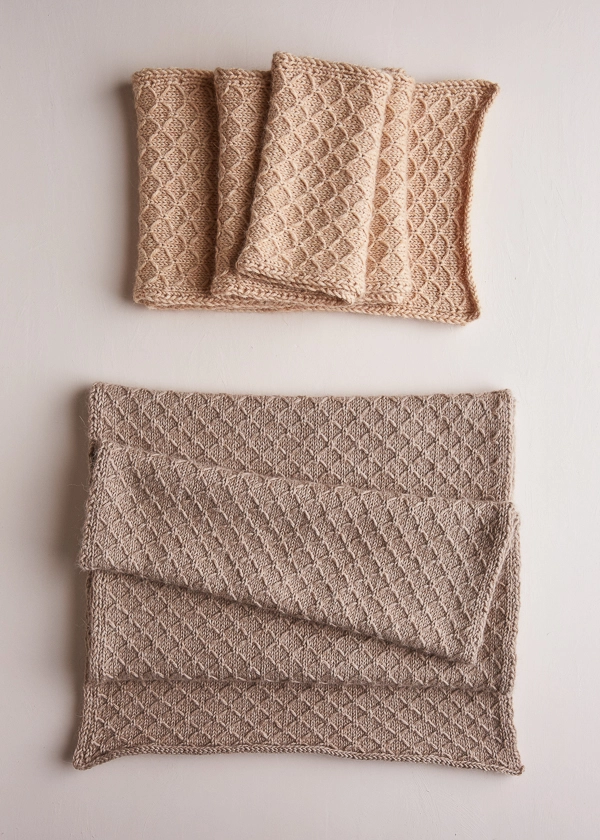 Stunning stitch pattern aside, this Scarf + Wrap are extra beautiful in our brand new Season Alpaca. Exquisitely soft, this 100% baby alpaca is a sportweight yarn, just right for keeping you toasty without weighing you down!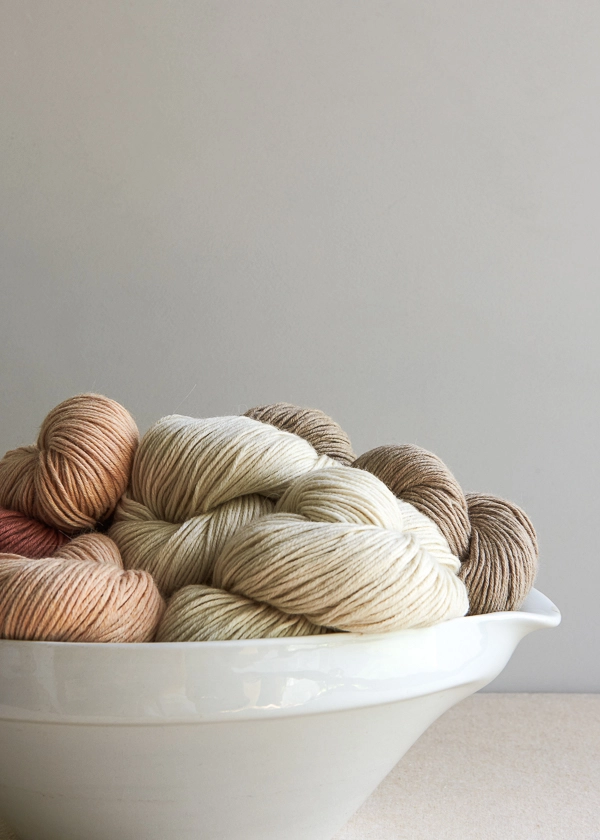 We love how this Scarf in Season Alpaca's Honey Pink makes everyone's skin glow, and how the Wrap, in Meadow Mushroom, is perfectly classic. Available in fourteen gorgeous colors, pick your favorite Season Alpaca, learn a new stitch, and prepare for fall!
Update: Now In Understory!
September 10, 2020
We love how our Understory brings its personality to this stitch pattern's beauty: Its crisp definition shows the details; its rustic color keeps things from getting too precious; and its super soft baby alpaca, baby yak, and silk blend mean that you'll love wearing your Trellis Wrap, too!
Designed by Purl Soho designer, Laura Ferguson.
Share your progress and connect with the community by tagging your pics with #PurlSoho, #PurlSohoBusyHands, #PurlSohoTrellisScarfAndWrap, and #PurlSohoSeasonAlpaca. We can't wait to see what you make!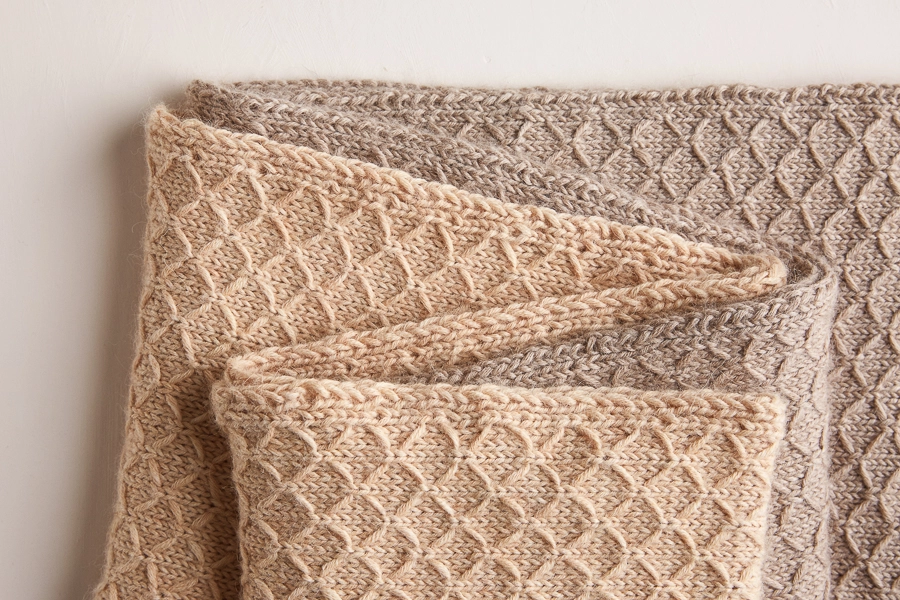 Materials
3 (5) skeins of Purl Soho's Season Alpaca, 100% fine baby alpaca. Each skein is 218 yards/ 100 grams; approximately 525 yards (1050 yards) yards required. We used the colors Honey Pink (Meadow Mushroom).
US 5 (3.75mm) straight or circular needles
Gauge
24 stitches = 4 inches in stockinette stitch
Sizes
Scarf (Wrap)
Finished Dimensions: 8 (16) inches wide x 68 (68) inches long
Notes
Slip Stitches
Slip all slipped stitches purlwise. Slip with yarn in front, unless indicated otherwise.
Cast On Multiple
To adjust the finished width of this pattern, be sure to cast on a multiple of 6 + 1.
K1 uls
k1 uls [knit 1 under loose strand]: to k1 uls…
…insert right needle under loose strand and then into next stitch knitwise, from front to back. Knit stitch normally. Then bring new stitch out from under the strand.
Pattern
Cast on 49 (97) stitches. We used a basic Long Tail Cast On.
Row 1 (wrong side): Slip 1 (see NOTES, above), p1, k1, purl to last 3 stitches, k1, p2.
Row 2 (right side): Slip 1 wyib (with yarn in back), k1, p1, *k1, slip 5, repeat from * to last 4 stitches, k1, p1, k2.
Row 3 and all remaining wrong side rows: Repeat Row 1.
Row 4: Slip 1 wyib, k1, p1, *k3, k1 under loose strand (k1 uls; see NOTES, above), k2, repeat from * to last 4 stitches, k1, p1, k2.
Row 6: Slip 1 wyib, k1, p1, slip 3, *k1, slip 5, repeat from * to last 7 stitches, k1, slip 3, p1, k2.
Row 8: Slip 1 wyib, k1, p1, *k1 uls, k5, repeat from * to last 4, k1 uls, p1, k2.
Repeat Rows 1-8 until piece measures approximately 68 inches or until just shy of desired finished length.
Repeat Row 1.
Bind off knitwise.
Weave in the ends and block as desired.