There's a mysterious promise in a bare trellis. What life has grown there before? What will grow there again? When will this bleak structure be transformed into a thriving plane of living color?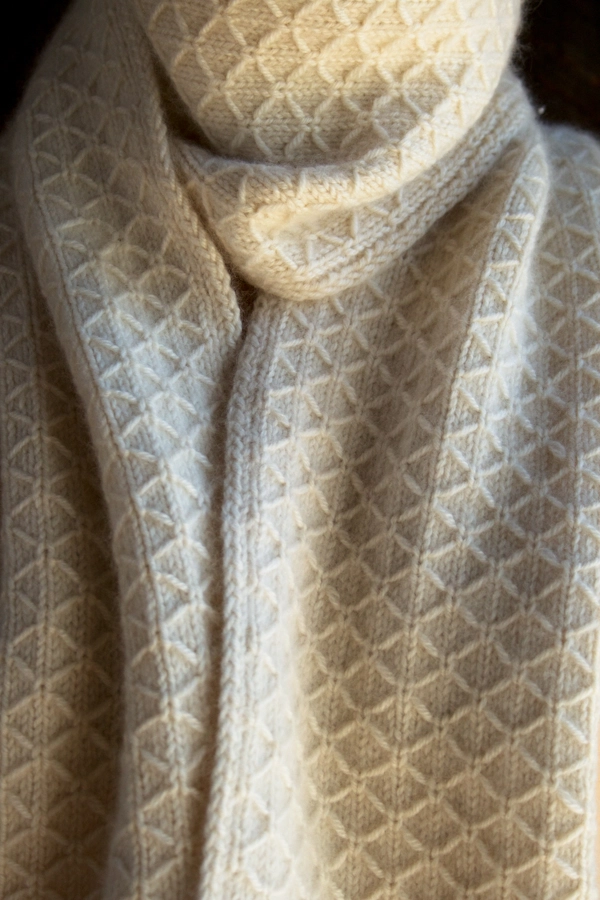 No matter how patiently I wait or how carefully I watch, this transformation comes so suddenly to me. There is always that one stunning day when a trellis is awakened by  opening buds, climbing vines and unfolding leaves, and you know that spring is here.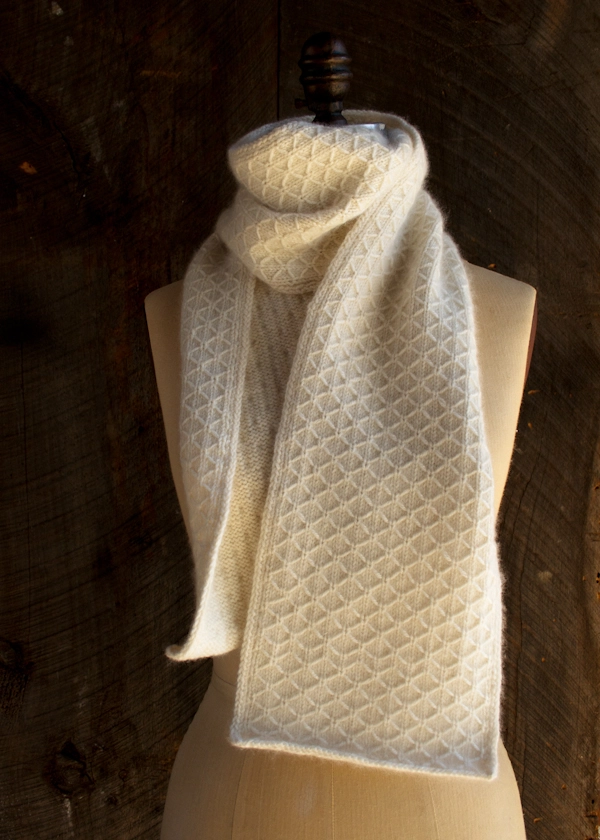 I made this Trellis Scarf with the hope of spring in mind… sun and flowers, cardigans and flats, levity and high spirits. I knit my scarf in the nearly weightless, astoundingly soft Zageo 6-Ply Cashmere by Jade Sapphire, and I adapted the stitch pattern from Barbara Walker's book A Treasury of Knitting Patterns. She calls hers the Quilted Lattice Stitch. It's a stitch with as much mystery as a naked trellis, appearing at first glance as though strands have been painstakingly woven into a finished knit piece. In fact, you create this beautiful quilted effect as you knit, and even more surprisingly, it's super easy!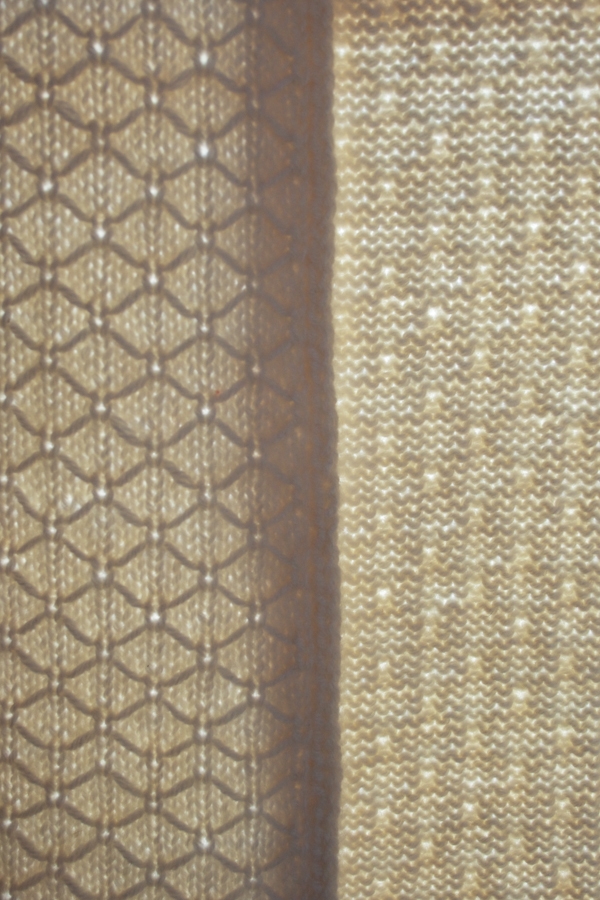 Just like that day when a quiet trellis springs into life, I bound off my stitches, admired my scarf's light-catching beauty and wondered how on earth it happened so fast. Happy spring! -Laura
Update: New Yarn + Additional Size!
September 6, 2017
Our newest yarn, Season Alpaca, is wonderfully suited for this stunning stitch pattern. Not only have we reknit the Trellis Scarf in this fine baby alpaca, but we've knit it up as a wrap as well. For additional images and the full free Trellis Scarf + Wrap Pattern in Season Alpaca, check out our new story!
Update: Now In Understory!
September 10, 2020
We love how our Understory brings its personality to this stitch pattern's beauty: Its crisp definition shows the details; its rustic color keeps things from getting too precious; and its super soft baby alpaca, baby yak, and silk blend mean that you'll love wearing your Trellis Wrap, too!
Share your progress and connect with the community by tagging your pics with #PurlSoho, #PurlSohoBusyHands, and #PurlSohoTrellisWrap. We can't wait to see what you make!
Materials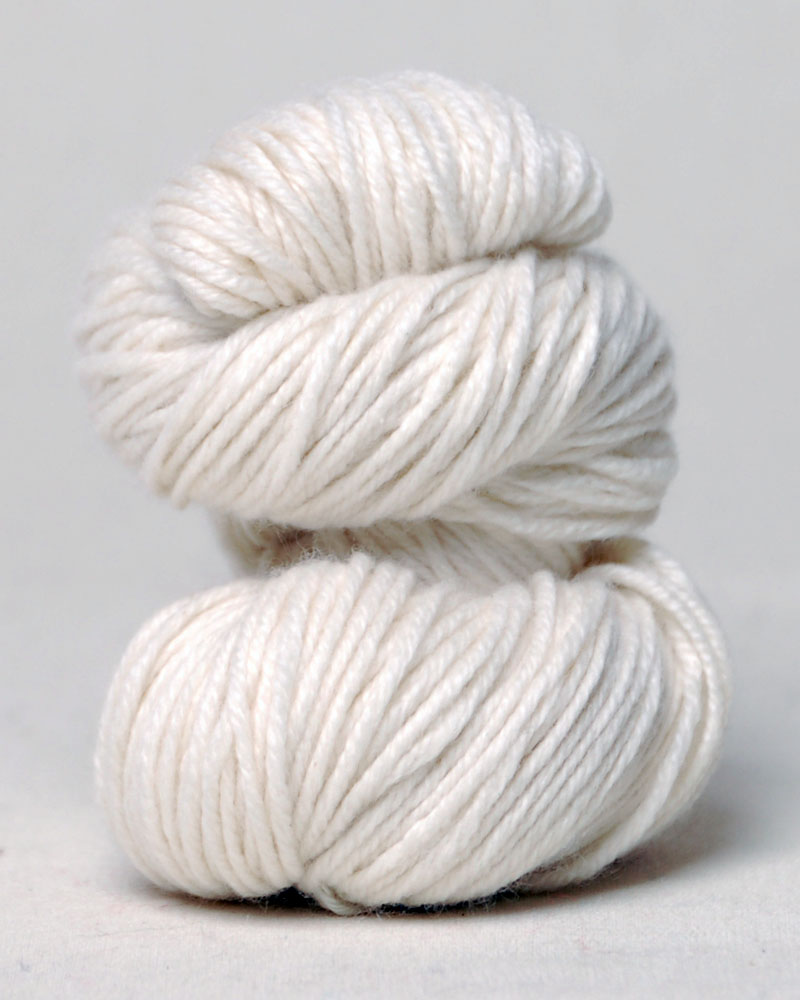 4 skeins of Jade Sapphire's Zageo 6-Ply Cashmere, 100% Mongolian cashmere Each skein is 150 yards/ 55 grams; approximately 600 yards required.  I used the color Ivory.
Gauge
24 stitches = 4 inches in stockinette stitch
Size
Finished Dimensions: 8  inches wide by 63 inches long
Notes
Slip all slipped stitches purlwise. Slip with yarn in front unless indicated otherwise.
To adjust the finished width of this pattern, be sure to cast on a multiple of 6 + 1.
k1 uls [knit 1 under loose strand]: to k1 uls…
…insert right needle under loose strand and then into next stitch knitwise, from front to back. Knit stitch normally…
…then bring new stitch out from under the strand.
Pattern
Cast on 49  stitches. We used a basic Long Tail Cast On.
Row 1 (wrong side): Slip 1 (see NOTES section above), p1, k1, purl to last 3 stitches, k1, p2.
Row 2 (right side): Slip 1 wyib (with yarn in back), k1, p1, * k1, slip 5, repeat from * to last 4 stitches, k1, p1, k2.
Row 3 and all remaining wrong side rows: Repeat Row 1.
Row 4: Slip 1 wyib, k1, p1, * k3, k1 under loose strand (k1 uls; see NOTES section above), k2, repeat from * to last 4 stitches, k1, p1, k2.
Row 6: Slip 1 wyib, k1, p1, slip 3, * k1, slip 5, repeat from * to last 7 stitches, k1, slip 3, p1, k2.
Row 8: Slip 1 wyib, k1, p1, * k1 uls, k5, repeat from * to last 4, k1 uls, p1, k2.
Repeat Rows 1 – 8 until piece measures approximately 62 inches or until just shy of desired finished length.
Repeat Row 1.
Bind off knitwise.
Weave in the ends and block as desired.