When I was at art school in Chicago one of my favorite escapes was to the Grainger Hall of Gems at the Field Museum of Natural History. Anytime I felt bogged down or stressed out, I would steal away to the gem room and feel instantly calmed in the presence of such incredible beauty. Purl Soho's gorgeous new Silk Alpaca Alloy transports me back to that time and space.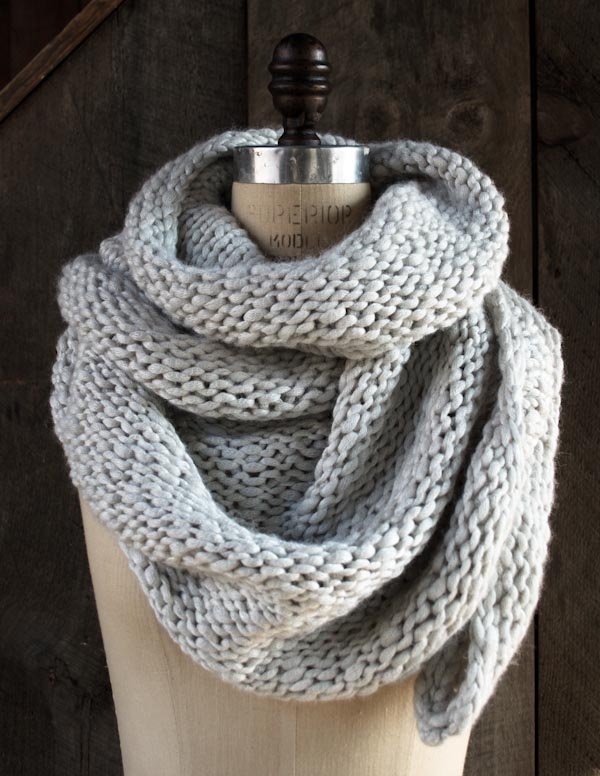 Every inch of this chunky yarn glows, and like a crystal, Silk Alpaca Alloy is a marvel of construction with a glimmering silk net delicately encasing a fluffy alpaca center. Warm and light with a metallic shimmer and a comforting softness, Silk Alpaca Alloy is as unfathomable as earth's creations.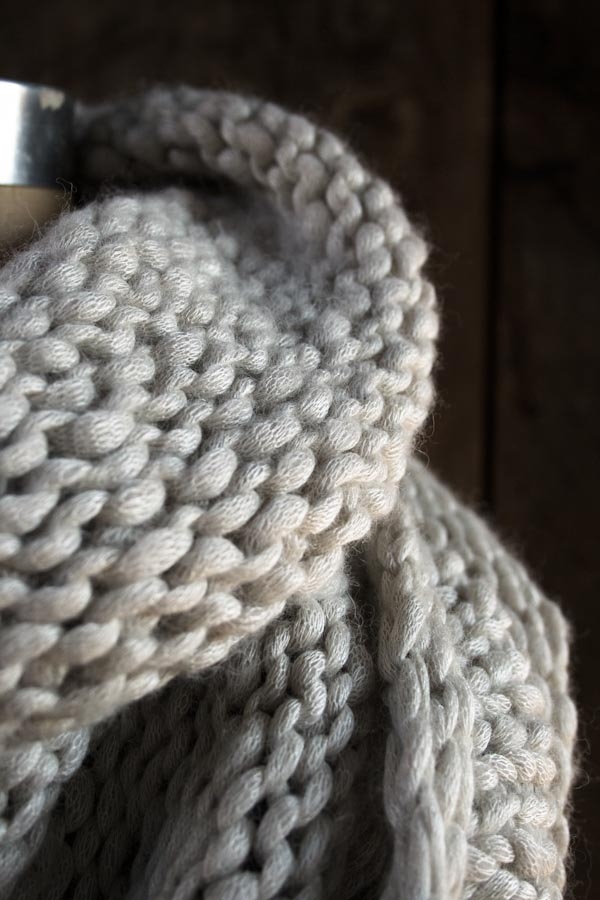 Knowing I would want to wear this yarn constantly,  I used Silk Alpaca Alloy to whip up this Moonstone Wrap in my current favorite shape, the triangle. I love its versatility: Wrap it twice with the point hanging in front for a dramatic scarf, or drape it over your shoulders with the point in back for a casual shawl. Knit side or purl side out, any way you wear it, the Moonstone Wrap will make you feel like a gem! -Gina
Designed by Purl Soho designer, Gina Rockenwagner.
Share your progress and connect with the community by tagging your pics with #PurlSoho, #PurlSohoBusyHands, and #PurlSohoMoonstoneWrap. We can't wait to see what you make!
Materials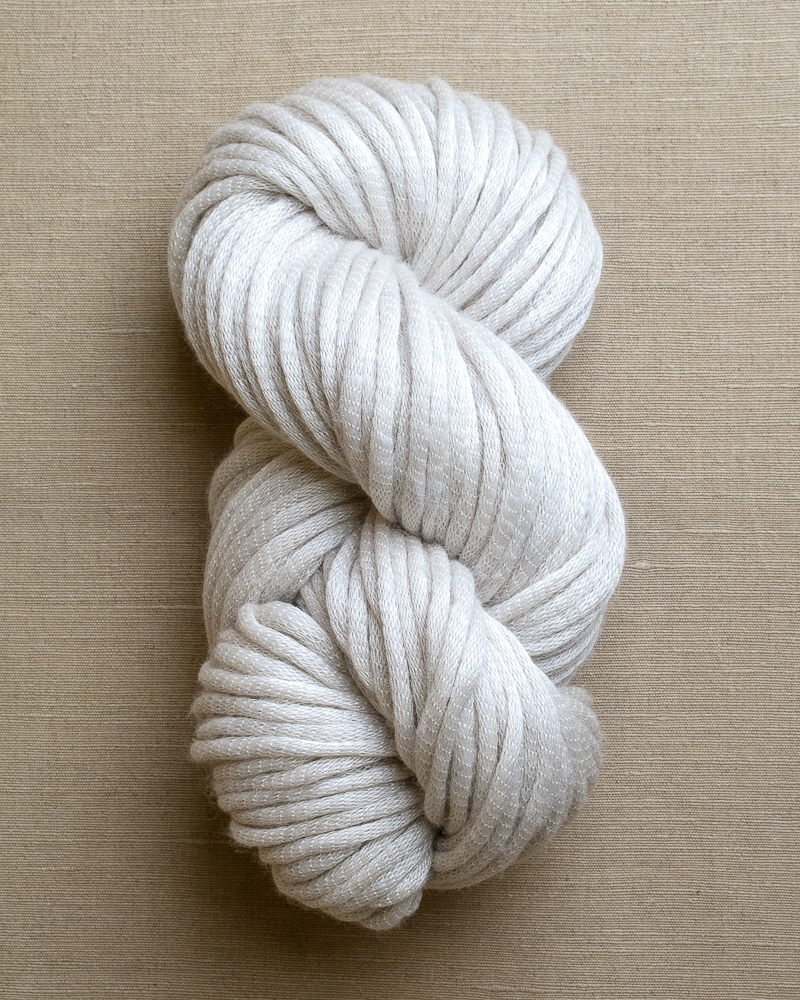 3 skeins Purl Soho's Silk Alpaca Alloy, 60% Baby Alpaca, 40% Mulberry Silk. I used the color Oyster Gray. (NOTE: We no longer offer Silk Alpaca Alloy, but choose from one of our other super bulky weight yarns.)
A US 17 (12 mm), 32 or 40-inch circular needle
Optional but helpful: A set of US 17 double pointed needles
Gauge
8 stitches = 4 inch in stockinette stitch
Size
Finished measurements: 70 inches along the long edge and 22 inches from bottom tip to top edge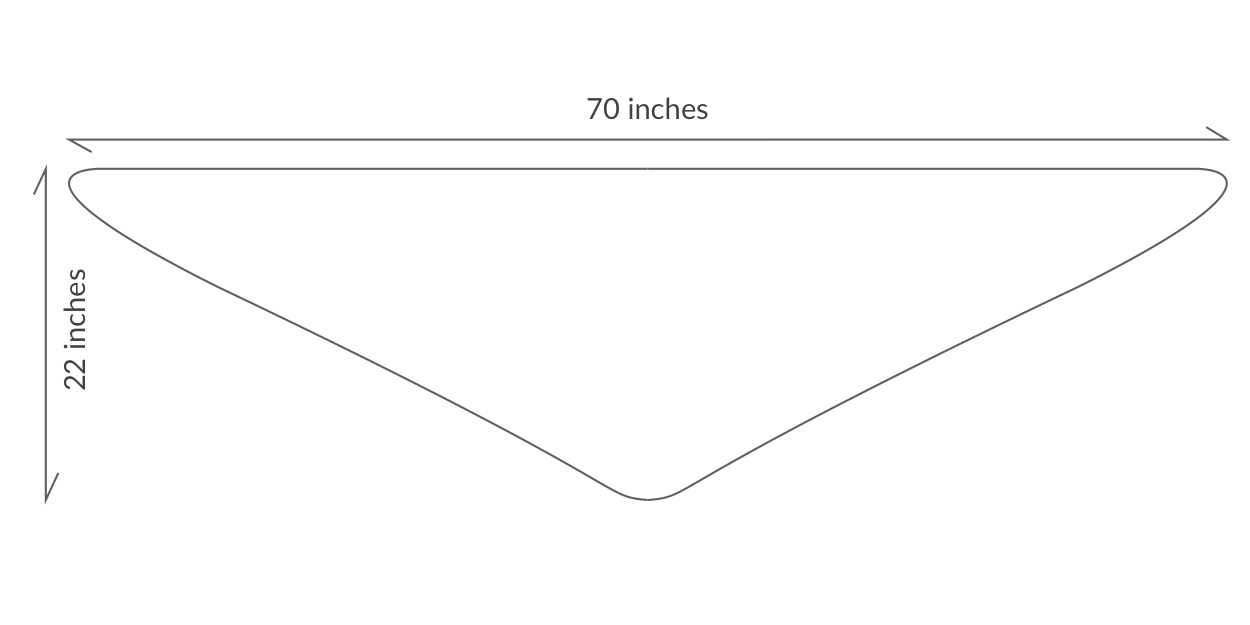 Note
For tips on how to p2tog through the back loop (tbl), click here!
Pattern
Cast on 135 stitches. We used a basic Long Tail Cast On.
Row 1: K2, Purl 2 Together (p2tog), purl to last 4 stitches, p2tog through the back loop (tbl), k2. [2 stitches decreased]
Row 2: P2, Slip Slip Knit (ssk), knit to last 4 stitches, Knit Two Together (k2tog), p2. [2 stitches decreased]
Repeat Rows 1 and 2 until 7 stitches remain, ending with Row 2.
Final Row (purl side facing you): K2, p3tog, k2. [5 stitches]
Cut the yarn, leaving a 12-inch tail.
Thread the tail onto a tapestry needle. Starting with the stitch furthest away from the tail, thread the needle through the 5 remaining stitches. The needle will exit the stitches right at the base of the tail. Pull firmly to finish.
Using the circular or double pointed needles if you have them, cast on 3 stitches. With the knit side of the wrap facing you, begin at the right end of the cast-on edge and work a 3-stitch Attached I-cord along the entire cast on edge. I worked one round of I-cord for every cast-on stitch. When you reach the left end of the cast-on edge, cut the yarn and thread it through the three I-cord stitches. Pull firmly to finish.
Weave in the ends.
Block as desired and enjoy your Moonstone Wrap!