Although you wouldn't know it from looking at me, I really do love clothes and style and fashion. I don't purchase September issues or Louboutins, but I do love the human spectrum that is expressed through clothing choices (thank you, New York City!).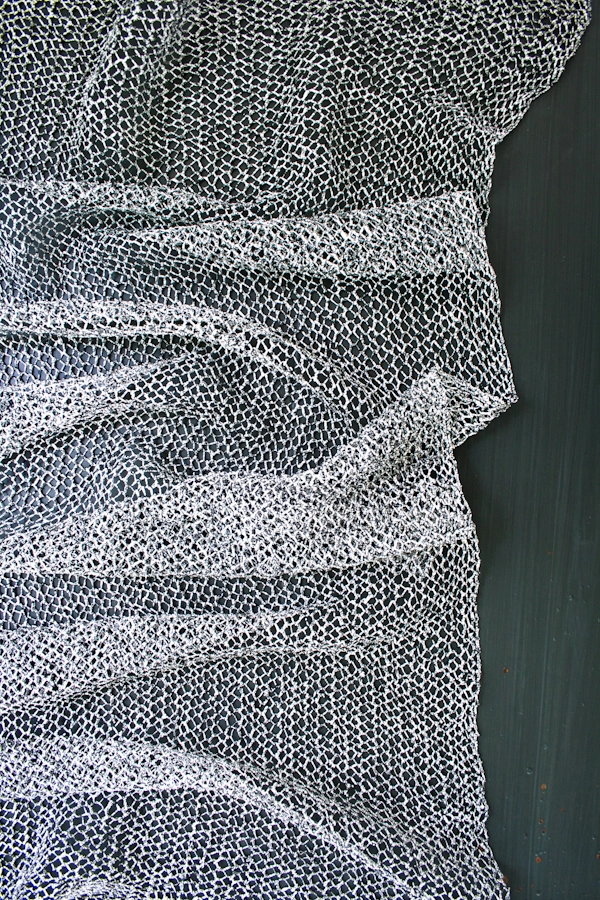 This Open Air Wrap would definitely catch my eye on the street, inciting a reverie about the woman wearing it. If she had paired it with a trim black dress and patent leather pumps, I would think about the artistic her making a bid for self-expression, giving a nod to the unconventional. Or if a woman were wearing the Open Air Wrap with flowing skirts and layers of linen and long necklaces, I would admire that every iota of her wants to be free.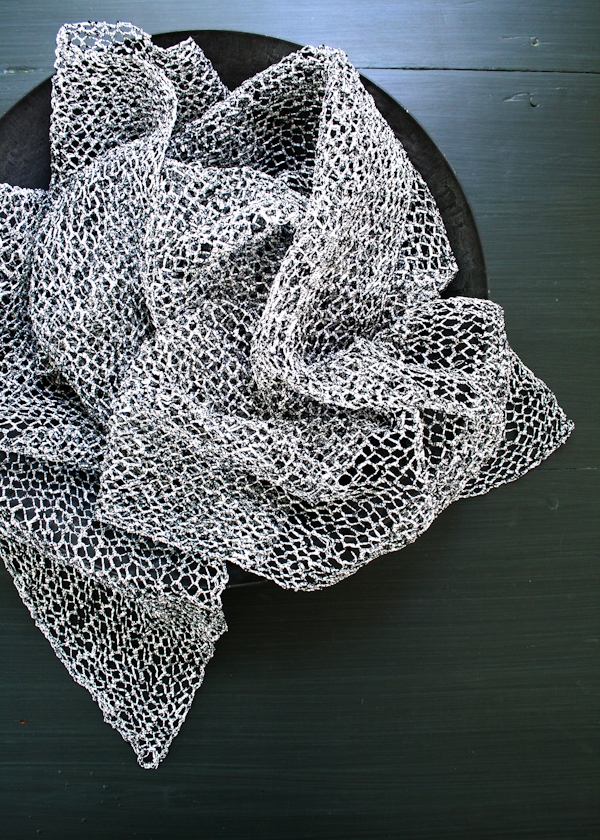 Where do we turn for the unexpected and the singular? Easy, Habu Textiles. For this project I chose their spectacularly fascinating Silk Wrap Paper. Not really paper, but paper-like, Silk Wrapped Paper is actually a slender linen tape bound with an even finer thread of silk. Knit up, it is sculptural, featherlight and totally statement making.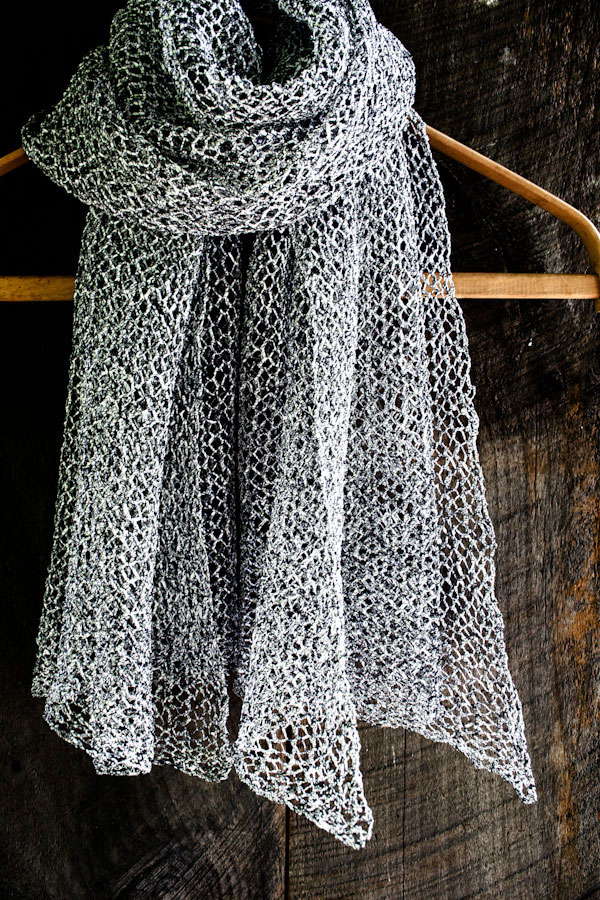 The super simple Purse Stitch, which essentially creates a net-like mesh, gives the Silk Wrap Paper plenty of room to breathe and to express itself. Which brings us back to the beginning. We wear what we wear, from high tops to topsiders, to be ourselves and to tell the world who we are. So, toss your own Open Air Wrap over your shoulders and express yourself! -Whitney
Update: New Yarn
JUNE 17, 2016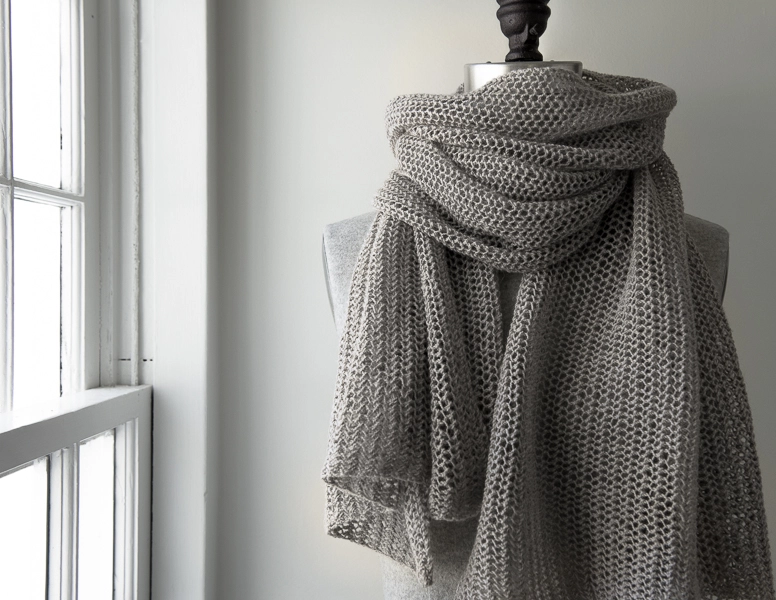 Our Open Air Wrap loves a yarn with personality! The original version, in Habu's crispy Silk Wrap Paper, was a bit sculptural, a bit outside-of-the-box. And now in Linen Quill, the Open Air Wrap reveals a whole other side, one that is soft and voluminous, refined and classic. Visit the new post for more details and additional photos of the Linen Quill version.
Update: New Yarn
November 7, 2018
Our Open Air Wrap is a familiar favorite, but it undergoes a splendid reinvention when paired with our gorgeous new Tussock! This wrap may look as diaphanous as floating mist, but don't be fooled…It's really a halo of soft and cozy warmth. Tussock is 60% super fine kid mohair and 40% silk, a blend that insulates with a feather-light touch and a lovely luster. Read all about our latest update here!
Update: New Version
June 17, 2021
In our Linen Quill, the Open Air Wrap achieves a lovely combination of loft and drape. A blend of fine highland wool, alpaca, and linen, there are also dozens of gorgeous colors to choose from! We used Kiln Red because its warm glow is totally lovely on almost everybody.
UPDATE: NOW IN HANDWRITTEN
JUNE 2023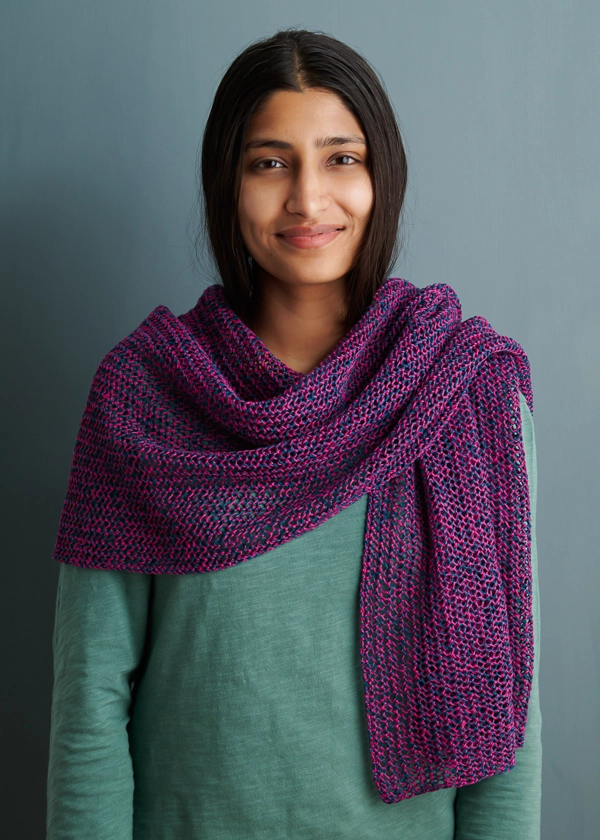 The simple mesh of our Open Air Wrap is perfectly poised to feature a truly special yarn, and our Handwritten is happy to tell its story! Supple and elegant as a line of cursive, this 100% organically grown cotton is a fine, flat ribbon, a structure that gives hand knits more volume and dimension than you might expect from a laceweight yarn. Handwritten's adorable spool holds over 900 yards of ready-to-go yarn and comes in twenty-six gorgeous colors. Choose a two-spool, two-color Open Air Wrap Bundle, and cast on for this signature wrap!
Designed by Purl Soho designer, Whitney Van Nes.
Share your progress and connect with the community by tagging your pics with #PurlSoho, #PurlSohoBusyHands, and #PurlSohoOpenAirWrap. We can't wait to see what you make!
Materials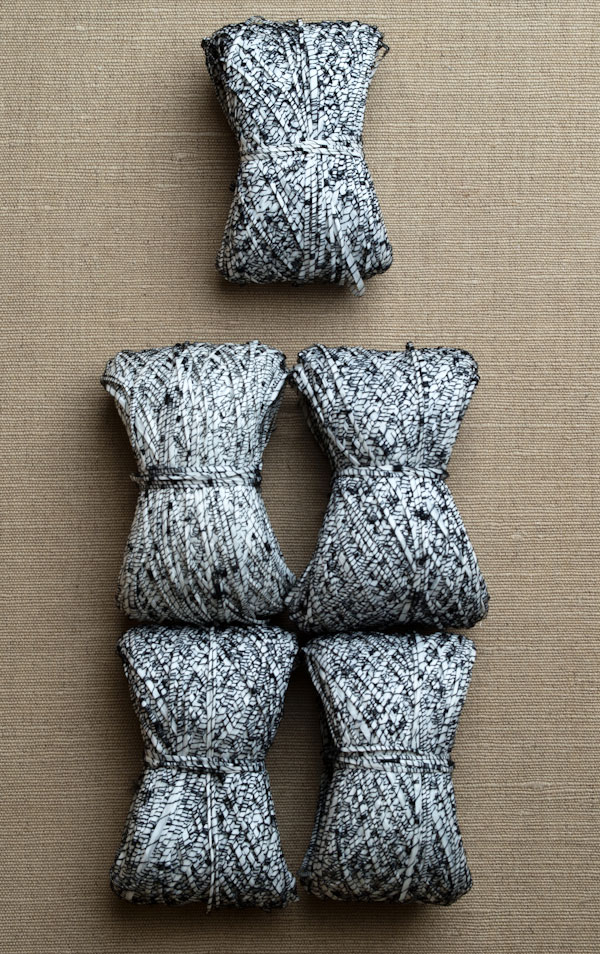 5 skeins of Habu's Silk Wrap Paper, 99% Linen and 1% Silk. Approximately 590 yards required. This color is White Navy.
A US 4 (3.5 mm) straight or circular needles. I used 24-inch Addi Turbo Rockets (They have great pointy tips for easy p2tog's and very smooth shafts for speed).
Gauge
21¾ stitches = 4 inches in stitch pattern, unblocked
20 stitches = 4 inches in stitch pattern, blocked
Size
Finished Dimensions, Unblocked: 18 inches wide x 56 inches long
Finished Dimensions, Blocked: 20 inches wide x 60 inches long
Notes
Yarn Overs Before Purls
This stitch pattern requires you to make yarn overs before purl stitches, a maneuver that confuses a lot of beginner knitters. The first thing to remember is that a yarn over is simply the act of moving the working yarn from one place to another. That movement does create a stitch once you work the next stitch, but the yarn over itself does not make a stitch. Here's how to yarn over in the case of the Purse Stitch…
The first yarn over of each row happens after a knit stitch and before a purl two together (p2tog). So, you will knit the first stitch of the row, then bring the working yarn forward into the purl position: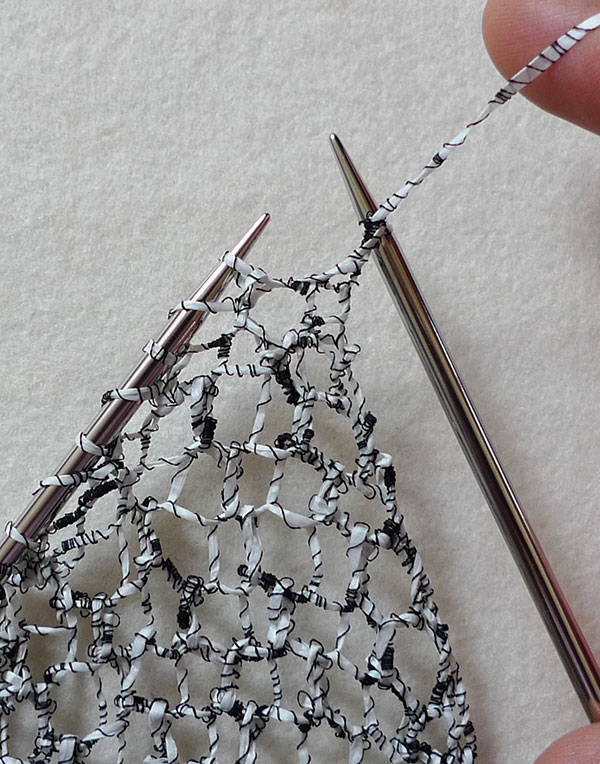 Now bring the working yarn up and over the right needle, wrapping the needle in an away-from-you motion and returning the yarn to the purl position, ready for the p2tog: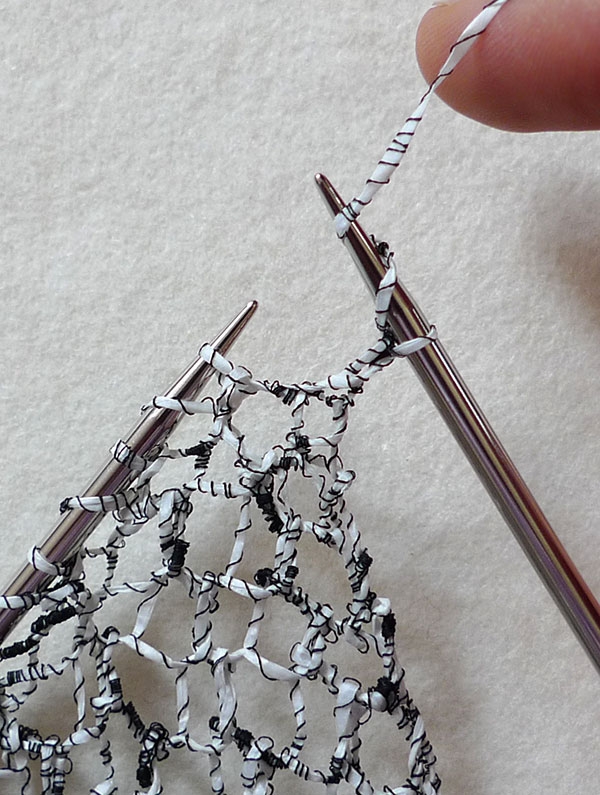 For the rest of the row the yarn overs occur between two p2tog's. In those cases the working yarn is already in the forward purl position (from just having made a p2tog); and so all you have to do is bring the yarn up and over the right needle, wrapping in an away-from-you motion and returning the yarn to the purl position: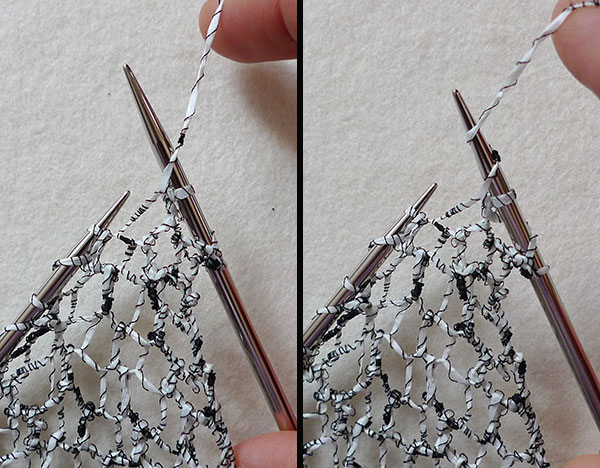 Purl Two Together (p2tog)
In this stitch pattern every p2tog is made by inserting the right needle into first the p2tog from the previous round and then the yarn over from the previous round: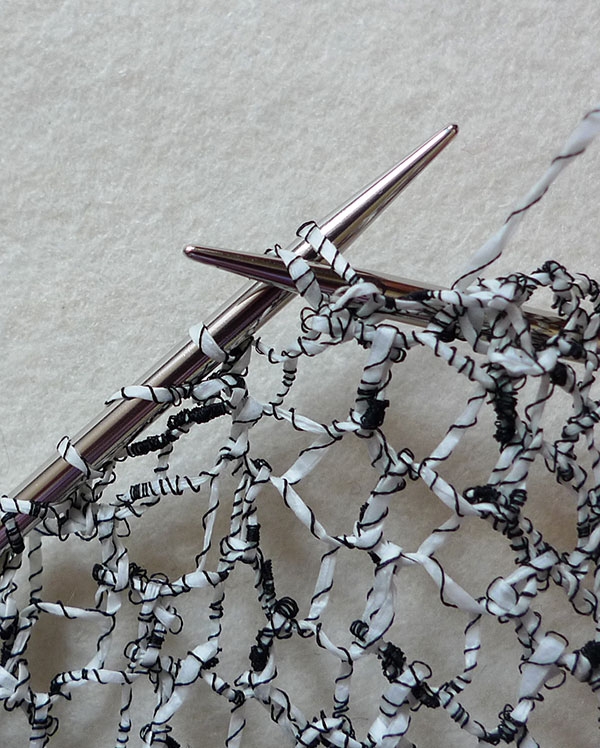 Then, as with any normal purl stitch, wrap the working yarn counter clockwise around the right needle and pull a stitch through. Drop the two stitches from the left needle and get ready to yarn over!
Pattern
Cast on 98 stitches. We used a basic Long Tail Cast On.
Row 1: K1, *yarn over, Purl 2 Together (p2tog), repeat from * to last stitch, k1.
Repeat Row 1 until you have used all five skeins, minus several yards. (For me, the piece measured 56 inches at this point.)
Bind off loosely, purling each stitch.
Weave in the ends, block the finished wrap and wear it all summer long!