Our Open Air Wrap is an oldie but a goodie! The same simple row over and over and a fabric so voluminous and beautiful, its process is as satisfying as its result.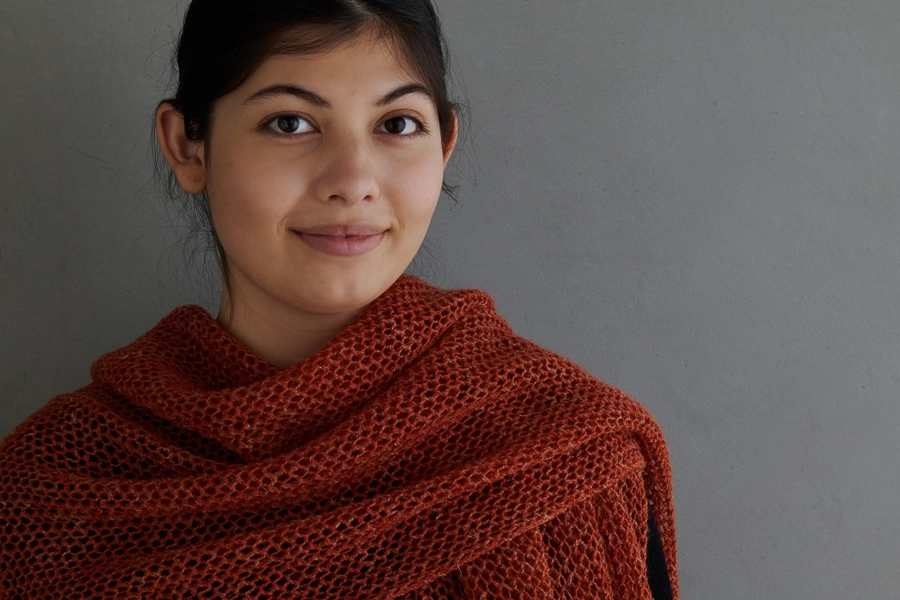 We love that, although lace, this wrap is far from dainty. Its simple mesh pattern is more working-in-front-of-an-air-conditioner-under-a-deadline than tea-time-in-the-parlor.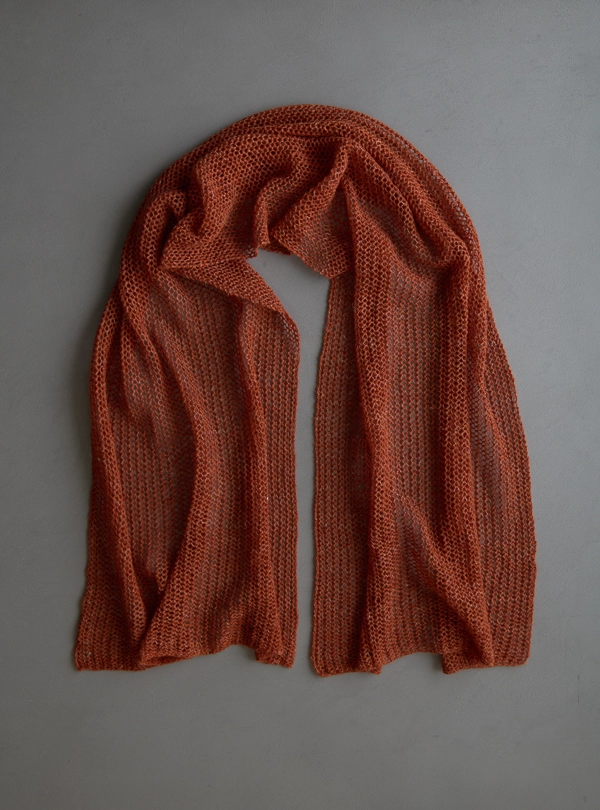 In our Linen Quill, the Open Air Wrap achieves a lovely combination of loft and drape. A blend of fine highland wool, alpaca, and linen, there are also dozens of gorgeous colors to choose from! We used Kiln Red because its warm glow is totally lovely on almost everybody.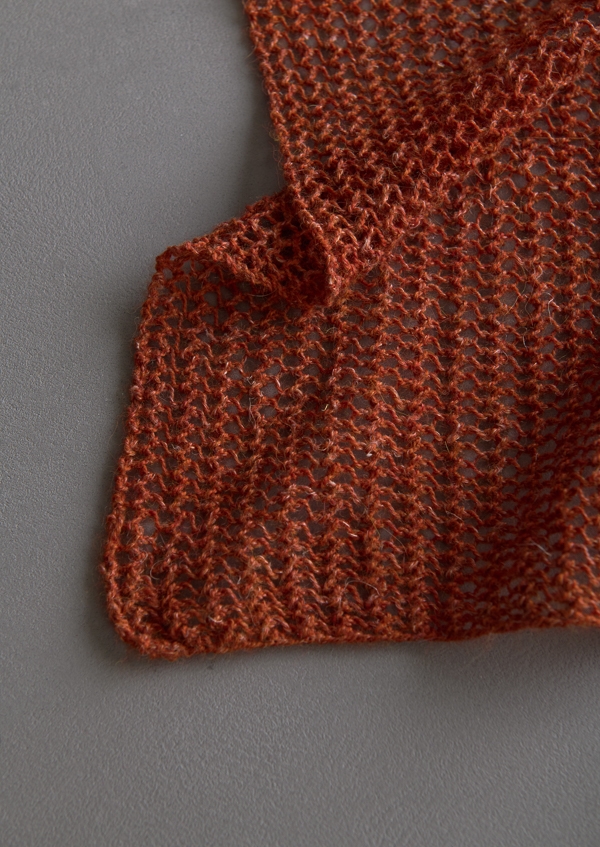 Whatever color you pick, you'll need just two skeins, which is pretty awesome and also why we're casting on for our next one!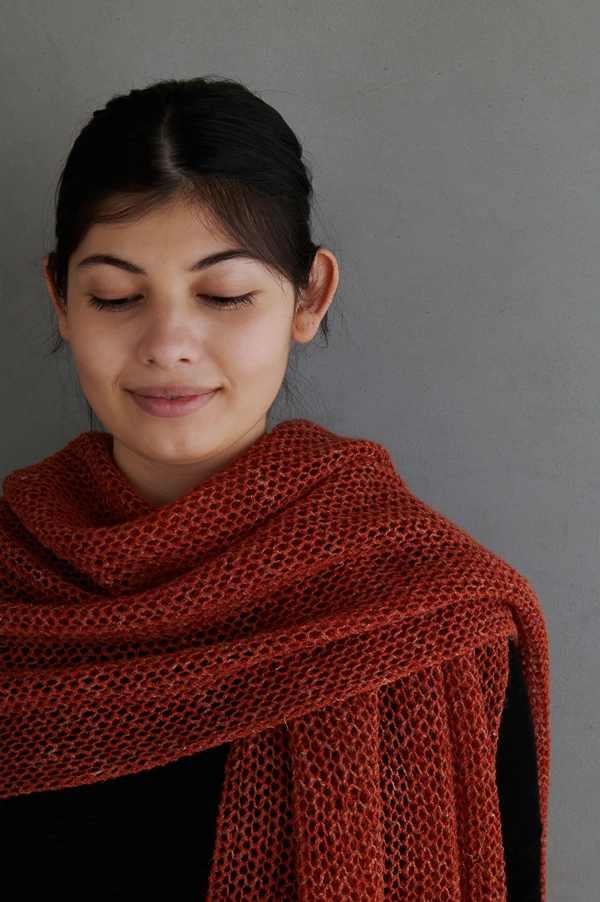 Designed by Purl Soho designer, Whitney Van Nes.
Share your progress + connect with the community by tagging your pics with #PurlSoho, #PurlSohoBusyHands, #PurlSohoOpenAirWrap, and #PurlSohoLinenQuill. We can't wait to see what you make!
Materials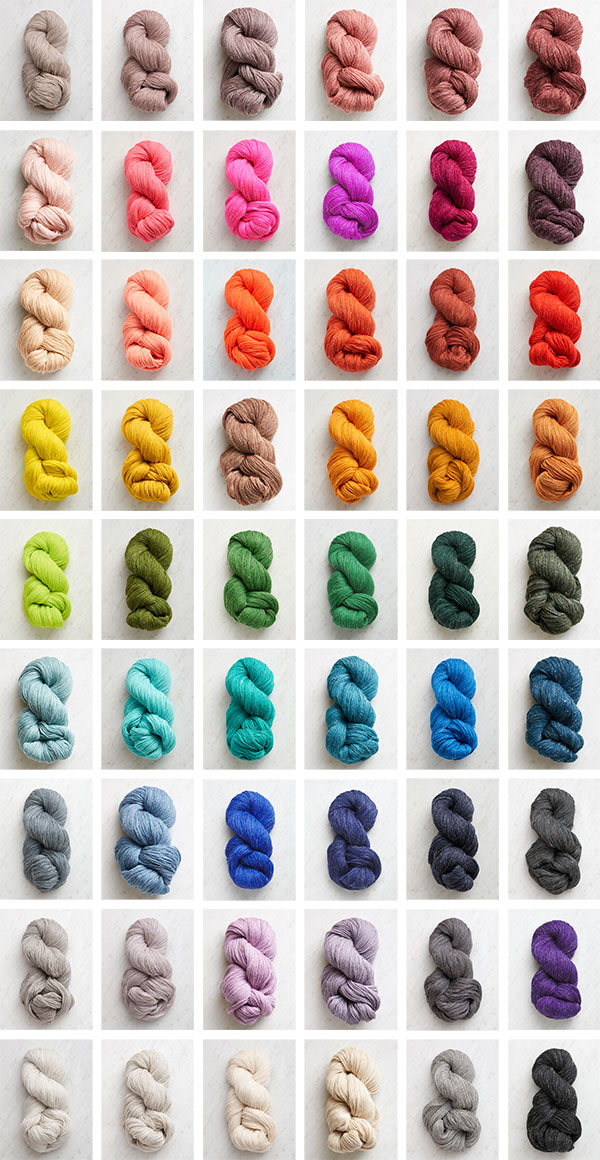 2 skeins of Purl Soho's Linen Quill, 50% fine highland wool, 35% alpaca, and 15% linen. Each skein is approximately 439 yards/100 grams; approximately 878 yards required. We used Kiln Red.
US 5 (3.75 mm) straight or 20- or 24-inch circular needles
Gauge
20 stitches = 4 inches in stitch pattern, unblocked
18 stitches = 4 inches in stitch pattern, blocked
Size
Dimensions, Unblocked: 19½ inches wide x 65 inches long
Finished Dimensions, Blocked: 22 inches wide x 70 inches long
Notes
For how-to photos of both the following techniques, please visit our original Open Air Wrap story.
Yarn Over Before Purl Stitch
For more information about making yarn overs before or between purl stitches, visit our Yarn Over tutorial.
Purl 2 Together
In this stitch pattern, you will make every purl 2 together by inserting the right needle into first the purl 2 together from the previous round and then the yarn over from the previous round. Then, as with any normal purl stitch, you will wrap the working yarn counter clockwise around the right needle and pull a stitch through. Drop the two stitches from the left needle and get ready to yarn over!
Pattern
Cast on 98 stitches. We used a basic Long Tail Cast On.
Row 1: K1, *yarn over, purl 2 together, repeat from * to last stitch, k1.
Repeat Row 1 until you have used both skeins, minus several yards. (At this point, your wrap may be only about 65 inches long but will grow when you block it.)
Bind off loosely, purling each stitch.
Weave in the ends, then gently wet block to finish!