Even if you've never picked up a crochet hook, you've probably heard of granny squares and the blankets they make. Really, they're as classic as glasses on the tip of granny's nose!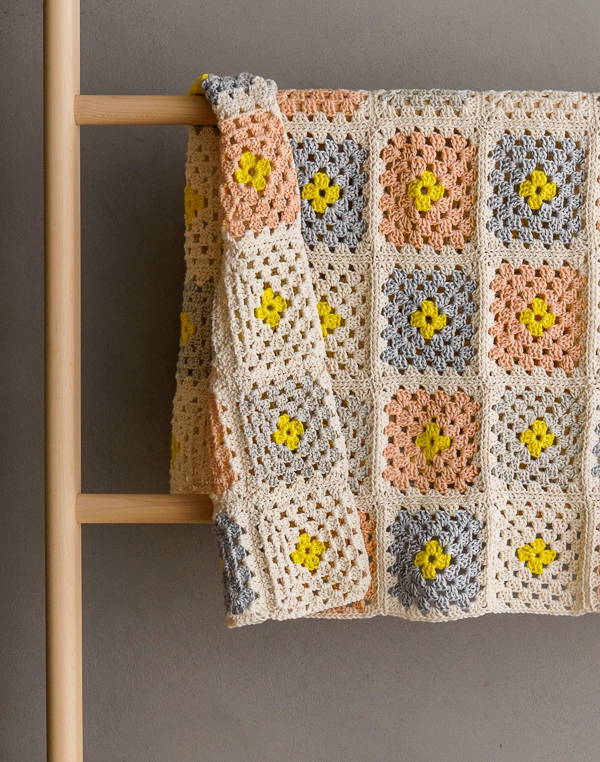 Also in the pantheon of classics is our Granny Square Blanket Pattern, a start-to-finish primer on crochet's most important skills. It starts with winding a skein into a ball and walks you all the way through weaving in the ends.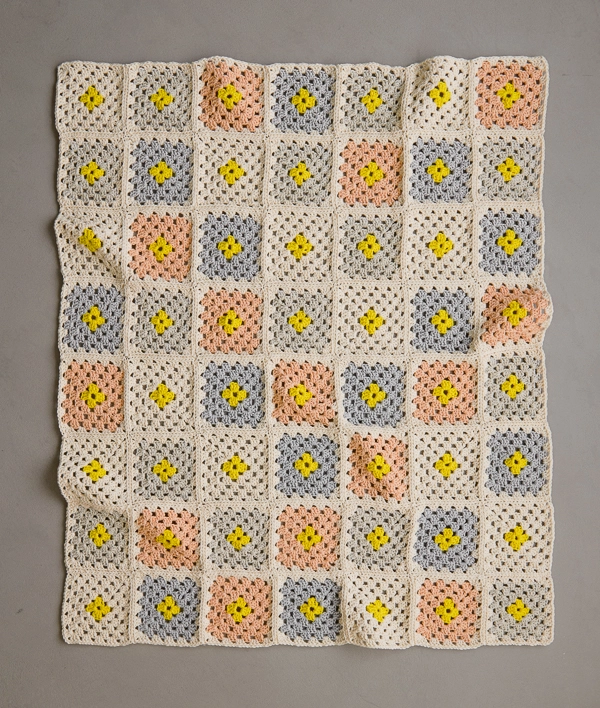 But like granny, who nowadays has swapped her readers for progressives, all classics need an occasional update. Here, instead of our original choice of Worsted Twist merino, we've hooked up our Granny Square Blanket in year-round Cotton Pure. We love the soft colors Cotton Pure brings to the story, as well as its cool touch, satisfying weight, and super crochet-ability.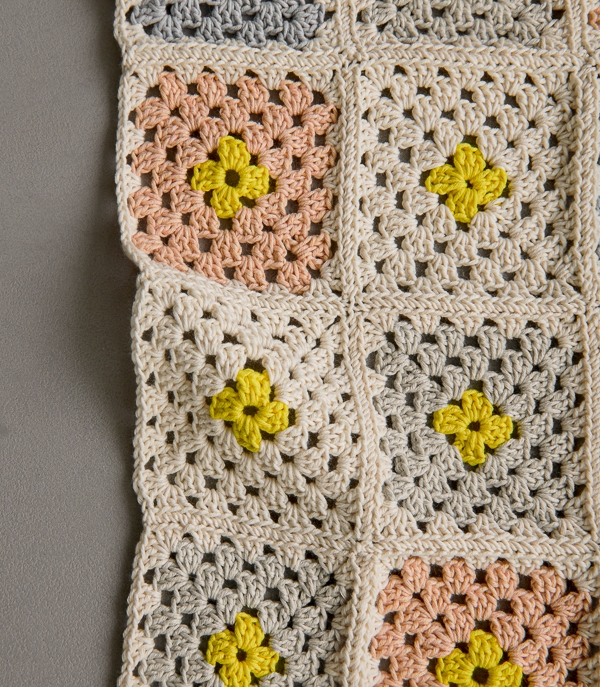 We've put together four pretty Cotton Pure palettes to choose from, each available in Crib or Throw size. So, pick up the Granny Square Blanket Bundle (no longer available) that calls your name, plus the pattern and a size E (3.5 mm) hook, and embark on a classic!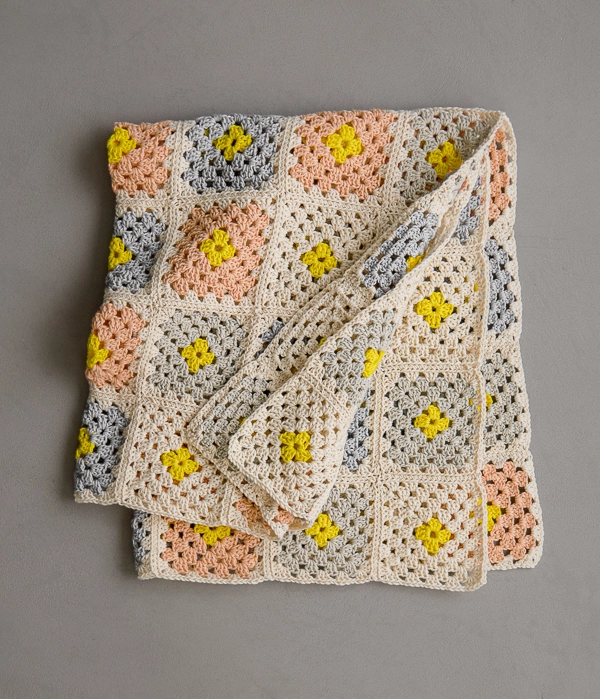 Originally designed by Purl Soho designer, Whitney Van Nes, and updated in this yarn by Gaby Bush.
Materials
To make a Crib (Throw) you will need…
Here are 4 pretty palettes to inspire you  (NOTE: the Granny Square Blanket Bundles are no longer available.) …
VILLAGE, shown above and the colors we used for our sample
Inner Color: Jonquil Yellow
Middle Color A: Peach Peony
Middle Color B: Gray Birch
Middle Color C: Silver Quartz
Outer Color: Heirloom White
POPPY
Inner Color: Peach Peony
Middle Color A: Rosy Red
Middle Color B: Beach Rose
Middle Color C: Tomato Orange
Outer Color: Heirloom White
CREEK
Inner Color: Ultramarine Blue
Middle Color A: Silver Quartz
Middle Color B: Moonflower Blue
Middle Color C: Waterdrop Blue
Outer Color: Heirloom White
PEPPERCORN
Inner Color: Gray Shale
Middle Color A: Gray Birch
Middle Color B: Warm Rock
Middle Color C: Heirloom White
Outer Color: Carbon Black
Sizes
Crib (Throw)
Finished Dimensions of Blanket: Approximately 28 x 32 (40 x 48) inches, blocked
Finished Dimensions of Granny Square: 4 x 4 inches, blocked
Sample: We made the Crib size.
Pattern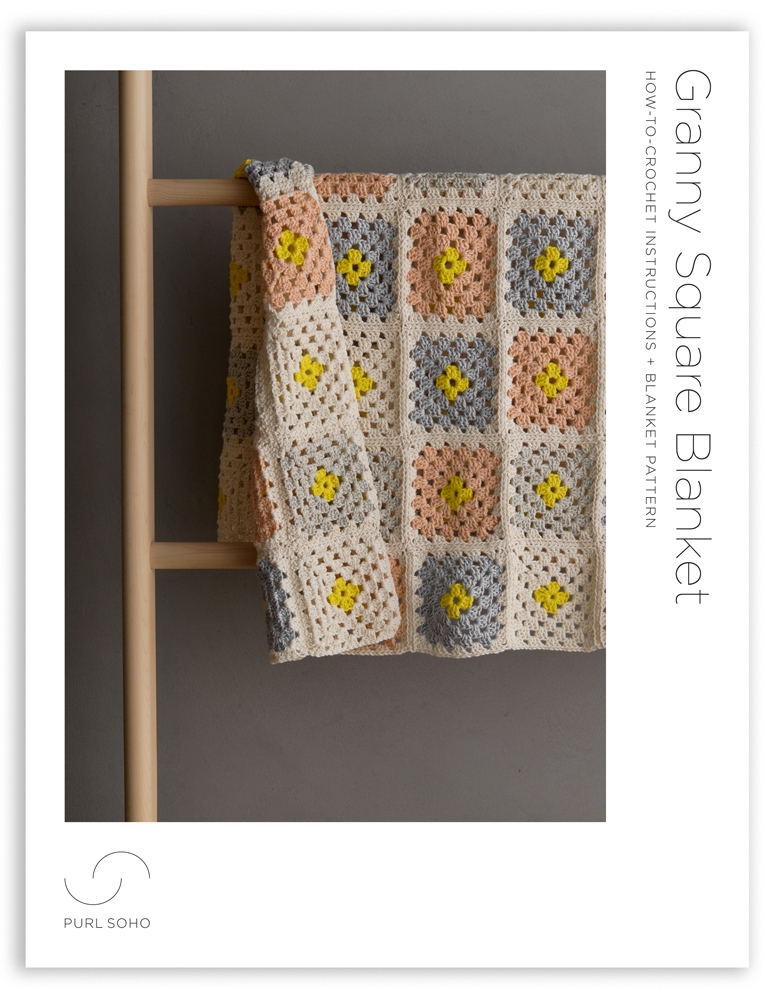 The Granny Square Blanket Pattern is available for purchase as a PDF download only.