Our Slice Of Goodness Wrap leans into so much of what we love about knitting: the rhythm and feel of garter stitch in your hands, the marvel of creating a beautiful shape, and the joy of wearing something you've made!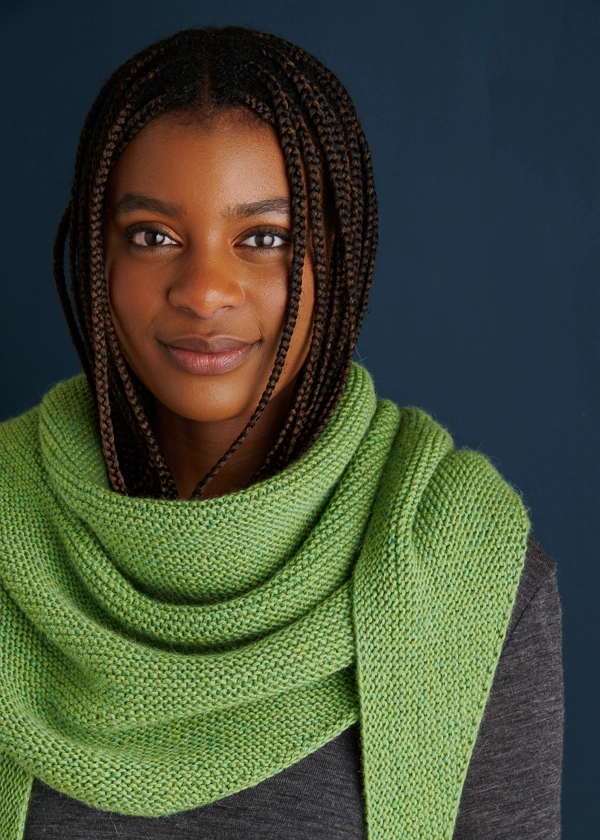 This clever little number has you cast on the long way and then use short rows to shape a generous bulge in the middle, designed to keep you warm. Both ends gently taper into tassels, adding just enough weight and length that the wrap stays put.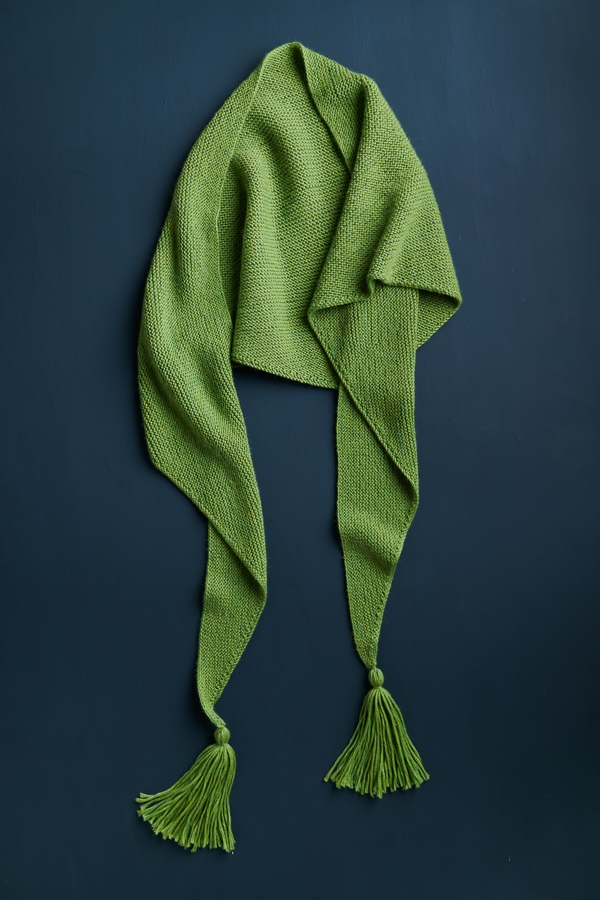 Don't let the prospect of short rows scare you. Because it's all garter stitch, you don't have to pick up the wraps, making this a perfect beginner knit that accomplished knitters will enjoy as well.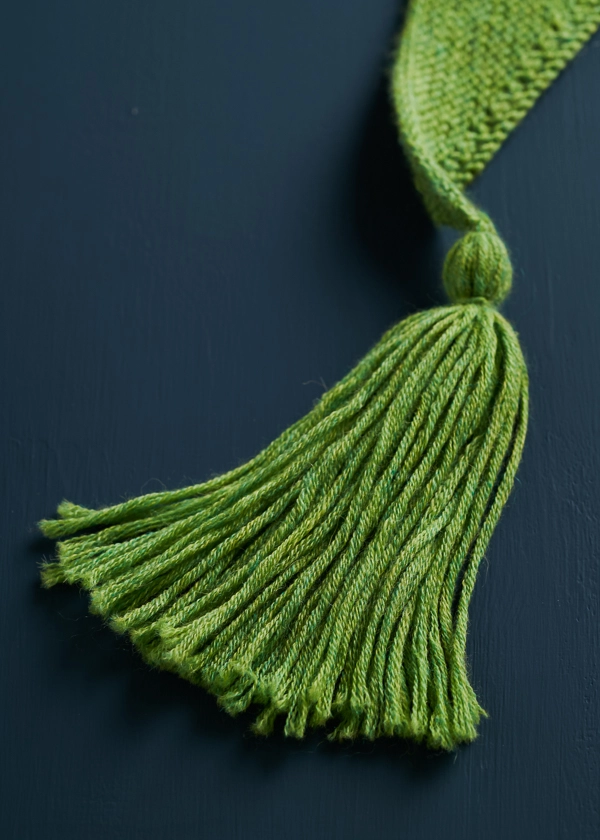 The amazing feel of the Slice Of Goodness Wrap comes from our gorgeous Season Alpaca. One hundred percent super baby alpaca, it is a very soft, very special grade of alpaca that really is all goodness.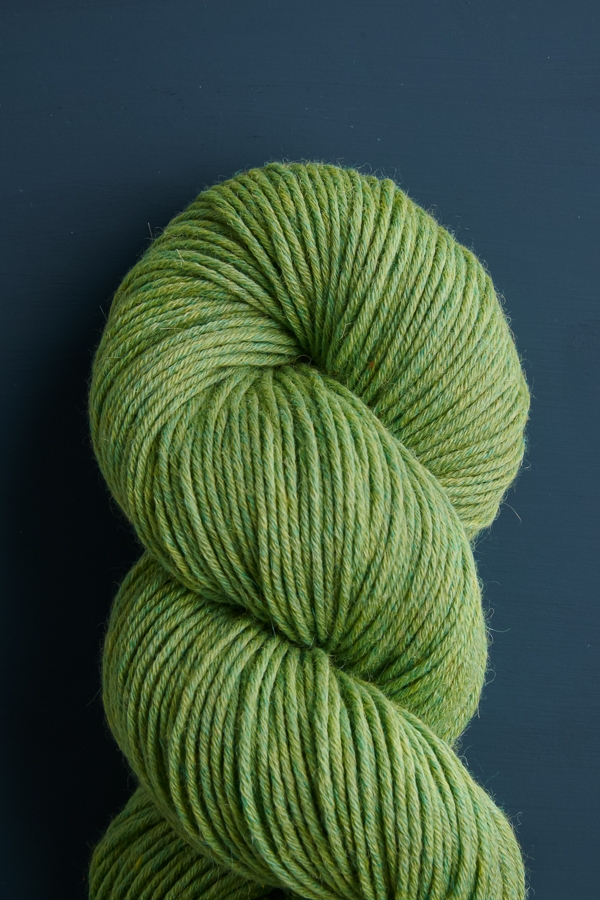 Season Alpaca now comes in four new colors, including this Matcha Green, whose vitality is a real pick-me-up! It also reminds us that Old Man Winter will eventually move on, and spring, in all its green glory, will return.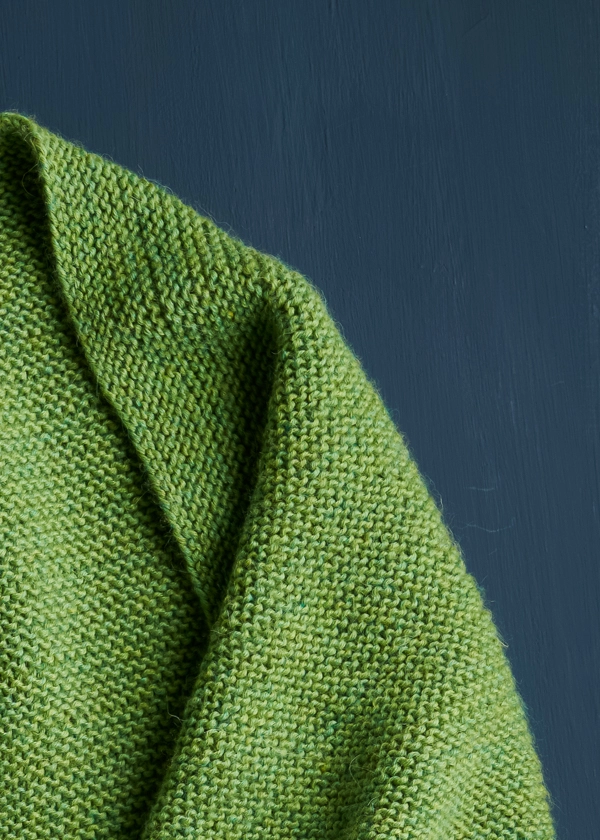 Matcha Green, or any other of Season Alpaca's nearly two dozen colors, cast on for this slice of goodness!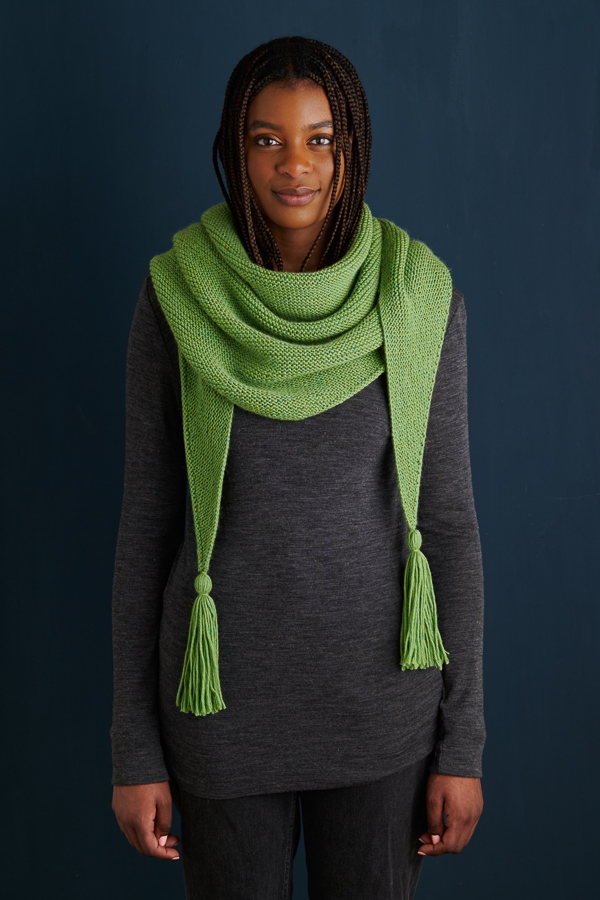 Designed by Purl Soho designer, Gianna Mueller. Click here to see even more of Gianna's designs!
Share your progress and connect with the community by tagging your pics with #PurlSoho, #PurlSohoBusyHands, #PurlSohoSliceOfGoodnessWrap, and #PurlSohoSeasonAlpaca. We can't wait to see what you make!
Materials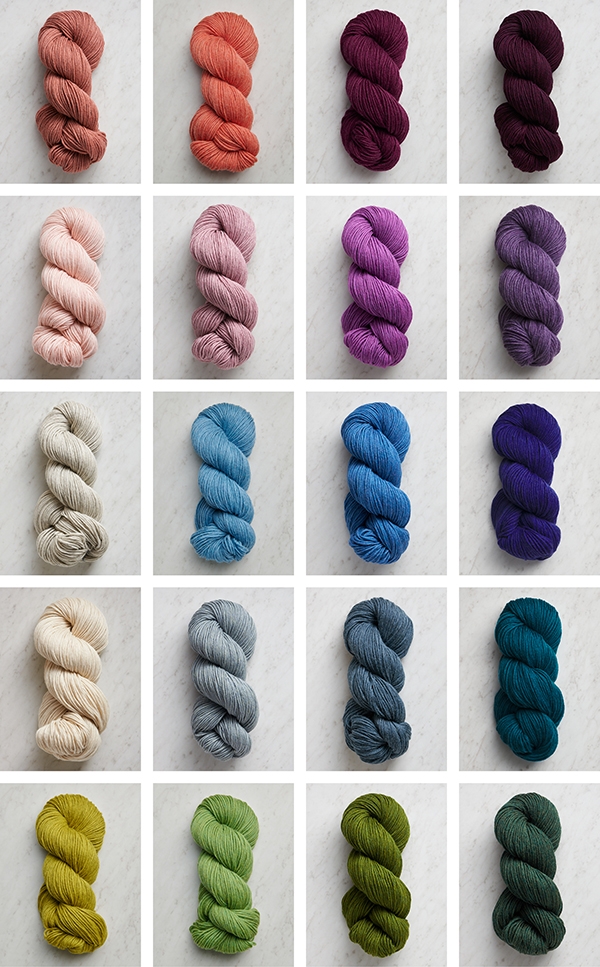 5 skeins of Purl Soho's Season Alpaca, 100% super baby alpaca. Each skein is 218 yards/ 100 grams; approximately 915 yards required. We used Matcha Green.
US 5 (3.75 mm), 40-inch circular needles
GAUGE
22 stitches and 44 rows (22 ridges) = 4 inches in garter stitch
SIZE
Finished Dimensions: Approximately 18½ inches wide at widest point x 73 inches long, excluding tassels
NOTES
SHORT ROW SHAPING
WRP-T (WRAP + TURN)
On both right and wrong sides: Keeping yarn in back, slip next stitch purlwise from left needle to right needle. Bring yarn to front. Return slipped stitch to left needle. Turn work so other side is facing you.
See this technique in action in our Short Row Tutorial at 0:30 seconds, except do not bring the yarn to the back before you turn. Also, because you'll be working in grater stitch, there's no need to pick up the wraps when you get to them. Just knit the wrapped stitches as usual!
PATTERN
Cast on 400 stitches. We used a basic Long Tail Cast On.
TIP: When you're casting on so many stitches, it really helps to place a marker or piece of scrap yarn every 50 stitches. That way, when you lose count (which you will!), you won't have to recount all the stitches. Just remember to remove these markers when you work the first row.
Set-Up Row (wrong side): Knit to end of row, and place removable stitch marker for wrong side.
Short Row 1 (right side): Knit to last 2 stitches, wrp-t (see Notes).
Short Row 2 (wrong side): Repeat Row 1.
Short Row 3: Knit to 2 stitches before wrap, wrp-t.
Repeat Short Row 3 until 4 stitches remain between wraps, ending with a wrong-side row.
Next Short Row (right side): Knit to end of row.
Next Row: Knit to end of row.
With right side facing you, bind off knitwise.
FINISHING
Weave in the ends, and gently wet block.
TASSELS
Following our Tassel Tutorial, make two 7-inch long tassels. Use a piece of cardboard that measures 7½ inches along one side and wrap the yarn 25 times.
With right side facing you, use the tassels' tails to attach a tassel to each end of the wrap.
Weave in the remaining ends.