In the sewing room, raw fabric edges usually sound an alarm, and much of my sewing time is spent finding ways to hide unruly edges. I tuck them neatly into hems, enclose them in French seams and keep their messy threads at bay with zigzag stitches. But for these Fringed Chambray Napkins, it is precisely the threads of the raw edge that make them so special!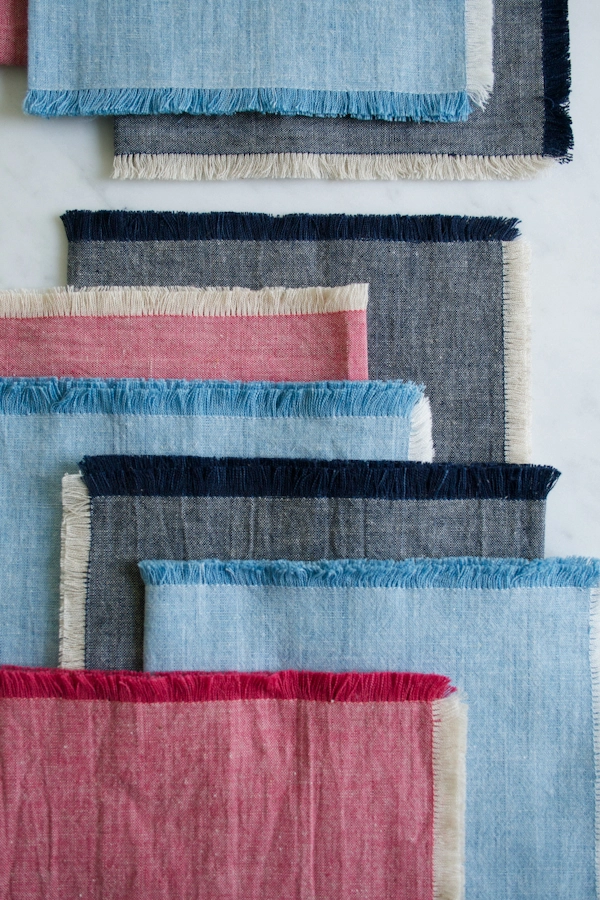 With a white weft and a colorful warp, the exposed edges of Kiyohara's Linen Blend Solids reveal a two-color surprise. Created by unraveling individual threads of the fabric, making these napkins feels a bit irrational, like pulling out a lot of hard work. But, lo and behold, in the act of destruction comes a set of beautiful napkins.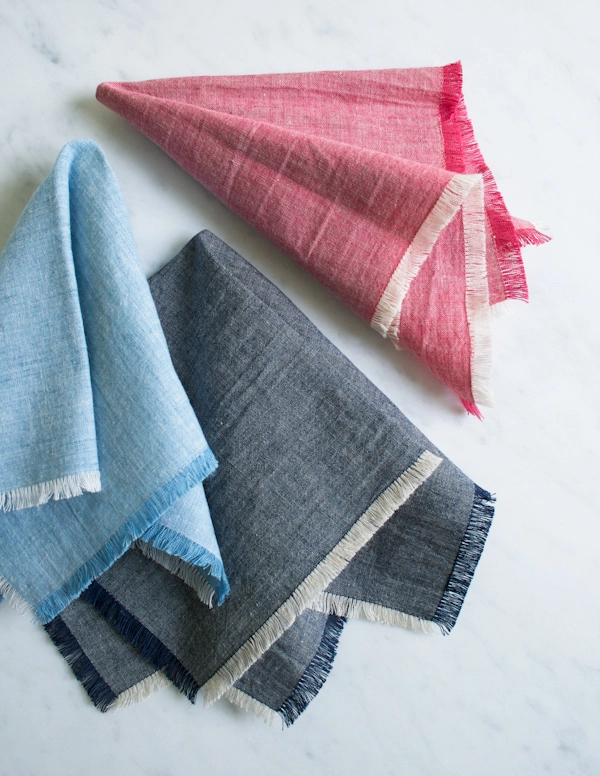 These Fringed Chambray Napkins feel both sophisticated and relaxed, making them suitable for a whole range of occasions. Since I plan on using mine for summer barbecues, I chose a combination of festive reds and blues and made a whole stack in a lunchtime size (13 by 13 inches). But with no hems to account for, these napkins are easily sized up to a generous dinner size or down to a diminutive cocktail size, whatever your summer plans!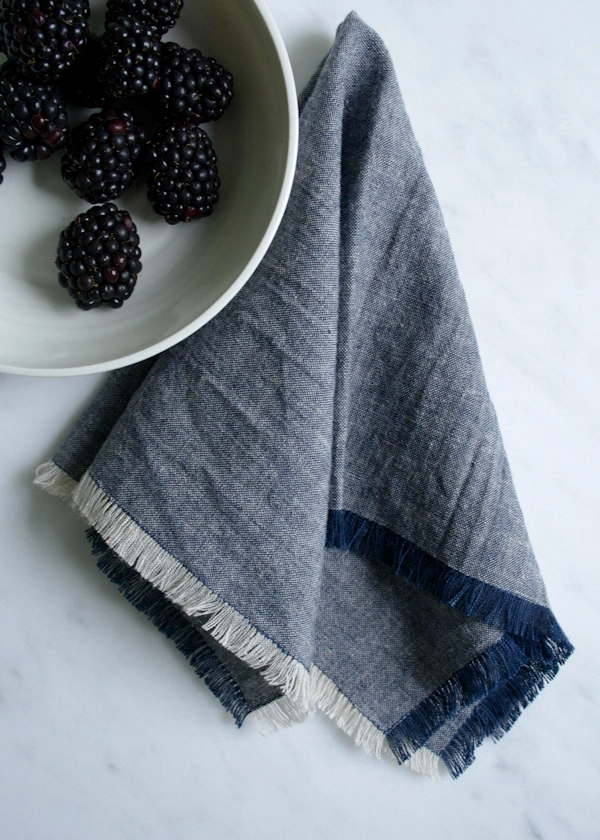 And because there are no seams to press and only the smallest bit of preparatory machine stitches, these Fringed Chambray Napkins are a great carry-along project for summer road trips. May the only thing that unravels be your napkins edges! -Corinne
Update: New Fabric
JUNE 27, 2016
Our Fringed Napkins are the perfect project to showcase the unique structure of Purl Soho's Watercolor Linen. Check out the rainbow of colors we reveal with our Fringed Napkins in Watercolor Linen!
Update: New Fabric
JUNE 15, 2015
To see more exposed edges (and a few surprises too!) check out my new set of Fringed Napkins, this time in Purl Soho's Linen Grid!
Materials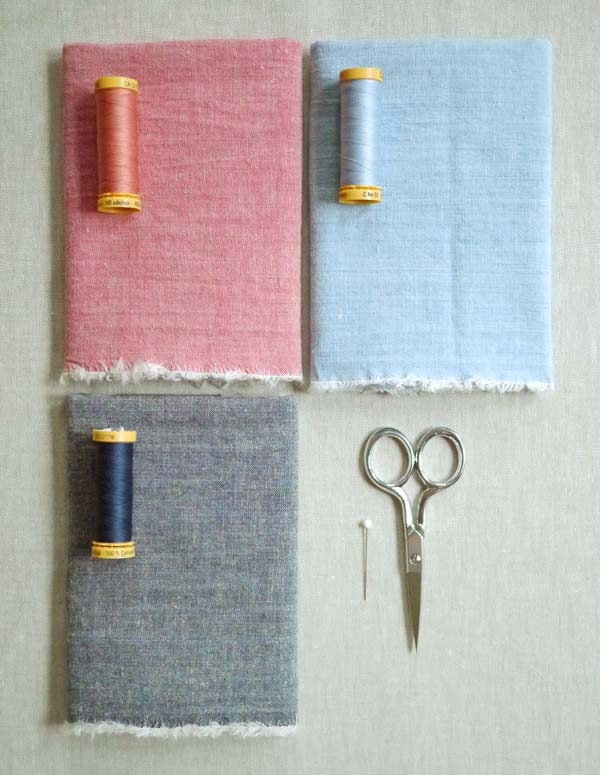 To make nine 13 by 13-inch napkins (in three colors), you'll need…
You'll also need a pair of small, sharp scissors and a straight pin.
Size
The napkins shown here measure 13 inches by 13 inches, however instructions are included  for custom sizing.
Pattern
Cut
From each fabric cut three 13-inch squares. Try to cut as much along the grain as possible. The grain of the fabric will not be 100% straight, so don't worry too much if you do not stay exactly in line.
Note: When cutting simple rectangular shapes for patterns such as this, straight, clean cuts are key. The best way to make these cuts is with a rotary cutter and a non-slip quilting ruler on a self-healing cutting mat. If you have limited experience using a rotary cutter, I recommend visiting our Rotary Cutting Tutorial.
To make larger or smaller napkins, simply cut the squares to your desired dimensions. All other instructions will remain the same.
Sew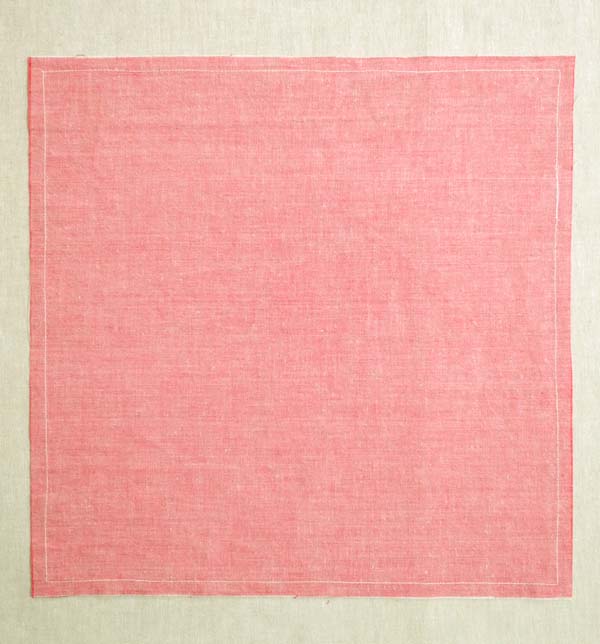 Using the coordinating thread color, sew 3/8 inch in from all four sides of each square. In the photo, above, we used a contrasting thread to clearly show the sewn lines, but your stitches should be nearly invisible.
Pull the Fringe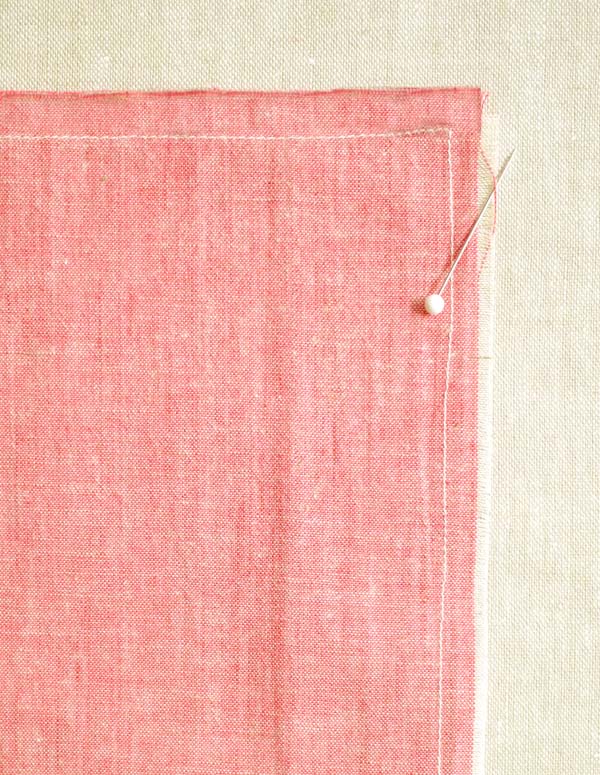 Working one side at a time, pull out the threads that run parallel to the square's edge. Pull the threads one by one until you have reached the line of stitching. Use the sharp point of a straight pin to help pick each thread.
If a thread is partially caught in the stitching, carefully pull it until it hits the seam line.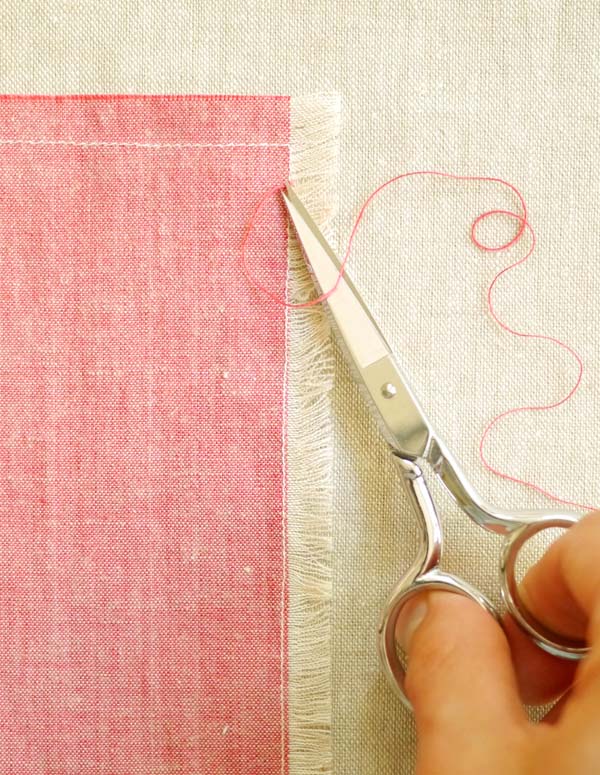 Trim the thread close to the seam line.
Work all the threads at the seam in the same way.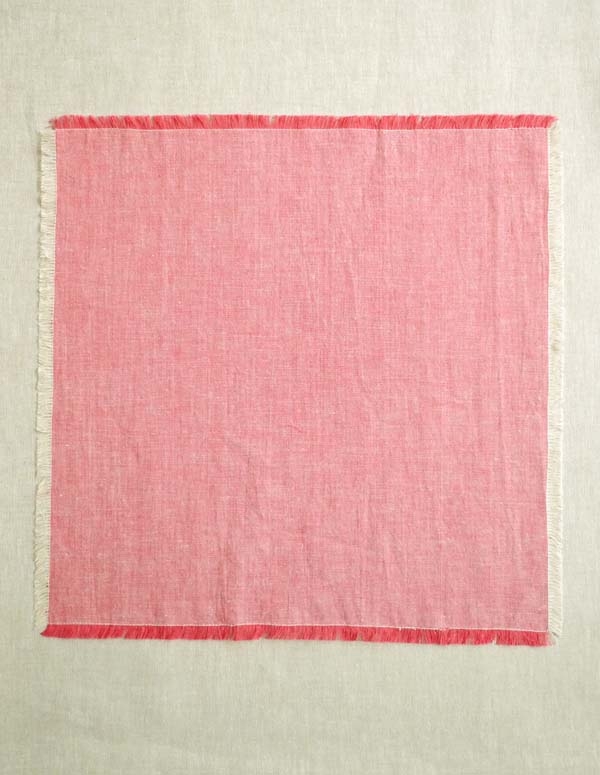 Continue in this fashion around all four sides.
Repeat with the remaining eight napkins, and you're all done!