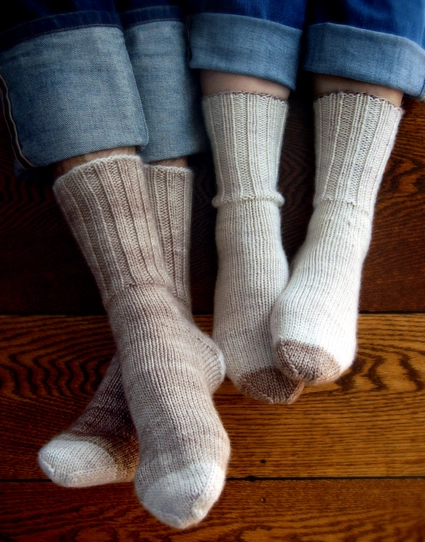 Handknit socks have a special feeling, and I'm not just talking about the yarn and the fit. I'm talking about the feeling, the knowing that every stitch was created by real hands and that those hands belong to someone who must care an awful lot about you! What a feeling!
These Homespun Boot Socks are big on feeling. Their hearty warmth and cushiony softness hug feet in deep comfort and love. Made out of Madeline Tosh's superbly beautiful Tosh Merino, you'll have a hard time taking them off! Tosh Merino is 100% superwash, supersoft merino with a rustic, handspun look, and each lovely skein is saturated with sparkling hand dyed color.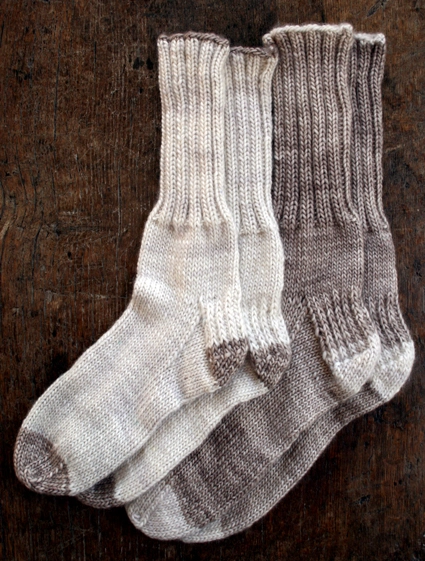 These simple socks are knit from the top down at an easy 5 1/2 stitches to the inch and are sized for both men and women. To make a pair like ours, you'll need two skeins of Tosh Merino in the main color and one in the contrast color. Or for both pairs, as pictured, you'll need two skeins of each color, or for one solid pair you'll only need two skeins!   -Whitney
Materials
In addition to a Purl Soho Homespun Boot Socks pattern, you'll need…
Main Color (MC): 2 skeins of Madelinetosh's Tosh Merino, 100% Superwash Merino. We used the color Antler (Antique Lace).
Contrast Color (CC): 1 skein of Madelinetosh's Tosh Merino, 100% Superwash Merino. We used the color Antique Lace (Antler).
A set of US #6 double pointed needles
Gauge
22 stitches = 4 inches in stockinette stitch
Sizes
Women (Men)
Finished Circumference: 7 1/4 (8 3/4) inches
Finished Length: adjustable; pattern includes directions for any foot length
Pattern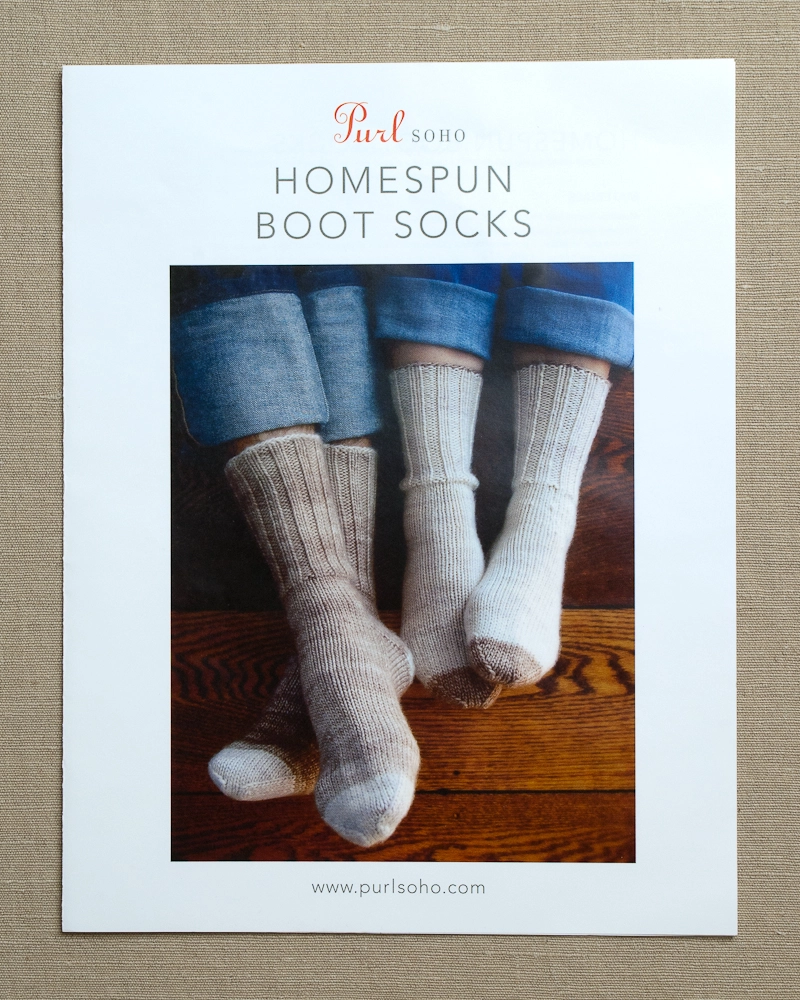 Our Homespun Boot Socks pattern is available for purchase as a hard copy or download!